Message to Football Season Ticket Holders from Texas A&M Athletics and the 12th Man Foundation
---
July 14, 2020
---
COLLEGE STATION, Texas – Southeastern Conference officials and athletics directors from the league's 14 member institutions met in-person Monday to discuss challenges presented by the COVID-19 health crisis. Despite recent decisions made by other conferences, SEC leadership has not made a determination regarding the 2020 football season at this time and will continue to evaluate a number of scenarios with guidance from health experts, governmental leaders and Texas A&M University officials.
While this situation is fluid, the 12th Man Foundation remains committed to its mission of funding scholarships, programs and facilities in support of championship athletics and, in coordination with Texas A&M Athletics, continues to make preparations for safely hosting events on campus.
Because of the commitment from loyal Aggies like you, Texas A&M Athletics has the opportunity to emerge from this health crisis like few other schools. As we navigate these uncertain times together, ticket purchases and donor contributions are crucial to sustaining Texas A&M Athletics' ability to provide resources for student-athletes and compete at the highest levels while remaining 100 percent self-supporting.
Your Financial Impact

Over 50 percent ($76 million) of Texas A&M Athletics' operating budget is directly funded by 12th Man Foundation donors and ticket buyers of all Aggie sports. Football tickets and contributions are the lifeblood for Aggie Athletics accounting for $65.4 million of the athletics department's revenue.
In response to the financial impact of the health crisis, Texas A&M Athletics and the 12th Man Foundation are executing significant budget reductions. Both organizations remain committed to championship athletics and will continue to rely on the support provided by donors and ticket buyers.
12th Man Foundation donors and ticket buyers are vital to funding every Texas A&M athletic program and student-athlete on and off the field. Aggie student-athletes, coaches and staff thank you for your loyal support and generous investments to enhance Texas A&M's athletic success.
Season Ticket Holder Update
At this time, Texas A&M Athletics and the 12th Man Foundation are preparing for a number of scenarios that could impact football season ticket holders.
As a reminder, in the event that the 2020 football season is materially altered or canceled, season ticket holders would be offered options for both the cost of their tickets and the associated seat contribution. We will provide more details as decisions are made. Click here for more information.
Your Support Provides Unmatched Opportunities for Student-Athletes
In addition to providing life-changing athletic and academic opportunities, 12th Man Foundation donors and ticket buyers directly support the athletics department's operating budget providing Aggie student-athletes with best-in-class services, coaches, staff and facilities.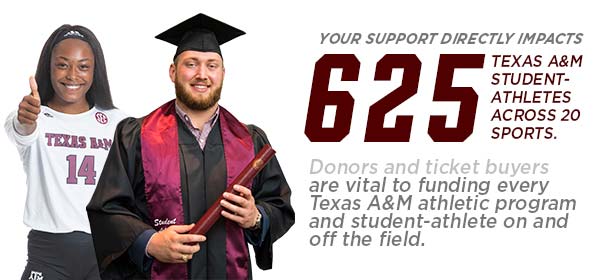 As we navigate the effects of this health crisis, we are confident Aggies will continue to stand together in support of championship athletics at Texas A&M.
We are here to serve you, and our staff can be reached at 888-99-AGGIE or customersupport@12thmanfoundation.com.