12th Man Foundation
Summer Meeting
---
12th Man Foundation donors at the MVP level or higher receive an invitation to the 12th Man Foundation Summer Meeting. The Summer Meeting is a convention-style event celebrating your loyal support to Texas A&M Athletics featuring student-athletes, head coaches, athletics department and 12th Man Foundation staff.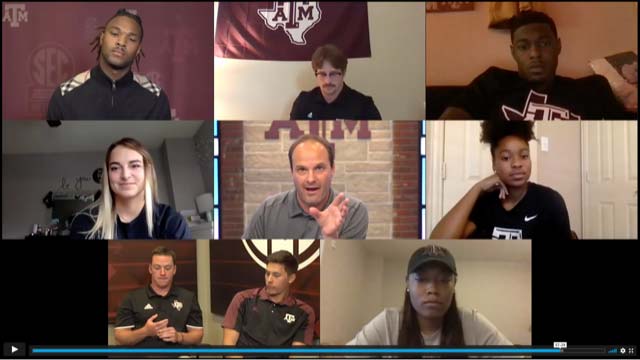 2020 Virtual Summer Meeting Schedule
Wednesday, June 24

12:30-1:30 PM

Student-Athlete Experience
Beyond the games and practices, student-athletes and staff members reflect on the lives of athletes outside of competition.

Thursday, June 25

12:00-1:00 PM

Business of Collegiate Athletics
Leaders from around Texas A&M Athletics, 12th Man Foundation and the SEC discuss current topics within the business side of college athletics and trends amongst the industry.

Thursday, June 25

4:00-5:00 PM

Ask the Aggies
Join some of Aggie Athletics' most vibrant student-athlete personalities as they share behind the scenes stories during an extended live version of the popular gameday segment.
Click Here
to become an MVP Donor
---
Donors must be active at the MVP level or higher by May 1 prior to that year's Summer Meeting to receive an invitation to the event.
Contact Our Annual Fund staff for Information on the Summer Meeting or becoming an MVP Donor
---