Texas A&M Athletics
125 Years of Texas A&M Football
---
Twelve milestone moments that helped define Texas A&M Football in its first 125 years
By Will Johnson '01
Since it all began in 1894, Texas A&M Football has taken the 12th Man on an unforgettable ride.
The sights, sounds,passions and thrills live within former students, current students and even future students. Each Aggie fan has their own stories they will tell for a lifetime from their game days at Kyle Field. In 125 years of football, there have been numerous defining moments that have shaped this program. Here are 12 that have represented the next step in the 125-year ascension of Aggie Football.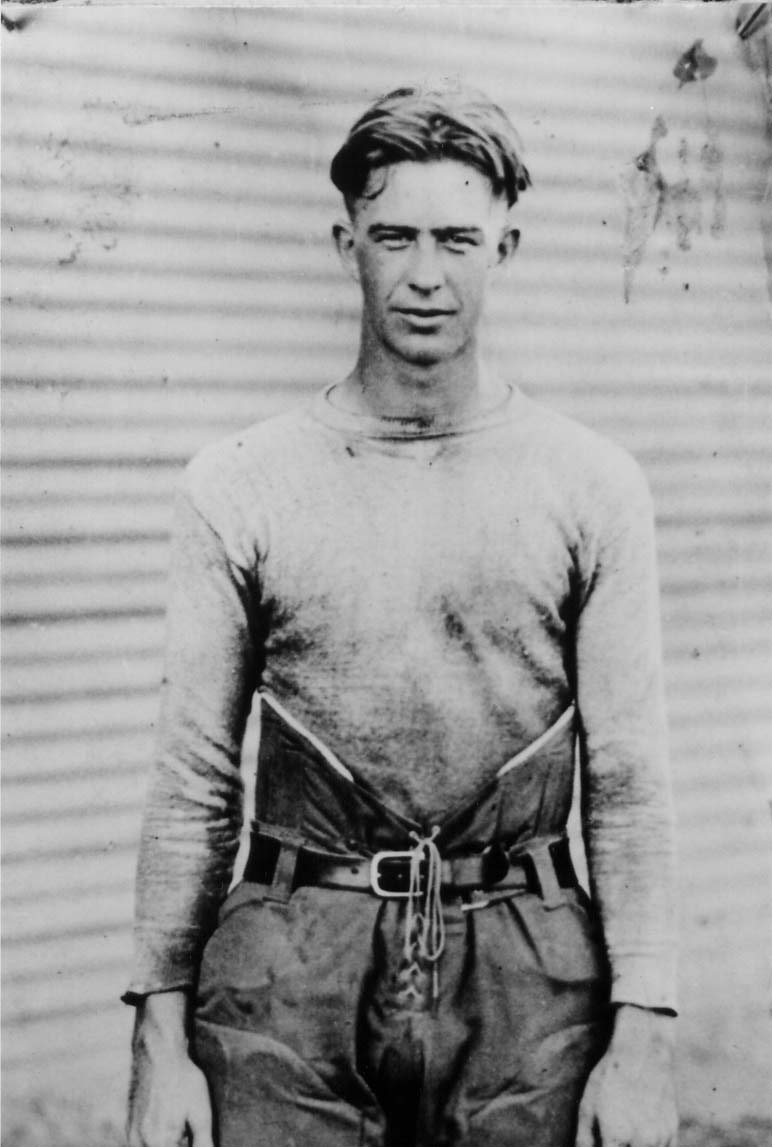 BIRTH OF THE 12TH MAN
At the Dixie Classic in Dallas, Texas, on Jan. 2, 1922, sophomore E. King Gill created the identity of the entire Aggie student body. They are the 12th Man, now and forever.
Gill epitomized A&M's core value of selfless service that day when he came down from the stands as an injury-plagued Aggie team fought valiantly, and won, against top-ranked Centre College. This university has always been ready to help others in need as was Gill when he donned another player's uniform and stood on the A&M sidelines.
Nearly 100 years later, approximately 34,000 Aggie students stand during every game at Kyle Field, ready to do what they can to help their team. It's safe to say, what Gill started has withstood the test of time.
1939 NATIONAL CHAMPIONS
No matter when it happened, winning a national championship is hard to do. There is very little room for error. Fortunately, these Aggies hardly made any.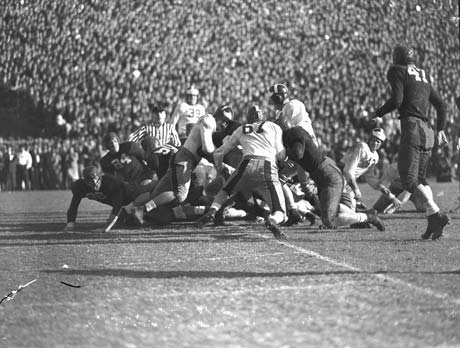 The 1939 team was 9th in the first AP poll released on Oct. 16, but climbed quickly. By the start of November the team was ranked 2nd. A&M's toughest Southwest Conference test came on Nov. 11, a 6-2 win over No. 13 SMU.After beating Rice the next week, the Aggies made the jump to No. 1. Ironically, the Sugar Bowl win that capped the perfect season came over Tulane, a member of the Southeastern Conference at the time.
When this team was honored at Kyle Field in October of 1998, Jarrin' John Kimbrough may have summed them up perfectly.
"We were just country boys most of us, we didn't have a dime to our name," Kimbrough declared at a pregame reception. "But we were determined."
THE BEAR PROWLS AGGIELAND
Quite a bit happened when Paul "Bear" Bryant roamed the sidelines at A&M from 1954-57. It started with Junction, his ten-day hell camp in a remote location that gave his future teams their rugged edge.
"I never thought about quitting," said Junction Boy Gene Stallings, "but I wanted to die."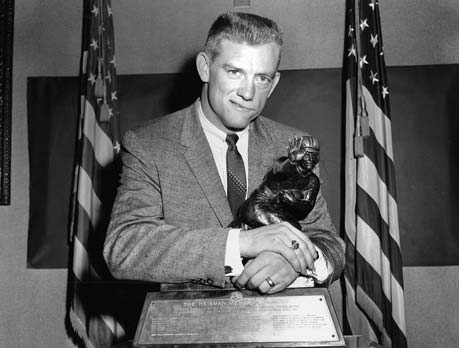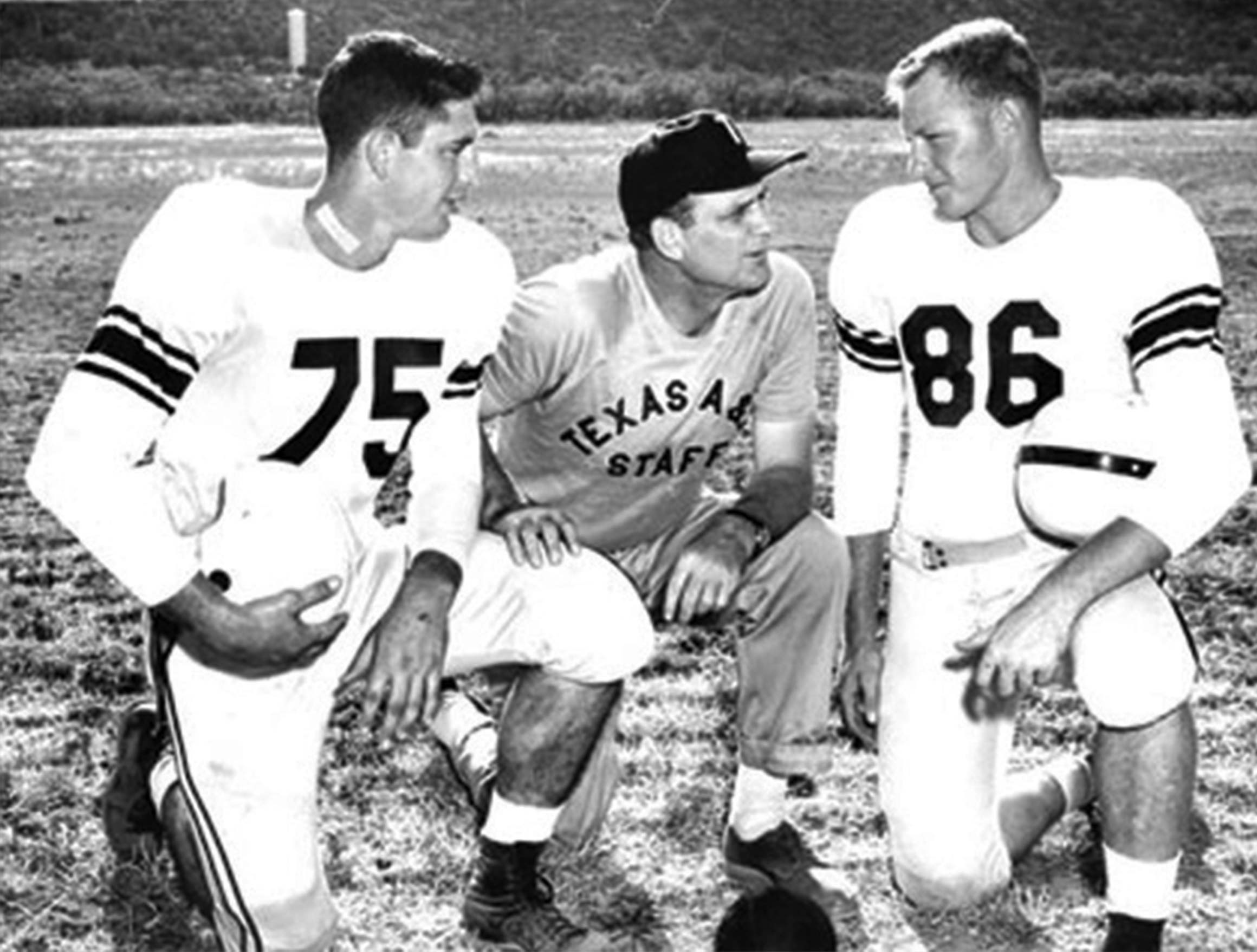 What followed was talented recruiting classes, a Southwest Conference championship, John David Crow's Heisman Trophy and two near misses at a national title. All of it returned A&M to prominence in the college game.
It all ended when "Mama called." Bryant announced he was leaving A&M for his alma mater, Alabama, while the Aggies were ranked No. 1 late in 1957. That team lost out. The 1960s followed, easily the darkest on-field decade the program has endured.
MAKE SOMETHING HAPPEN
The one shining light of the 1960s serves as a lesson still today. Never quit. Never give in. And, "make something happen."
That was Gene Stallings' mantra when he became A&M's head coach in 1965. After two losing seasons, Stallings' team started the 1967 season 0-4 and trailed Texas Tech late in game five. Something clearly needed to happen. Then, as time expired, Aggie quarterback Edd Hargett dashed across the goal line for a 28-24 win. A&M didn't lose again.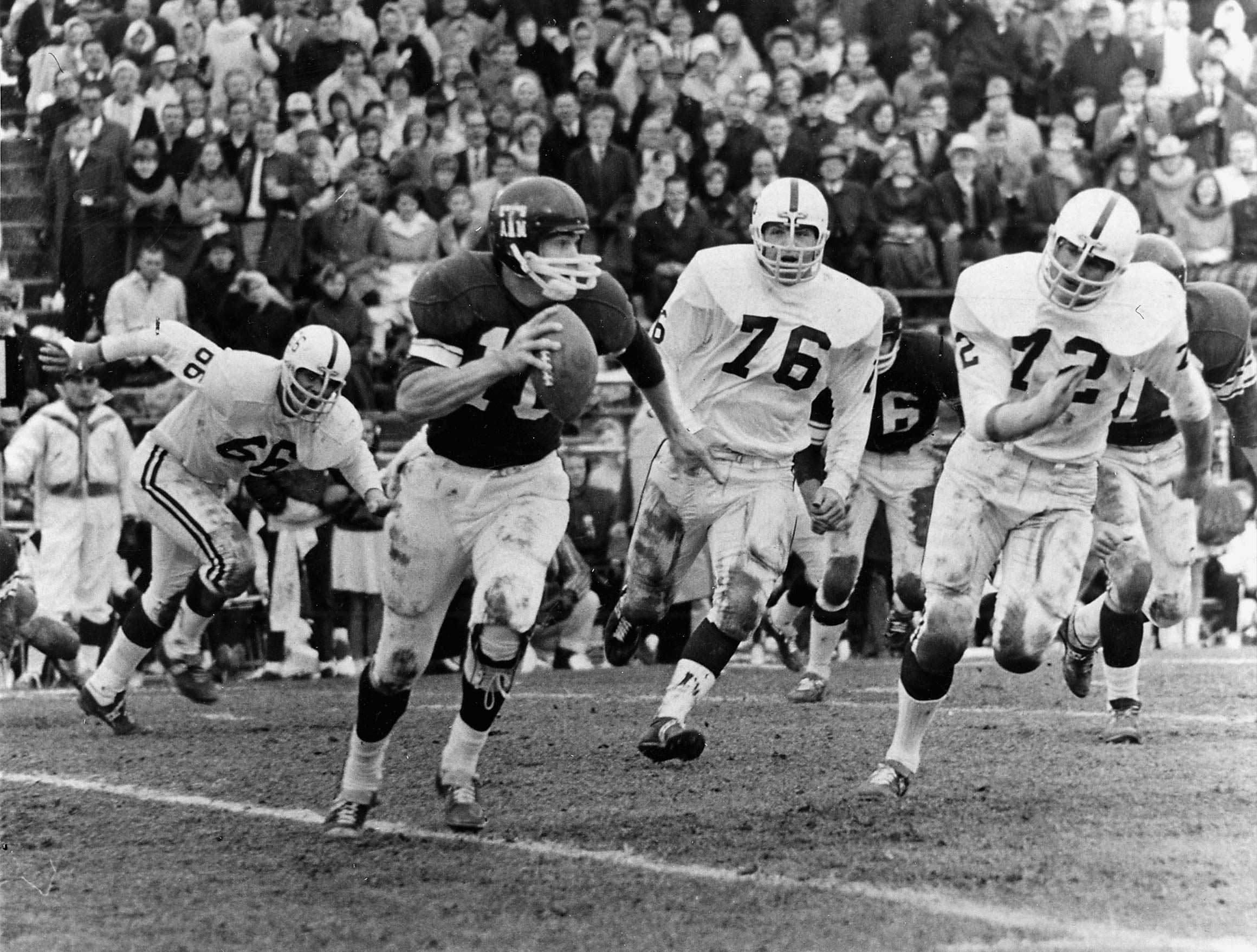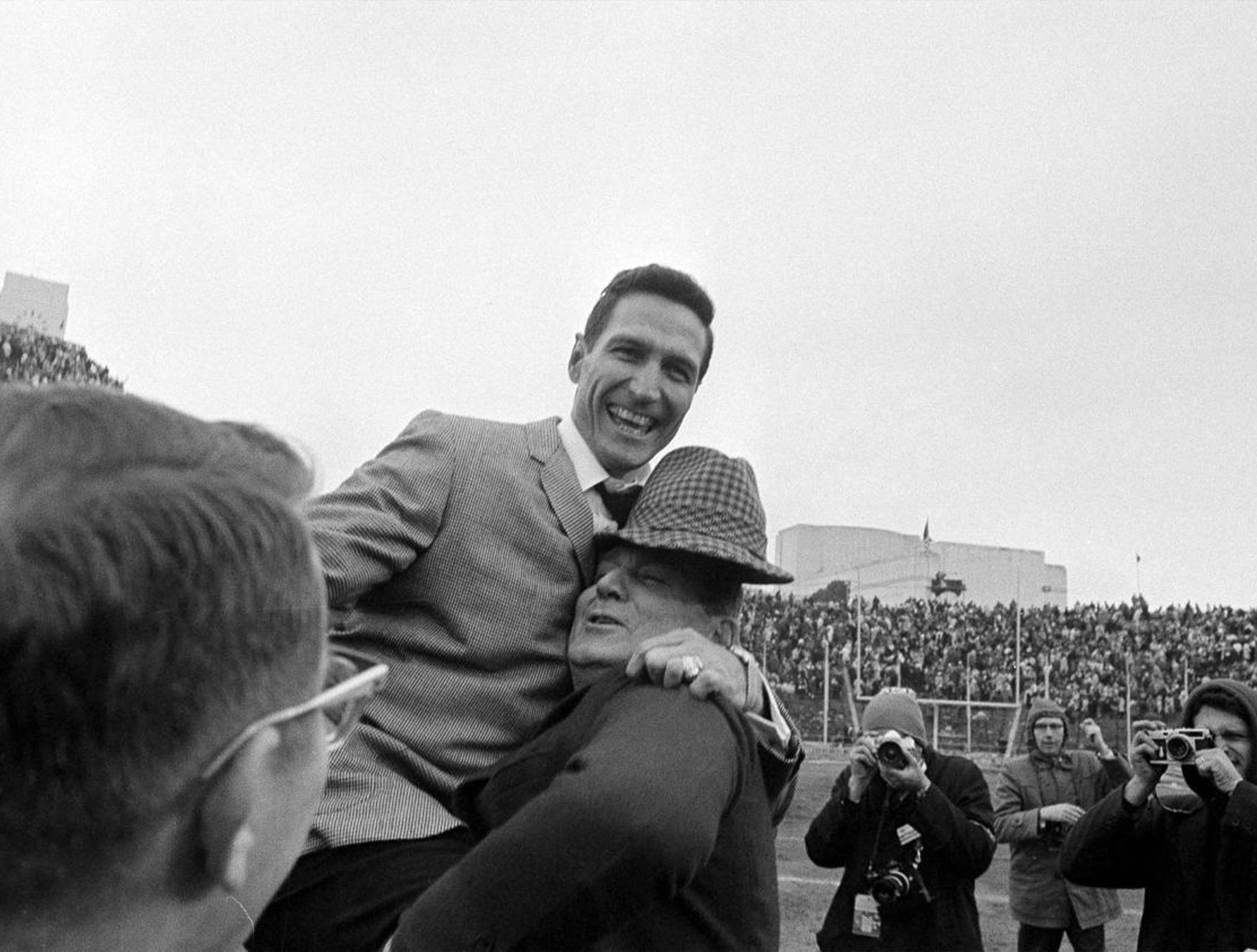 A historic, 10-7, win over Texas on Thanksgiving Day gave the Aggies the Southwest Conference crown. Another remarkable victory followed on New Year's Day, a 20-16 triumph over Alabama, coached by Bear Bryant.
"I was real fortunate to be with a Super Bowl team, but that almost pales in significance compared to this group," recalled Tommy Maxwell, a safety for the '67 Aggies. "We did it, and nobody thought we could."
It's a reminder over 50 years later. It's never over. Keep playing. Keep fighting. Make something happen.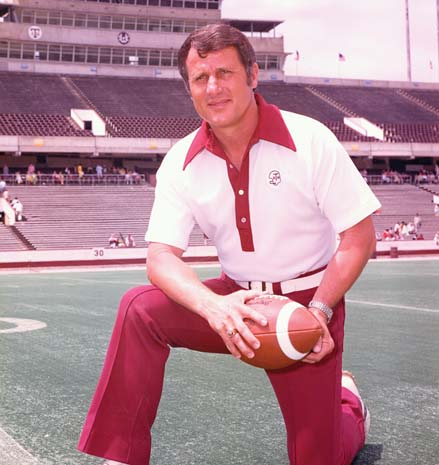 THE EMORY ENIGMA
One of the great mysteries in 125 years of A&M Football surrounds Emory Bellard's departure as head coach in the middle of the 1978 season. From the start of 1974 to the moment of his exit,Bellard had fashioned a 40-13 record. That's not the type of mark that places a coach on the hot seat. But there was a disconnect somewhere, and it led to his leaving.
Even so, Bellard produced a significant turnaround for the program. A&M was 13-30 in the four seasons prior to his arrival. After a 3-8 year in 1972, and a 5-6 finish in '73, came the 40 wins in his final 53 games.
The crown jewel of his tenure was 1975, when the Aggies climbed to No. 2 in the nation. Included in that memorable season was a victory in perhaps the biggest game ever played between A&M and Texas. With both in the top five, the Aggies beat the Longhorns, 20-10, at Kyle Field.
NO EXPERIENCE REQUIRED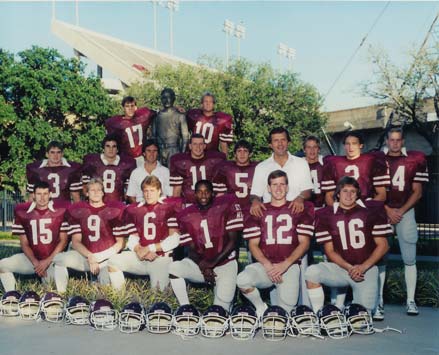 Jackie Sherrill arrived as head coach in 1982, and the Spirit of Aggieland was readily apparent to him. Following his first season, Sherrill put the student body to work, tabbing a group of walk-ons to cover on kickoffs.
The 12th Man Kickoff Team had great success for much of the 1980s. Big returns by the opposition were a rarity. And while this tradition has undergone several changes over the years, the spirit remains the same, as does the connection between the student body and the football program.
Look no further than New Year's Eve of 2018. Representing the 12th Man for a record-tying 38th time, Cullen Gillaspia capped his career in the TaxSlayer Gator Bowl with the first 12th Man touchdown in school history.
A NOVEMBER TO REMEMBER
Jackie Sherrill was 16-16-1 after three years at A&M, but wins over TCU and Texas to close the 1984 campaign showed promise heading into 1985.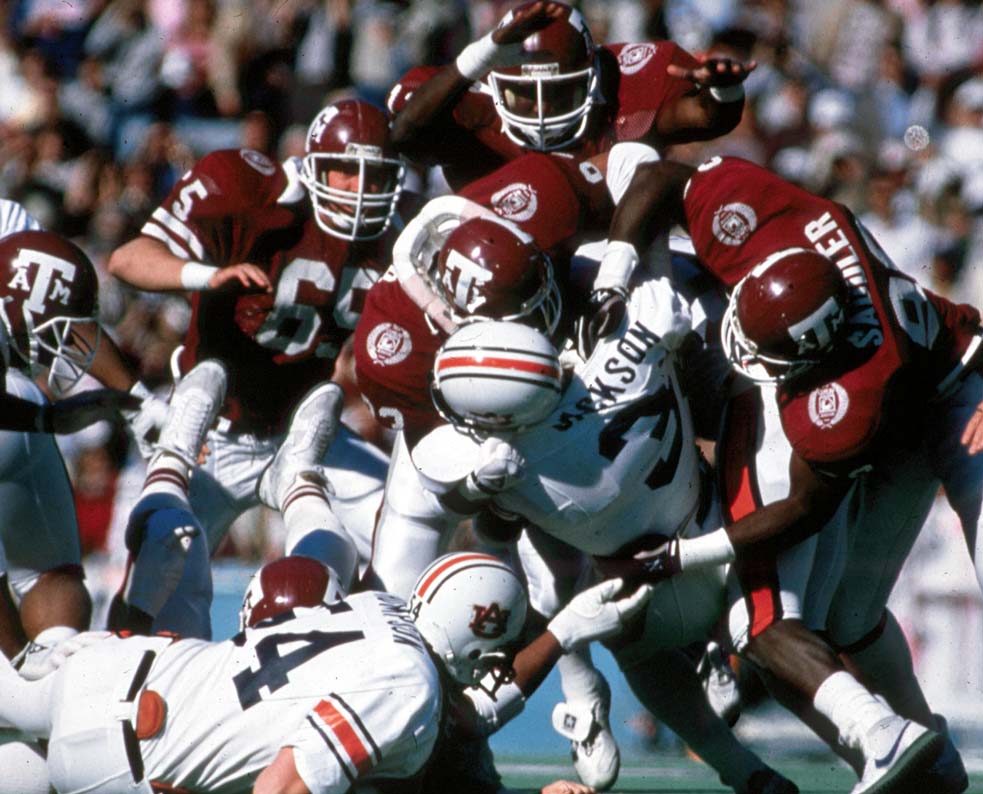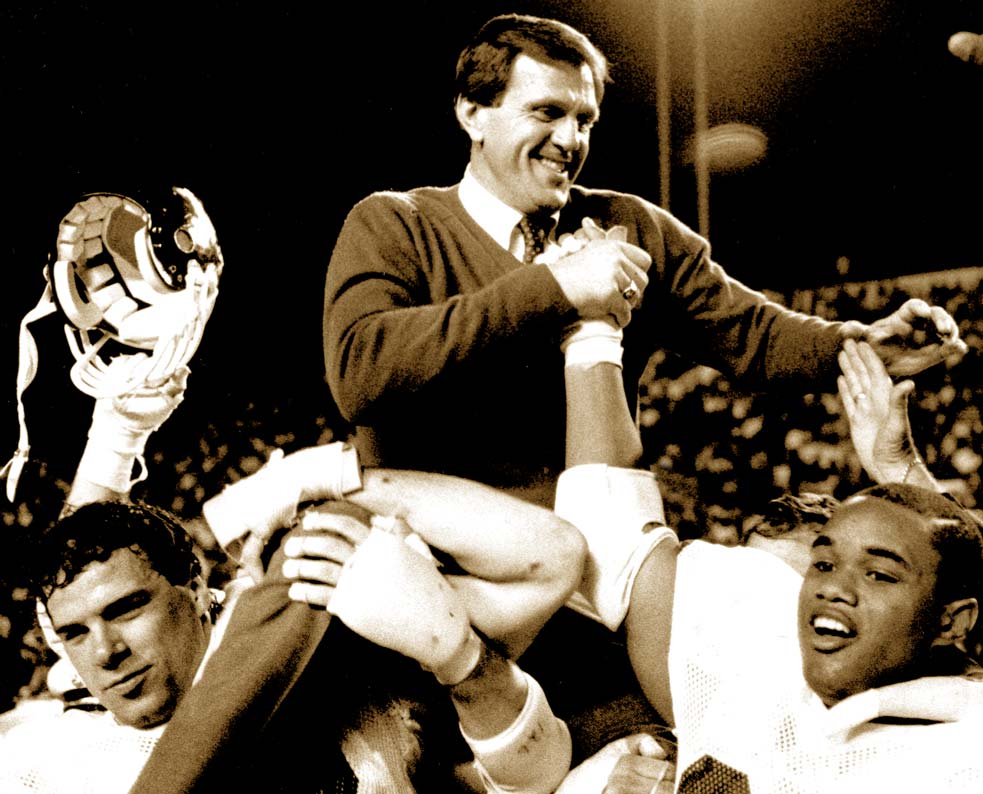 An incredible race for the Southwest Conference title ensued in November of '85 with five teams still in the hunt. With wins over SMU and Arkansas, A&M set up a big Thanksgiving night tilt with Texas. The Cotton Bowl was on the line. The Aggies dismantled the Longhorns, 42-10, and A&M returned to the Cotton Bowl, and to the national stage, for the first time since 1967.
In the 50th Cotton Bowl Classic, a historic goal line stand against Heisman Trophy winner Bo Jackson propelled A&M to a 36-16 win over Auburn. The 1985 season thrust the Aggies into an incredible run of success, and the program won the SWC six more times over the next decade.
DOMINATION IN COLLEGE STATION
A&M has enjoyed considerable success on the gridiron as one of the top 25 winningest college football programs, but 1991-94 is arguably the most dominant window of Aggie Football.
In those four seasons, with the Wrecking Crew leading the way, A&M demolished its Southwest Conference brethren and just about any other team that stood in its way. That included rival LSU, an annual non-conference opponent up until 1995.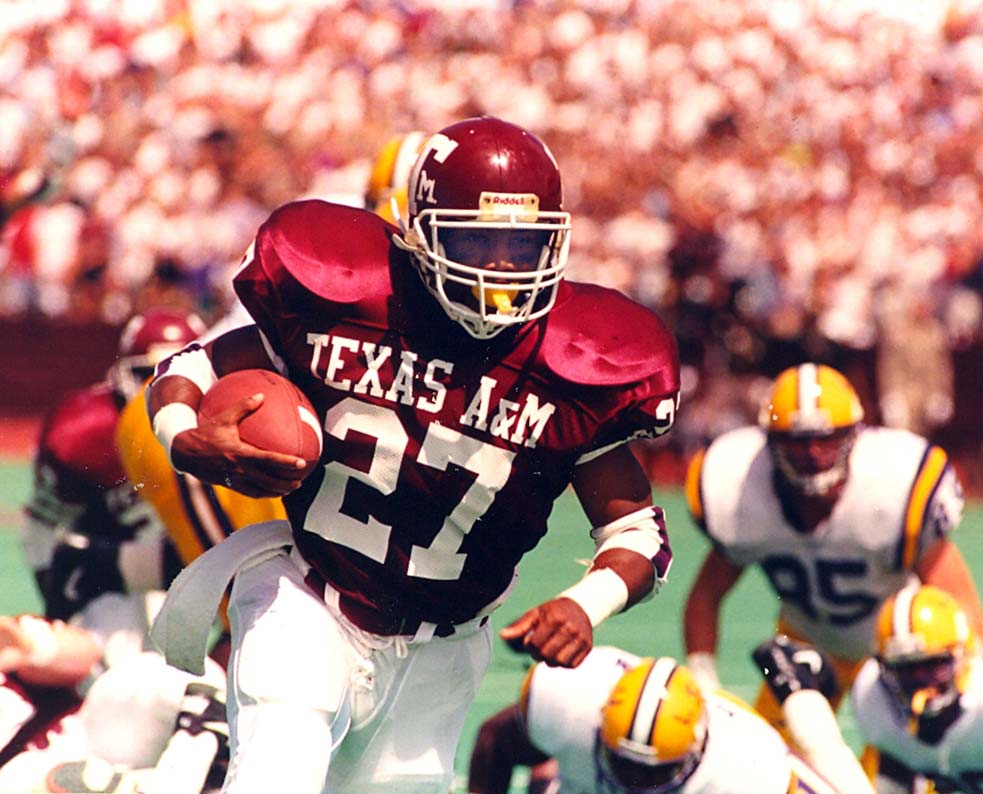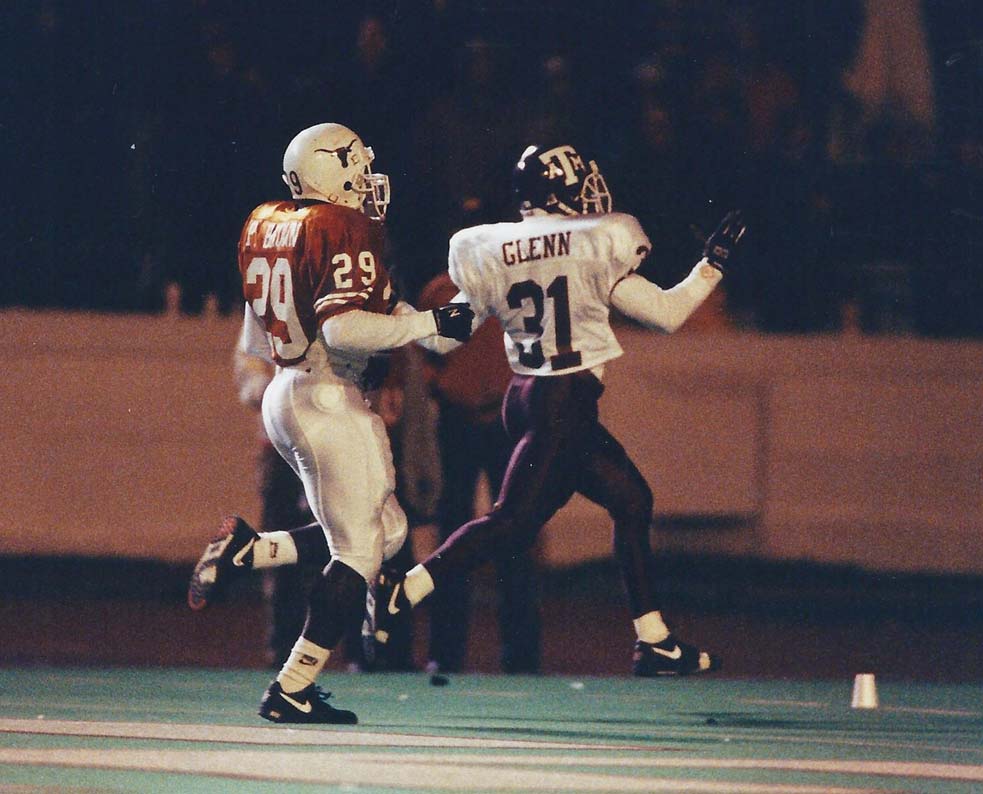 In fact, in 45 regular season games during that span, the Aggies only lost twice and recorded one tie. They did not lose a conference game. They did not lose a game at Kyle Field. They were a mainstay in the top 10.
Aaron Glenn was an All-American cornerback at the time.
"Football is not about statistics," Glenn, the current defensive backs coach for the New Orleans Saints, said. "Football is about who makes the plays at the time they need to be made."
During those four fantastic years, the Aggies had that knack. Every time the team needed a play to win a game, someone came through.
THE WRECKING CREW
Most equate entertaining football with high flying offenses that put points on the board at a rapid paced. However, watching A&M defenses destruct and dismantle opposing offenses in the late 1980s and '90s was unparalleled theater.
Holland, Wallace, Coryatt, Adams, Smith, Glenn, Nguyen. Much of the cast still has stardom status in Aggieland.
Up front was a stone-cold concrete wall that made running backs buckle when they hit it. Linebackers packed power and speed into every hit, time and again leaving a quarterback on the turf. Defensive backs made separation by any wide receiver look nearly impossible.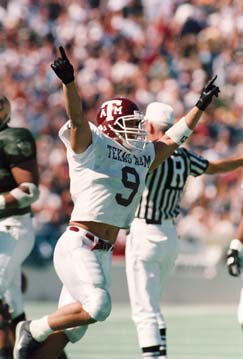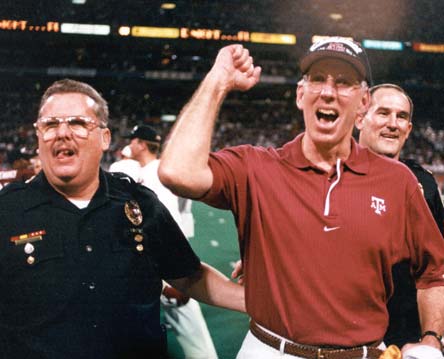 Up front was a stone-cold concrete wall that made running backs buckle when they hit it. Linebackers packed power and speed into every hit, time and again leaving a quarterback on the turf. Defensive backs made separation by any wide receiver look nearly impossible.National media regularly referred to RC Slocum's entire program as the Wrecking Crew during this time. The moniker became A&M's identity.
"The best thing about being a part of that was when you looked across the line at the quarterback and he had a little fear in his eyes," hall of fame linebacker Dat Nguyen reminisced with a smile on his face. "You knew you had him."
Nguyen, a consensus All-American and winner of the Bednarik and Lombardi awards, led A&M and the Wrecking Crew to the 1998 Big 12 Championship.
SEC ARRIVAL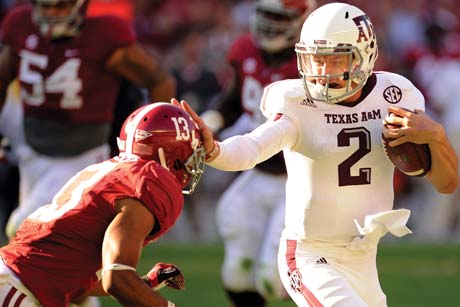 Texas A&M announced its presence in the SEC with authority in 2012. From the comeback win at Ole Miss, to the monumental victory in Tuscaloosa, to the Cotton Bowl triumph.
The peak came when Johnny Manziel was announced as the Heisman Trophy winner. With the country's top individual leading the way, this team was an eyelash away from an SEC Championship and, possibly, a national title.
If the Aggies make one more play in either of their SEC losses to Florida or LSU, they very well could have been facing Georgia in the SEC Championship Game. The conference title match in Atlanta served as a de facto playoff game that season, and with A&M playing like one of the nation's best teams toward the end of the year, Aggies may always wonder "what could have been."
KYLE FIELD REDEVELOPMENT
When A&M undertook redeveloping Kyle Field following the 2013 season, the task was monumental. However, the rewards were far greater.
The stadium had long been recognized as a bucket list location in college football. It's now one of the game's true cathedrals. Its current capacity of 102,733 makes it the largest in the SEC and Texas, and fourth in the country.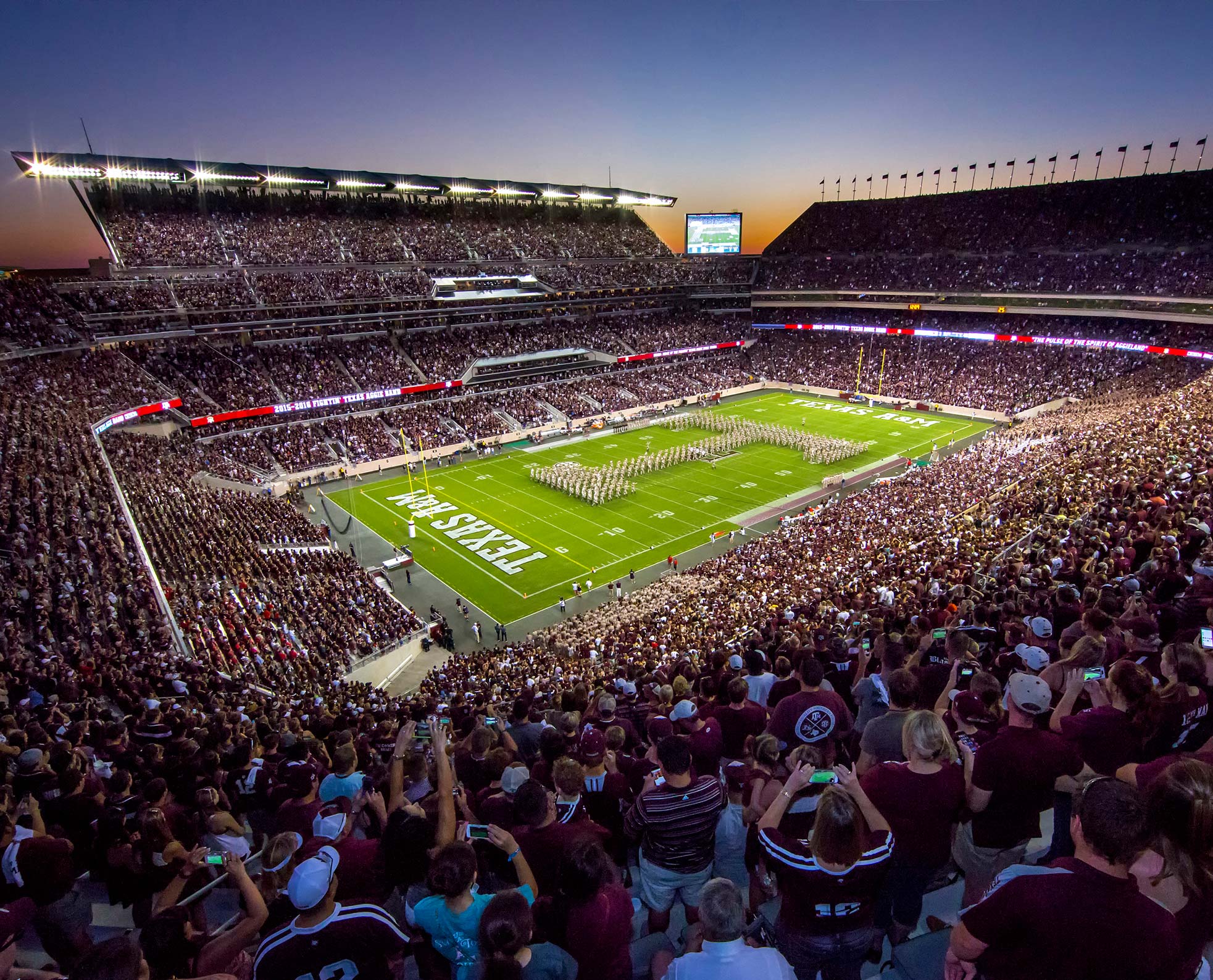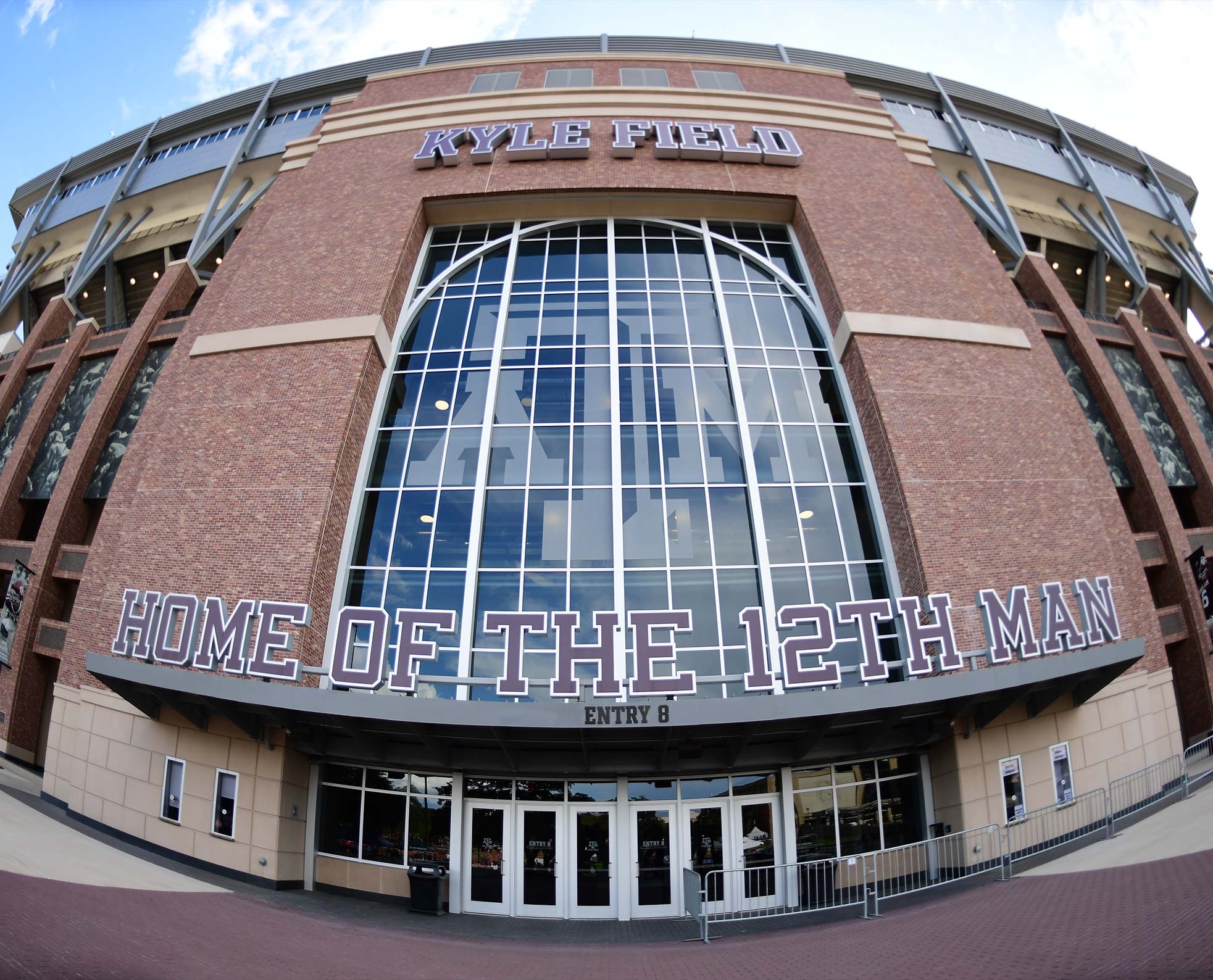 When it comes to decibel levels, Kyle Field is second to none. It's a world-class venue where you don't just hear the noise, you feel it.
From a set of stands in an agricultural field in the late 1920s, to the grandest facility in college football, Kyle Field's growth through the years has been remarkable. The "Home of the 12th Man" has become a destination for fans across the globe.
JIMBO
On December 4, 2017, A&M altered the college football landscape with the hiring of Jimbo Fisher as the program's head coach.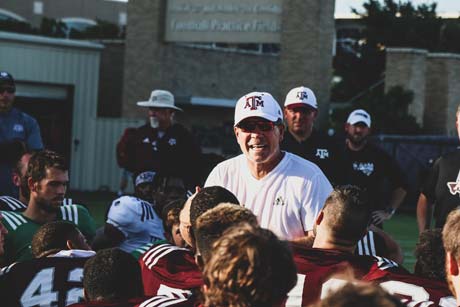 From the moment he arrived in Aggieland, Fisher endeared himself to A&M fans, and began "the process" of transforming the Aggie program.
He sees football on a different level than most. That vision took his Florida State program to the 2013 national title and the 2014 College Football Playoff. That's his vision for A&M.
Fisher tells his players to "do it til you get it right, and then keep doin' it so you can't get it wrong." Pregame speeches often focus on picking up "crumbs" and "inches." Casual chats mean you are "talkin' ball." He asks, "Why?" again and again and again.
Never afraid of earning it through a hard day's work, Fisher and A&M are aligned with their sights set on taking the Aggie program to new heights.
Success has come with 125 years of A&M's past. Now, it's Fisher who leads the Aggies into their future.