Ainias Smith '23
---
Versatile star Aggie student-athlete is thankful for the opportunity to represent Texas A&M
---
By Will Johnson '01
Ainias Smith was ranked as the No. 783 prospect in the nation when he signed with Texas A&M out of Fort Bend Dulles High School in February 2019.
Now, the jack-of-all-trades junior is a team captain for the Aggies and one of the best all-purpose athletes in all of college football.
Running back. Receiver. Returner. Smith is as versatile as they come and truly does it all for the Aggies. What he has been able to do with his opportunity is nothing short of remarkable.
"The opportunities you get at this school," says Smith, "a lot of different classes, meeting a bunch of different people - the opportunities are limitless."
Smith is aware of the doors that A&M can open, in football and beyond.
"You can do, really, whatever you want," he said. "For me, I wanted to build on the foundation that my parents established with their program."
His parents' foundation, Heavenbound Christian League, is close to Smith's heart. They have run the organization for over 20 years, which aims to build Christian student-athletes and better them along the way.
"They work the mind, body and soul," Smith said.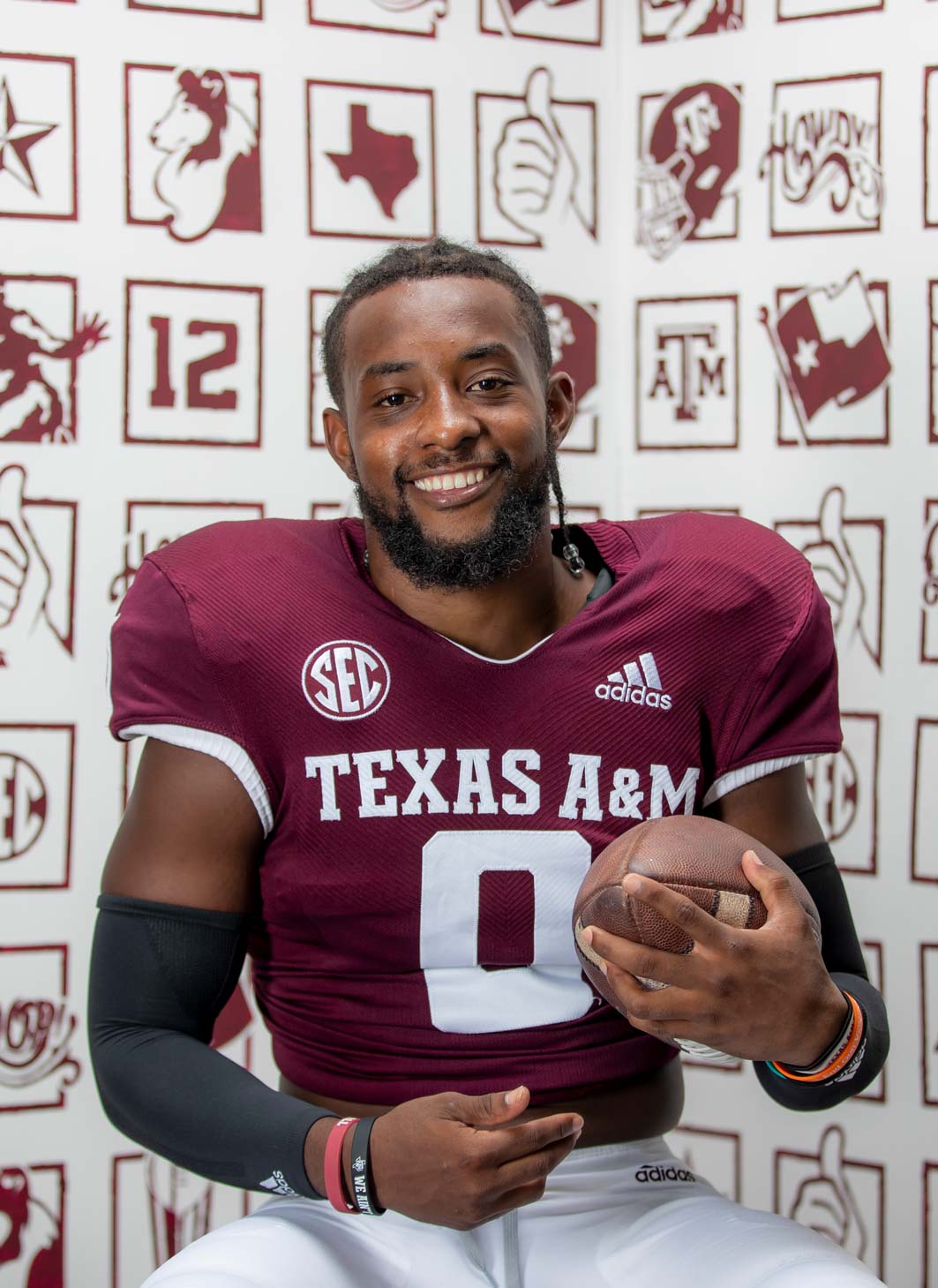 "It always keeps me humble that I received a scholarship, and it really just pushes me and drives me."
In time, it will be his way to give back. The organization is there to assist the student-athlete on and off the field, helping with anything from Bible studies to tutoring.
Smith does have his own passions. He enjoys cars and wouldn't mind steering his future toward the automobile industry. That will likely have to wait until after football. The game brings him a desire that few can match.
"I've been playing this all my life, since I was five or six years old," he said. "I enjoy working out. I've learned to embrace the grind."
It's easy to see the plays he makes on a Saturday. But, the 12th Man might be more in awe of the work he puts in on a given weekday.
"I put it all on the line," Smith said. "Not for myself - for my teammates. For my parents. Everything."
Smith puts so much into it, he's even gone so far to say, "The game has become me," and, "I didn't find the game, the game found me."
It shows how much Smith loves football and how appreciative he is for what it's given him.
His indebtedness to the school he plays for is apparent too. Smith knows the generosity of some Aggies have afforded him the opportunities.
This season, Texas A&M is celebrating 100 years of the 12th Man tradition. Several student-athletes were asked before the season what the 12th Man means to them.
"I think of the donors of the 12th Man Foundation first," he said, "and all of their support."
Smith goes to work every day with gratitude. What comes from his Monday through Friday efforts shows up as flash and flare on Saturdays. When it comes time, he can create fireworks.
Smith scored the first touchdown of the 2020 season, taking a pitch 25 yards against Vanderbilt. He scored the first two touchdowns on Halloween night versus Arkansas, a 35-yard reception and a 15-yard run. He pounded in a 4-yard touchdown to help put away the Auburn game. For good measure, Smith caught six passes for 125 yards in the Orange Bowl win over North Carolina.
Prior to the 2020 season, Smith chose a new number - zero. The first time he sported it was during a preseason photo and video shoot at 12th Man Productions. A teammate told Smith, "You look cold in that zero." Smith agreed, and after giving his patented "shoot," he stated he was "too cold." He was "Subzero."
The nickname stuck, and it's fitting. When he sticks his foot in the ground to make a cut he can flat out freeze a defender.
Number zero is one of the program's heroes - a do-it-all dynamo for the Aggies despite being labeled a three-star prospect out of high school. And he is a shining example of the life-altering impact an athletics scholarship can make on a student-athlete.
"It always keeps me humble that I received a scholarship," says Smith, "and it really just pushes me and drives me."