Q&A
Andrew Monaco
---
By Adam Quisenberry
After your first year on the job, what does it mean to be the "Voice of the Aggies"?
It's an absolute honor. I'll be honest, I still pinch myself because I know it's the best job I've had. Aggies are so loyal and really are the best fans I've been around, so to be the "Voice of the Aggies" is truly an absolute honor for me. To see what Kyle Field, Reed Arena and all our athletic venues are like on a game day, what our student-athletes are like and really what the entire student body is about, continues to impress me.
What was the experience like calling an all-time classic during the Aggies' seven-overtime win over LSU?
What an amazing night. At some point during the broadcast you could tell this was moving beyond a rivalry game to a really historic contest. During that game, I'm opening Twitter and seeing how the game has really captivated everybody with the range of emotions involved going from, "If they lose it's still a really good season," to big play after big play in the clutch. Not just one person, everybody stepping up. It was a signature win for Jimbo Fisher in year one that I think we'll look back on and see how important it was in helping establish the culture of Texas A&M football.
Is there a signature call from that game that you're particularly proud of?
It's probably the game-winning two-point conversion. Everything was laid out - we had to score the touchdown and then get the conversion to win. It had all the emotional aspects,but for me as a broadcaster, there is also the technical side of it where you have to weave all of that into the play.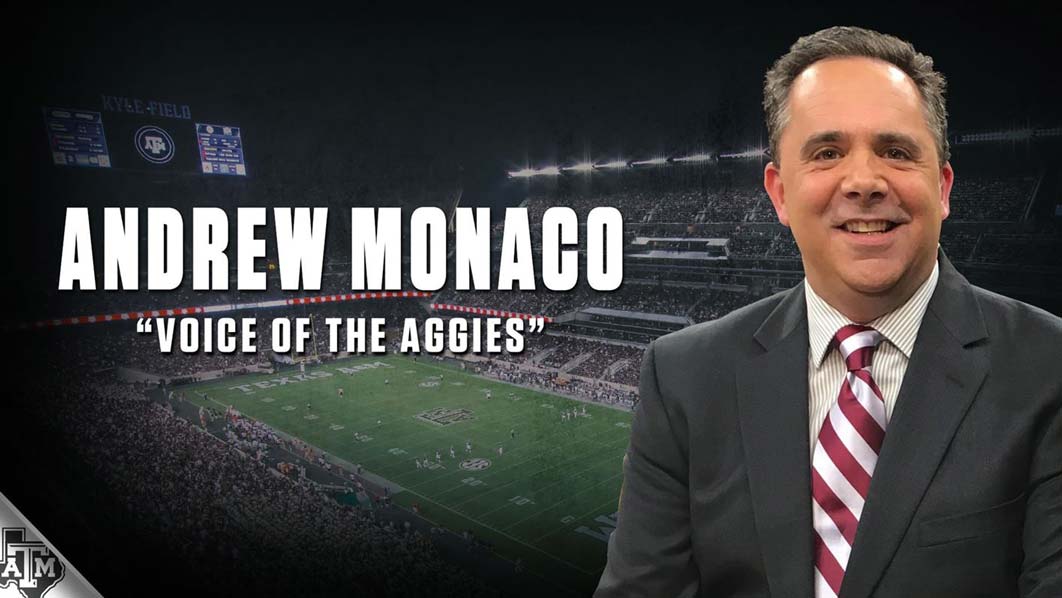 "To see what Kyle Field, Reed Arena and all our athletic venues are like on a game day, what our student-athletes are like and really what the entire student body is about, continues to impress me."
It'll probably be the most famous call, but it's funny going back and listening to the broadcast of that game. I had forgotten an awful lot because there were so many twists and turns. The great part for me about that night is that I really felt like we were on. Going back to when I started, there was a way I wanted our broadcasts to sound and I truly believe we hit that from week one. Three people have to get along and work together. Dave Elmendorf is outstanding and Will Johnson is so great on the sidelines. That's another aspect of that LSU game that I'm so proud of - that throughout that game we never lost sight of that technical part of the broadcast.
What would you say to someone who has never experienced Kyle Field or perhaps someone considering season tickets?
You really have to experience it. I've always felt that when you walk into a stadium or an arena, you feel that connection. If you have season tickets, you have another connection because you really do have that sense of family with people around you. There is obviously the connection with the student-athletes competing and the school, but there is also that connection with the people who surround you every game day. If you've never been, you have to try it because there is nothing quite like it and when you've been, you really want to be a part of it every weekend because no game is ever the same.
Changing sports, can you feel the energy surrounding the men's basketball program following the Buzz Williams hire?
From the day he was introduced, you certainly can. It really is "welcome home" for a guy who gets A&M. In some ways he reminds me of Jimbo Fisher because every basketball lesson is really a life lesson. You see the connections he has built with his players going back to his Acie Law IV days as an assistant under Billy Gillispie. That has continued with players throughout his career. It feels a little bit like what Coach Fisher is building. We joke about the Buzz being back, but you really can feel it and he has hit the ground running.
Can you talk about your interactions with 12th Man Foundation donors?
I am thankful and overwhelmed by the welcome. I truly feel like I was welcomed to the family and it's never stopped. It really felt like, "You're one of us now," so to see donors at games or on the road and watch them interact with our student-athletes knowing they've made an impact in their lives really is special.
What is your advice for fans who want to support A&M Athletics, but are not members of the 12th Man Foundation?
Take away the intimidation of getting involved or the feeling that you have to give back at a certain level to make an impact. Every little bit truly does make a difference and opens up a world of benefits to fans who want to deepen their connection with Aggie Athletics and our student-athletes. There are so many reasons to get involved, but it gives people a way to help our programs become even more successful. We talk about the A&M brand and joining the 12th Man Foundation is a great way to make our brand even more successful. The investment people make to help our student-athletes succeed is a direct result of taking that step to get involved.