April & Jay Graham '92
Centennial Campaign Lead Donors
Extraordinary Aggie family makes historic gift in support of Texas A&M Athletics
---
By Brian Davis '01
It was Thanksgiving night, 1985, and Texas A&M was hosting Texas with the Southwest Conference Championship and a trip to the Cotton Bowl on the line.
In one of the loudest games in Kyle Field history, the Aggies routed their rival, 42-10. The contest included the Longhorns' quarterback asking officials to penalize A&M for excessive crowd noise and concluded with cotton raining down from the stands, covering the field like snow.
Meanwhile in Houston, a 15-year-old Jay Graham was watching the nationally televised event with some new friends. That was his introduction to Texas A&M.
"This is the first significant opportunity we have had to really make an impact in a way that we hope is transformational for Aggie Athletics."
Born and raised on a farm in southern Oklahoma and the son of a University of Oklahoma graduate, Jay was a diehard Sooner whose family had recently relocated to Houston for his father's career. As he witnessed A&M's dominating victory over the Longhorns, Jay discovered he had a common interest with Aggie fans - beating Texas.
That next fall, Jay experienced Aggie gameday in person for the first time with his father and brother when they visited campus for A&M's game against Southern Miss. They sat in the horseshoe on the north end of Kyle Field, and Jay watched the 12th Man in awe during the Aggies' victory. He was hooked.
Jay enrolled at A&M in the fall of 1988, earned a petroleum engineering degree and went on to become the extremely successful entrepreneur he is today, all while embracing everything about being an Aggie.
"Texas A&M probably defines me," said Jay, who along with his wife April, have generously given back to the university in numerous ways. "Just about every piece of clothing I wear every day has A&M on it. I'm 100-percent convinced I am where I am today because of Texas A&M."
Likewise, A&M is where it is today - and where it will be able to go tomorrow - because of people like April and Jay Graham.
The Grahams have devoted their time, with Jay serving on the Texas A&M University System Board of Regents since 2019 as well as the 12th Man Foundation Board of Trustees from 2018-21, and they have generously shared their resources in support of multiple projects and initiatives in both athletics and academics.
Most recently, the couple took their philanthropy to an unprecedented level by committing a $25 million lead gift to the Centennial Campaign.
"The timing was right for us personally and financially," Jay said. "This is the first significant opportunity we have had to really make an impact in a way that we hope is transformational for Aggie Athletics."
Their extraordinary gift represents the single largest capital commitment ever made in support of Texas A&M Athletics.
"Jay and April truly embody the spirit that makes Aggieland so special," said Texas A&M Head Football Coach Jimbo Fisher. "I am extremely grateful for their monumental investment in our program, our future and the lives of our student-athletes across all sports. I cannot overstate what their friendship and support mean to our Aggie family."
In recognition of their historic gift, the redeveloped area south of Kyle Field will become Graham Athletic Complex.
"Jay and April are great donors and great friends," said 12th Man Foundation Senior Vice President of Major Giving Programs Brady Bullard '95. "What they have done is quite simply made the success of this campaign possible. Transformational gifts such as this don't happen often, and the Grahams should be recognized and celebrated for their vision and commitment. I am extremely honored to be a part of this and watch the success of my old college buddy and his family and the impact they continue to make on Texas A&M."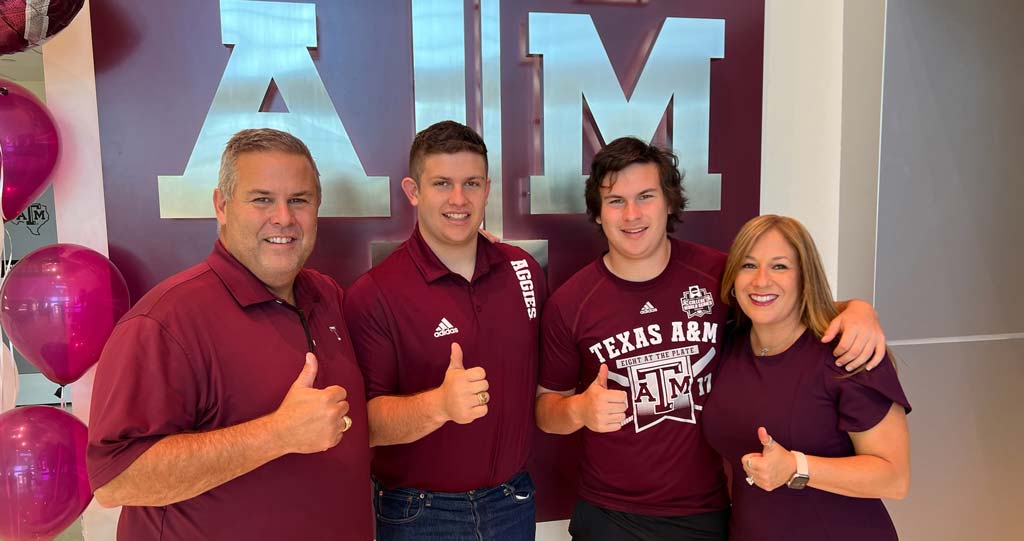 For the Grahams, the motivation to give back comes from their strong faith and their belief that to whom much is given, much will be required. From their church and local charities to A&M's athletics and engineering departments, they believe that being good stewards of their resources means making a difference in the lives of others while leaving a legacy.
"I've seen what giving back to A&M has done for Jay," said April, a Texas Tech graduate who was born and raised in Albuquerque, N.M., before moving to Houston when she was 12. "I may not have attended A&M, but I see the love that people have for this university. It changes people. It changes who they are and what they do, so it's always been important to give back."
Jay's life was forever changed by a fellow Aggie named Billy Pete Huddleston '56, a Junction Boy who played for the legendary Bear Bryant. The former visiting petroleum engineering professor and successful entrepreneur took Jay under his wing while he was at A&M and beyond, offering his wisdom and support every step of the way.
"His dynamic nature, his success…you wanted to be like him," Jay said of Huddleston, who led an extraordinary life up until his death in 2019. "He taught me, trained me and had faith in me."
When Jay was looking for a new opportunity several years after graduation, one phone call to Huddleston was all it took to secure a job. After four years of working for Huddleston and four years with another oil and gas company, Jay felt like the time was right to start his own business. Again, it took just one phone call to Huddleston to make it a reality.
"I was expecting him to tell me not to do it," Jay recalled, assuming his mentor would offer some sage advice. "Instead, he gave me an initial investment. He knew just from me being an Aggie that he did not need anything else from me. That's how we got started."
The rest, as they say, is history. In 2007, Jay co-founded WildHorse Resources along with his friend and business partner, Anthony Bahr '91. Since taking the company public in 2014, Jay's career as an oil and gas entrepreneur has continued to flourish, extending well beyond his wildest dreams. Today, he serves as chairman and CEO of Spur Energy Partners.
"We've been blessed as a family, and for us, it's important to give back as much as we can," said Jay, who along with April also contributed to the historic redevelopment of Kyle Field, Bright Football Complex and Texas A&M Lettermen's Association facility in addition to donating to A&M's football, men's basketball, women's basketball, baseball and men's golf programs. "When we learned about this opportunity with the Centennial Campaign, it was important that it was not sport specific. It will really help our football program, but we will also have an entire building dedicated to academics, nutrition, mental health and wellness for all our student-athletes."
April and Jay are proud parents of their two sons, Jacob and Jackson. Jacob, Class of 2024, is currently pursuing a finance degree at A&M and recently received his Aggie Ring. He is also a member of the A&M football team.
"Having a son in the football program, you realize what student-athletes go through," April said. "They say it's a job, but it's beyond a job. To do everything they do, it's a struggle, and they need all-around support."
The family's love of sports goes all the way back to Jay's childhood. He was a standout high school baseball player and attempted to walk on to the Aggie baseball team while at A&M. Like so many other Aggie families, A&M sporting events have been one of their primary sources of entertainment over the years.
"Our first family football season tickets were in the south end zone when there was bleacher seating," Jay said. "We bought a family pack of tickets because that's all we could afford. To have the players run through the end zone and our boys run around the grass out there was a lot of fun. It truly is an experience you get to share with family."
Beyond athletics, the Grahams have given numerous scholarships through the Texas A&M Foundation for petroleum engineering students and are proud sponsors of Aggie Park as Pillars of the Aggie Network. They also co-founded the Petroleum Ventures Certificate program at Texas A&M University, a collaboration between Mays Business School and the Harold Vance Department of Petroleum Engineering.
"April and Jay Graham have been incredibly generous supporters of Texas A&M, giving selflessly of their time, treasure and talent across many parts of the university," said Texas A&M President M. Katherine Banks. "I had the pleasure of working with the Grahams to develop the innovative Petroleum Ventures Certificate program, preparing our engineering and business students for successful careers in the energy industry. We have further been fortunate to benefit from Jay's formidable leadership skills through service on department and college advisory boards, and the Board of Regents for the A&M System."
Through their spirit of philanthropy, the Grahams have made an enduring impact across A&M's campus. And with their transformational gift to the Centennial Campaign, the Grahams will make a difference in Aggie student-athletes' lives for years to come.
"We're incredibly appreciative of April and Jay Graham, who have consistently gone above and beyond in support of Texas A&M," said 12th Man Foundation President and CEO Travis Dabney '96. "They took the time to understand the vision for the Centennial Campaign and the impact it's going to make on our student-athletes. Their generous support set the campaign in motion and has proved to be the cornerstone we're building upon."
For April and Jay Graham, it is about Aggies helping their fellow Aggies and leaving a legacy for the next generation.
"This is a family gift and a family legacy," Jay said. "This is for all of us to impact A&M going forward. "We may be the lead gift, but we're not the most important gift. The most important gift is what everybody can give."