World-Class Home
The new Barbara C. Barnett Women's Basketball Student-Athlete Center sets the standard for college basketball facilities
---
By Adam Quisenberry
The dust had hardly settled in early November when members of the United States Women's National Basketball Team toured the freshly completed Barbara C. Barnett Women's Basketball Student-Athlete Center prior to their meeting with the Aggies at Reed Arena.
The national team's athletes, who have experienced more than their fair share of outstanding facilities representing the Red, White and Blue across the world, were more than impressed.
"This is how women should be treated," said one U.S. player as the most-recognized stars in women's basketball shared images and videos of the world-class space with friends and social media followers.
While the Texas A&M squad is still settling into its new home after the complete overhaul, Hall of Fame coach Gary Blair already has high praise.
"I think it's the best locker room in the country," he said. "Period."
As quick as Blair is to recognize the quality of the new facility, he is just as swift to show his appreciation for the incredible support his Aggie women's basketball program has enjoyed over the years. In particular, Blair credits 12th Man Foundation donors for doing their part to keep the program at the top in the hyper-competitive world of high-profile collegiate athletics.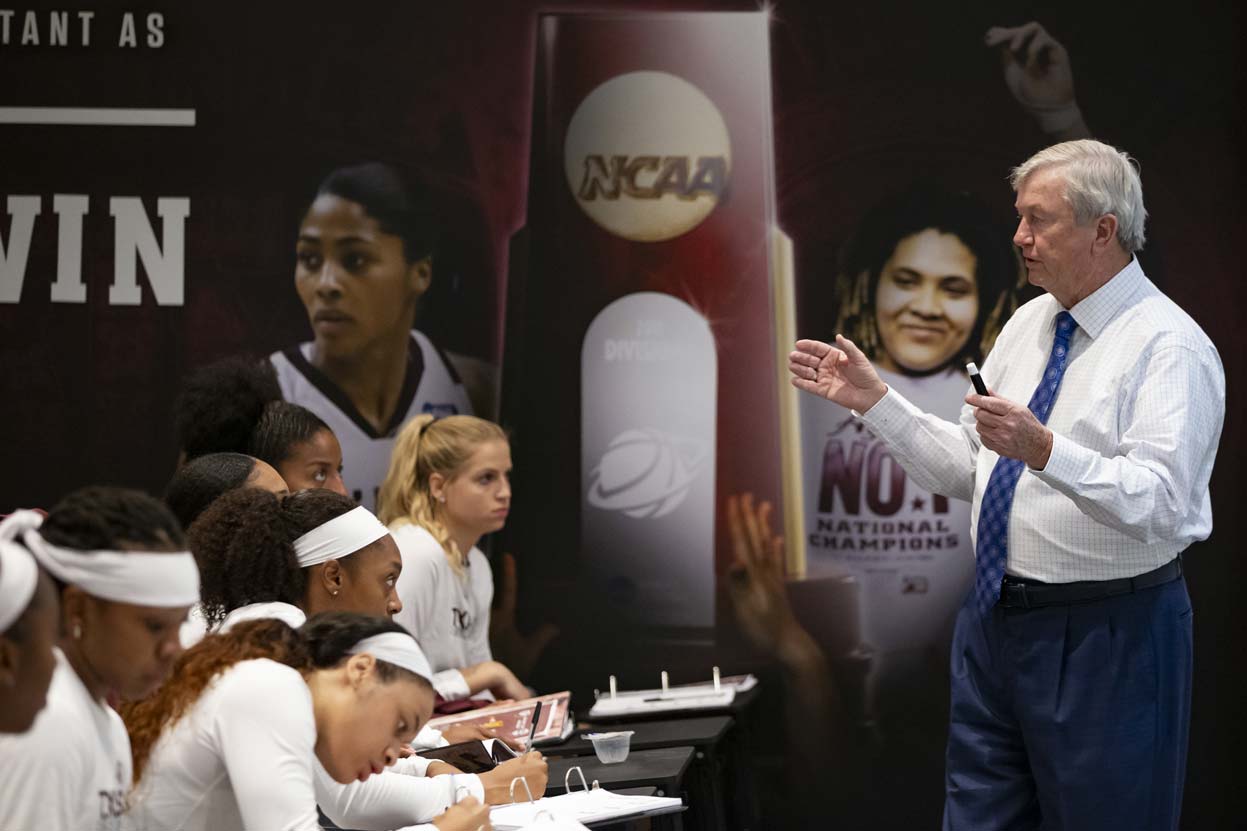 "The keeping up with Joneses, I think everybody is going to want to visit this locker room because I think we've maxed out this project. We really have to thank the 12th Man Foundation donors who made it all possible."
"The keeping up with Joneses, I think everybody is going to want to visit this locker room because I think we've maxed out this project," Blair said. "We really have to thank the 12th Man Foundation donors who made it all possible."
Among the many donors who stepped up to make the vison of the project a reality was a former high school athlete and longtime Texas A&M Athletics supporter, Barbara Barnett.
"Barbara's passion and love of Aggie Athletics is second to none, particularly her support of our women's programs," said Brady Bullard, 12th Man Foundation's Senior Vice President of Major Giving Programs. "She truly loves our student-athletes and has gone above and beyond to make sure they have everything they need to compete at the highest level. This project doesn't get off the ground if she doesn't step up as the lead donor."
As well as praising the leadership of Texas A&M Athletics and the 12th Man Foundation for their part in stewarding the project to reality, Blair is quick to point out members of his staff who played key roles in the concept development of the project.
"Kelly Bond-White has done a tremendous job seeing the vision for this project," he said. "I can't think of what 18-22 year olds get excited about, but she can. Between Kelly and Erich Birch, they've done a tremendous job of developing a vision for our new locker room."
Blair echoes the sentiments of fellow Aggie coaches who understand the importance of a team's facility when it comes to offering an outstanding student-athlete experience and building team chemistry by providing a space where players enjoy spending time around one another.
"This project has really made our team areas a home away from home for our kids and they're spending more and more time here before and after practice," he said. "They don't just get dressed and work out, they're staying and spending time with their friends and teammates."
Among the many features of the new student-athlete center is a state-of-the-art locker room with increased storage and space for each player including individual computers at every locker.
Some new concepts that were implemented into the facility are sleep pods, which are extremely popular with players who need to "take a few plays off" during their busy schedule of balancing academic and athletic obligations.
"I had no idea what a sleep pod was until Kelly showed me," Blair admitted. "Only a handful of schools across the country have this feature, but I think it will be the next thing that everyone has to have in a facility."
The team's film room and nutrition areas were also enhanced with Blair noting the ironic naming of the space dedicated to healthy eating of highly-conditioned student-athletes.
"The funny part about this is that Dorothy McFerrin donated the money and asked to name the nutrition area the Gary Blair Nutrition Center," he said. "I think they should have named the video room or the sleep pods after me before they named the nutrition area after the person with the worst nutrition in the program."
While the facility has a multitude of everyday offerings for the busy lives of current Aggie student-athletes, coaches and staff, it was built with another purpose in mind - as a showcase and platform to recruit top talent to Aggieland.
"There's an area that's like a living room that I call the closing room," Blair added. "When we have recruits in with their family, we can bring them there instead of a more formal setting like my office. It's comfortable for them and they really get a sense of how they would live in our program."
As the Aggie women's basketball team continues their impressive and consistent run of success, off the court the program stands at the forefront of Texas A&M Athletics' commitment to building and maintaining elite facilities and offering the best student-athlete experience in the country.