Impactful Gift Donors
Amy '00 & Sean Baughman '95
---
By Brian Davis '01
Transformative.
That's how Amy and Sean Baughman define their experience at Texas A&M. Their world-class education helped shape who they are today. Now, the Baughmans are paying it forward to current and future Aggies with their generous commitment to the 12th Man Foundation.
A Houston native, Amy graduated from Alief Elsik High School in 1996 and earned her bachelor's degree from A&M in Info and Operations Management in 2000.
Sean grew up in Central Texas, graduated from Midway High School in 1991 and earned a bachelor's (1996) and master's (1998) degree in English while at A&M.
After graduation, Sean began a career in the booming technology industry that has taken him from Houston - where he and Amy met - to Seattle to Austin working for a variety of well-known organizations including Deloitte, NASA, Microsoft and PayPal as well as a four-year stint at a young 1,800-employee company at the time called Facebook. He left the social media giant in 2015 after it had grown to around 20,000 employees.
Today, the Baughmans live in Austin where Sean is the Head of IT Platform and Enterprise Architecture for Atlassian - a global software company based in Australia - and Amy is a full-time mom to their 12-year-old son, Dylan, and 7-year-old daughter, Avery.
As football season ticket holders, the Aggie couple enjoys returning to campus as much as possible and exposing Dylan and Avery to the school they both hold so near and dear to their hearts.
"Every single time we go back we get that feeling again of why it's such a special place," Sean said.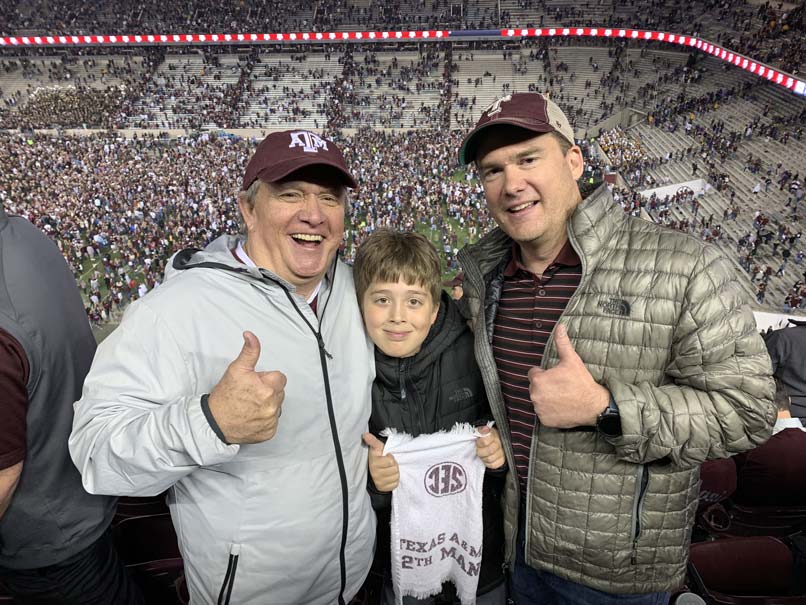 "Supporting a student-athlete's scholarship through the 1922 Fund is an amazing opportunity that can last generations for them. I encourage anyone considering making a gift to think about that."
Your financial support matters.
Join the Baughmans as Champions Council members and increase your impact with an investment in Aggie Athletics. Call the Major Gifts office at 979-260-7595.
The Baughmans consider themselves fortunate for the opportunities they have had and in turn have made a conscious effort to give back. The 1922 Fund - the 12th Man Foundation's effort to endow scholarships for every student-athlete at A&M - was a perfect avenue for the couple's support.
"We looked at what made a difference for us that could make a difference for someone else," Sean said. "Through the 1922 Fund, we can give a student-athlete the experience of attending Texas A&M, and at the same time, our family is able to have a relationship with the student-athlete we are helping. It's a special opportunity to support a scholarship and attach it to a real person."
The Baughmans, who were recently paired with freshman kicker Caden Davis as part of their 1922 Fund donation, joined Champions Council earlier this year and attended their first Champions Council Weekend in the spring.
"We met a lot of like-minded Aggies who are motivated to participate and help carry A&M Athletics forward," Sean said. "As a typical fan in the stands, you have very limited interaction with coaches and student-athletes. During that event, we sat at a table and had dinner with coaches, and we were able to visit with them while watching spring practice from the sideline the next day."
The Baughmans also attended the 12th Man Foundation Summer Meeting in San Antonio - which Sean calls a wonderful family experience - and a Champions Council luncheon featuring Buzz Williams in Austin. Sean says hearing directly from the coaches about what's going on makes a real difference.
"It's just a whole new level of learning about the program and how you can help," he said.
Beyond the benefits, Amy and Sean are proud to be paying it forward and making an enduring impact on Aggie Athletics.
"Supporting a student-athlete's scholarship through the 1922 Fund is an amazing opportunity that can last generations for them," Sean said. "I encourage anyone considering making a gift to think about that."