Begoña Aranguren '18
Former Texas A&M golfer credits scholarship for career path in nuclear engineering
---
By Olin Buchanan
Two trips — one abroad and one near home — shaped the future of Begoña Aranguren '18, a former Texas A&M golf student-athlete.
The first trip took her across the Atlantic from Madrid, Spain to Texas A&M where she attended on a golf scholarship from 2015-17.
The scholarship changed her life and, someday, it may help change how the world meets its energy demands.
Aranguren was a good golfer, but she was a great student. Her drives on the course were impressive, but not as much as her drive in the classroom.
"Of course, the scholarship helped me get to the U.S., but it has done so much more than just get me here," Aranguren said recently from her home in Washington, D.C. "The fact A&M gave me that opportunity really meant everything. It changed everything."
Ten years ago, Aranguren was a hard-working, driven teenager, but uncertain about her career path.
She ultimately decided to follow the lead of her older brother, Andres, who was studying engineering at Texas A&M-International in Laredo. He eventually earned a master's degree in mechanical engineering at Texas A&M.
"I had no idea what I wanted to do at all," she said. "Of course, I thought my brother was the coolest person in the world, so if he did engineering maybe I should try that too.
"I worked really hard in high school to be better at physics and math. So, when I applied for college I applied for pre-engineering. But I didn't pick what kind of engineering I wanted to do."
At one point she was strongly considering biomedical engineering.
That's when the second trip — a different kind of trip — changed her course.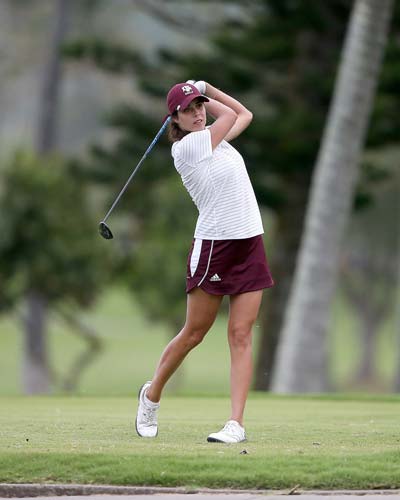 "If I had gone somewhere else, I think I would be doing something different. I think my life would be so much different. If it wasn't for the golf scholarship, I maybe would not have gone there. It really changed my career."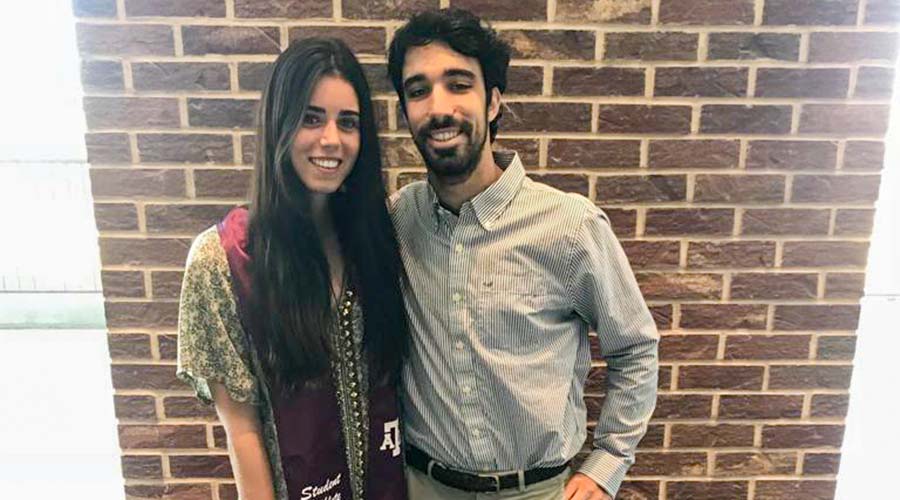 While on summer vacation in the South of Spain, she was riding scooters with her grandfather. He fell and sustained a bloody gash. The cut exposed his tibia.
Aranguren was repulsed.
"There was some blood and I was like, 'I cannot study the human body. I don't want to touch the human body or do anything that is related to that,'" she said. "Somehow, I remembered my teachers in high school explaining fission. I was very interested by it. A&M has one of the biggest nuclear engineering programs in the nation. The facilities for nuclear engineering at A&M — you can't really compare them to anything I've ever seen. I thought it was just a perfect match. So, I did that for my undergrad."
Suddenly switching from biomedical engineering to nuclear engineering might seem like an arduous undertaking.
Those who know Aranguren best suggest that, for her, it is as simple as executing a U-turn.
Ben Crancer, a former A&M golf teammate, recognized Aranguren's academic prowess when studying with her at the A&M golf facility.
"She pulled out all of her work. It looked like a foreign language," Crancer recalled. "She's going through it and explaining it to me. I was listening to her talk about those things which, for her, were probably simple things. I was thinking this is so far over my head and out of my realm. She's just incredibly smart."
"She's incredibly driven, too," he added. "She always has been."
Of similar opinion is the other Aranguren, the one who inspired the golfer's move to Texas A&M.
"My sister is very passionate, and she pours herself and everything she has into what she does," said Andres, who is a mechanical engineer in San Antonio. "She definitely took all the good genes in the family.
"She's someone who puts her mind to something, sets a goal and then pursues it. So far, she's managed to achieve every goal she set for herself."
Upon earning her degree, she set a new goal. She aimed for a doctorate.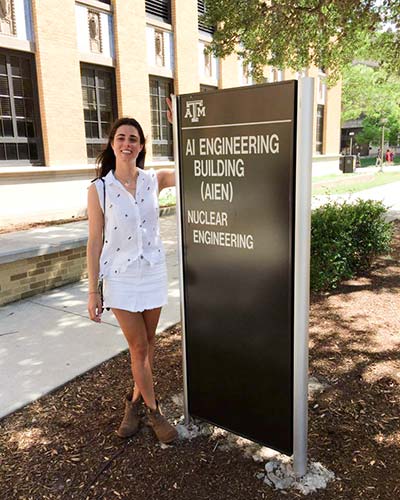 "When I was about to graduate in 2018, I talked to one of my professors, Dr. (Pavel) Tsvetkov, about going to grad school because I was kind of confused as to what to do after undergrad," Aranguren said. "He suggested that I pursue a PhD in nuclear engineering. I found no reasons not to do it. I really enjoyed my time at A&M. I was happy to stay for a few more years and so I did that."
When she was finishing her PhD last fall, Aranguren was encouraged by professors Dr. Sunil Chirayath and Dr. Craig Marianno to apply for a year-long fellowship with the National Nuclear Security Administration (NNSA) in the Department of Energy.
She was awarded that fellowship and is now working in the International Nuclear Safeguards Office.
"My work supports nuclear safeguards implementation and technology development," she said.
When the fellowship ends this summer, Aranguren plans to continue pursuing a career in nuclear engineering. She hopes to help change how nuclear energy is perceived worldwide.
"It's not a secret that nuclear energy doesn't have the best reputation," she said. "It's something that makes me very upset. I'm very passionate about doing work that will allow nuclear technology to move forward and for the world to benefit from this technology."
Someday the world might thank her. In doing so, the world could thank Texas A&M for offering Aranguren that golf scholarship.
"I really think my decision to study and pursue nuclear engineering came from A&M," Aranguren said. "If I had gone somewhere else, I think I would be doing something different. I think my life would be so much different. If it wasn't for the golf scholarship, I maybe would not have gone there. It really changed my career."