Ann & Bob Berger '60
Loyal supporters paying it forward with their generous investment in Aggie student-athletes
---
By Samantha Atchley '17
To the Berger family, being a donor to the 12th Man Foundation means so much more than merely supporting an athletics program. Although their love for Texas A&M definitely runs deep, the Berger family's passion for influencing the lives of Aggies is even stronger.
Through 45 years as football season ticket holders, contributing to multiple facility renovations and supporting scholarship endowments through the 1922 Fund, Ann and her late husband Bob Berger '60 have built an incredible legacy through their support of Texas A&M Athletics.
Ann first met Bob shortly after his graduation from Texas A&M as a petroleum engineer in 1960. With Bob's first job coincidentally leading him to meet Ann's mother in Monahans, Texas, the two quickly established a strong friendship that later grew into something more. After a time of several career moves and transfers, the couple finally found themselves together in Midland where they were married on Valentine's Day in 1970.
Their award-winning family business, however, wasn't established until Bob's retirement from the petroleum industry led them back to his family farm in Wichita Falls - a property that has been in the family since 1898.
"I had never lived on a farm before, so it was an interesting experience for me," Ann said. "We called our little operation Berger Angus Farm."
Ann and Bob started raising registered Black Angus cattle in 1999 and built a dynasty together landing them into the Texas Angus Hall of Fame in 2013. According to Ann, Bob was very keen on "helping others after you have been helped." In response to their success, the couple decided to start giving back philanthropically in ways where they could make a difference.
"When we first started donating, Bob did it anonymously. He just wanted to help young people like he had been helped because he wouldn't have been able to go to school without the scholarships that he received."
Ann and her daughter, Jana Smith '79, describe Bob as not only a hard-working businessman but also a passionate Aggie fan and a solid confidant for advice. Ann and Bob rarely missed a Texas A&M football game together unless the Aggies were playing in Austin. That was a venue Bob simply refused to step foot in out of pure loyalty to the maroon and white. But most importantly, Bob was a proud, first-generation Aggie with a deep appreciation for what his own scholarship provided for him.
"When we first started donating, Bob did it anonymously," Ann said. "He just wanted to help young people like he had been helped because he wouldn't have been able to go to school without the scholarships that he received."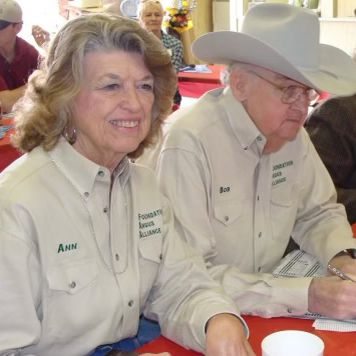 Together, Ann and Bob contributed generously to the Blue Bell Park and Kyle Field redevelopment projects and have invested in multiple scholarship endowments through the 1922 Fund connecting with several Aggie baseball student-athletes including Jack Moss, Mason Ornelas and Christian Roa. After Bob's passing in 2016 at the age of 75, Ann continued to carry on their mission of supporting young men and women at A&M and has created many meaningful relationships along the way.
"Ann, much like the same spirit as her late husband Bob, has made a tremendous impact on students and student-athletes at Texas A&M for many years," said Brady Bullard, senior vice president of major gifts. "From sending her scholarship recipients homemade cookies to inviting them to her tailgate or simply sending them a hand-written note of encouragement, Ann truly makes it a part of her life and routine to provide help and encouragement to the many students she financially supports."
As many who know her can attest to, Ann is as genuine as they come. She not only believes in the importance of investing in Aggie student-athletes, but also makes a point to build connections with them that extend far beyond sports.
"Ann understands the pressures on student-athletes," says Bullard, "and she knows many times they just need someone to speak with about life."
According to Smith, it's the warmth about Ann that people are drawn to.
"It's like bees to honey," she said. "She's that way and my dad was the same way, so it doesn't surprise me that these young people flock to her."
As a longtime donor and passionate member of the Aggie family, Ann feels what she has gained the most through the experience is friendship.
"You know, I think I'm the winner in this whole situation," Ann said. "I get more out of the scholarship then just giving back because I have made some really sweet friendships with some of these young people. We don't do it for recognition, and I've continued doing it because it was something that Bob always wanted to do."