Brenda & Eli Crow '01
First-generation Aggies with deep passion for academics and athletics find opportunity to make an impact through 12th Man Foundation
---
By Samantha Atchley '17
While few can say they were married with the authentic sound of the 12th Man roaring in the background, that is just one of the many unique moments in Brenda and Eli Crow's Aggie story.
Both first-generation Aggies, Brenda and Eli each saw something special in Aggieland from the start. The sense of belonging and the second-nature connection felt on campus not only led the couple to each other, but also laid a foundation of affinity for the university and its values for years to come.
"I had three campus tours lined up," Brenda said. "We went to Baylor, and I was on my way to Texas… but when I visited the A&M campus I was sold. There was no need to go anywhere else."
Starting their freshman year in Cain and Clements Hall, mutual friends made their worlds collide when Eli's suite mate helped introduce him to Brenda; and the rest was history. A year later, Brenda and Eli were married and after graduating, they began growing their family with the addition of their two children, Madelynn '22 and Samuel '24.
"We were actually married on campus at Research Park during an Aggie Football game," Brenda said.
"You could hear the 12th Man in the background," Eli added. "It was like they were cheering us on."
After graduating from A&M in 2001, Eli began his multi-faceted career in education. Initially starting as a math teacher and a coach, Eli went on to accomplish an impressive 15-year stint in which he acquired two Master's degrees from UT Tyler, a PhD from The University of Nebraska and held multiple positions in the industry ranging from a campus administrator, central office administrator, school superintendent and university faculty member.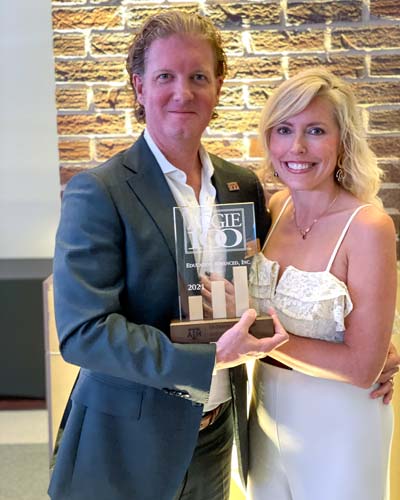 "There are a lot of resources at A&M in terms of facilities and the quality coaching staff, but for us, we wanted to make sure there is that constant effort to develop the whole athlete and make sure the academic side is taken care of as well."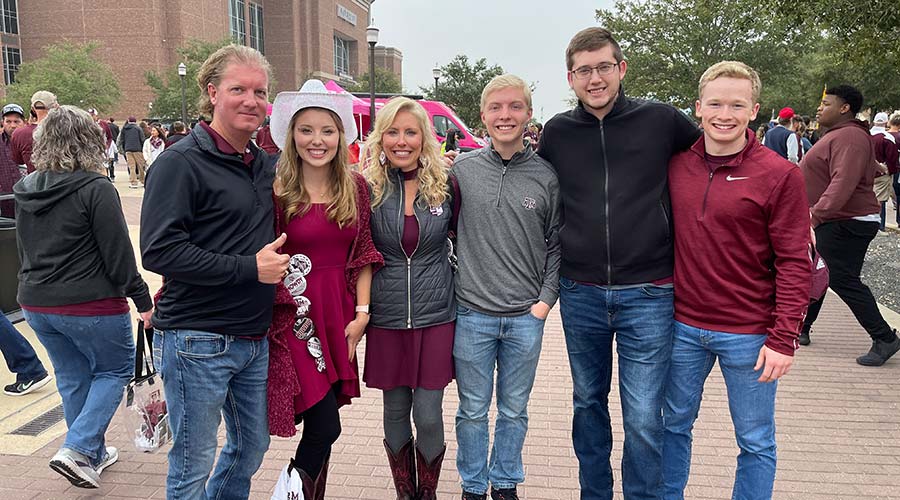 It was this well-rounded experience and knowledge in education that led to the establishment of the family's now nationally recognized software company, Education Advanced. After getting roped into a project to help streamline standardized testing, Eli seized an opportunity to not only provide a solution but create a tool that could make a lasting impact in the field of education.
"If you're not from the business you're sort of like "what's the big deal, you stand at the door and hand the booklets to the kids," Eli explained. "But it turns out, it's very complicated for schools, and I built a piece of software to assist with that. I gave it away for a number of years, but people kept asking me to do training on it, so I finally decided we may have something here — and we launched the business."
Now employing over 120 people worldwide, their fully-remote business has been a huge success, making the Inc. 5000 list (the 5,000 fastest growing companies in the United States) three years in a row, being named in Inc. Magazine's list of Best Workplaces and making the Aggie 100 for the second time in 2022.
Today, Education Advanced serves over 7.2 million students in 43 states (including almost 80% of students in Texas), Australia and Canada with their operational products assisting in areas such as master scheduling, staffing analysis, personnel evaluation, professional development and more.
"Our goal is to try to help make things more efficient on the operations side so that staff can get back to doing the real job of educating kids," Eli added.
Given their deep-rooted passion for education, the Crows later found a natural fit within the 12th Man Foundation where their affinity for Texas A&M Athletics and mission to advocate for academic opportunity collided. After years of support as season ticket holders for Aggie Football, Brenda and Eli felt called to continue their impact through a transformational gift to the Centennial Campaign; one that will make a generational difference in the lives of Aggie student-athletes.
"I think we feel pretty strongly that athletics is a huge teaching tool for kids in terms of learning together, learning to overcome adversity and learning to develop leadership qualities; those things are super important," Eli and Brenda agreed.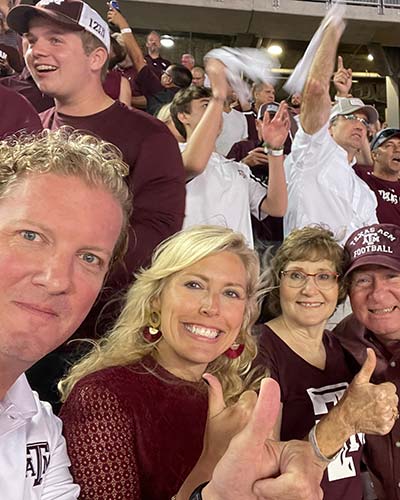 The Crows' support is an investment in the education of all Aggie student-athletes, ensuring they have an opportunity to be successful during their time on campus and beyond.
"Being coaches, that's always been something that's near and dear to us, but that's not enough, right? You have to have the academic pieces that go with it," Eli said. "There are a lot of resources at A&M in terms of facilities and the quality coaching staff, but for us, we wanted to make sure there is that constant effort to develop the whole athlete and make sure the academic side is taken care of as well."
A state-of-the-art facility, the Adam C. Sinn '00 Academic & Wellness Center will be at the heart of Aggie student-athletes' daily lives by offering vital support including academic, nutritional and sport psychology services. Expanded resources will include computer labs, tutoring spaces, an AMPLIFY studio for student-athlete content creation and brand development and a dining and nutrition center featuring a teaching kitchen.
"One thing that I really love about the new facilities is the whole nutrition program," Brenda added. "I feel like that is critical for athletes to have that education of how to take care of yourself and primarily with nutrition. It's not that you just have a nice place to eat, but they also teach you how to take care of yourself and will likely live happier and healthier lives because of it."
Thanks in part to dedicated, visionary and generous donors such as Brenda and Eli, the future continues to become brighter for Texas A&M Athletics and every student-athlete who chooses to represent the maroon and white. For the Crows, it is the opportunity that lies beyond competition that inspires them the most.
"Seeing them be successful and knowing that, as they leave and get plugged in to the Aggie network, the likelihood that will translate into their lives is pretty high, and it feels good to know that's going to change some people's lives," Eli said. "There's a lot of really cool opportunities to be involved and stay connected, so I like how the 12th Man Foundation is always making efforts to keep fans and alumni connected to what we're trying to do in terms of funding championship athletics."