Texas A&M Athletics
Building Leaders with Real-World Experiences
---
By Douglas Pils '92
Student-athlete success can be measured in many ways.
Good grades and athletic accomplishments are important examples, but positive occurrences outside of the classroom and competition add incredible value to a student-athlete's experience while at Texas A&M.
The Student-Athlete Engagement staff within A&M's Academic Services department sees Aggies thrive through these experiences every day. It starts with making the effort to try something new and it ends with student-athletes developing lifelong skills and relationships with their peers.
"Mess up, experience it, learn from it and grow from it," said Joe Fields, A&M's Associate Athletics Director for Academic Services. "It's not necessarily from a textbook. It's not necessarily what the coach is telling them to do, but the opportunity to actually do some of these things and make decisions, be involved with growing programs and everything that entails. We think that's only going to serve them well in life when they have a chance to be in leadership roles and do really good things."
Matching opportunities with student-athletes means getting to know the student-athlete individually and tapping into their motivation.
"I think a lot of time you will have a mentor who sees a lot of things in you that you may not see in yourself initially," said Kristi Mejias, A&M's Assistant Director for Student-Athlete Engagement.
Here's a look at three student-athletes who have gained real-world leadership experience by making the most out of their opportunities.
TRADITIONS NIGHT
In summer of 2017, Rachel Bernardo was an incoming member of the cross country team attending Fish Camp with other student-athletes in what was called Session Zero. The camp was set up before the other Fish Camps with the notion that student-athletes could experience an introduction to A&M without interfering with fall practices. Ultimately, the idea and its implementation presented several challenges, so Mejias and staff, along with students from the Division of Student Affairs, began meeting to assess, improve and continue providing a similar first-year experience to introduce student-athletes to the school's many traditions.
Mejias brought Bernardo, a sophomore from College Station, into the discussion for feedback from the student-athlete's perspective. From those meetings came the idea for Traditions Night, where new student-athletes go on a walking tour of campus, stopping at critical spots and learning some of the traditions that all Aggies should know about.
Sully and Silver Taps. The Academic Building. Century Tree. Bonfire Memorial. Learning the yells.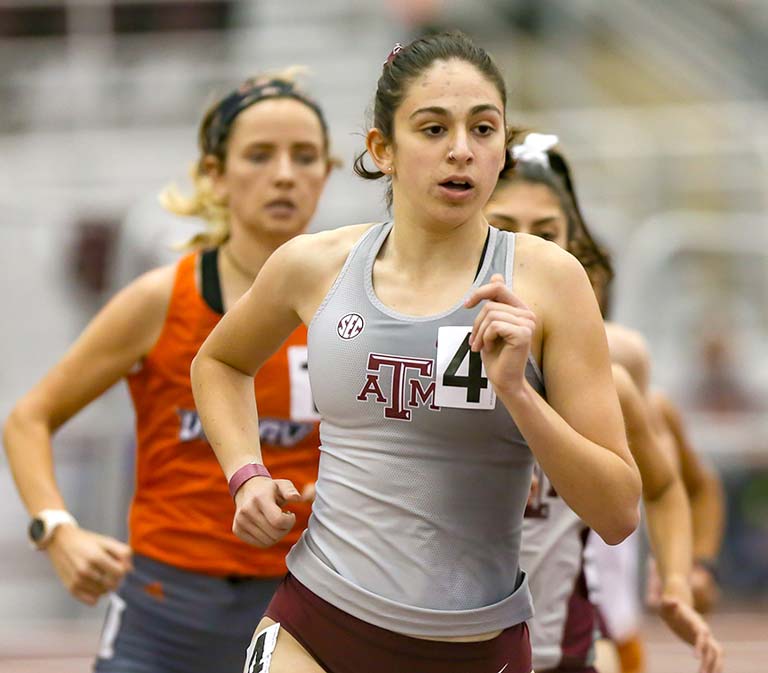 "It is a big deal to compete at A&M let alone receive a scholarship. It reminds you how lucky you are to be here and use all of the facilities and have all of these great resources with the staff and all of the engagement programs. It's a constant reminder of the success you've achieved so far and that you are capable."
YOUR FINANCIAL SUPPORT MATTERS
Student-athletes like Rachel Bernardo, Darby Gardner and Keeath Magee are taking full advantage of opportunities provided by Texas A&M Athletics to become leaders in the classroom, in competition and in the community. Contact Lauren Hickey at 979-260-7595 or by email
Bernardo, whose mother has two A&M degrees and runs the Texas Sea Grant on campus, helped map out the route. The women's distance runner used her Garmin watch to help build maps and establish how much time would be needed to complete the circular route.
"I think it went better than we could have hoped for," said Bernardo, who recently changed her major to psychology with a goal of becoming a sports psychologist. "All of the freshmen who talked to me about it said they had a really great time and that they met so many other people they wouldn't have met otherwise."
That was one of the things Bernardo brought to the planning meetings. She made sure to split up the student-athletes from the different sports into huddles of 10 each in the two groups that traversed campus. Bernardo, who also serves as Vice President of Records & Finance for the Student-Athlete Advisory Committee (SAAC) and is an active executive member of WE³ - a group that seeks to empower female student-athletes on campus, is already signed up for another year of coordinating Traditions Night.
"You have some students who have a goal and vision for themselves early on and she is one of them," Mejias said. "She was basically an executive leader with fourth- and fifth-year seniors on campus helping run Traditions Night."
There were two different sessions of Traditions Night in 2018 - one in early summer and another in August for a little more than 100 incoming student-athletes. It is now considered a student-athlete's first tradition similar to the way Fish Camp and Aggie Transition Camp represent a freshman and transfer student's first tradition.
SEC CAREER TOUR
In November, the SEC held its third annual career tour for two student-athletes from each member institution. The group visited several corporations in the Atlanta, Georgia, area including UPS, Children's Healthcare of Atlanta, The Home Depot and the Atlanta Hawks organization.
Darby Gardner, a rider on the equestrian team, and men's swimmer Mateo Gonzalez represented A&M for the three-day event. To be selected, student-athletes must build relationships with staff members and show initiative with involvement in other activities on campus.
For Gardner, a junior from New Braunfels majoring in business administration with a focus on event planning, her leadership role with WE³ was an important factor in being selected. She's now the group's premiere event coordinator, and it did not take long for Mejias to see Gardner's enthusiasm.
"I was so impressed with what I saw when she came to the meetings," Mejias said. "It was obvious that she had a desire to further her experience in event planning and running programs."
In Atlanta, Gardner took full advantage of meeting student-athletes from fellow SEC schools as well as executives at the companies they visited.>
"I was surrounded by people who have the same drive as me and that's also hard because there are not a ton of people who want to do what I want to do," said Gardner, who is part of the equestrian reining team. "I met a few girls that did and that was cool. And like me, they're athletes so they're super busy. It was good to be around some like-minded people who have that same drive for our careers."
Gardner said the group was able to meet with SEC Commissioner Greg Sankey, who showed great interest in learning a little bit about each of the student-athletes in attendance. The tour happened in the week leading up to the SEC Football Championship Game. That made an impact on Gardner, because the conference was planning one of its major events of the year and yet took the time to help student-athletes from all sports.
"They were still focused on us and that was a huge deal," she said.
SEC FOOTBALL LEADERSHIP COUNCIL
An event in Birmingham, Alabama, in January, pulled one motivated student-athlete from A&M's Student-Athlete Advisory Committee. Junior linebacker Keeath Magee from Houston participated in the SEC Football Leadership Council where student-athletes reviewed NCAA and SEC legislative issues and held discussions with officials and student-athletes from other schools.
Magee, who will graduate in August with a degree in University Studies Business with minors in sports management and economics, stood out as A&M's representative for many reasons.
"He doesn't meet a stranger and he's intentional with building relationships with everyone he encounters," Mejias said of Magee, whose parents moved to College Station and are working as a football coach and English teacher at A&M Consolidated. "He will just come into your office and if you're welcoming, he's going to be welcoming. He's going to have some very insightful conversations."
Magee came to Texas A&M with the notion that he would use his education to help people. He has a lot of ideas about how to do that, from wanting to help build libraries and Boys & Girls Clubs to being a sports agent who does things the right way to being a lawyer or an entrepreneur.
He returned from Birmingham inspired to start a new organization that will help student-athletes develop the tools for success in a variety of ways. He's still working out the details, but it's clear that being around his peers from the SEC and league executives made an impact on his vision.
A big part of that was understanding that people do not have to be a "LeBron James character" to make a change in the world around them.
"It changed my perspective on if I say I'm a leader, that means I'm willing to go against the grain and I'm willing to speak up for change when other people don't want to," Magee said. "I can be that voice for people who may not have the courage or the strength. So to be the voice of that strength and the voice of everyone who may want to see a change, I think that's the respect that I came away from it."
These experiences and many others, such as WE³ and the Winning Edge Job Shadow Experience, provide A&M student-athletes with the opportunity to earn real-world experience and make the valuable connections that will help them find jobs when they graduate. That does not mean everything works well every time, but as long as the students work together, they are preparing for the challenges they will face after they leave the comforts of Texas A&M.
"They have to work through their differences," Fields said. "They have to work through different ideas and different opinions to ultimately reach an end goal. You have some other initiatives where they're literally behind the scenes being an intern and seeing it first-hand and getting that practical, upfront experience that they wouldn't normally get in the traditional classroom setting."
Being able to take part in these programs only requires student-athletes to take the first step into wanting to be a part of something that makes a difference.
"In my opinion, I believe that positivity can go a long way," Magee said. "You never know what bringing positive energy can do. And so, knowledge is also power. You never know what can change your life.">