Q&A with Chris Cooper '89
A conversation with the chair of the 2022 12th Man Foundation Board of Trustees
---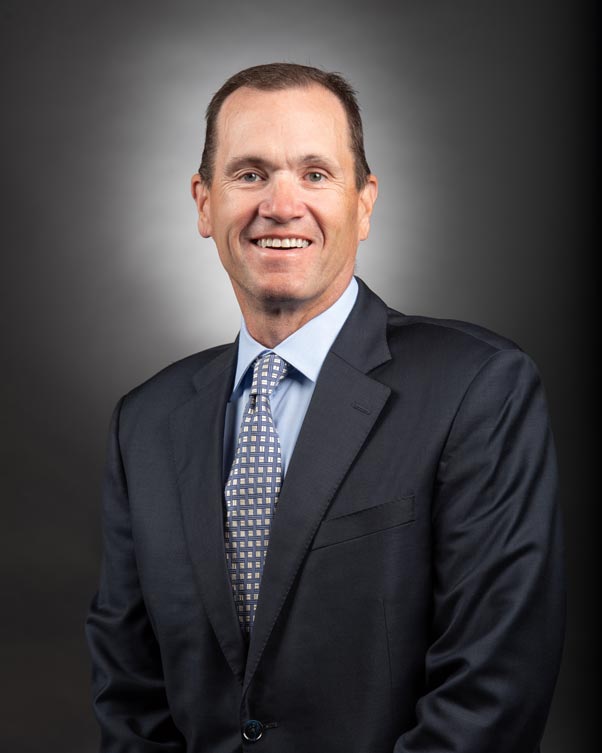 How did Texas A&M become special to you and your family?
When I was growing up, I was first exposed to Texas A&M by Jerry Crowley '63 and his family of diehard Aggies. I believe they embody what it means to be an Aggie. They show effort and discipline, are kind, generous, respectful, loyal and are leaders. I'm thankful for their influence on my life!
My wife, Terry, is from Connecticut and her first exposure to A&M was Midnight Yell in New York prior to the 1998 Kickoff Classic. She expected a few dozen people to be there, but she was astounded by the thousands of Aggies celebrating their university. She's been bought in ever since!
Our three boys have grown up with a fanatical dad, and we make multiple family trips each year to A&M to experience gameday.
What led you to a career in finance, and what do you credit your success to?
It all started at Texas A&M in the classroom where I discovered that accounting and finance came naturally to me. I was the beneficiary of great resources and professors at Texas A&M, and they prepared me to hit the ground running when I began my career at Deloitte. I can't say enough good things about the accounting department and the leadership Dr. James Benjamin provided for many decades.
How did your time at Texas A&M prepare you for your career?
The education itself was obviously very important, but learning how to work in a team environment, collaborating and respecting others has been critical for my career. We are all in client service in some form, and being able to consider multiple perspectives has been invaluable.
How did you first become involved with the 12th Man Foundation?
Living so far away from Texas A&M I felt a need to reconnect, so I bought football season tickets in the late 1990s. We've had tickets ever since and enjoy our family trips to visit Aggieland. When the 12th Man Foundation developed the original Championship Vision campaign in the early 2000s, I realized how important our donors are to funding student-athlete scholarships and our athletics facilities. We participated in that capital campaign and most all subsequent facility campaigns.
What is your motivation to support Texas A&M Athletics through the 12th Man Foundation?
It was the realization that our student-athletes need our help to fund scholarships and ensure our facilities are the best. The athletics department does bring in substantial revenue through ticket sales, but the costs of scholarships as well as the building and maintenance of athletics facilities relies upon our generous donors, and we want to give back to the university we love so much.
How does the 12th Man Foundation Board of Trustees serve the organization's mission?
A board is a governance body and serves to make sure the long-term strategic vision of the organization is being executed. We are extremely fortunate that Travis Dabney and his entire team at the 12th Man Foundation are truly special and excel in the mission of supporting championship athletics through scholarships, programs and facilities. Because we have such a great team in place, I find providing guidance and support to be truly an enjoyable experience.