Impactful Gift Donors
Linda & Dennis Clark '68
---
By Samantha Atchley '17
Through the pages of a 1958 edition of Aggieland, Dennis Clark '68 was drawn to Texas A&M for the first time.
Stumbling across the yearbook while in his high school counselor's office, Dennis was introduced to the rich tradition, history and heritage of what it means to be an Aggie. He left that office knowing exactly where he was going for college.
"It was just the right place," Dennis said of A&M. "Once I got there, there was no question in my mind that it was where I needed to be."
After graduating from A&M in 1968 and again in 1971 with a master's degree in Business, Dennis' experience and education took him far and wide. Having a commission in the Corps of Cadets, he was set to be on active duty in the Army following graduation. However, with six months to spare before that was to take place, Dennis found what he thought would be a "temporary" job in the restaurant business.
"I figured it would just be a short-term thing, but ended up discovering that I like the restaurant business," Dennis said. "After I got off active duty, I came back to the restaurant business and have been involved in it ever since. Over the years, I have had the opportunity to work as an executive for a variety of public companies and to develop my own businesses. My decision to stay in the restaurant business was very fortunate for me both from a financial and a personal perspective."
Very fortunate, indeed. Upon his return, Dennis met the love of his life, Linda, whom he has built an impressive career alongside. Through extensive experience in the restaurant industry and beyond, Dennis and Linda found great success in the Sonic business - now owning 37 Drive-Ins throughout the Dallas/Fort Worth area. In addition to their successful restaurant business, the Clarks developed and continue to operate a very successful real estate development business that builds and owns shopping centers and office professional properties as well as the Sonic restaurant properties they operate.
"I just enjoy the interaction of working with people, and I enjoy the energy and the pace of the business," Dennis said. "The restaurant industry and the development business have been very kind to Linda and I both, and it's given us a lot of opportunities to do things that we probably never imagined that we were going to be doing."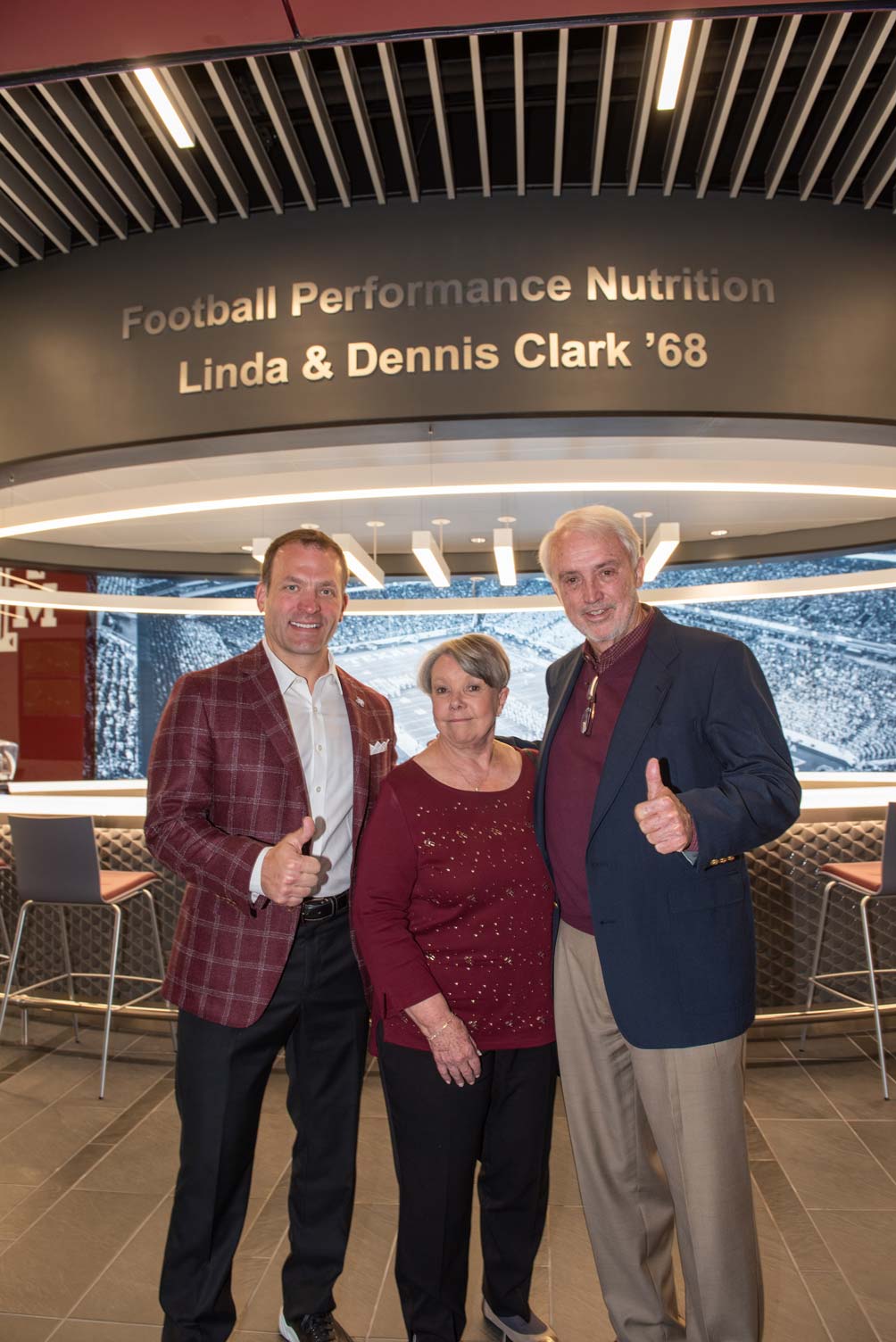 "We always looked at the football program as being something that was very special and brought everybody together. We thought there was a lot of value to the whole athletic program and it just seemed like the right thing to do."
When the opportunities come to support Texas A&M Athletics, the Clarks never miss a beat. Avid Aggie fans and dedicated donors to the 12th Man Foundation, Dennis and Linda answered the call in true 12th Man fashion when they made a generous contribution to the Kyle Field Redevelopment campaign in 2015. Since then, it has been a rare occasion to find their seats left empty on an Aggie game day.
"We rarely miss a home game and we also travel to most out of town games," Dennis said. "We just love Aggie football.
"Kyle Field and Aggie football ignite the same spirit in me that I had when I was at school. There is a sense of roots associated with it, whether you're class of '68 or '98 or '18 - there's this commonality of experience that exists there that permeates the entire university, for both current and former students. It's something that is recognizable, and people outside our community recognize it, see it and envy it."
As season ticket holders, the Clarks thoroughly enjoy and add to the electric spirit of Kyle Field. Yelling from the East sideline, Dennis and Linda always stand ready to support the Aggies.
"We're 20 yards from the band and we have 30,000 students on the two decks above us," Dennis said. "The energy just rolls off those decks. You come away feeling 20 years younger. I love standing for the game. I'm over there with all the kids and that's really where I want to be and Linda's very much the same way."
Along with their support through season tickets, the pair also recently helped fund the impressive new Linda & Dennis Clark '68 Football Performance Nutrition addition to the Davis Player Development Center - an expansion that gives the team nutritionist added space to provide pre- and post-workout fuel for student-athletes.
"We always looked at the football program as being something that was very special and brought everybody together," Dennis said. "We thought there was a lot of value to the whole athletic program and it just seemed like the right thing to do."
Completely funded by generous 12th Man Foundation donors, the $7 million expansion to the Becky '76 and Monty '77 Davis Football Player Development Center equipped the facility with state-of-the-art sports performance technology including the Charlie '76 and Kirk '07 Elder Performance Turf and the Linda & Dennis Clark '68 Football Performance Nutrition space. The elite facility provides football student-athletes with the training and nutrition they need for championship-level performance.
Valuing the importance of the student-athlete experience and life after competition, the Clarks' contribution has allowed Aggie Athletics to improve team nutrition not only for sports performance, but also for educational purposes. As a former student-athlete, Lauren Hickey knows first-hand that success on the field often begins off the field in spaces like these.
"This is a space where you can see science, technology and athletic performance in full collaboration," said Hickey, who serves the 12th Man Foundation Major Gifts department as the Manager of Donor Relations. "Our football student-athletes are able to finish lifting and immediately replace and replenish nutrients they lost during the workout.
"This provides an excellent teaching space as well. Our nutritionist, Tiffany Ilten, works in conjunction with the strength and conditioning staff to develop individual plans for each football student-athlete to help them gain muscle and work towards endurance goals. This new modern space also provides an opportunity for nutrition staff to facilitate cooking demos and have students learn how to cook and meal prep."
To the Clarks, the ability to make substantial contributions that both enhance the image of the university and help A&M's athletic programs succeed is a huge benefit of being 12th Man Foundation donors. Seeing the direct impact of their support through every resource, facility, scholarship and opportunity given to Aggie student-athletes is one of the greatest rewards of their efforts.
"When you see these kids come in the athletic programs and succeed not only in their sport," Linda says, "but succeed in their academics and then go on - whether to play professionally, or they go out into the world - is just very rewarding."
Without a doubt, the Clarks hold a sincere passion for A&M and all that it represents. Their devotion to preserving and adding to the aspects of what makes the university and its athletic programs so special is an inspiration that, according to Dennis, all starts with the Spirit of Aggieland and knowing what it means to be an Aggie.
"Certainly A&M was probably one of the most formative things that ever occurred to me in my entire life," he said. "There's this camaraderie, the sense of togetherness, and the sense of community that exists at A&M and among Aggies. It is what Aggies mean when they talk about the Spirit of Aggieland. It's something that everybody that has gone to our university or has been closely associated with our university understands. It is truly a spirit that can ne'er be told."