Corey Pullig '96
Former A&M quarterback continues to lead through service to our nation
---
By Will Johnson '01
Corey Pullig was ready to answer when called upon.
It was Halloween in 1992, and the 5th-ranked Texas A&M football team was playing SMU in a Southwest Conference game at the Cotton Bowl. Early in the contest, the 8-0 Aggies were driving down the field against the Mustangs when starting quarterback Jeff Granger left the game due to a concussion.
Head coach R.C. Slocum turned to Pullig, a talented freshman from Deer Park, Texas, to fill the sophomore signal caller's shoes. Pullig stepped up and led the Aggies to a 41-7 victory over the Mustangs.
One week later, Pullig made his first career start as A&M's quarterback in a 40-18 win over Louisville at Kyle Field. He started every game for the rest of his college career.
"Aside from the great fan base and winning tradition, the ability to compete for a starting job my freshman year was probably the biggest reason I chose A&M," Pullig said. "I knew it was not going to be easy, but I was confident in my ability. I felt that, in time, I could get on the field. It didn't really matter if it was my freshman year, or after a year or two."
"Early on, seeing Corey in the meetings and how competitive he was on the field, I knew then he was going to compete for the job," Slocum added.
The 1992 team finished 12-0 in the regular season, the most wins in school history and A&M's only perfect regular season since 1939. The Aggies entered the postseason ranked 3rd by the UPI poll and 4th by the AP. Miami, No. 1 in both polls, and Alabama, No. 2 in both, met in the Sugar Bowl to decide the national title, while A&M faced 5th-ranked Notre Dame in the Cotton Bowl.
"That year presented a strong argument why the playoff system was necessary," Pullig said. "The championship needed to be decided on the field."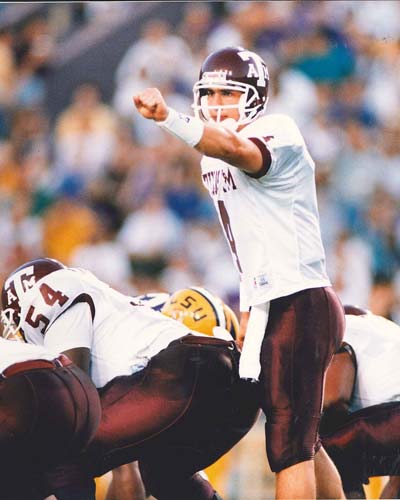 "I'm grateful to the university and 12th Man Foundation donors. A&M provided me an exceptional classroom education. The scholarship gave me an opportunity likely not otherwise available because of financial constraints."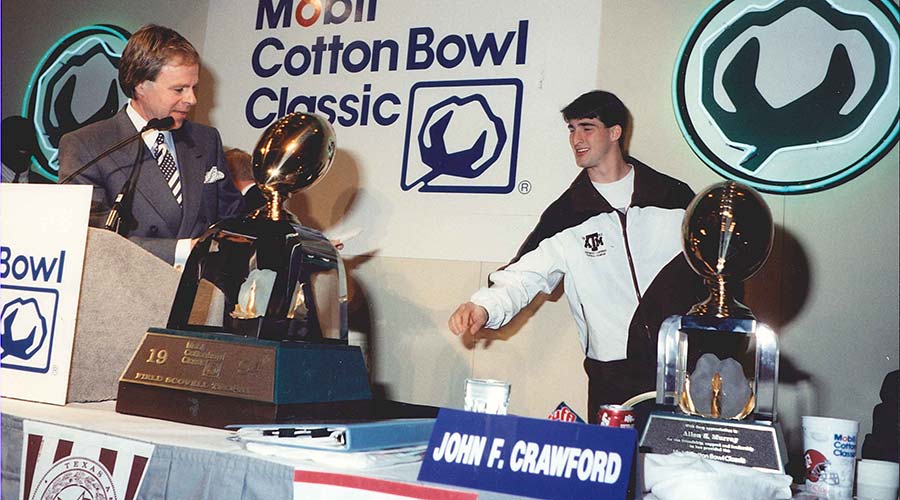 From 1992-95, Pullig started 40 consecutive games at quarterback for the Aggies, rewriting the program's record book along the way.
The winningest quarterback in A&M football history with a record of 33-6-1, Pullig led the team to back-to-back SWC Championships in 1992 and 1993 and an undefeated conference record from 1992-94.
The Aggies lost just one game at Kyle Field during Pullig's tenure, and his storied career ended with a 22-20 victory over Michigan in the 1995 Alamo Bowl. The game marked the final bowl win for the Southwest Conference.
Pullig's remarkable accomplishments in maroon and white were recognized in 2016 when he was inducted into the Texas A&M Athletics Hall of Fame.
Off the field, Pullig's achievements are even more extraordinary.
After earning his degree in marketing in 1996, Pullig went on to earn his Juris Doctor from the South Texas College of Law.
Pullig then answered another call, in service of our country. He joined the United States Marine Corps and has been on active duty for nearly two decades.
Serving as a staff judge advocate for the Marine Corps, Pullig advises commanders on a variety of legal issues, much like the role of an in-house counsel for a corporation.
"My current assignment provides a unique opportunity to advise foreign partners on the law of armed conflict, mainly through exercises in South America," Pullig said.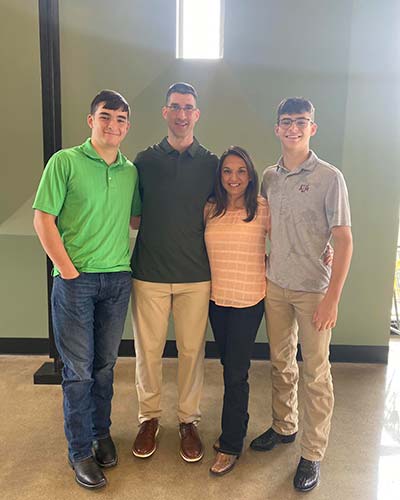 What he is doing now is far more than a game. However, football did arm Pullig with valuable life lessons.
"Playing collegiate athletics at an elite level is extremely stressful and places significant demands on one's time," he said. "Law school and the Marine Corps can be stressful. At A&M, I learned to deal with stress and learned schedule discipline. Both help me today."
Along with his wife, Lisa, Pullig now pays it forward by assisting in the Veterans' Coaching Program offered through the Thornton-McFerrin Coaching Academy at A&M. The one-of-a-kind program is designed to help veterans enrolled at A&M with the transition and job placement for careers in coaching.
"Anything I can do is a win-win," Pullig said. "Truth be told, my wife does all the heavy lifting."
Pullig is a prime example of what college football, and athletics in general, should be about. He excelled on and off the field and learned valuable lessons that propelled him to success after graduation.
"I'm grateful to the university and 12th Man Foundation donors," Pullig said. "A&M provided me an exceptional classroom education. The scholarship gave me an opportunity likely not otherwise available because of financial constraints."
One of the greatest quarterbacks in school history, Pullig is a proud Aggie who undeniably made the most of his opportunity when called upon.