Deshae Wise '23
Aggie student-athlete thrives through adversity to find success on the track and in life
---
By Haley Stangle
On the surface, Deshae Wise's early childhood appeared normal. She went to school. She participated in after-school activities. She looked happy and healthy.
Her mother, Rebecca Bender, worked the night shift at a 24-hour restaurant. At least that is what Wise assumed at the time. All Wise knew was that her mother was dressed in nice clothes when she tucked her into bed each night.
In reality, Bender was a victim of human trafficking, and both mother and daughter lived under the same roof with Bender's traffickers for nearly six of the first eight years of Wise's life.
On December 31, 2007, they were finally able to break free after a federal indictment of Bender's trafficker. Following their escape, Bender not only had to recover from what they had been through, but she had to start a new life and raise her daughter as a single mom.
As Wise grew older, she realized certain aspects of her early childhood were anything but normal.
While nothing happened to her personally, Wise spent six years surrounded by terror, trauma and manipulation. Being in an environment like that, no matter how shielded, can leave a lasting impact on a child.
Once Bender was able to process everything, she was open with Wise about what they had endured.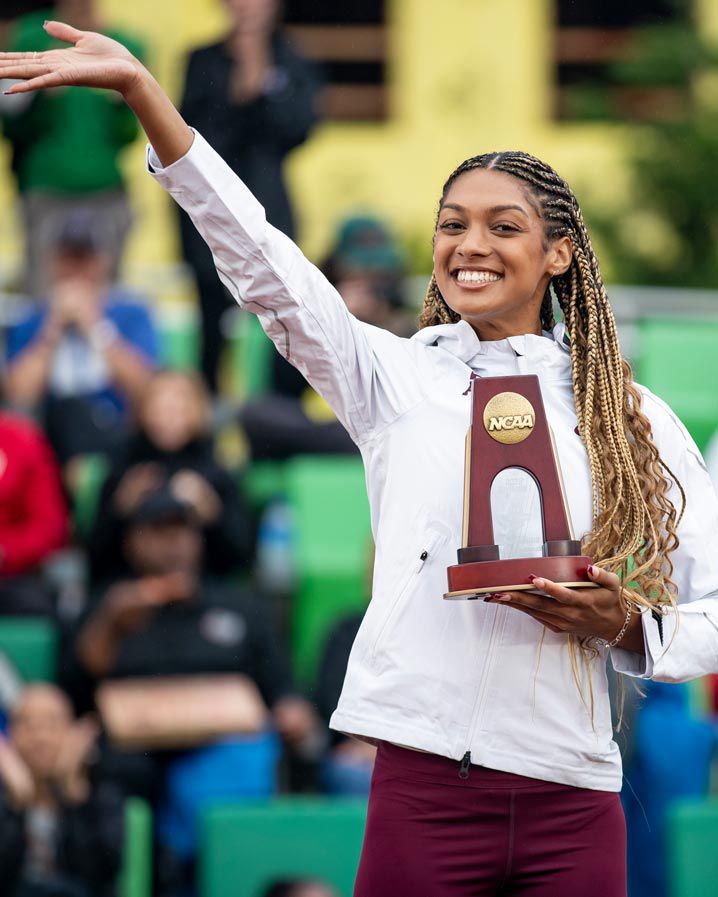 "Texas A&M is truly a very special place, and I'm so thankful to have been given the opportunity to come here and experience it."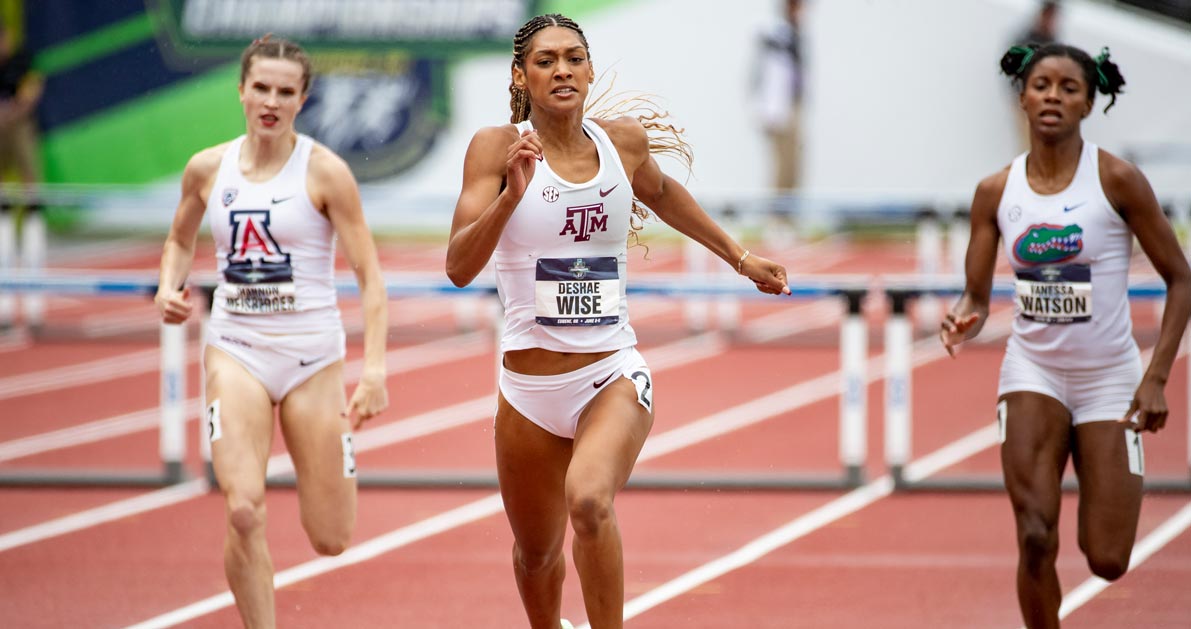 "I was around eight or nine when she tried to explain to me what the situation was in terms that are not too intense for a child," recalled Wise.
Wise watched her mother overcome years of abuse while struggling as a single parent. She has also witnessed her mother thrive in the years since.
In 2014, with her daughter by her side, Bender started an anti-trafficking non-profit called the Rebecca Bender Initiative. She also founded Elevate Academy, which has grown to become the largest online school for survivors of human trafficking in the world.
Wise has seen firsthand how important these resources are for survivors.
"I think human trafficking is a very misunderstood concept because it is not just people getting kidnapped and forced into this," Wise explained. "It's the coercion and the belief that this person really loves you and wants what's best for you."
While Bender channeled her energy into helping survivors, Wise became involved in sports. She played basketball, volleyball and soccer. She also ran track and learned quickly that she had a gift for running.
By her junior year of high school, Wise was on pace to earn a Division I track scholarship. A Gatorade Athlete of the Year, Nike Athlete of the Year, and four-time state champion as a high schooler in Oregon, Wise chose the University of California, Berkeley because of its academic prestige and proximity to her hometown.
After competing for Cal for three seasons and graduating with one year of eligibility remaining, Wise began looking for more. She wanted an opportunity to improve on the track while earning a full-ride scholarship that was not solely linked to performance.
As she entered the transfer portal, Wise searched for a school that offered both a world-class track program and a top-notch master's program in her field. Once she paired Aggie track and field with the Master of Public Service and Administration program offered at A&M, the decision was easy.
Wise arrived in Aggieland accustomed to finishing in front of her competition on the track. However, the graduate transfer found herself in the middle of the pack when competing with her new teammates. Like most things in her life, Wise did not allow this to set her back. Instead, Wise used it as motivation to achieve her goals.
When the 2021-22 track and field season began, Wise made an immediate impact on the team. She climbed to No. 5 in the nation in the 400-meter hurdles after arriving at A&M unranked in the event. She also earned a spot on the Texas A&M All-Time Top-12 Performer List for her time in the indoor 60-meter hurdles. Her performance exceeded the lofty expectations of coach Pat Henry.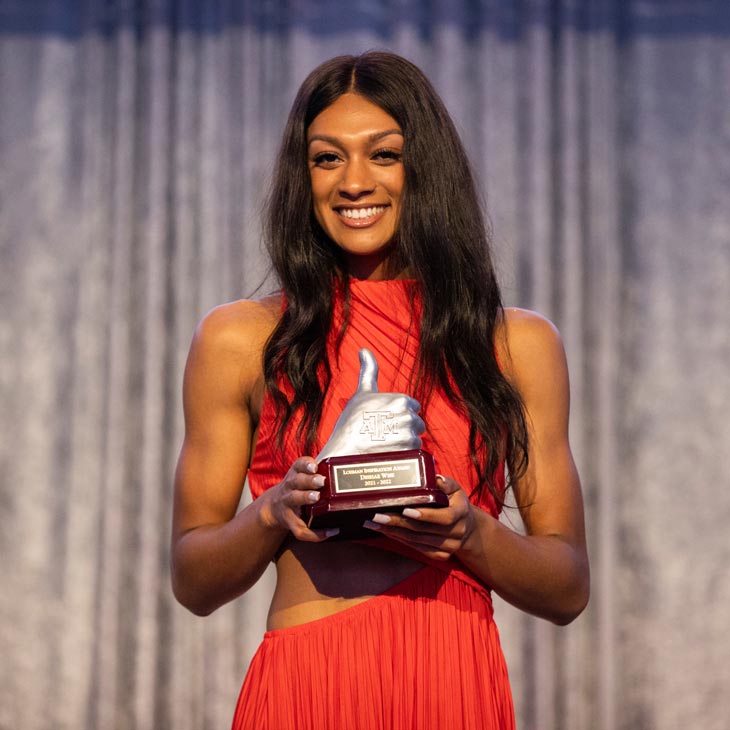 "Deshae had not really run the intermediate hurdles prior to coming here," said Henry, Texas A&M's head track and field coach. "She hadn't trained for it, and it's a completely different event than 100-meter hurdles. She really did a great job of adapting to our system, and I think she's flourished in it.
"And she now has an Aggie smile."
Since arriving in Aggieland, Wise has utilized every resource available to student-athletes to help her be successful on the track and in the classroom, and she is thankful to 12th Man Foundation donors for their passion and support which makes opportunities like hers possible.
"The institution as a whole is so amazing," she said. "Student-athletes are treated phenomenally. We are supported and not just as athletes. We are supported on the nutrition side, the academic side - everything."
In her first and only season as a member of the Aggie track and field team, Wise was named the recipient of the 2022 Lohman Inspiration Award - an honor that recognizes a student-athlete at Texas A&M who has demonstrated integrity and tenacity in overcoming incredible challenges in pursuit of his or her education.
For Wise, the award is a testament to the Aggie Spirit.
"Texas A&M is truly a very special place, and I'm so thankful to have been given the opportunity to come here and experience it," she said. "The Lohman Inspiration Award allows student-athletes to see their peers in a different light and know that others don't just define them by their athletic career."
In June, Wise wrapped up her collegiate track career in her home state of Oregon at the NCAA Division I Outdoor Track & Field Championships. She recorded a personal best time in the women's 400-meter hurdles, finishing fifth and earning All-America honors while helping the Aggies place fourth in the team rankings.
"Some people may be unhappy with a fifth-place finish, but words cannot express how proud I am of myself," Wise said in an Instagram post following the accomplishment. "I'm so thankful to see my hard work, mental fortitude and risk-taking pay off exactly when it needed to. I couldn't have done this without my teammates, coaches and support system."
After an impressive collegiate career, Wise has decided to continue her running career as a professional track athlete.
An incredible testament to making the most of opportunities, Wise has overcome much adversity to get this far, and she is not hitting the brakes anytime soon. Instead, she embraces her experience and uses it to better understand and encourage others.
After all, she knows you can never tell what someone is going through just by looking at them.