Texas A&M Athletics
A Destination Job for Elite Coaches
From donor support and leadership to tradition and world-class academics, A&M has everything it takes to win championships
---
By Brian Davis '01
Coaches look for many things when searching for the perfect, "destination" job. They want great facilities that demonstrate a commitment to investing in their sport from the administration and supporters.
They want a passionate fan base that has tremendous pride for their university and its athletic programs.
They want to compete in a reputable conference and be at a school with the tradition, history and educational opportunities that attract elite talent from a rich recruiting base.
Ultimately, they want to have everything it takes to win at a high level and compete for championships.
When coaches look at Texas A&M, that's precisely what they find, and more.
Making a Splash
Attracting elite coaches has not been a problem for Aggie Athletics in the past year.
It began when A&M shook the college football world in December 2017 by hiring Jimbo Fisher, marking the first time in 40 years that a coach was hired away from the school where he won a national title. In Fisher's eight seasons as head coach at Florida State, he led the Seminoles to an 83-23 record, the 2013 BCS national championship, three ACC conference championships, four AP Poll top 10 finishes and four bowl game victories.
Less than a month later, A&M hired arguably the top assistant coach in college volleyball to take over the Aggie program. In seven seasons at Kansas, Laura "Bird" Kuhn climbed the ladder to head-coach-in-waiting due to the Jayhawks' success during her tenure, which included the program's first NCAA Final Four appearance in 2015 and its first Big 12 Conference championship in 2016. Kuhn received three Power Five head coaching offers in less than a week before she chose the A&M job.
Then, in June 2018, the Aggies pulled off another stunner, this time in women's golf. A&M lured three-time national championship Hall of Fame coach Andrea Gaston away from Southern California where she had built a powerhouse program during the past 22 years. In addition to winning national titles in 2003, 2008 and 2013, and finishing in the top 5 for 13 consecutive years, Gaston led the Trojans to four conference titles, coaching five NCAA individual champions and earning Pac-12 Coach of the Year and the Women's Golf Coaches Association Coach of the Year honors three different times.
Hiring national championship winning coaches away from their established programs is a rarity in any sport. A&M did it twice in seven months.
In Good Company
Fisher, Kuhn and Gaston joined a department with four national title winners on staff along with some of the most successful coaches in collegiate athletics.
J.T. Higgins (men's golf, 2009) and Gary Blair (women's basketball, 2011) each have brought a national title to Aggieland in the past 10 years and consistently have their programs among the nation's elite.
Tana McKay has delivered a remarkable 13 national championships in her 19-plus years as the equestrian program's only head coach.
Then there's Pat Henry, who has led A&M track and field to nine NCAA titles in 13-plus years in College Station and a staggering 36 Division I national championships in his illustrious career, the most of any active coach in any sport. The Hall of Famer ranks third all-time in national team titles as a head coach in any NCAA sport behind only Kenyon College's Jim Steen (50 in Division III swimming and diving) and Arkansas' John McDonnell (40 between cross country and track).
The success of Aggie coaches extends beyond just national title winners.
Two-time U.S. Olympic Team coach and Hall of Famer Steve Bultman has overseen one of the most dramatic rises to power in collegiate swimming during his 19 years as head women's swimming and diving coach with back-to-back third-place finishes at the NCAA Championships in 2017 and 2018, and back-to-back-to-back SEC titles in 2016, 2017 and 2018.
The only head coach in the 25-year NCAA history of Aggie soccer, G Guerrieri has established A&M as a premier program with 24 consecutive NCAA tournament appearances - one of only four teams to advance every year since 1995 - as well as 17 conference crowns.
In 22 years at A&M, Jo Evans has directed the Aggie softball program to 18-straight NCAA postseason appearances and three trips to the Women's College World Series, including a national runner-up finish in 2008. Both Guerrieri and Evans are among the winningest active coaches in their respective sports.
Altogether, current Aggie coaches have won 24 national championships at A&M as well as 62 conference titles, 19 of which have come since A&M joined the SEC in 2012.
So why are all of these successful coaches in Aggieland? What makes A&M a destination job?
Aligned Vision
For Scott Woodward, the reasons a coach identifies A&M as a destination job are the same as when he made the "no-brainer" decision to accept the Director of Athletics position in January 2016.
"This is an incredible institution," Woodward said recently from his office on the third floor of Reed Arena. "It's very rare that you have the tradition and history along with a modern institution that is doing incredible research and has the academic prowess that this university has.
"Then you talk about what we are as an athletic enterprise and being a key part of the university and in the best conference in the world. It's the whole package of Texas A&M."
Woodward leads an athletic department that is focused on graduating student-athletes, providing an unmatched student-athlete experience and winning championships with integrity. That leadership and vision are major factors when recruiting elite coaches like Fisher.
Woodward, along with university and 12th Man Foundation board members and administrators, form an aligned group of leaders with a shared goal of excellence in everything from academics to athletics.
"Everyone is in alignment to strive for greatness and to do it the right way," Woodward said. "When you look at what A&M has to offer, and you have that combination, it's unbeatable in my opinion as far as attracting the best talent in the world. Why would you not come here?"
An Investment in Facilities
Beginning with the opening of Blue Bell Park in 2012, Texas A&M has invested more than $650 million in athletic facilities, with the majority of the funding coming from 12th Man Foundation donors. While the $485-million redeveloped Kyle Field is the crown jewel, every student-athlete has benefited from at least one of the state-of-the-art athletic facilities constructed in the past six years. The investment in facilities is integral in attracting elite coaches like Gaston.
"The whole day I was just saying, 'Wow,' as I was seeing all of these massive buildings that support these athletic programs," Gaston said as she recalled her visit to campus prior to accepting the A&M job. "There has been such a tremendous investment made in facilities, which backs up everything we're trying to do as a university."
With the grand opening of Davis Diamond and E.B. Cushing Stadium in spring 2019, and upcoming projects for swimming and diving, women's basketball and football, A&M Athletics and 12th Man Foundation donors continue to demonstrate their commitment to providing the best facilities in the country.
"These are important investments to have to attract the best whether it's a coach or a student-athlete," Woodward said. "They matter."
Academics and Student-Athlete Development
As one of only three AAU member universities in Texas and the SEC, A&M provides a world-class education as one of the most comprehensive research institutions in the nation.
The ability to offer a prospective student-athlete the opportunity to earn a college degree from a university as prestigious as A&M with a scholarship is a powerful selling point for any coach.
"Texas A&M is committed to winning at the highest level both on the court and in the classroom," said Steve Denton, now in his 13th season as men's tennis coach. "The athletics department backs coaches with all of the resources we need to be successful in recruiting the best student-athletes to a world-class institution."
Additionally, the best coaches want their student-athletes to be as successful in the classroom as they are in competition. And they want them to be prepared for life after sports.
"You have to give them a world-class experience not only in the sport they're participating in, but in the classroom," Woodward said.
While a future in professional sports is every college athlete's dream, it is only a realistic option for a small percentage of student-athletes. For those who will not go pro after graduation, A&M offers The D.R.A.F.T., a program focused on helping student-athletes find a job after college.
"We have had tremendous success placing our student-athletes in jobs," Woodward said.
Another powerful tool that helps lure the best coaches and student-athletes to Aggieland is the support and resources offered to A&M graduates. No other university has alumni who are more loyal and supportive of their fellow former students.
"Aggies really do take care of Aggies," Fisher added.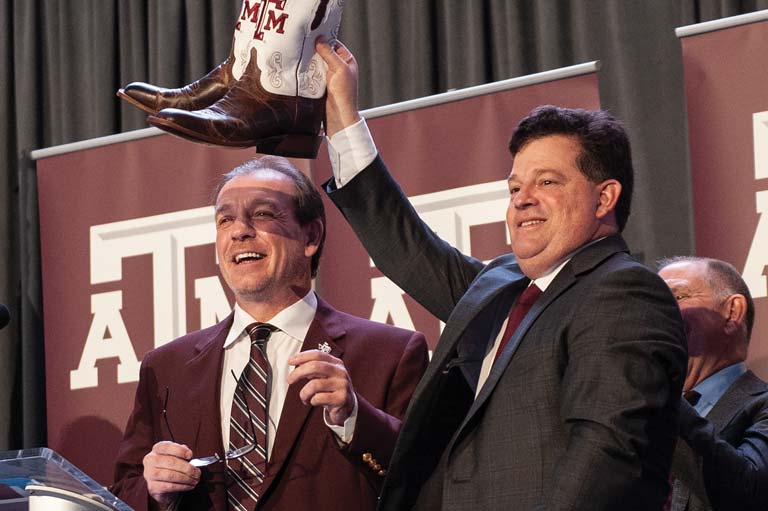 "Why would you not come here? We have it all. We have facilities, revenue, great educational experiences, a great place to live...It's a gold mine. It's why I came here."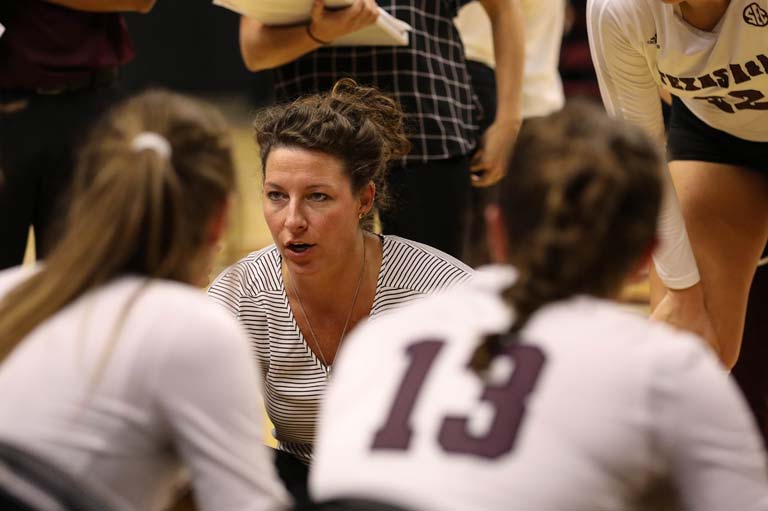 "I was set to take over at Kansas, but when the A&M job came open I knew I wanted it. The Corbellis built a solid foundation here and combined with the traditions, facilities, support and fan base, and the fact that it's in Texas which is a hotbed for recruiting, made leaving for A&M an easy decision."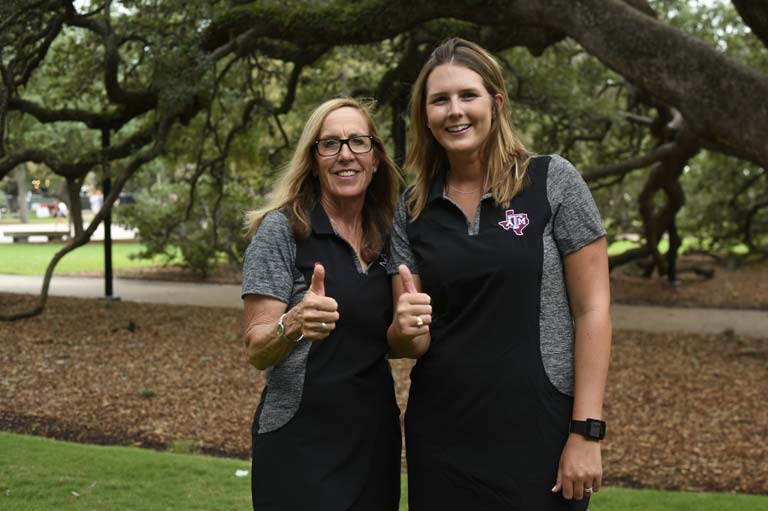 "I wasn't looking to leave USC, but when I started looking at A&M, knowing it was an SEC school, and saw the investment they are making in all the sports programs and the incredible facilities that are available, I thought, 'How could anyone not want to walk out of their office and have all of this?'"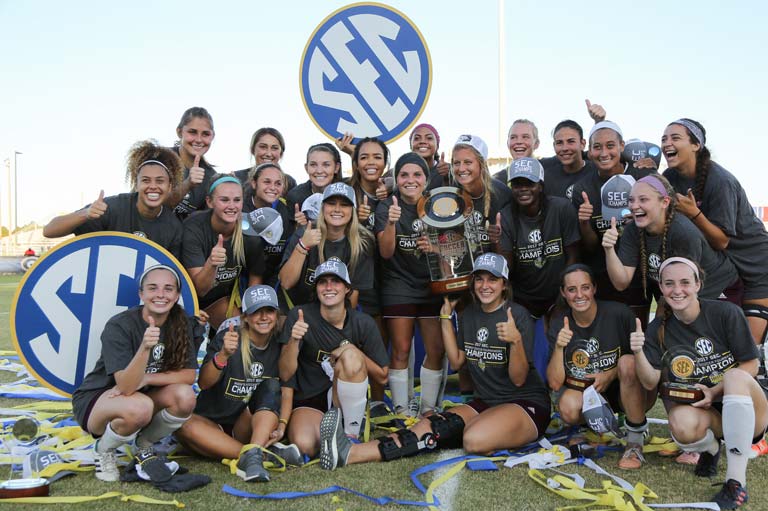 "Texas A&M has everything you'd want as a student-athlete - a world-class education, unmatched school spirit, a commitment to facilities and passionate alumni. It's been a dream come true for me to be the soccer coach for over a quarter century, and it's why I've dedicated my life to Texas A&M and hope to be in Aggieland forever."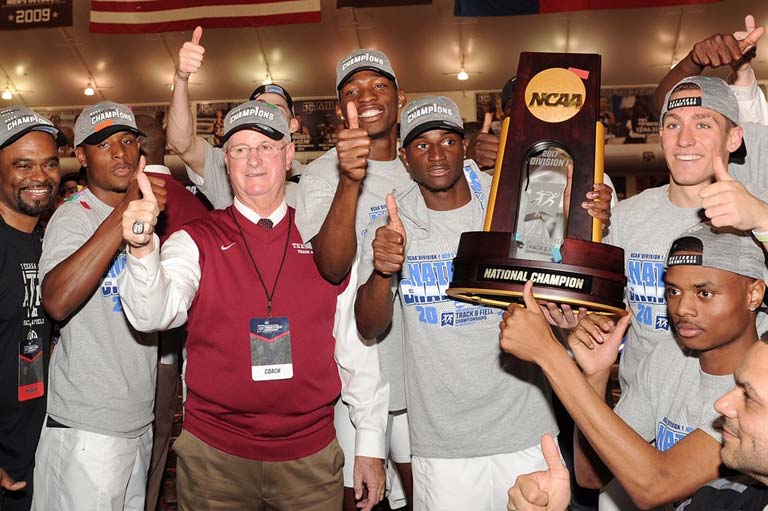 "Coaches don't want to be at an institution where people don't care. They want an institution that strives for excellence in everything they do and works hard to provide you with the tools it takes to win. Texas A&M is that place."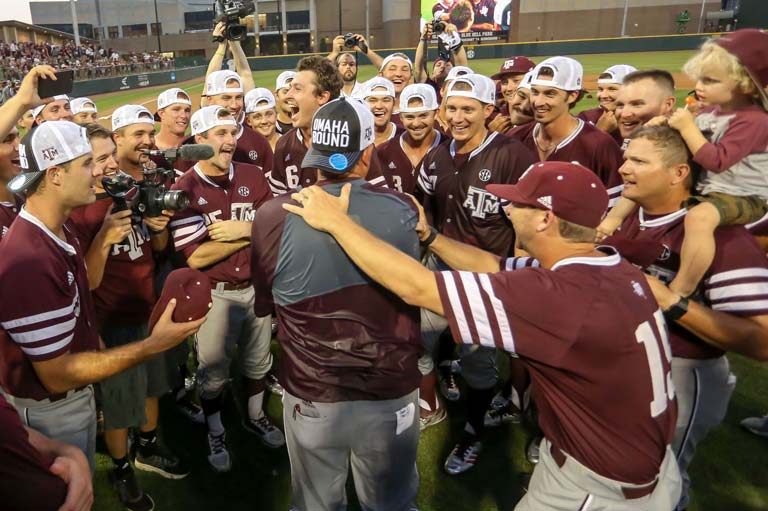 "Texas A&M is one of those special places that provides the very best in resources, facilities, support, academics and the most incredible fan base in the best baseball conference in the country. Texas A&M is second to none."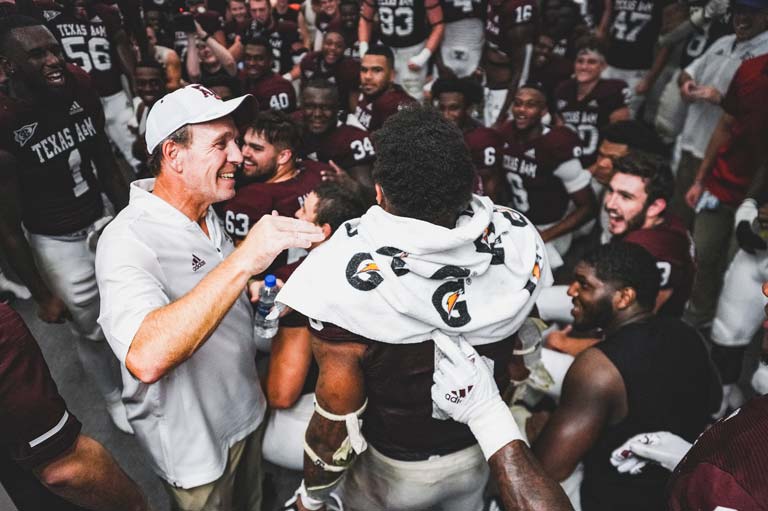 "I have said many times, Texas A&M is a destination job. Things are in place to be successful in all areas. we are one of the top academic institutions in the country. Facilities are second to none and the overall support system needed to run a first-class program is in place."
Contact Lauren Hickey at
979-260-7595 or by email to support championship athletics at Texas A&M.
If you or your company are interested in helping student-athletes in The D.R.A.F.T. program, contact Amanda Hernandez 979-862-6004 or by email
Conference, Location and Recruiting Base
A&M's 100-year decision to join the Southeastern Conference continues to pay huge dividends when it comes to many things including attracting the best coaching talent. The nation's premier conference offers the most stability and visibility to its member institutions.
And contrary to some reports, A&M's move to the SEC did not result in the university leaving the great state of Texas.
The Lone Star State is second to none when it comes to many things that elite coaches look for including quality of life and a rich talent pool of high school athletes right in their program's backyard.
"Texas kids are the best in the country and we are getting the best of the Texas kids," Woodward said.
At the same time, College Station has maintained its college town feel while also being rated as one of the nation's fastest growing cities.
Gaston is a prime example of an elite coach recognizing the benefits of living in Aggieland following 22 years of driving in LA traffic.
"I love the fact that it takes me three to five minutes to get to work," Gaston said. "I have more quality time with the players because I'm not spending half my time on the road."
Resources
When it comes to resources, A&M's leadership values every sport and invests in each coach and program, giving them everything they need to be successful
"Our administration has worked tirelessly to help us achieve success with world-class training facilities, the best athletic performance staff and an elite athletic training program," Denton said.
Coaches know they are only as good as the people they surround themselves with, so it's critical to provide a strong support staff helping with every facet of their program.
"Our administration has consistently provided us with the resources to compete against the best teams in the country, the funding to hire experienced and competent coaching staffs and support staffs, which allows us to keep continuity in our programs," Evans added.
Donor Support
Building the best facilities and providing the resources needed to attract elite coaches would not be possible without the funding provided by generous 12th Man Foundation donors.
"We couldn't do it without them," Woodward said. "If you don't have the resources, you can't be successful. To quote Coach Fisher, our actions speak so loud, I can't hear what you're saying. The actions of 12th Man Foundation donors speak so loud and it shows."
"Donor support is imperative anywhere, but here it's such a strong network - it's a no-brainer," Kuhn added. "They want to be involved." Coaches know they need a high level of support and commitment from donors to compete for championships. And Aggies are second to none when it comes to answering when called upon to provide financial support to their athletics program.
"Our university, athletics department and 12th Man Foundation donors understand it takes resources and top-notch facilities to draw high level coaches and student-athletes," Evans said.
Tradition and Fan Base
A&M stands out in many ways, but when it comes to tradition and fans, Aggies are on another level.
Whether it's more than 100,000 yelling at Kyle Field or nearly 3,000 supporting Aggie soccer at Ellis Field, the school spirit of the 12th Man is unrivaled in college athletics.
"Hearing other coaches talk about Texas A&M after they've been here for a while, they always comment that this place is special and even better than they thought it was going to be," said Jay Holmes '84, now in his 15th season as head men's swimming and diving coach. "The facilities and support here are great, but I think the time-honored traditions provide a great environment - seeing the student body 'buy in' to being a Texas Aggie is awesome to be a part of."
The People
A&M has everything it takes for a coach to win at a high level and compete for championships, but ultimately, it's the people who make the difference when it comes to attracting the best of the best. Coaches want to be surrounded by great people and have support from those who truly care.
"Coaches don't want to be at an institution where people don't care," Henry said. "They want an institution that strives for excellence in everything they do and works hard to provide you with the tools it takes to win. Texas A&M is that place."
"At the end of the day, it's the people who make this experience so rewarding," Evans added.
Aggies live and breathe the university's core values. Their spirit and pride for their university is unmatched. They want A&M to be successful in everything.
"I have said many times, Texas A&M is a destination job," Fisher said. "Things are in place to be successful in all areas. We are one of the top academic institutions in the country. Facilities are second to none and the overall support system needed to run a first-class program is in place.
"But it is the people who make this such an awesome place. Aggies truly live the culture and the core values and virtues of the overall university."