STUDENT-ATHLETES
The 2018-19 Distinguished Lettermen
---
By Douglas Pils '92
College students' busy schedules automatically come packed with classes, projects, tests and being on their own for the first time in their lives. That gets multiplied greatly for Texas A&M's student-athletes when practices, workouts and games get piled on the daily to-do list.
Those who excel in adding involvement in student groups, service projects and leadership roles in those areas are truly gifted at time management.
At the Building Champions Awards gala on April 15, Ilolo Izu from Houston Strake Jesuit and Maddy Stulce from Katy Seven Lakes, two members of the Aggies' track and field team, were honored for being such student-athletes with the Distinguished Letterman Award. It is the highest honor that can be presented to an A&M student-athlete because it recognizes their all-around performance in athletics, scholarship, leadership and service.
The fact that both came from coach Pat Henry's track and field team was not lost on either of them.
"It definitely shows what Coach Henry has instilled in us in the time since we started here," said Stulce, a graduate who recently competed in her fourth straight NCAA Championships in the javelin.
"It's a testimony to who we are as people and who we are as a team, especially since both of us are from the same team," added Izu, a senior who recently completed his college career at the NCAA Championships after helping the men's 4x400 relay qualify at the NCAA West Preliminary in late May.
Henry wasn't surprised at all to hear that two of his seniors had won the Athletics Department's highest award for student-athletes.
"They're good human beings," Henry said. "They're kind young people. They're always the ones that if I see an older person come into our building, they seem to be the ones showing them around. They take ownership and they're proud to be Aggies and they will be great Aggies of the future because of the things they are learning right now about what it means to be an Aggie."
What that meant to Izu and Stulce was being involved in as much as their schedules would allow.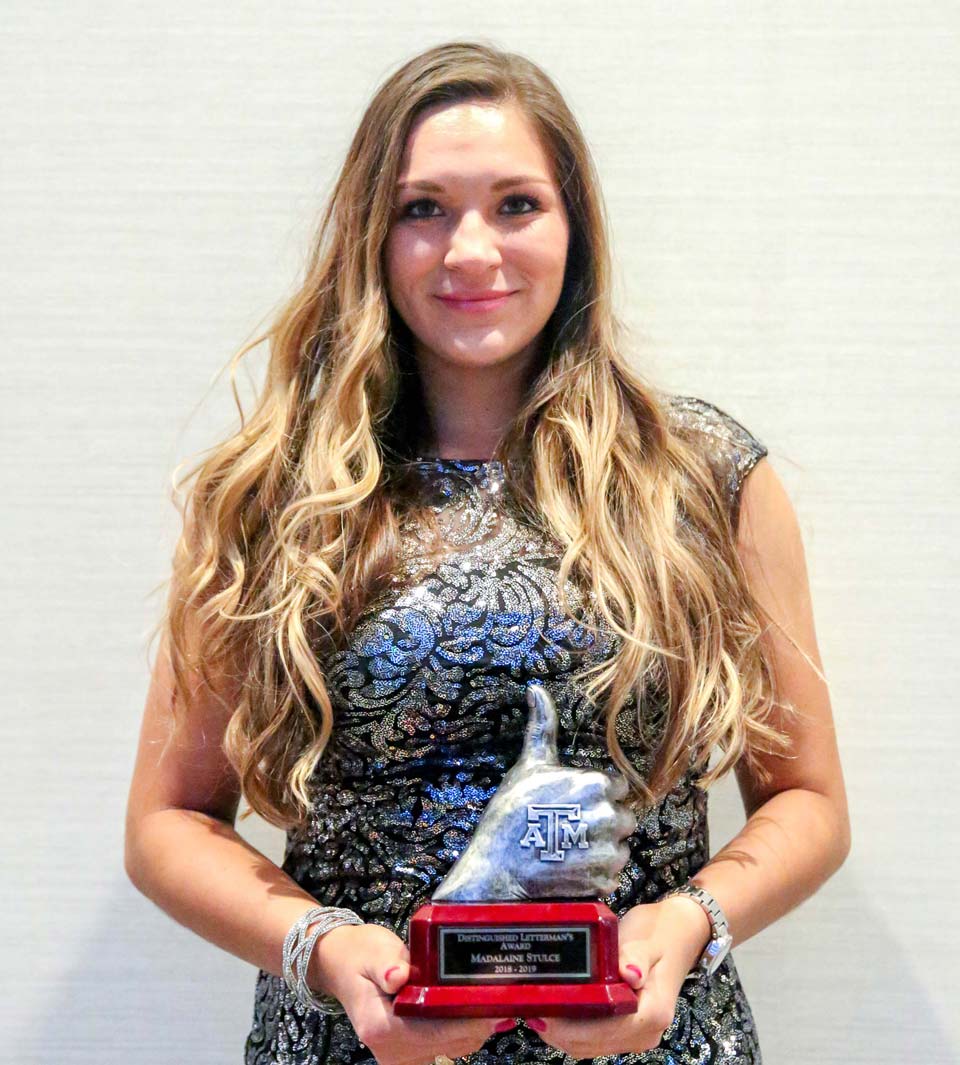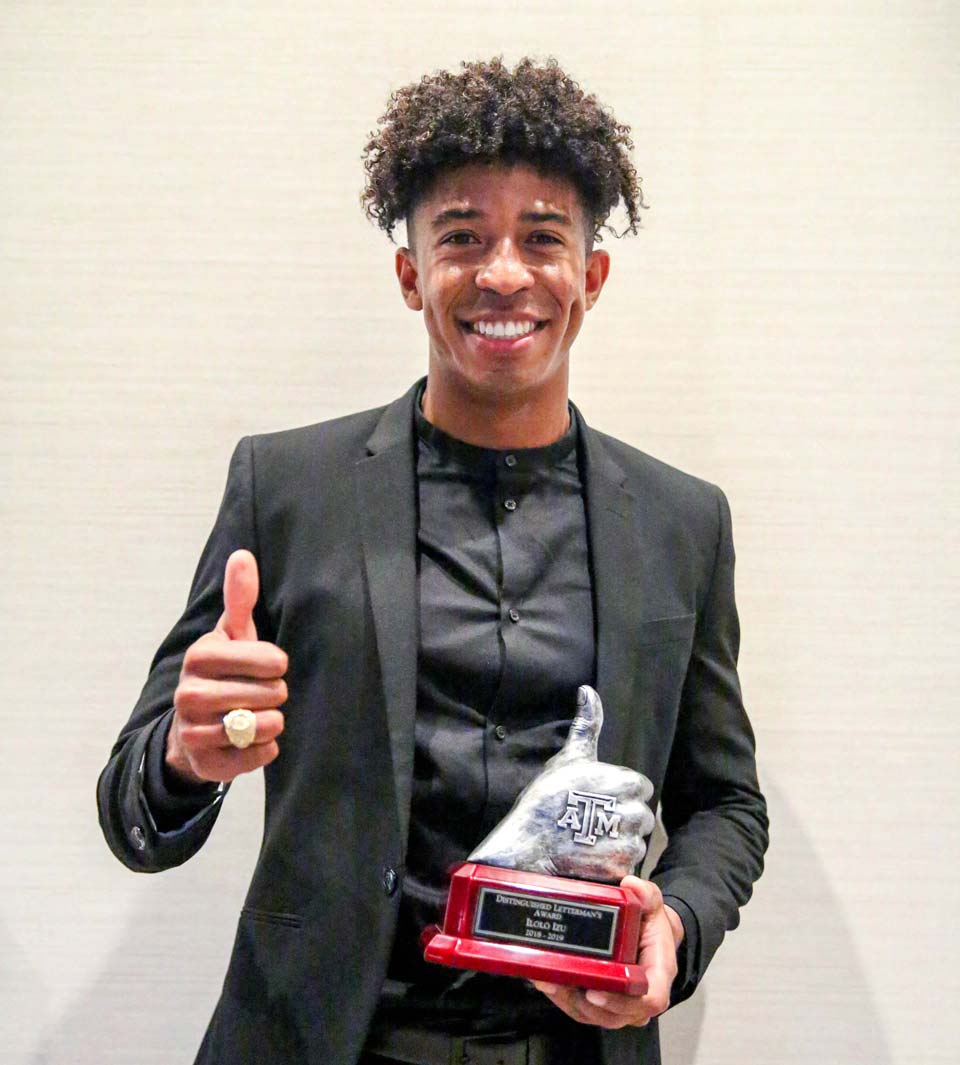 Learning how to manage their time as underclassmen helped set the stage for them to rise up through their organizations and add more to their plate. It wasn't easy says Izu, who was involved with Maroon Coats on campus and volunteered with the Houston Food Bank and a camp for children with muscular dystrophy.
"I think for me it was very difficult to manage everything all at once, especially at the beginning of this semester after I had already been in my organization for a year," said Izu, who plans to graduate with his degree in allied health in December and then prepare to earn his physician's assistant degree where he wants to work in orthopedic surgery. "It's definitely taught me that there's more than just track and more than just school work. It's helped me put my focus in other areas where I can help others and meet new people."
Stulce, whose parents, Steven and Marcy, are both A&M grads, and her brother Kyle is coming next year to throw the shot for the Aggies, graduated for a second time in May. She obtained her master's in finance after receiving her undergraduate degree in supply chain management in 2018. Stulce spent this past school year as president of the Student-Athlete Advisory Committee and of her finance program. She had been president of the A&M Consulting Club in her final year as an undergrad.
While adding all of the extra work away from academics and athletics was daunting, both student-athletes said a big reason for doing so was to build their base of friends and colleagues as they prepare to enter the real world.
"They take ownership and they're proud to be Aggies and they will be great Aggies of the future because of the things they are learning right now about what it means to be an Aggie."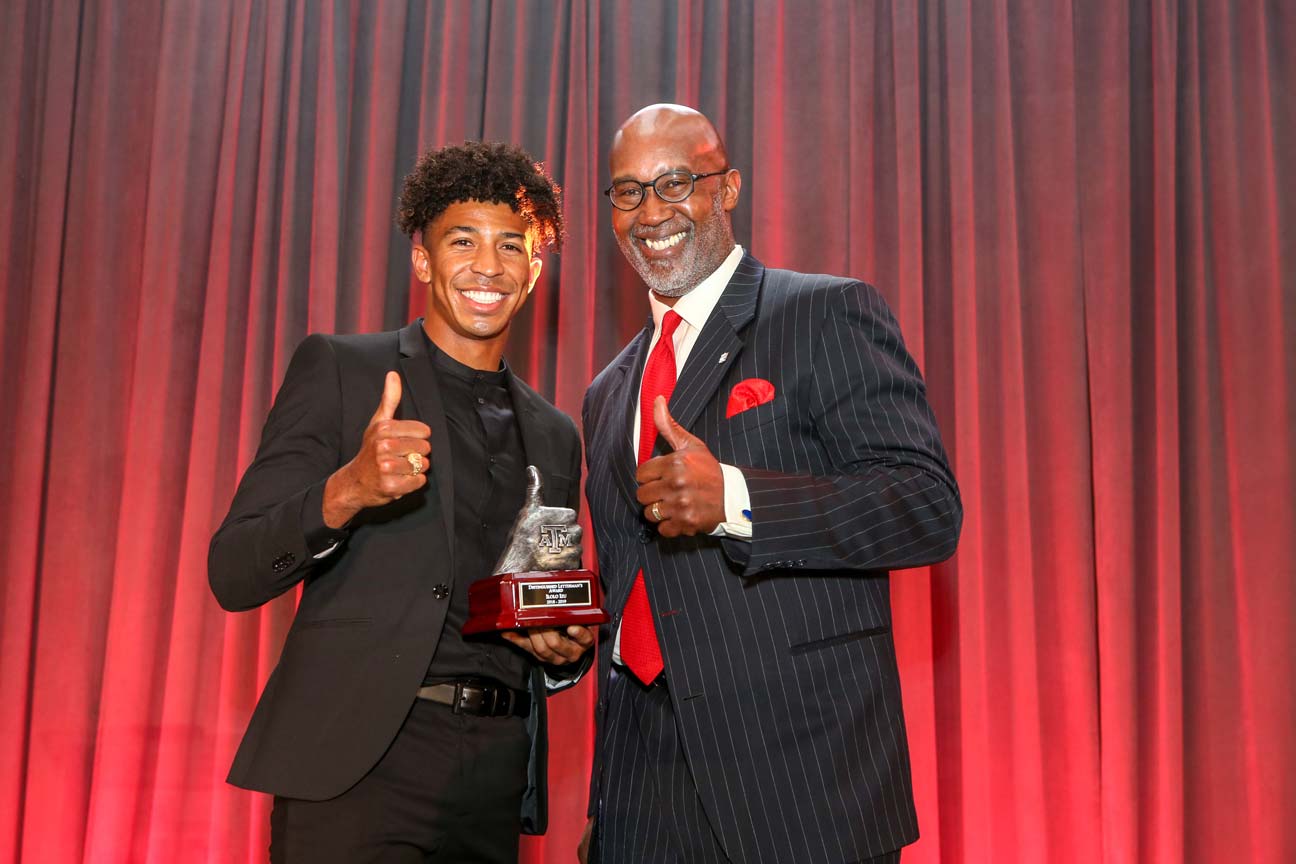 "To the 12th Man Foundation donors, I want to sincerely thank you for your support. Just being able to come to A&M meant the world to me. I feel like you should really know how grateful we all are for everything you do for us, because it truly means the world."
BECOME AN MVP LEVEL DONOR WITH A $750+ GIFT
Annual donations above and beyond those tied to season tickets are crucial to providing the resources necessary for distinguished student-athletes like Maddy Stulce and Ilolo Izuto be successful at Texas A&M. Contact Callie Boenigk at 979-260-2394 to increase your impact or click here to donate
"To the 12th Man Foundation donors, thank you so much for giving back to our university. Without your support, we wouldn't have all the resources that we have. It motivates me to fill those shoes one day, as big they are, and give back to the student-athletes here."