Texas A&M Athletics
E.B. Cushing Stadium
---
Unique collaboration makes Texas A&M's world-class track and field facility a reality
By Brian Davis '01
When Texas A&M officially dedicated E.B. Cushing Stadium this spring it not only signified the opening of a world-class track and field facility, it also marked the completion of a project that was years in the making and one that would not have been possible without the support of generous 12th Man Foundation donors.
"This incredible facility is a testament to a broad range of donors who were willing to step up for our championship track and field program," Senior Vice President of Major Gifts Brady Bullard said. "Led by a significant gift from Amy and Tim Leach, that generous group of donors included current indoor track and field season ticket holders, new track and field season ticket holders and lettermen as well as donors who may have never been to a track meet before but wanted to support the success of Pat Henry's program."
Constructed as part of a joint project with the new home for Aggie softball, Davis Diamond, the $39.8 million, 90,500-square-foot track and field stadium gives A&M one of the premier facilities in the nation to experience a track meet both for the fans in attendance and the student-athletes competing. The stadium includes seating for 2,200 with room to expand and features meeting rooms, training areas, locker rooms, an athlete lounge, offices, media areas and more.
Senior Associate Athletics Director for Facilities and Construction Kevin Hurley says the facility was designed with Henry's guidance and philosophy of making track meets concise and fan-friendly.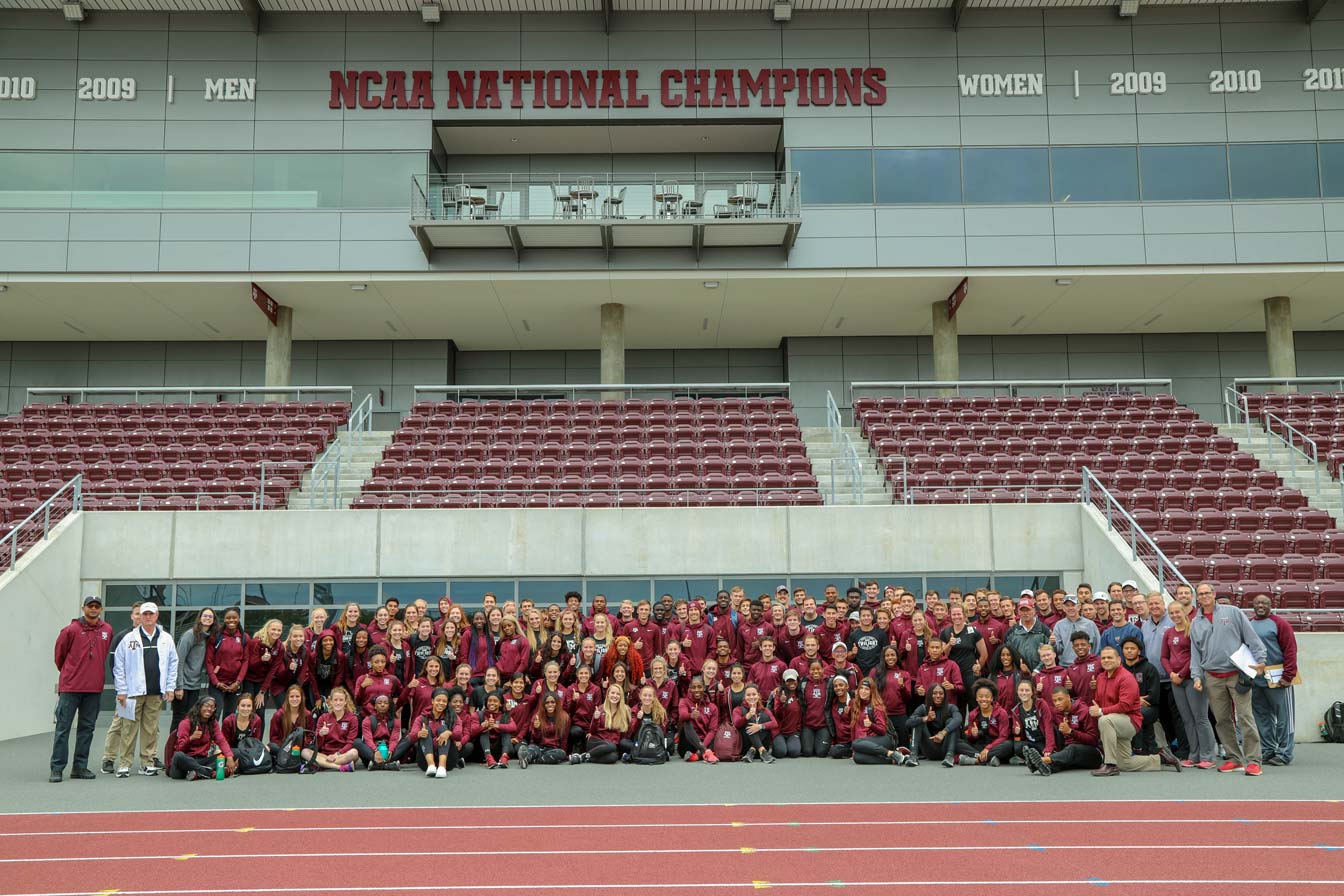 "There's nobody in the country that has raised money like the 12th Man Foundation for an outdoor track and field facility. It's very much a donor-driven project and without that support, we could not have done it."
E.B. CUSHING STADIUM BY THE NUMBERS
200,000
Square footage of the track surface
150
Lockers for track & field student-athletes (75 for men, 75 for women)
172
Seating capacity of the team meeting room
2,318
Square footage of the athlete lounge
"The greatest thing about E.B. Cushing Stadium is it finally gives the program a true home," Hurley said. "I'll stack it up against any in the country, and it's one that our program and donors needed and deserved."
More than 270 12th Man Foundation donors contributed financially to the project with the Leaches leading the way with a $4 million gift. Other donations ranged from $5 to $500,000, including 67 gifts of $50,000 or more.
"Without the donors stepping up to support softball and track and field, this would have never gotten off the ground," Hurley said. "This project shows that there's a place for everyone to support facilities at A&M from the seven-figure gifts to whatever amount you're capable of giving. More participation is what A&M has been built on. In my opinion, this project exemplified A&M, the 12th Man Foundation and its donors."
Donations were a critical cog in a unique collaboration between A&M Athletics and the 12th Man Foundation. In total, donors contributed nearly two-thirds of the funding needed to make the softball and track and field facilities possible.
Senior Associate Athletics Director and Athletics CFO Jeff Toole says that donor support is crucial to building facilities to the Texas A&M standard.
"Our donors are so generous and have helped us do so many projects, and that allows us to use our operating revenue to pay for travel and competitive salaries," Toole said. "There are a lot of projects we would have to at the very least delay if we couldn't rely on donors to help us out."
Toole likes to refer to the 12th Man Foundation and its donors as the department's secret weapon.
"They allow us to do so many things that other schools just cannot do," he said. "Not that other schools don't have generous alumni, ours are just above and beyond."
"There's nobody in the country that has raised money like the 12th Man Foundation for an outdoor track and field facility," Hurley added. "It's very much a donor-driven project and without that support, we could not have done it."