Student-Athletes
Finding Success in the Classroom
---
By Douglas Pils '92
The public faces of Texas A&M's athletic programs show up on the fields, courts, pools and courses every day in every sport.
The student-athletes who participate are gauged by their performances and the Aggies' corresponding wins and losses. However, the things that matter most for those student-athletes happen away from the public eye and there are a great many private faces working behind the scenes to make sure every student-athlete finds success.
Joe Fields, A&M's Associate Athletics Director for Academic Services, leads a team of dedicated professionals whose mission centers on student-athletes winning in the classroom and in life after graduation. Fields, who came to Texas A&M a little over a year ago, knows how important the work off the field can be because he's a product of those services.
The Houston native graduated from Syracuse and spent seven years working in its academic services department. But as an undergrad, he admits that he needed his academic support office to "help him find his way."
"In our business, we deal with some high achieving student-athletes," Fields said. "We deal with some student-athletes who wouldn't need our help as much. But then again on the flip side, we bring in some students who are underprepared, that don't have certain skills and when you help them find those skills, you help them find their voice, it's very gratifying. I would say that in large part, the learning specialists, that's who they are and that's why they selected this profession.
"Those are the kids we find ourselves making the greatest impact on. Those are the kids that come back when they graduate to tell us they couldn't have done it without us."
There are many ways of helping student-athletes find success in the classroom and prepare for life after college. Since a career in professional sports is a long shot for many student-athletes, the skills gained by working with A&M's Academic Services as well as with Student-Athlete Engagement are some of the most important during a student-athlete's tenure in Aggieland.
Here's a look at three services and some insight from student-athletes who have been positively impacted by them.
Learning Specialists
When freshmen student-athletes arrive on campus, they are evaluated to determine what kind of services or help they may need. From that testing, the five learning specialists at A&M create an individualized learning plan for each freshman.
"They work with them to create a monthly, weekly and daily plan for all of our student-athletes," Fields said.
Four years ago, Deshawn Capers-Smith came to Texas A&M from New Orleans to play for the Aggie football team. After the initial testing, the specialists discovered that Capers-Smith needed accommodations for some of his testing skills and he needed some assistance with his reading. He began working with Lindsey Labry, one of the reading specialists on staff, and the results have helped put the senior agriculture leadership major on target for graduation in May 2019.
"She just taught me a lot about how to take my time with reading," said Capers-Smith, who's having his best season this year in the Aggies' secondary. "My reading has performed better since I got here. Just working with her has been really helpful."
So helpful that he's gone from someone who admittedly didn't read much on his own in middle school or high school to someone who now enjoys reading Stephen King novels. And he makes a point to read books that have been made into movies before seeing the movie because he likes discovering the differences between the two.
More than anything, the skills gained from working with the learning center have given him more confidence.
"It's helpful, especially when I have public speaking," he said. "It helps me find that comfort zone and not being nervous when I speak to people."
Reading Specialists
There are two reading specialists who work with students for a variety of reasons. Fields said the staff looks at ACT and SAT scores in addition to the department's own testing to target those who will need help.
Another growing population needing assistance comes from A&M's international student-athletes, for whom English is their second or third language.
In the case of track and field jumper Tahar Triki, English is his third language after Arabic and French.
"Our international student-athletes are very sharp, however, English is a barrier," Fields said. "Working with those student-athletes to improve their English is huge. It makes a difference in the type of college experience they're having."
Triki can attest to that. He arrived at A&M last spring and made an immediate impact in his sport, winning the NCAA triple jump championship in June at 55 feet, 1 inch.
The Constantine, Algeria, native came to A&M after starting college in Marseille in southern France. He was looking for a better place to train and improve his jumping skills. However, in order to do that, he's also been working on his English speaking and reading.
That's where learning specialist Garrett Brumfield and reading specialist Judy Malazzo stepped in.
"My English was a little bit low when I got here," said Triki, who envisions breaking the NCAA collegiate triple jump record of 57 feet, 7¾ inches this year. "Ms. Judy is always teaching me a lot of stuff. Garrett has helped me a lot, too. He showed me how to study for exams and helped me with my papers. He's always helping me along the way."
The D.R.A.F.T.
One of newest student-athlete engagement efforts focuses specifically on those who won't be going pro after graduation. It's called The Development of Retiring Athletes for Transition, or The D.R.A.F.T. The plan calls for each semester to pick select seniors who aren't going pro or plan to pursue grad school opportunities.
Dr. Leah Turner, the assistant director for career development, helped craft the program, which has several steps.
Student-athletes attend career prep workshops that teach:
Resumes and cover letters
Elevator pitches and building a brand
Interviewing skills and recruiting 101
Student-athletes also attend recruitment mixers with potential employers and create a 360 profile that provides a comprehensive look at the student-athlete's learning and leadership styles and what coaches think about them.
Former volleyball standout Kaitlyn Blake has been part of The D.R.A.F.T.'s first class and she's already lined up solid contacts from the mixers.
"I received a couple of emails from different companies and calls saying they'd like to keep in touch with me and they feel like I'd be great for the position and stuff like that," said Blake, who had to retire from playing volleyball earlier this year because of injuries. Blake said there are about 15 to 20 students involved this semester and that the group is evenly spread among all sports.
"Being able to talk with Dr. Turner, she's helped me a lot with feeling more confident with finding a job after school," said Blake, who is also considering attending grad school and getting into coaching. "I feel like they are giving a lot more opportunity to the kids who either are in their last year, last semester or retired due to injury and don't have the opportunity to play anymore. I feel the program is definitely a great thing."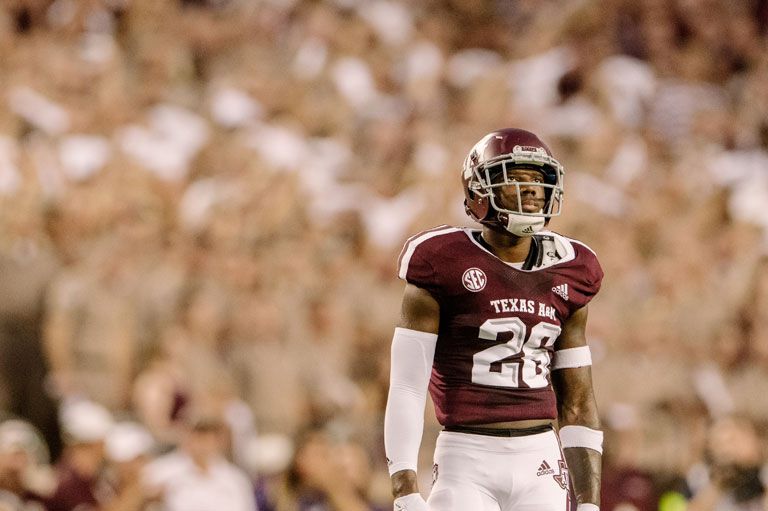 "I just want to say thank you to the donors for giving me this opportunity because it does mean a lot. I'm taking every chance I can take, because I have two younger brothers that look up to me. Just to show them that I'm capable of going to college and finishing means a lot. I'm going to be the first guy in my family to graduate from college."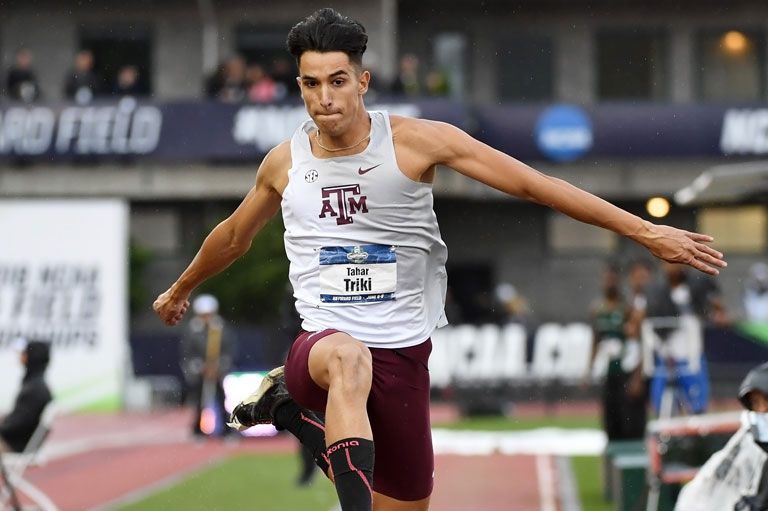 "My scholarship means a lot to me. I really appreciate what the track and field team has done for me, and I thank all the donors for giving me this opportunity. I promise to represent the Ags the best way I can."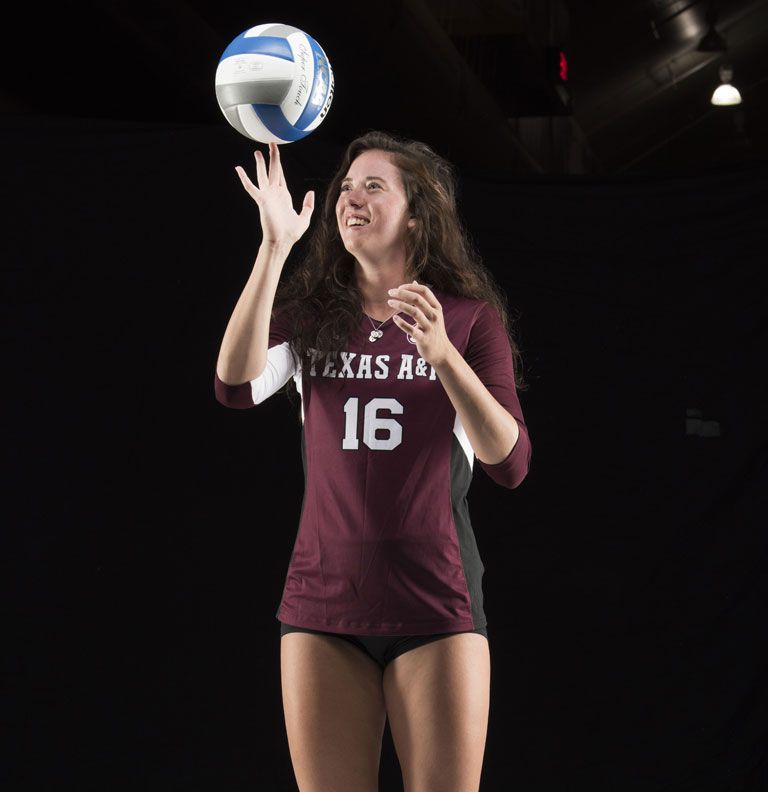 "For me, a scholarship meant being able to get a degree. There was no way my family was going to be able to afford to send me here without a scholarship. I had to work my butt off during club ball and high school to earn a scholarship. It was one of those things that I did for my family."
Contact Lauren Hickey at
979-260-7595 or by email to support academic programs for student-athletes.
If you or your company are interested in helping student-athletes in The D.R.A.F.T. program, contact Amanda Hernandez 979-862-6004 or by email