2020 E. King Gill Award Recipients
Rhonda & Frosty Gilliam Jr '80
---
Generous couple honored for extraordinary support.
By Brian Davis '01
Frosty Gilliam was ready to answer.
As a 20-year-old transfer student from Odessa College, Frosty was on Texas A&M's campus meeting with Doug Von Gonten in the Harold Vance Department of Petroleum Engineering.
The question: Why did Frosty want to be a petroleum engineer?>
A year and a half earlier, he was set to enroll at A&M and major in biomedical engineering. Then, during the week of Frosty's high school graduation, his father - Frosty Sr. - started his own oil field service company specializing in wireline logging. Frosty Jr. decided to stay home and help his dad get the business up and running.
"The name of his company was Temperature Evaluation Logging Company - Frosty, the Cool Temperature Man," Frosty said. "He was the best out there. All of the field superintendents for the major oil companies that he worked for knew him. They all called me Junior."
When he started, "Junior" admits he did not know much about the business.
"My dad sat in the air-conditioned truck running the log," recalled Frosty, "and I was outside getting grease down my neck, having my fingers smashed and stuff like that."
While working in the field those 18 months as his father's "swamper," Frosty watched as engineers fresh out of college visited sites to learn the ropes.
"I saw all these guys come out wearing khakis and blue jeans and I'm wearing coveralls with grease in my hair," Frosty recalled. "They're carrying a notepad and I'm carrying oily gloves. I thought to myself, I want to be one of those guys."
That was his answer to Von Gonten, a revered professor and one of the most influential petroleum engineering department heads in A&M's history.
"I told him that while working in the field, I see all these guys from A&M come out," recalled Frosty, "and they look like they're enjoying themselves. They're all clean and I'm all dirty."
Von Gonten's response: "That's what we like to hear."
DESERVING OF RECOGNITION
Answering is what Frosty is all about.
Even though it meant putting his future on hold, Frosty answered the call when his father needed help.
And along with Rhonda - his wife of 36 years - Frosty has answered every call to help Texas A&M Athletics and the 12th Man Foundation.
The Gilliams' willingness to step up time and time again in selfless support of Aggie Athletics has been extraordinary and is why the couple was named recipients of the 2020 E. King Gill Award.
"It's extremely humbling and overwhelming to even be considered a recipient of the E. King Gill Award," said Frosty. "We give back to this university because we love it, and it has given us so much. There's no way that we can ever repay Texas A&M. We are grateful and thankful to the 12th Man Foundation for this recognition."
Since 2011, the E. King Gill Award has been presented annually to a person or family to honor supporters who have gone above and beyond in their commitment to the 12th Man Foundation's mission.
"I could not be happier for Rhonda and Frosty to receive this award," said Robert Dennis, chair of the 12th Man Foundation Board of Trustees. "When you talk about Rhonda and Frosty, they're just such incredible people to begin with and they're just so humble and so generous. With my involvement with the 12th Man Foundation, I can honestly say that one of the true blessings has been being able to get to know Rhonda and Frosty."
The recipient of the E. King Gill Award is selected based on financial commitment, exemplary service and leadership as a volunteer advocate, ethics and a high level of distinction as a role model.
"Rhonda and Frosty are extraordinary people and committed supporters who have played a significant role in Texas A&M's success academically and athletically during a transformational period in our university's history," said Travis Dabney, 12th Man Foundation president and CEO. "I'm extremely proud of what they have done and everything they embody."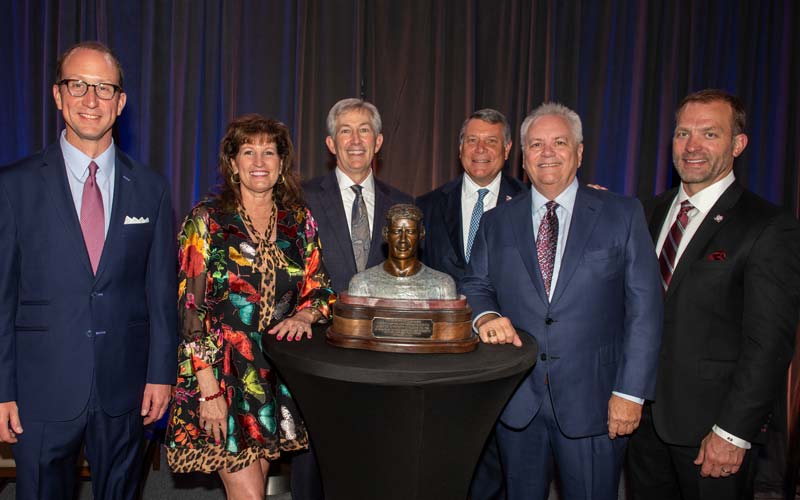 "We give back to this university because we love it, and it has given us so much. There's no way that we can ever repay Texas A&M."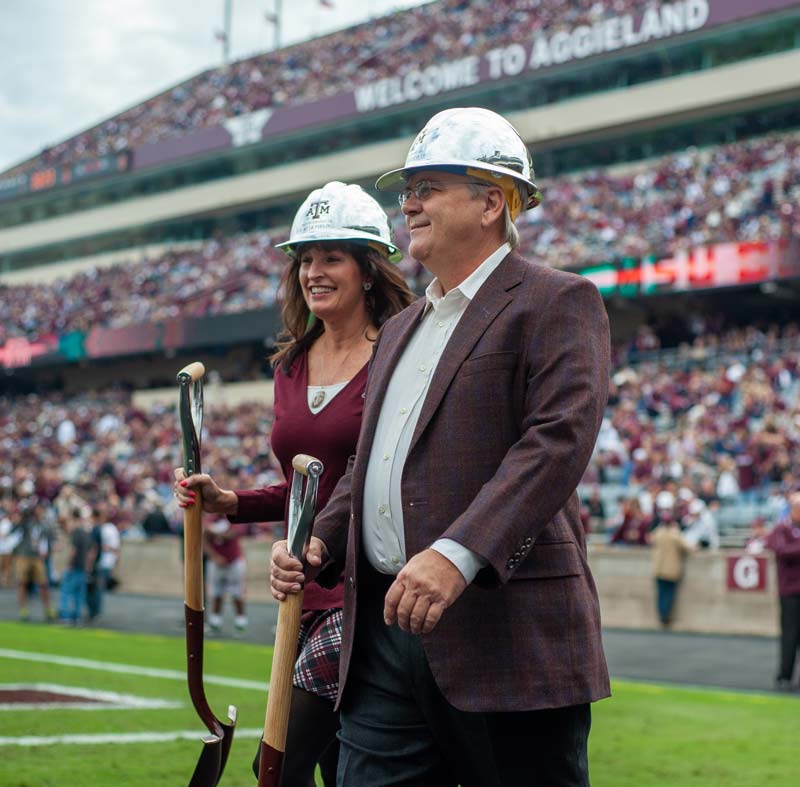 "With my involvement with the 12th Man Foundation, I can honestly say that one of the true blessings has been being able to get to know Rhonda and Frosty."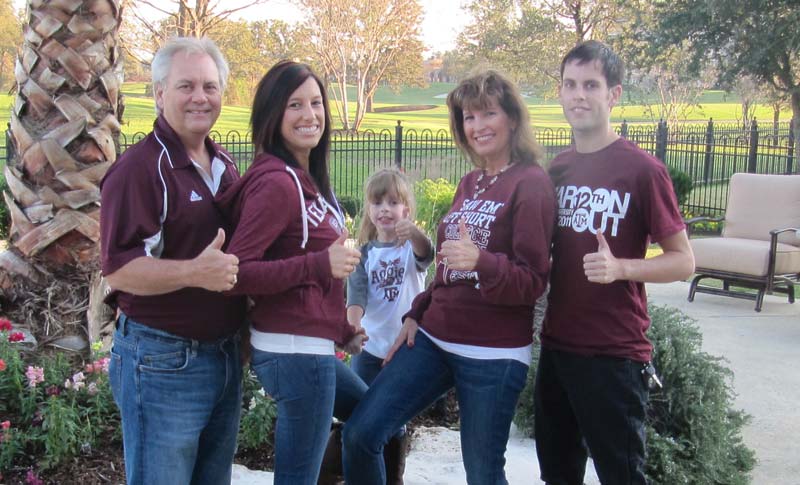 "Rhonda and Frosty understand what their gifts do to promote athletics as the front porch of the university and how that helps young men and women gain a college education and lead productive lives."
ICING ON THE CAKE
Forrest "Frosty" Gilliam Jr. '80 was born in Hobbs, N.M., in 1956. He was raised in Odessa and has lived in West Texas for most of his life.
He grew up playing sports and rooting for one of A&M's longtime conference rivals - the Arkansas Razorbacks. Frosty's mother was born in Arkansas, and his extended family bleeds cardinal red.
"We had little pigs on our car," he recalled. "My uncle was very involved in the school and tried to get me to come play baseball for Arkansas."
After graduating from Odessa Permian High School in 1975 and working those 18 months until his father was able to hire more employees, Frosty followed his best friend, Tom Bartlett, to Aggieland.
A&M was a perfect fit for the lifelong Razorback fan who quickly switched his allegiance and had a great experience becoming an Aggie.
"The Razorbacks and Longhorns were already rivals with a mutual 'dislike' for each other," he said. "So becoming an Aggie was icing on the cake. I didn't even have to practice."
Now an Aggie through and through, Frosty admits his animosity for the Longhorns is limited to the field of play.
"I have many friends and family who are Longhorns," he said, "my brother included."
Frosty worked hard and spent a lot of time studying while in school. He earned his petroleum engineering degree in 1980 and is especially grateful for those who helped him along the way.
"Dr. Von Gonten and Dr. (Stephen) Holditch are two men who poured into my life," he said of his former professors. "Dr. Von Gonten was a special person. I'm sure he was to every student, but he made you feel special. He was very instrumental in my development as a petroleum engineer."
CHANCE MEETING
Rhonda (Norwood) was born in Kansas City, Missouri, in 1962. Because of her father's job with Continental at the time, Rhonda's family moved from Missouri to Ponca City, Okla. to Tulsa, Okla. before landing in Houston when she was 10 years old.
After graduating from high school in 1979, Rhonda attended Sam Houston State University along with her best friend.
"I considered Baylor and A&M, but I didn't have ties to any Texas schools," said Rhonda who earned a degree in marketing in 1983. "My mom didn't go to college and my dad went to Pepperdine."
While in college, Rhonda spent every summer and Christmas break working with her father in Houston at Amoco - a major oil company at the time that later became BP.
"Actually, I was only supposed to do it once," she admitted. "It was a sons and daughters program, and my dad worked there. And my younger sister worked there during the summer before my senior year."
They worked in separate buildings, but Rhonda would ride a van over to see her sister during breaks. On one day in June of 1982, she went to see her sister who was working as an administrative assistant that week for a young engineer named Frosty.
"I saw them in the breakroom," recalled Frosty, "and later asked her sister who she was sitting with, and then I asked to meet her."
The next day, Frosty and a friend, John Beecherl, saw Rhonda and her sister in the breakroom.
"John and I had our snickers and a coke and then coolly walked by without acknowledging them," he said. "Five minutes later, there was a knock on my office door, and there Rhonda and her sister stood."
Frosty and Rhonda talked until she had to go back to work in her building.
"I gave her a few minutes," said Frosty, "and then called her up and asked, 'Hey, where do you want to take me to lunch tomorrow?'"
They went to lunch, started dating and were married at Tallowood Baptist Church in Houston on Sept. 22, 1984.
PROFESSIONAL JOURNEY
Amoco was Frosty's first job out of college. He started in Odessa before being transferred to the Houston office in 1981.
"The joke for the Odessa district was that they didn't care what your GPA was," Frosty recalled. "They wanted to know what your 40-yard-dash time was. They were very competitive in sports and were the Amoco champions in football, basketball and softball."
Frosty left Amoco shortly before he and Rhonda were married and spent the next three years working for an independent company in Houston.
In 1987 - five months after their son, Matt, was born - Frosty was laid off due to financial problems at the company following the oil bust in the mid 1980s.
"He would always tease about quitting or getting fired and going back to Odessa," Rhonda recalled. "When he came home and told me he had been laid off, I didn't believe him."
Frosty landed a new job in Dallas a week later and spent the next 6 months working there while making plans to start his own business back in Odessa. In 1988, Frosty and his younger brother, Tim, started an oil and gas exploration company called Aghorn Energy Inc.
"My brother was already living in Odessa and sort of working for my dad," said Frosty, "so I asked him if he wanted to be my partner and work in the field as the pumper."
A University of Texas graduate with a degree in journalism, Tim represented the "horn" in "Aghorn."
"Luckily I'm the older brother and the engineer, so 'Ag' came first," joked Frosty.
ANSWERED PRAYER
The Gilliam brothers bought Aghorn's first two wells for $90,000. Frosty paid for his half by selling his Amoco stock.
"It was rough at first," he recalled noting that the two wells were not making enough of a return to support them. "My dad was gracious enough to let me work for him as a salesperson."
Over the next year, Frosty was able to find enough work for his dad's company to cover his salary while also trying to buy more wells from oil companies for Aghorn. Then, during a round of golf in April 1989, Frosty and his father had an eye-opening conversation.
"I was putting on the third hole," recalled Frosty, "and my dad said, 'You may need to start looking for another job if you aren't able to find some wells soon.'"
Business was slow, and Frosty's father wanted to protect his field employees.
"He knew his employees depended on him for their jobs and supporting their families," Frosty said. "He also knew I had a degree in petroleum engineering and could find a job for another oil company if needed.
"I went home and told Rhonda, 'I think my dad is laying me off. I have to find a job in the next couple of months.' Rhonda said, 'Let's pray about it.' We prayed that the Lord would give us an answer by June 1."
Frosty spent the next two months sending out resumes, talking with friends and continuing to make offers to oil companies to buy some of their wells. The Gilliams also welcomed the birth of their daughter, Laura. They started to get nervous as June inched closer and closer.
"On the Friday before Memorial Day I received a phone call from a guy at Texaco," recalled Frosty, adding that they generally called to tell him he was outbid. "He tells me, 'You were the successful bidder on these two properties. And here's the amazing thing. You weren't the high bidder - you were the fifth highest bidder, but the other four dropped out. So now it's yours if you want it.' We called that an answered prayer."
Frosty and Tim borrowed $220,000 from their father at 10 percent interest to buy the two properties, which were producing about 35 barrels per day.
"We paid him back - plus interest - in 11 months," Frosty said.
The brothers continued buying properties, and a major deal in 1991 took the company to another level. In 1996, Tim decided he wanted to move on to something else so Frosty bought him out and added Trent Day as a partner. Today, Aghorn has 23 employees and owns approximately 1,000 wells, mostly within 30 minutes of Odessa.
REDISCOVERING TEXAS A&M
While focused on building a career and family in West Texas, Frosty became disconnected from A&M. In fact, when Matt began looking for colleges, A&M was not even on his radar.
"We never really talked about A&M with Matt," Rhonda admitted.
"We were two-percenters," added Frosty.
At Frosty's suggestion, they decided to visit Aggieland so that Matt could see what A&M was about.
"I hadn't been there in so long," recalled Frosty, "I didn't know where anything was."
They toured campus and met with staff in the petroleum engineering and computer science departments.
"When we left, I didn't really say anything about it," Frosty said. "Then one day he said he was going to A&M and wanted to major in petroleum engineering."
After dropping Matt off for Fish Camp in 2005, Frosty made his way to Kyle Field and stopped by the 12th Man Foundation's offices. There, he purchased four Aggie football season tickets.
That transaction proved to be the beginning of a relationship that would help transform Texas A&M Athletics into the juggernaut it is today.
LASTING IMPACT
In 2008, Rhonda and Frosty committed their first seven-figure gift to the 12th Man Foundation as part of The Championship Vision campaign, which helped fund the McFerrin Athletic Center and A&M's indoor track and field stadium that bears their name.
They have continued to make an exceptional impact on Aggie student-athletes with significant support of multiple facility projects including the construction of the Cox-McFerrin Center for Aggie Basketball as well as renovations to Olsen Field at Blue Bell Park and the Bright Complex.
"Frosty just wants to be a part of building excellence at Texas A&M, not just to say we're the best, but so the benefits of being the best can be shared with the student-athletes and all Texas Aggies," said Torn. "If you need someone at any time, you can call on Frosty and he'll be there."
The Gilliams also made a lead gift for the historic redevelopment of Kyle Field.
"We have been so blessed by the Lord that we've been able to participate by giving back to our university so that lives can be changed," said Frosty, "and men and women student-athletes have the opportunity to come to a school, be influenced by world-class professors, educators and coaches and meet men and women who genuinely care about them."
Frosty also selflessly gave back through his service on the 12th Man Foundation Board of Trustees from 2012-18, acting as the board's chair in 2017.
"When it was his time to lead the 12th Man Foundation, it was a critical time in the organization," said Torn, who served on the board with Frosty and was chair in 2014. "It was a time when it was necessary to make a very difficult but very important leadership change. Frosty shepherded that leadership change in the exact right way. He was pivotal in the organization's history."
For Rhonda and Frosty, the highlight of their service was meeting amazing people who love A&M.
"The friendships that we've developed over time have been the most memorable," he said.
SPIRIT OF GIVING
The Gilliams' spirit of giving comes from their unconditional faith in God. He comes first, then family and then A&M, although Frosty noted with a sly smile and a wink that their two granddaughters are narrowing the gap between family and God.
"We depend on our faith," said Frosty, "and it is the most critical thing in our lives. It pulls us through everything. We try to be good stewards of the money the Lord allows us to have. Most of it goes back to Him. Some of it goes to A&M. A lot of it goes to help other people."
Rhonda and Frosty have been heavily involved with First Baptist Church in Odessa since 1988 and have volunteered their time working with the youth department for the past 30 years.
"Now we are teaching kids who are children of parents that we used to teach as kids," Frosty said.
As the Gilliams' pastor for the past 17 years, Byron McWilliams has seen firsthand the vital role the couple has played in helping others through their faith.
"Many times I have witnessed them step up to meet a need in someone's life in our community that would have gone unmet apart from their generosity," McWilliams said. "They both have a philanthropic and mission-minded heart and are more than willing to share the wealth God has blessed them with to further His Kingdom and causes that make a positive difference in the world."
Ernest Easley began his friendship with Rhonda and Frosty more than 27 years ago when he moved to Odessa to serve as the pastor of First Baptist Church.
"Something about Frosty most people are not aware of is that he enlisted about 55 men to be a part of his 'prayer team,'" said Easley, who served the church with the Gilliams from 1994-2002. "Frosty frequently sends out urgent prayer requests on behalf of people that are in the need of prayer. Over the years, we have seen God heal, restore, unite and bless in response to our prayers."
For the Gilliams, they feel blessed by the doors that God has opened for them.
"He's been so good to us," Frosty said. "We can never outgive the Lord, and we can never repay him for all that He's done for us. At the same time, A&M has done more than I can ever repay it as far as providing me a world-class education, a network and the ability and opportunity to meet some fantastic people that I never would have met without going there."
Torn says that for all the Gilliams have done for the 12th Man Foundation and Texas A&M, they've probably done three times as much for their local community and for ministries all over the world.
"Frosty is a very unique, incredible human being," said Torn, "and his friendship means the world to me."
Easley adds that Rhonda and Frosty truly have grown to become wise stewards of their time, talent and treasures.
"Our world is better off because of the lives of Rhonda and Frosty Gilliam."