The Power of a Scholarship
Supporting one student-athlete's scholarship can make a generational impact
---
By Jesus Ortiz
Kiersten Hardeman had just returned home from a tour of Texas A&M, and had some news to share. She sat down in the living room with her father while he was watching TV and sent him a simple text message.
D'Andre "Tiki" Hardeman initially thought it was a tad odd that his daughter would send him a text message while sitting nearby. Kiersten could have easily delivered the breaking news verbally, but she wanted to be able to focus on his reaction as he read the message.
"Dad," Kiersten wrote, "I will further my education at Texas A&M."
The man who once punished Big 12 linebackers at Kyle Field with ferocity melted like a soft teddy bear.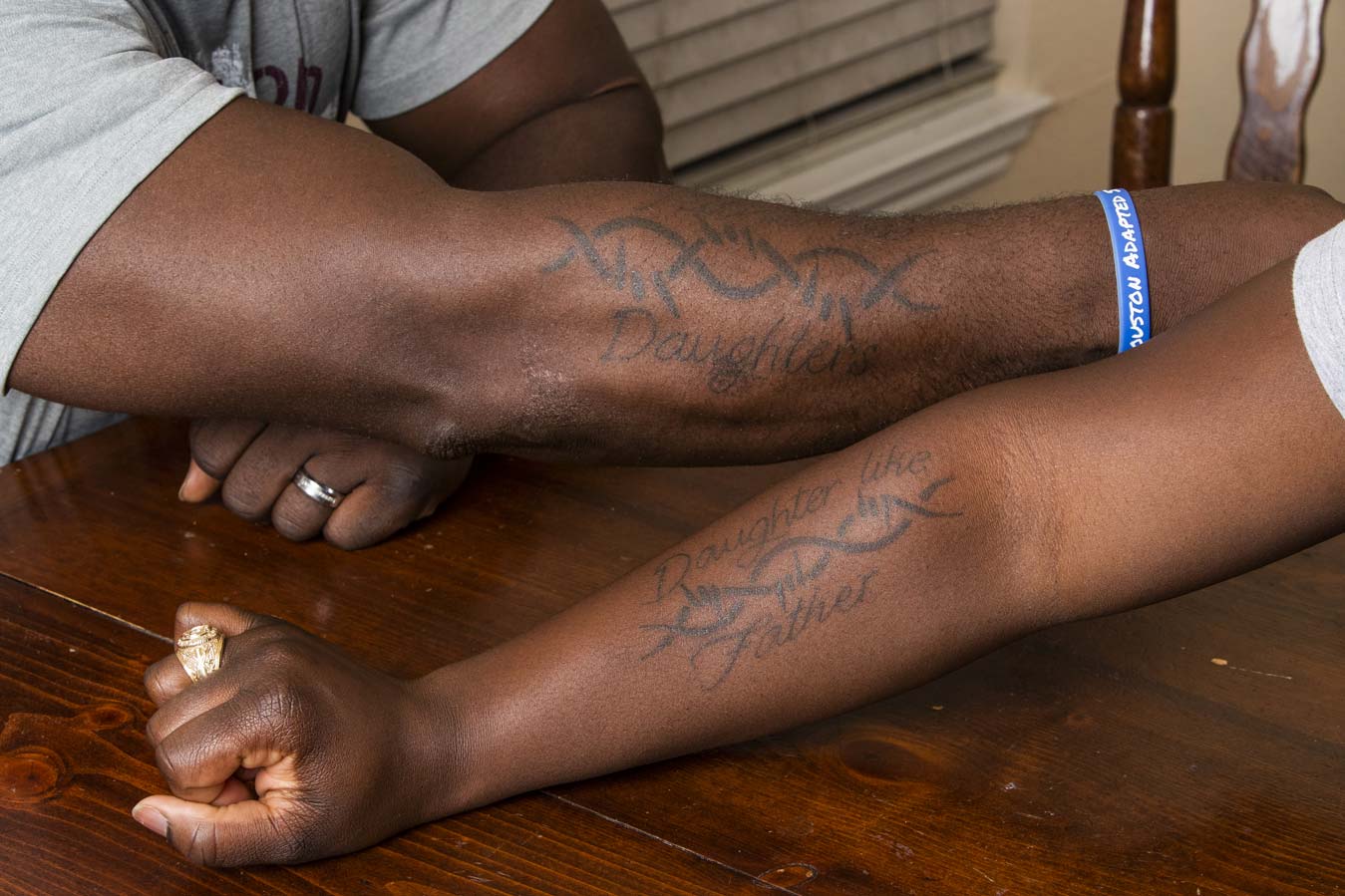 "I wanted to see his reaction," Kiersten said. "It was very nice. It was good to make him proud and continue the legacy."
For the record, Tiki couldn't help but cry after reading that text.
"It was a dream of mine for all my kids to go to A&M," he said. "I had tears in my eyes after reading that text. I'm tearing up just thinking about it."
It's safe to say Kiersten was destined to be an Aggie. She was born during her father's sophomore year at A&M. You could even say that Tiki took his daughter on the field with him during games.
In fact, Kiersten tweeted a photo in September that her father had sent her from his playing days with the caption, "I always knew you were going to A&M." Tiki then told his daughter to look at his right leg and to tell him what she saw. The Aggie running back had written her initials on the tape that wrapped his ankles.
"I've always been around it," Kiersten, who goes by the nickname of "Koko," says of A&M. "It feels like home. I'm so close to graduating, and I know it will make my dad so happy."
Tiki arrived at A&M on a football scholarship in the fall of 1995 after a stellar career at North Shore High, where he was a Parade Magazine All-American and a first-team All-USA selection by USA Today. The Dallas Morning News rated him among the top 100 recruits in the class of 1995.
Tiki and his wife Ursula have been married 15 years. They were high school sweethearts at North Shore, and welcomed baby Kiersten in 1996, the same year Tiki galloped for a record-setting 95-yard touchdown against Baylor.
Tiki was so proud of Kiersten, he would even bring her to A&M Media Day as he signed autographs for fans. Kiersten does not remember those autograph sessions, but she did get a glimpse of her dad in that environment when Tiki returned to Kyle Field to serve as honorary captain for the 2011 Oklahoma State football game.
That day left a lasting impression on the Hardemans' children.
Tiki, who returned to A&M to continue his education in 2014, is adamant that his son may ultimately be a better football player than he was. That's saying quite a bit, considering "Touchdown Tiki" rushed for 28 touchdowns at A&M while sharing the backfield with Aggie legends like Dante Hall, Leeland McElroy and Sirr Parker.
Most children with such an accomplished father might be tempted to brag. Kiersten isn't wired that way.
Few of her friends at A&M actually know her father played football for the Aggies. She wanted to make her own mark in Aggieland. That's exactly what she has done as the team manager for Gary Blair's nationally-ranked women's basketball program.
During a visit to Blair's home one day, the man who guided the Aggies to the 2011 national title asked Tiki why he never said anything to him about his time on the A&M football team. The answer was simple.
"I didn't want to take any shine off her," Tiki said. "She wanted her own identity."
Without a doubt, however, he's a tremendously proud father. All four of his children have been identified as gifted and talented.
It was Tiki's scholarship that opened the door for him to attend A&M which helped shape his future. Now, Kiersten is following in his footsteps and on pace to earn her bachelor's degree in Sport Management in May. She received her Aggie Ring on Sept. 27.
"I know it meant a lot to my dad to see me get my ring," she said. "He had the honor of putting it on my finger. I'm so close to graduating, and I know it will make my dad proud.
"Football opened so many doors for him. It meant a lot for my grandma, and it made my mom proud too."
Now Tiki is the proud one.