Henry Coleman III '24
Aggie Men's Basketball forward makes the most of his scholarship and student-athlete opportunities
---
By Thomas Dick
On the surface, a scholarship has an intrinsic value with one being equal to the others. But the true value of a scholarship varies, with its worth wholly dependent on how much energy the recipients expend on maximizing their opportunities. Very few squeeze more worth out of their scholarship than Texas A&M basketball's Henry Coleman III.
In addition to starring on Buzz Williams' hoops squad and excelling in the classroom, Coleman has jumped at every opportunity to serve as a leader and expand the horizons of his knowledge. He has served on the Texas A&M Student-Athlete Advisory Council and the league-wide SEC Basketball Leadership Council. Coleman represented the SEC Council at the annual SEC meetings in Destin, Florida, and attended the 12th Man Foundation Summer Meeting last June in San Antonio.
"These experiences are things that can't be taken away from you," Coleman said. "If you get that into your heart, into your brain — this is something that won't be taken away from you —then you'll want to do as many of these things as you can. If you can find something within your area that you love and you get really involved, it can take you a long way."
In Destin, Coleman gained a new-found appreciation for the SEC and its leaders. He took stock in the number of people doing a job every day at a high level to help the student-athletes throughout the league.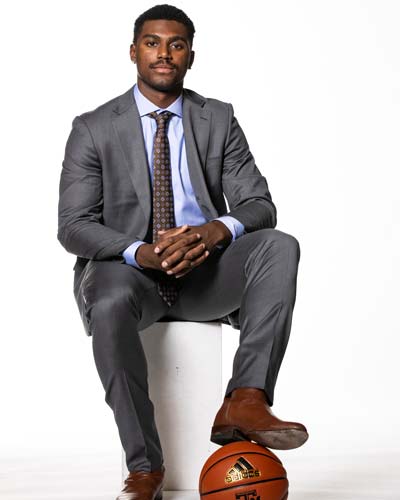 "The 12th Man means a ton. It means commitment. It means family. I don't know every single person in the stands, but it feels like I do."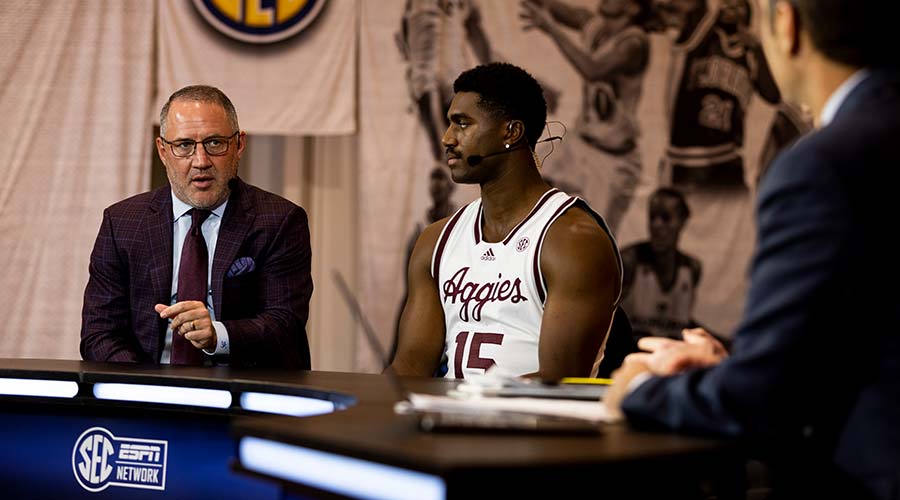 "Representing the SEC Council in Destin was a life-changing experience," Coleman said. "I was able to meet a ton of coaches and people within the SEC. I had dinner with the Commissioner (Greg Sankey). The most important thing I took from the SEC meetings was how dedicated people are to improving the lives of other people."
Coleman was blessed with a family and education structure that emphasized learning and the power of knowledge. His father, Hank, and mother, Cynthia, stressed education early on, and there are anecdotes of him being a leader in the classroom as far back as elementary school when his teacher labeled him "Second in charge."
"My parents instilled the value of an education in me from a very young age," Coleman remembered. "I attended Trinity Episcopal School for high school, and I think that shaped me into who I am today. Credit goes to Rob Schor, the headmaster, and all the teachers there. My parents instilled in me that an education is something that can't be taken away from me."
For Coleman, the opportunity to earn a scholarship is not something he ever took for granted.
"I think it's hugely important to who we are, and I think everybody on this team is grateful," Coleman said. "If you interviewed everybody on this team, they would be thankful for it. It allows us to go to school free of the burden and allows us to be sponges of knowledge and use this opportunity as a tool to guide us in the right direction."
Coleman came to Aggieland through the transfer portal after his freshman campaign at Duke. He made a quick connection with Coach Williams who recruited him to play at Virginia Tech. Williams gave a successful sales pitch to Coleman, who had never been to the Lone Star State. As with many recruits, it was the atmosphere and community that closed the deal.
"The only thing I knew about Texas A&M was that Johnny Manziel played here," Coleman admitted. "When you get here, you see the family atmosphere, not just in basketball, but everywhere around campus, even in the community. In certain food spots I go to, the people know your name and they know your regular orders. Now we probably go there too much, but the community and the family atmosphere here is different than any other."
Williams is a coach tailor-made for a student-athlete like Coleman. He feeds Coleman's appetite for knowledge and learning. The relationship has helped shape Coleman as he sees growth on a daily basis.
"I think being here and spending every day with him has changed who I am," Coleman said. "He's taught me a lot, not just about basketball, but about life. He has taught me how to impact someone else's life and how to be a better person every day."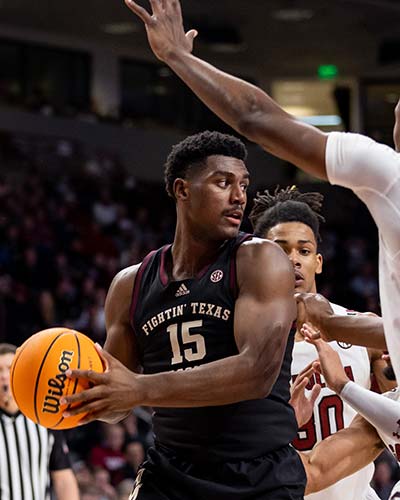 Although he has been in the Brazos Valley just over two years, Coleman has fully immersed himself in Aggieland. He has become a favorite of the 12th Man and they have won his admiration.
"The 12th Man means a ton," Coleman said. "It means commitment. It means family. I don't know every single person in the stands, but it feels like I do. Knowing they're cheering you on and they're celebrating after you get a big dunk or you draw a charge, it's something special."
In addition to the 12th Man in the stands, Coleman has an attitude of gratitude toward the donors of the 12th Man Foundation.
"I had an opportunity to go to San Antonio for the Summer Meeting in June 2022," Coleman said. "I met a ton of donors and people within the Aggie family. Getting to know not only the donors, but knowing their families and knowing their situation gives you a new perspective. Knowing some of those people are former student-athletes who were once in my shoes gives you a comfort level."
After his basketball playing days are over, Coleman has a great vision for his future. He is hoping to one day be the commissioner welcoming student-athletes at the SEC Meetings.
"I want to work somewhere in the SEC," Coleman said. "I think being in the SEC, being in the greatest conference right now, is a great way to have an impact. I think you have a bigger impact on sports from up there, especially someone like Commissioner Sankey. He is doing it the right way. He's very interactive with the student-athletes, not just with the coaches and the people at the top. He's very in tune with the student-athletes."