Honoring a Legacy
A&M's core value of selfless service shines bright in the naming of Gary Blair Court
---
By Brian Davis '01
Wayne Roberts had only one request when he suggested that Gary Blair be honored as the namesake of the court at Reed Arena. He wanted to be in the room when Texas A&M's Hall of Fame coach found out about it.
A devoted supporter of Texas A&M Athletics, the Mays Business School and Texas A&M University overall, it was Roberts' transformative investment in Aggie basketball that led to Reed Arena's floor officially becoming "Gary Blair Court" on Feb. 24, 2022. However, it was his extraordinarily selfless action that made the historic moment possible.
"It is very important to me to live life in a way that honors the core values of Texas A&M," said Roberts, an Austin native who earned a business administration degree from A&M in 1985 and an MBA in 1986. "The Aggie core value that resonates with me the most is selfless service. I try to think about how to give back in everything I do."
Roberts' selfless gift is one that honors a legendary coach who poured his heart and soul into building a championship program that all Aggies could be proud of.
"Having my name on that beautiful floor is a humbling experience," said Blair, a member of seven halls of fame. "It will be a symbol of all those that helped build this program and all the Aggies that battle on that court, not just in women's basketball, but in men's basketball and volleyball as well."
The winningest basketball coach in school history, Blair led the Aggies to unprecedented heights in his 19 seasons including winning 83 percent of the games on the court that is now named for him.
"My former players, assistants and staff members deserve all the credit," added Blair, who is just the third women's basketball coach to currently have a court named after them. "We dedicated our lives to this program and Texas A&M and built it on doing things the right way, the Aggie way."
Over the past five years, Roberts has helped fund several transformative projects for Aggie basketball. As the program's most significant donor in that time frame, Roberts had earned his choice for naming rights. However, that type of recognition did not feel right to Roberts, and he believed an Aggie legend should be honored. When Blair announced his retirement last fall, Roberts asked that the coach's name go on the court instead.
"I can think of no finer example to honor than Gary Blair. He is everything that we would all aspire to be. He lives our values, and he is one of the finest people I've ever had the pleasure of knowing."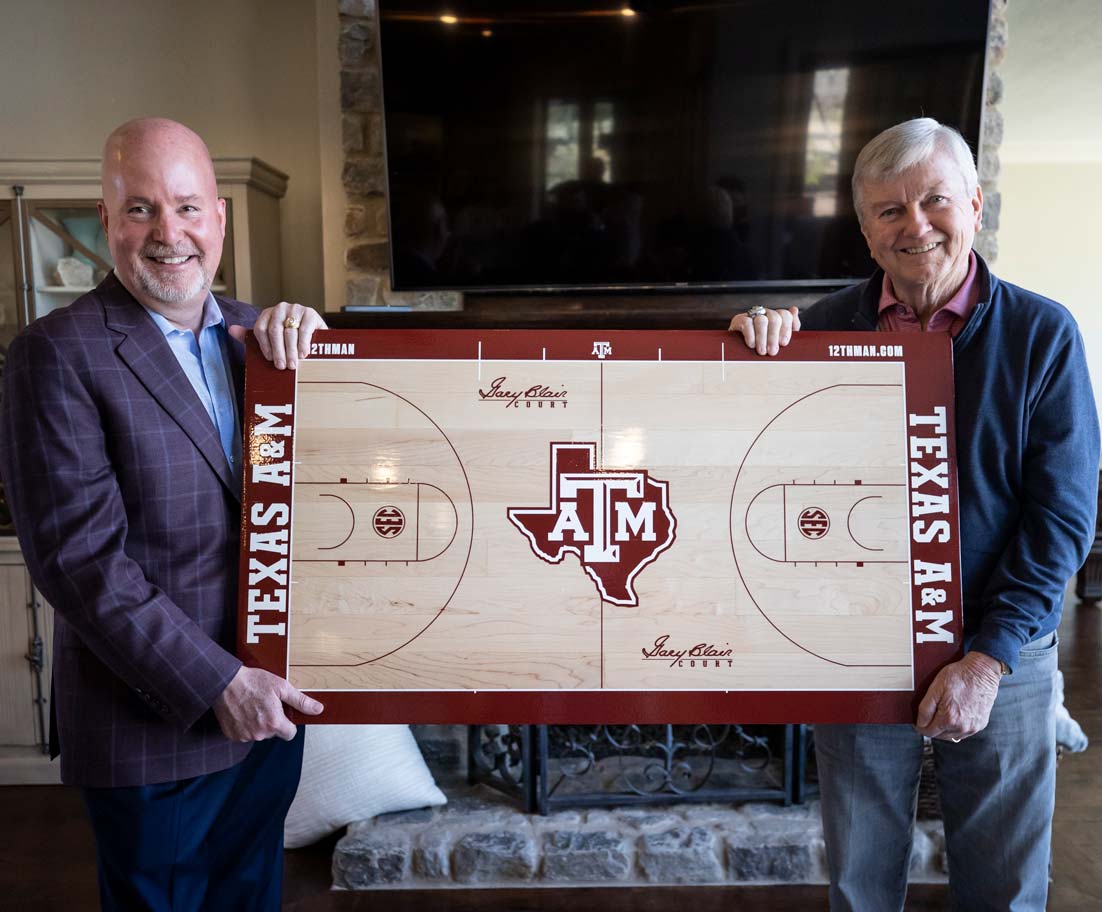 "To me, the value of the gift is the example of selfless giving it sets. Doing something nice for someone like Gary - it was a bucket list moment for me and is something I will never forget."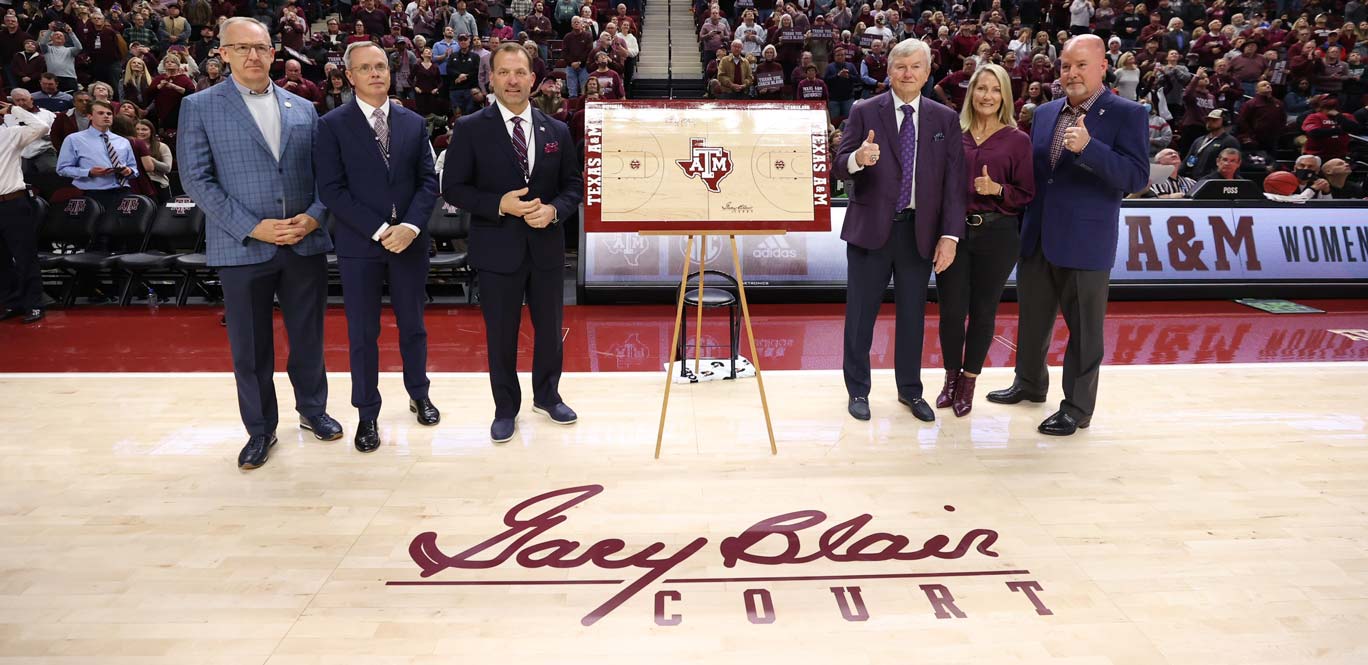 Once it was approved by Texas A&M, Roberts knew the decision to use his naming rights to honor Blair was a slam dunk.
"I can think of no finer example to honor than Gary Blair," said Roberts, who currently serves on the 12th Man Foundation Board of Trustees. "He is everything that we would all aspire to be. He lives our values, and he is one of the finest people I've ever had the pleasure of knowing."
For Roberts, the decision was a moment of truth.
"I want to give because it's needed, it can make a difference and it can leave a legacy - not for what I get out of it," Roberts said. "Are my actions going to match my words or not?"
In honoring Blair, Roberts put his words into action.
"Wayne's commitment to Texas A&M Athletics and the recognition that he has made possible for Gary Blair is appreciated by Aggies everywhere including those of us at the 12th Man Foundation," said President and CEO Travis Dabney '96.
Roberts has planned several other significant gifts that will impact Aggie Athletics, Mays and Texas A&M in the near future. He hopes that his example of selfless service will motivate others just as Amy '84 and Tim Leach '82 inspired him.
With their lead gift for the construction of E.B. Cushing Stadium in 2019, the Leaches opted to use their naming rights on the Aggies' beautiful new outdoor track and field facility to honor Cushing, a former chairman of the Board of Regents who helped save A&M from consolidation with the University of Texas in 1912 by personally bankrolling the young college.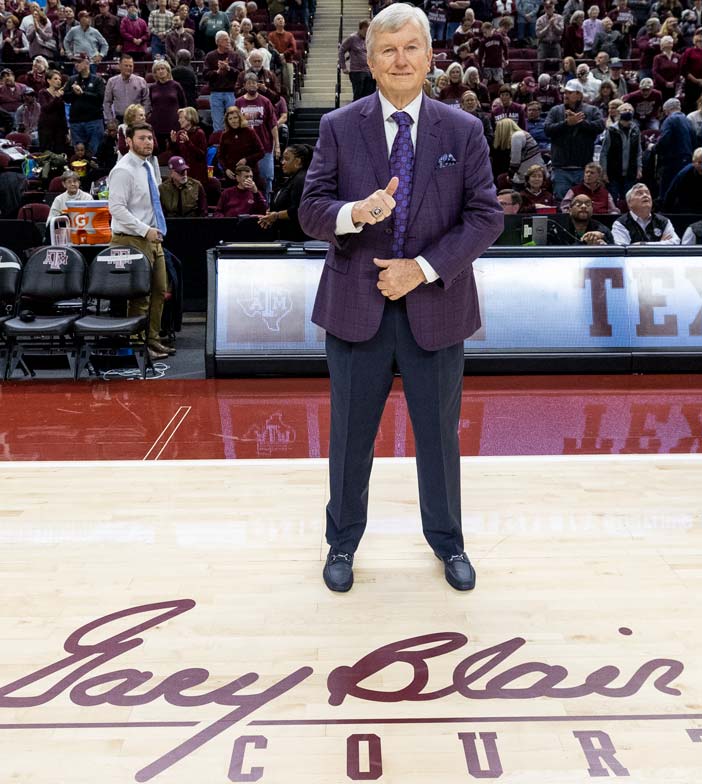 "Hearing about their selflessness and doing that lead gift with E.B. Cushing's name was inspiring to me," Roberts said. "Hopefully, someone down the road says the same thing about me and that I was able to make a difference. I want my time on earth to have mattered."
For Blair, with 15 consecutive NCAA Tournament appearances including eight Sweet Sixteens, three Elite Eights, five conference titles, one Final Four and a treasured national championship in addition to countless lives impacted, his legacy is firmly ingrained - and now engraved - in Aggieland.
"He and his staff built this program from the ground up," Roberts said. "A lot of people don't remember the significant struggles our women's basketball program was facing when he took over. He was out in the community, promoting the program and doing whatever he could to get people to come to women's basketball. We were rewarded with a national championship, conference championships, tremendous postseason success and the winningest coach in the history of Texas A&M basketball."
Roberts knew the moment would be special. It was the only thing he wanted - to be in the room when it happened.
"Being able to share that moment with Gary and Kyla - that meant everything to me," Roberts said. "To me, the value of the gift is the example of selfless giving it sets. Doing something nice for someone like Gary - it was a bucket list moment for me and is something I will never forget."