Innovative Ticketing
Flex Packs and the Gig 'em Pass provide unique options in the evolving collegiate athletics landscape
---
By Samantha Atchley '17
While the game stays the same, the experience of college football is continuously changing; starting with the fans themselves. At Texas A&M, the fan base is undoubtedly united through their passion for Aggie Athletics. However, the 12th Man is a sum of several individuals each with various backgrounds and preferences when it comes to the ideal experience.
Because of this, the 12th Man Foundation takes pride in providing innovative ticketing solutions to meet every Aggie fan's needs. From the local fan attending all seven home Aggie Football games to the busy former student fitting in a few trips to Aggieland, the 12th Man Foundation staff strives to remain an industry leader in ticket strategies that keep convenience and flexibility at the forefront.
"In today's society, the commitment to attend a full season isn't always a reality for some fans," said Justin Morgan, senior director of ticket sales and development. "By providing additional options outside of the traditional season ticket, we're able to meet fans where they're at and provide something for everyone."
As a result of this approach, Aggies are able to enjoy the experience of being a season ticket holder in more ways than just one. Options such as flex packs and the Gig 'em Pass make A&M's home schedule fit into the fan's schedule as well.
"From conversations with some of our donors, we learned that many had the desire to be season ticket holders but just could not make sense of the investment with their family schedules and lifestyle. Therefore, new options were created to provide more convenience."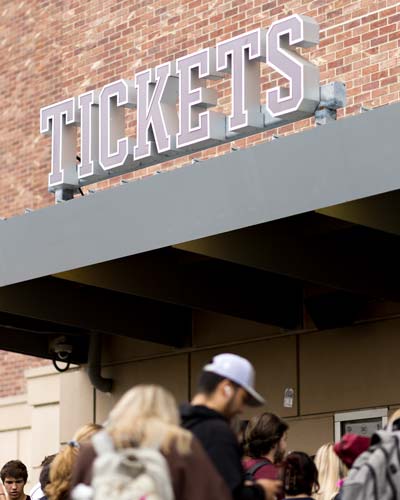 "By providing additional options outside of the traditional season ticket, we're able to meet fans where they're at and provide something for everyone."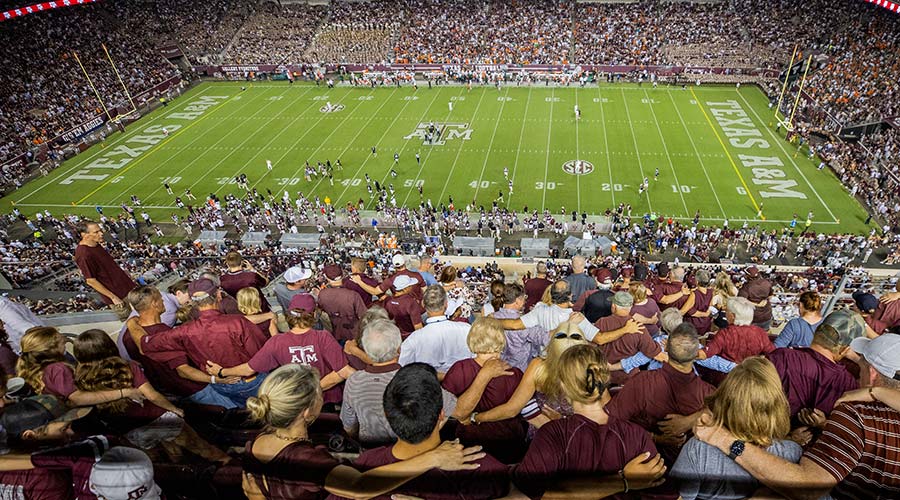 Within the last few seasons, the 12th Man Foundation has responded to consumer preferences and provided fans with ways to virtually customize their experience as season ticket holders.
"Having these types of options that mold into what the fan wants is a huge advantage and will continue to grow," said Lacey Williams, vice president of ticket operations. "We can't dictate game times, but we can allow fans to select games that are likely to work best for their schedule and create an experience that is more tailored to them rather than a one-size-fits-all approach."
For example, flex packs offered for football and men's basketball allow fans to choose a limited number of games they prefer to see in a season, ensuring the value in their investment and securing their seats for events they are sure to attend.
"The flexible ticket options combined with season tickets and students are vital to the gameday experience at Texas A&M venues," said J.T. Payne, assistant director of development.
For those who prefer to plan their gamedays closer to game time, the Gig 'em Pass offers a level of convenience unlike ever before.
"The driving force behind the Gig 'em Pass is flexibility," Morgan said. "This option gives you the freedom to adjust your plans up until the week of the game and truly customize your experience to accommodate your schedule."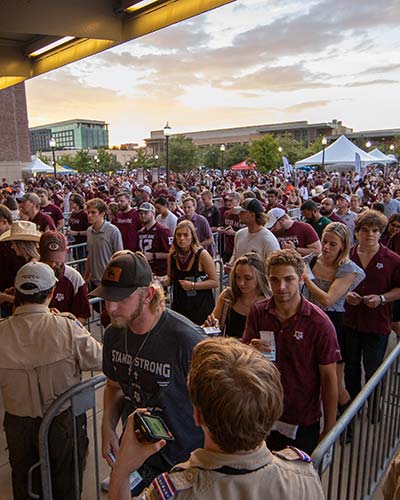 Created with the consumer in mind, the 12th Man Foundation staff dedicated significant time and effort into perfecting the Gig 'em Pass to alleviate the inconveniences of planning a gameday at Kyle Field. With each Gig 'em Pass purchased, fans receive seven vouchers to be exchanged for the games of their choice in a football season; and Gig 'em Pass holders have until the Monday of each game week to exchange, making kickoff times and travel plans an easier feat for all.
In addition to various season ticket options, the recent rise of popularity in group tickets has put a creative twist on single game tickets as well.
Whether hosting colleagues, an organization or just a group of friends for a game, group tickets can provide an added element to the gameday experience at an affordable price.
By offering behind-the-scenes experiences to groups of 10 or more, fans are banding together to take advantage of the total-package gameday experience this option has to offer.
"In the 2022 football season, we accommodated over 16,000 fans within our various group promotions and themes," Senior Account Executive of Group Ticket Sales Jax Kendrick said. "Buying group tickets gives your party a unique way to experience our athletics venues with exclusive opportunities such as in-game, sideline photos on Kyle Field."
Altogether, each unique ticket buyer becomes part of the big picture that is Kyle Field on a Saturday; the 12th Man to the power of 100,000+. No matter how much or how fast ticketing trends change, one thing always remains the same.
"It's the passion," Williams says. "At A&M, there's tradition that runs generations deep, all supporting the same school and wanting to be a part of the big moments that happen here. We take pride in accommodating Aggies' lifestyles and then work hard to make sure they continue to have a great experience when attending a game at Kyle Field."