Living Legend
The 12th Man Foundation's Jacob Green to be inducted into the College Football Hall of Fame
---
By Charean Williams '86
Jacob Green couldn't figure out why everyone was so interested in his schedule while he was in Houston on business in late December 2018. Green received phone calls from his wife, his boss and one of his former coaches all asking his estimated time of arrival back in College Station.
Green, the 12th Man Foundation's Vice President of Major Gifts and Endowments, knew something was up but didn't know exactly what.
"Travis Dabney called me and said, 'When are you coming back?'" Green recalled of the President and CEO of the 12th Man Foundation. "I said, 'Man, I'm working. What do you mean? Why are you asking me that?' My wife Janet called. R.C. Slocum called. They wouldn't tell me why.
"They were in cahoots to get me back."
Returning 90 minutes later than planned, Green found an office full of coworkers, friends and family waiting for him with a surprise: Green had earned a spot in yet another hall of fame.
The National Football Foundation (NFF) will induct 13 players and two coaches into the College Football Hall of Fame on Dec. 10, 2019 at the New York Hilton Midtown. Green was recognized with an NFF Hall of Fame On-Campus Salute during the Aggies' game against Alabama on Oct. 12.
"When you figure all the great players from all the great teams in college football, and then do that year after year after year, it's a pretty elite group that goes into the Hall of Fame," said Slocum, who was Green's position coach at A&M. "It means a whole lot."
"For me to be going to the College Football Hall of Fame with the list of guys that are going in is really unbelievable. At the end of the day, it's an honor that puts things in perspective and I'm thankful for all the support over the years,especially from my family, but also for all the people at Texas A&M."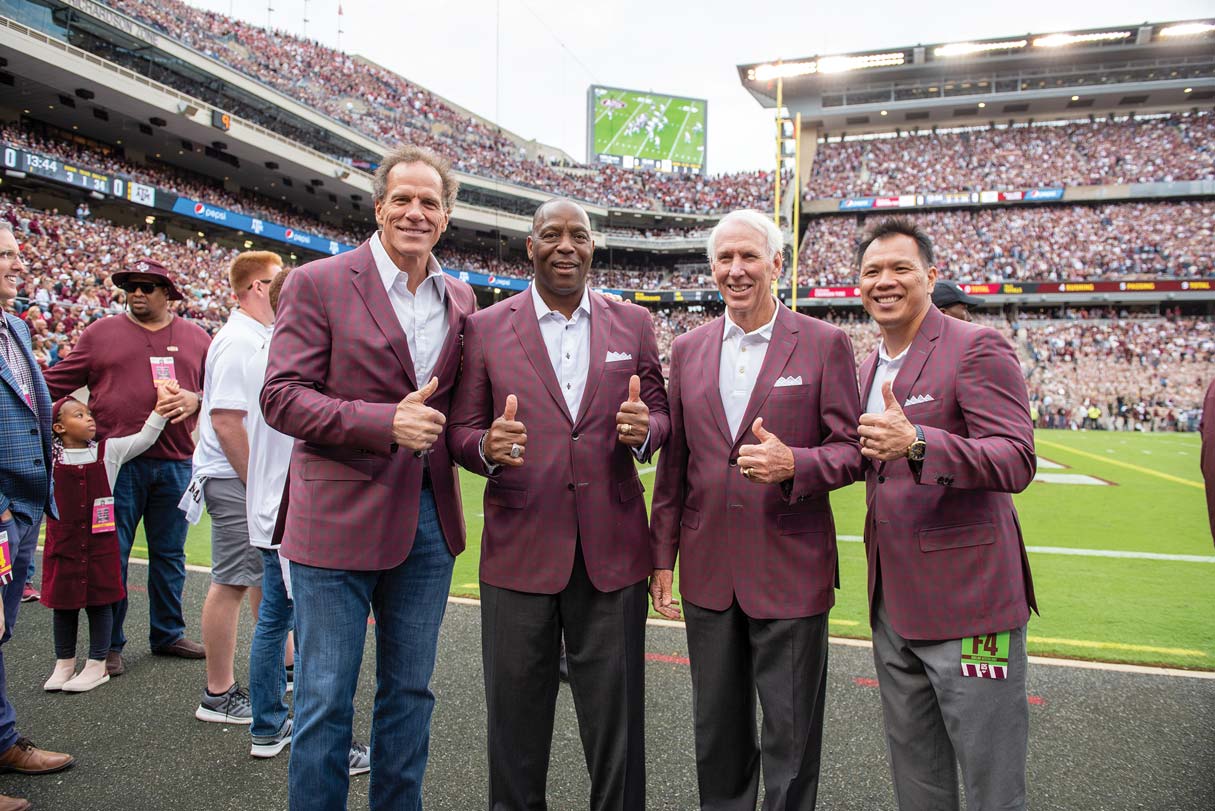 "Not only is he highly respected by our coaches, but Jacob is a role model for our student-athletes. He has been, in his professional life, very impactful for Texas A&M Athletics."
Only 1,010 players and 219 coaches have earned induction into the College Football Hall of Fame from nearly 5.33 million who played or coached during the past 150 years. That means less than .02 percent of players earn college football's highest post-career honor.
Green, who is already enshrined in Texas A&M's Athletic, Southwest Conference, Texas Sports and Texas African-American Halls of Fame as well as the Seattle Seahawks Ring of Honor, becomes the 11th Aggie player elected to the College Football Hall of Fame. In 2012, Slocum became the school's fifth coach inducted.
"It's a big honor for Jacob," former A&M teammate Curtis Dickey said. "He was an All-American,led A&M in sacks and was a real team leader as a two-time team captain. It's really good they still remember him and the things he accomplished."
Green twice earned All-Southwest Conference honors and made first-team All-American in 1979 when he set a school single-season record with 20 sacks. His 38 career sacks still ranks second in A&M history, four behind Aaron Wallace, who played for the Aggies from 1986-89.
Green's 12 career forced fumbles still sits atop the record book, while his 22 tackles in the1979 game against Baylor currently ranks tied for third in team annals for a single game. He finished his career with 283 tackles.
Green calls a victory over No. 6 Texas in 1979 as the highlight of his career.
"I was a blue-chipper coming out of high school, but out of all the blue-chippers, I didn't get picked to play in the all-star game in the Astrodome," said Green, who went to high school at Houston Kashmere. "I went to the game, and I was crying in the stands because I didn't get selected. Emory Bellard, who was the coach at the time, told me, 'I know it hurts, but when you get here, you throw your hat in the ring and show them that they made a mistake.' That's what I wanted to do, and that's what I did."
The Seahawks made Green the 10th overall choice in the 1980 NFL Draft, and he played 12 years in Seattle and two games for the San Francisco 49ers in 1992. He made 97.5 career sacks and was recently honored as the Seahawks first-ever Legend of the Year.
Green, 62, returned to A&M in 2006 to fundraise for the 12th Man Foundation.
Stu Starner hired Green at the 12th Man Foundation and calls him a "powerful force" in taking Aggie Athletics to the next level.
"He has unusual character, personality and passion for Texas A&M," said Starner, now retired and living in Montana. "Through the process, he became a significant spokesperson for Aggie Athletics. Not only is he highly respected by our coaches, but Jacob is a role model for our student-athletes. He has been, in his professional life, very impactful for Texas A&M Athletics."
Dabney says Green's hands are "all over the last 15 years of facility improvements." Green spearheaded much of the fundraising for the $485-million renovation of Kyle Field as well as the combined $68 million it took to build Davis Diamond for softball and E.B. Cushing Stadium for track and field.
"He had a successful college career, had a successful career in the NFL, and now having a second act here at the 12th Man Foundation as a successful fundraiser, philanthropist and supporter of Texas A&M Athletics has been awesome," Dabney said. "The representation of Texas A&M by Jacob has been so valuable, and Texas A&M should be so grateful for it. But Texas A&M also has been great to Jacob Green. It's been a two-way street, and it's been a very successful relationship.
The cherry on top of Green's college career came in the form of a football delivered to the 12th Man Foundation on Dec. 21, 2018. Alan Cannon, A&M's Associate Athletic Director for Athletics Communications, received an email from the NFF informing him of Green's honor.
With Green in Houston and the shipping department shut down for Christmas, Cannon and Scot Obergefell, the General Manager of Kyle Field, had to find the football. Once they did, Dabney formulated a plan to surprise Green with the news.
"He's in and out of town so much," Janet said. "I'm the most laid-back person, so when I'm calling to see where he is on a consistent basis, he's wondering, 'What is she doing?' My daughter who lives in Houston was in town, so we were trying to tell him we wanted to know where he was so we could go out to eat. He kept saying, 'I'm on my way. I'm my way.' Kind of like, 'OK. OK.' It was pretty fun when he got back, and everyone was waiting for him. He's really excited about this one. This is a good one."
Slocum was honored to be a part of the group who surprised Green with the news.
"It's great recognition for a great player," Slocum said. "Jacob is so deserving of this."