Impactful Major Gift Donors
Joan & Jeff Bott '65
---
By Samantha Atchley '17
It was in the fall of 1957 when the Aggie spirit first struck Jeff Bott '65. Sitting amongst thousands of fans packed into Rice Stadium, Bott felt the overwhelming excitement of Aggie football for the first time during a game that he, along with everyone else, would not soon forget.
With one older brother attending Rice and the other at Texas A&M at the time, the game between the Aggies and Owls could not have been more fitting for Bott and his family. In a time where the Aggies were ranked number one in the nation, even the most devastating loss to Rice could not dilute Bott's admiration for A&M that day. Sixty-two years later, the feeling still stands as strong as ever.
Longtime donors to the 12th Man Foundation, Jeff and his wife, Joan, have an unwavering loyalty to Texas A&M. Their passion for the University matched with their personal mission to give back continues to make an enormous impact on both academics and athletics.
Since their first contribution in 1982, the Botts have been dedicated to doing their part in bettering the University and educating the students that foster its rich traditions.
TO AGGIELAND AND BEYOND
Jeff came to A&M in the summer of 1961 to study mathematics and economics. A distinguished student and a member of the Corps of Cadets, Jeff was a hard-working individual who balanced his studies, work and even started a second minor in Russian during his time in Aggieland. However, in the midst of juggling all of his responsibilities, Jeff determined he would need to be released from the Corps in order to stay afloat.
"After the first semester, I asked the Corps Commander if I could be released from the Corps because I was trying to work several jobs to support my way through college," Jeff said. "They agreed, which I'm heavily indebted to them for – both then and more so now – because I didn't have to relocate or try to go to another school. I may not have even graduated from college if they hadn't let me stay."
Jeff graduated from A&M in January of 1965 after completing a hefty 21-hour final semester. Thinking about where he would have been had he not been able to stay and finish his degree, Jeff gives enormous credit to A&M for being the foundation of his success.
"It has been that degree from Texas A&M that provided me the opportunity to go out and do what I consider good or great things, and we've been more than appreciative of it," he said. "Like everyone else, we stumble in life, but it's not what happens when you fall down – it's how you get up and go."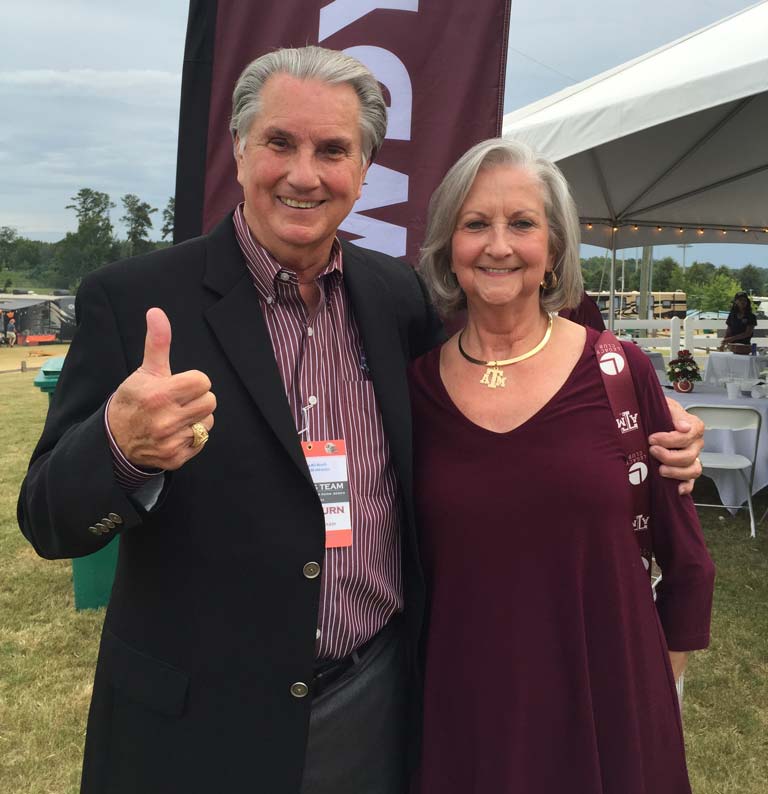 "There are a lot of reasons to give to different things, but I can't think of anything better than giving a student-athlete an opportunity to come to Texas A&M, get an education and carry on the traditions."
INVEST IN THE FUTURE OF STUDENT-ATHLETES
Joan and Jeff Bott '65 are making a lasting impact with their generous contributions to Texas A&M Athletics. Join the Botts as 1922 Fund donors and help support the 12th Man Foundation's desire to endow scholarships for all Aggie student-athletes. Contact Lauren Hickey at 979-260-7595 or by email
After graduation, Jeff began a 10-year stint in the aerospace industry, first working for Ling Tempco Vault (LTV) and later at NASA. After his first year at LTV, the company received a contract with NASA prompting Jeff's move to their Hampton, Va., facility where he worked on missile simulations and simulations for the Boeing Supersonic Transport. He was later called back home to Texas when an opportunity came at NASA Houston for a special project – the Apollo 11 spacecraft to the moon.
"My job there was to simulate the command module of the Apollo 11 spacecraft," he said. "They wanted to know two things that were most important – how fast or at what velocity to bring the craft back in, and secondly, at what angle to the Earth's atmosphere do we bring them back in to get the right orbit."
Jeff's experiences in the aerospace industry were just the beginning of his exciting and fascinating business ventures. After completing the Apollo 11 project, Jeff left NASA to sell and design hybrid computers for a company called Hybrid Systems in Houston. Coincidentally, it was the same company Joan was working for at the time.
An Ohio native, Joan moved to Houston after a visit that left her heart longing to live in Texas. Once the two met, Jeff introduced Joan to his passion for A&M, starting with her first Kyle Field experience in the fall of 1968. Joan fell in love with A&M from the first time she visited.
"I was just enamored – I could not believe it," Joan recalled. "I had been on many different college campuses in Ohio, but it was just a very special place, and I always tell him I am so glad that you went to Texas A&M."
Soon after the stars aligned, Joan and Jeff were married in 1970. Easily described as attached at the hip, the two began venturing into many different business sectors together, ranging from oil and gas and antique cars, to auto dealerships and commercial real estate.
By 1982, the Botts had become well established in their various trades and made the decision to start giving back to A&M.
"We decided we really wanted football season tickets and gave an endowed scholarship to the University," Jeff said. "We've been buying season tickets ever since."
MAKING THEIR MARK
Becoming somewhat of a Bott tradition, Joan and Jeff are not just proud members of the Aggie family – they also belong to a proud family of Aggies. The Botts have two children and two grandchildren who are Aggie graduates – soon to be three in 2020 – and countless other relatives who share a love for A&M thanks to Joan and Jeff's leading example. The two thoroughly enjoy spending time with them in the place they love most – Aggieland.
"I just love being up here and every time, no matter where I go, I always drive past the campus," Joan said. "I just love it. I think there's nothing like it anywhere else."
The Botts are heavily involved in supporting Aggie Athletics and academics in every way they can. Over the years, Joan and Jeff have made an immense impact as donors to the 12th Man Foundation through various facility and renovation contributions, planned gifts, sport-specific donations and more that have helped to ensure that A&M is always equipped with the resources it needs to achieve greatness.
"It's a fantastic feeling to give," Jeff said. "You feel better about giving than receiving and are able to see all that your contributions can do. There are a lot of kids who will be productive in society and will go do great things if just given a chance."
Recognizing that greatness is often built on a solid foundation, the Botts are especially invested in student-athlete education. Supporting student-athletes across multiple sports, the Botts have funded a total of six scholarships through the 1922 Fund in football, baseball, softball, men's basketball, women's basketball and track and field.
"We need to get these children educated," Joan said. "We know it's hard for a lot of people, and that's our goal – to educate. We want to get them educated and give as much as we can give."
Reflecting on the opportunities that A&M once gave to him, Jeff understands the weight of how important an education can be in the lives of young students.
"There are a lot of reasons to give to different things, but I can't think of anything better than giving a student-athlete an opportunity to come to Texas A&M, get an education and carry on the traditions," he said. "It's an amazing feeling and we're just thrilled to death that we're able to do that."
Track and field All-American Tyra Gittens is one of the student-athletes who is benefiting from the Botts' commitment to supporting education through the 1922 Fund.
"My scholarship means a future for me," Gittens said. "Being from a family of seven kids, my parents did not know how they were going to get us all to college. But the Botts have taken that worry away from my parents, and for that alone, I am forever grateful. Their investment in me will not be forgotten, and when I step onto the Olympic track in 2020, I will be thinking of both of them.
"They have given me something that is very needed in this world and that is hope."
Without a doubt, the Botts have played a pivotal role in shaping the future for many student-athletes and their generosity is deeply felt throughout Aggieland. Expressing gratitude for the opportunities A&M has given them, the Botts are never hesitant to share their success with those who aspire to follow in their footsteps.
"We're going to give as long as we're living," Joan said, "and then hopefully there will be plenty left to continue on our legacy."