Introducing Joni Taylor
New head women's basketball coach eager to build upon the legacy left by Gary Blair
---
By Charean Williams '86
When Joni Taylor accepted the job to become the head women's basketball coach at Texas A&M, she did so without taking an official visit. In fact, her only trips to Aggieland came as an opposing coach. But Taylor did not need long to feel at home.
She opened her first press conference with a "Howdy," and within a month, she could find her way to Starbucks, Orange Theory and Smoothie King without GPS.
Taylor is happy to be an Aggie, and the Aggies are happy to have Taylor.
"I watched Texas A&M from afar for a long time," said Taylor, who in June led USA Basketball Women's U18 National Team to gold at the 2022 FIBA U18 Women's Americas Championship in Argentina. "I always thought, 'Man, that's a great place to work.' Never, ever did I think that would be something that would come my way, but I've always had great admiration, respect and appreciation for it."
On Oct. 28, 2021, Gary Blair announced he was retiring after his 19th season, and the search for his replacement began in mid-January.
"Texas A&M is a destination job in college basketball," said Ross Bjork, A&M's director of athletics. "It was my belief all along that we had to target high profile, sitting head coaches."
Taylor, 43, has already followed in the footsteps of one Hall of Fame coach. She was hired by the University of Georgia in 2015 to follow Andy Landers, who won 862 games in 36 years for the Bulldogs. Taylor did not have any head coaching experience, but she had spent 13 years as an assistant coach or associate head coach at five schools including her alma mater, Alabama, before going to LSU and then Georgia.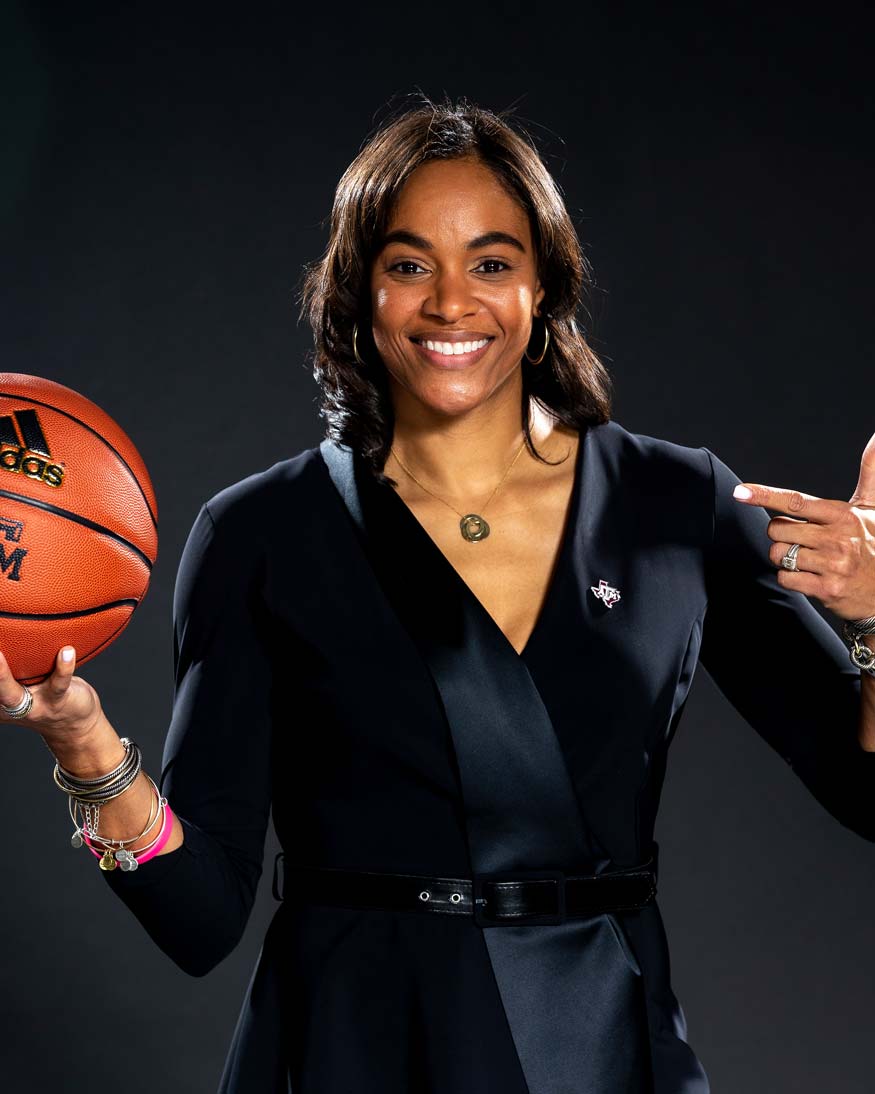 "The commitment to women's basketball is clear, and that is something that I want to be a part of at the highest level."
The Bulldogs selected Taylor as the second head coach in school history after four seasons as an assistant coach under Landers, including three as associate head coach.
In seven seasons, Taylor led Georgia to a 140-75 record, including 62-48 in the SEC, with four NCAA tournament appearances. She won SEC Coach of the Year honors in 2021.
"I think Joni has the personality and the wisdom to understand where she is and who she's with and who was there before her," said Landers, now a women's basketball analyst for ESPN, "and she knows how to blend that into what she wants it to be without disrupting what came before her. A lot of people go in and want to make a lot of changes and changes that are not necessary. If changes are necessary, Joni will do those respectfully."
Blair turned A&M into a national power, going 444-185 and winning the 2011 NCAA Championship. If the shadow of that banner hanging in Reed Arena is not enough to remind Taylor of the expectations, she need only to look at the newly named court, where "Gary Blair" is etched in the wood.
"I think what's special about both of those men is that they understand it's about women's basketball and it's about growing leaders and it's about doing whatever is best for our game and our sport," Taylor said. "That's what I want to do."
Taylor and Blair have conversed several times, with Blair offering to help, if needed, but to stay out of the way, if not. It is now Taylor's office, Taylor's program and Taylor's time.
"The last three places she's been, there's been an active Hall of Famer that lives there or right around the corner," Blair said. "A lot of people wouldn't want that challenge, because there are going to be comparisons. What Joni is going to have to do is not worry about living in the shadows of (Leon) Barmore at La Tech, Van Chancellor or Sue Gunter at LSU, Andy Landers at Georgia and now Gary Blair. Be the best that Joni can be. The best of Joni. I think she can do that."
Taylor's goal at A&M is to win championships. However, she knows that is a common goal for every SEC program. For Taylor, it is about what makes you different.
"Trust the process" is her mantra, stacking good days together - one after another - to get where they want to go.
"It's not about throwing these goals out here or this ending date of when something is going to happen," she said. "It is about the details and how you get there. It is a process. If we do the everyday things daily the way we're supposed to, then we will have gotten to where we're supposed to be."
Taylor's efforts at A&M so far include adding former Georgia freshman guard Tineya Hylton from the transfer portal and signing Sydney Bowles and Janiah Barker. Barker, an All-American and the nation's No. 3 recruit, is the highest-ranked recruit ever to sign with the Aggies, while Bowles is the No. 37 recruit in the country and the Georgia Gatorade Player of the Year.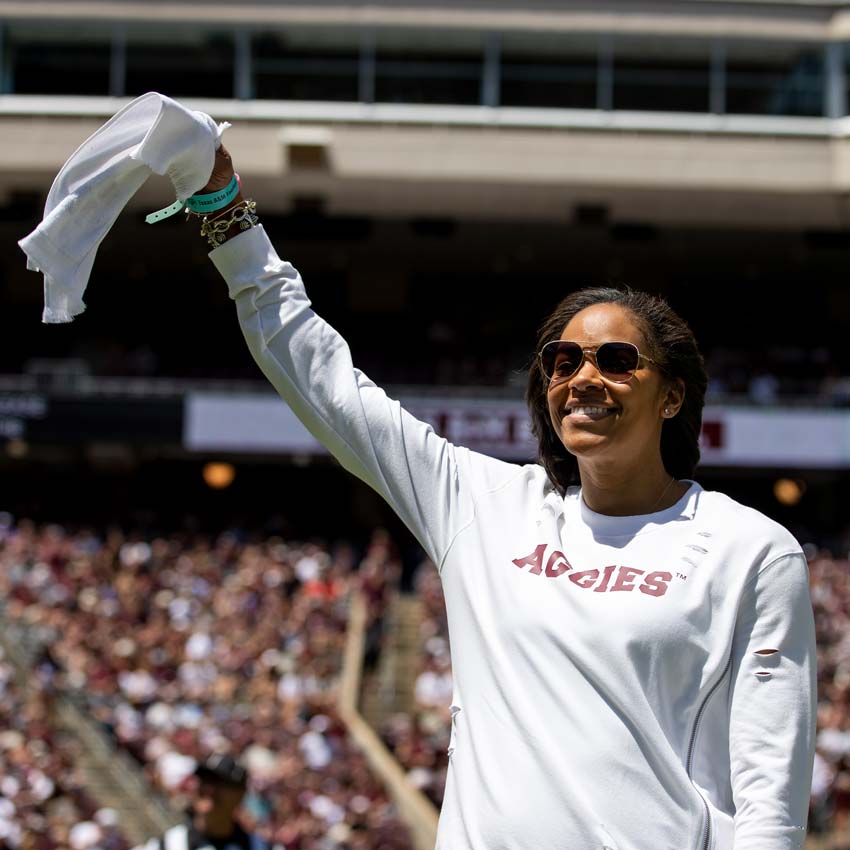 "We've gotten off to a great start," said Taylor, "but we definitely do have work to do in order to be who we all want us to be."
Taylor grew up in Mississippi, played at Alabama and has coached most of her career in the SEC. A&M's leadership was interested in Taylor because of that invaluable experience, but it had no idea if she had interest in A&M. A phone call to her agent put things in motion to get Taylor to Aggieland as the eighth head coach in the program's history.
"Joni's experience as a player in the SEC, assistant coach in the SEC and seven years a head coach was an amazing combination of what I believed was important in our characteristics of our next head coach," Bjork said. "Experience matters, and experience in the SEC matters even more.
"When we first heard that coach Taylor might be interested, I was a little surprised based on the great job she was doing at Georgia. Once we were able to engage with her, it became crystal clear that she was the right choice for the Aggies."
Taylor's husband, Darius, will remain in Atlanta for now, working for the WNBA's Atlanta Dream. He coached under Dawn Staley at Temple and at South Carolina before he and Joni were married. Georgia nepotism laws prevented Darius from working with his wife, so he instead joined the Dream's staff in 2017. Their parents will alternate living in the Taylors' home in Bryan-College Station to help with the couple's two children.
"We've done the extended stretches apart for a while," Joni Taylor said. "It's not anything we ever want to do permanently. We are not about living separately, but I think we both knew when we started dating what he was capable of in his career and what I was capable of in my career. We were going to figure out how to make it work to the best of our abilities and with parents who support us. I think we both just do whatever we have to do to make it work."
For Taylor, the opportunity to take over an A&M program with the tremendous resources and support it has in place was something she could not pass up.
"I think it's an honor that I'm in the position to be at an institution that had a legend and that I have an opportunity to follow behind and learn from and continue to enhance what was created here," she said. "The commitment to women's basketball is clear, and that is something that I want to be a part of at the highest level."