Karlina Sample '22
---
The Aggie senior soccer student-athlete sets the standard for embracing all that Texas A&M has to offer
---
By Matt Simon '98
Texas A&M is all about developing leaders. One extraordinary example is Karlina Sample.
The senior student-athlete and A&M soccer star embodies the Aggie core value in competition and in life.
On the soccer field, Sample is an All-American leader of the Aggie defense.
A&M has won a lot of matches since she first donned maroon and white. The team has made two trips to the Sweet Sixteen and one to the Elite Eight. And the Aggies claimed yet another SEC regular-season championship in the improbable and unpredictable 2020 campaign.
For all the successes Sample has seen between the white lines, it's the underlying character she carries with her that makes her who she is. And that starts with her leadership.
"She's beyond reproach," said G Guerrieri, A&M's head soccer coach. "If she makes a demand of her teammates, they're expected to step up, because they know she wears her heart on her sleeve and will do everything she possibly can to make things the very best they can be for us.
"I'm incredibly proud of her for so many reasons. The word is out on what a great person she is and what a great inspirational leader she is with her peers."
THIS IS THE SPOT FOR ME
Sample does not have the familiar "Maroon blood line" family story – she is a "100 percent first-generation Aggie," she points out with a laugh.
As a young member of the Solar Soccer Club, Sample's first taste of Aggieland was on visits down from Dallas to Ellis Field with her teammates even before she started high school. So when it came time to start the recruiting cycle, she was already steps ahead of the process. She had built relationships with the coaching staff. She had experienced the unmatched atmosphere. She had seen the world-class facilities that Aggie student-athletes call home.
"Something I was adamant about was that I didn't want to make too quick a decision," Sample said. "But as I visited other schools, I began to realize those schools just weren't the ones for me. I realized I was always comparing them to A&M, and once I saw I was holding Texas A&M to a higher standard than other universities, I realized maybe this is the spot for me."
Those who have known Sample as she's grown up, and her times playing for the Solar Soccer Club, could see the leadership potential in her.
"I just give her a ton of credit in terms of taking advantage of being an Aggie, taking advantage of being a captain and taking advantage of being a leader. It shows she's taking advantage of the full opportunity."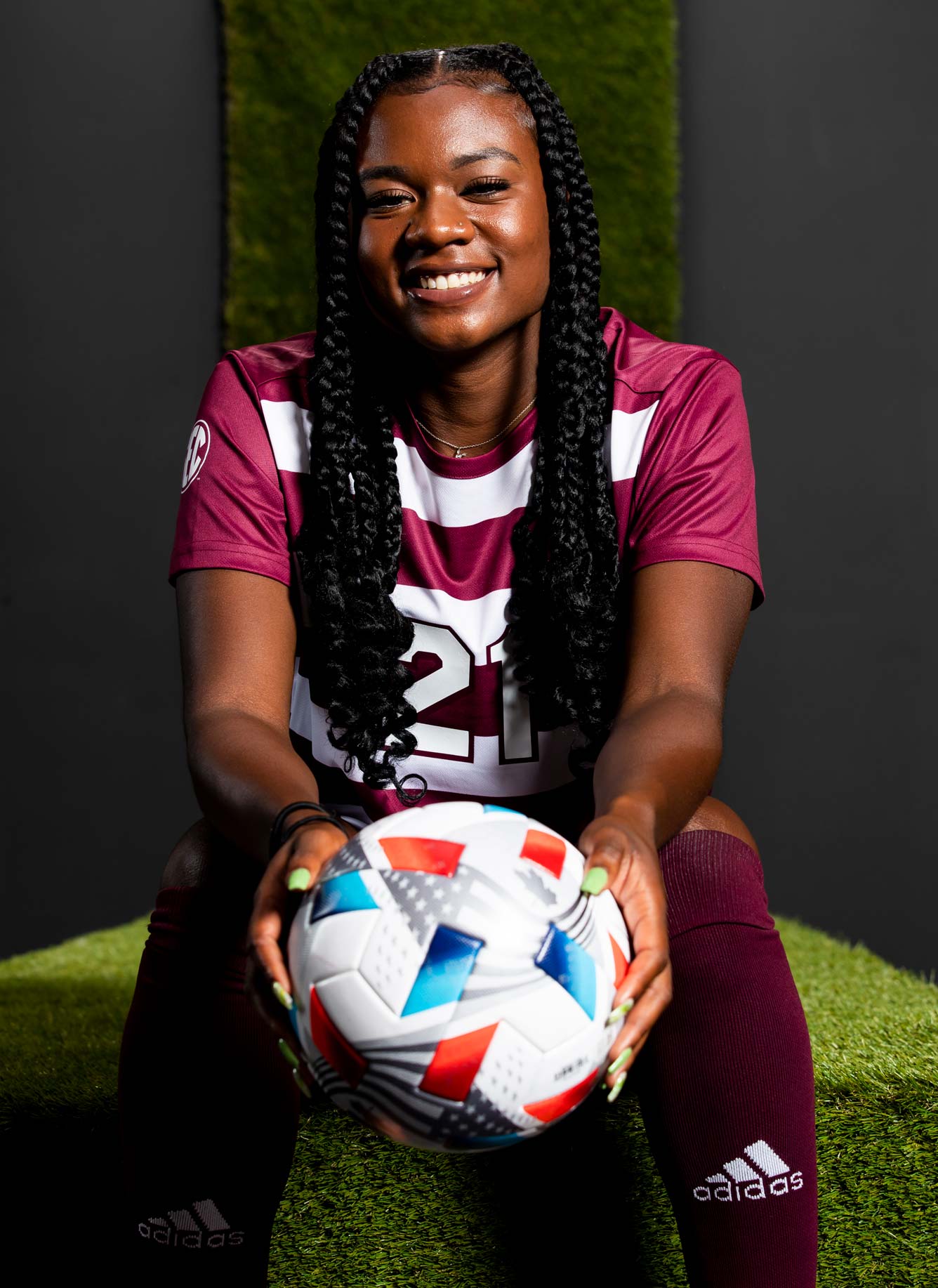 "From the first day stepping on campus and not knowing the impact Texas A&M would have on me, to now being able to see how much it's really changed me as a person, a woman, an athlete, an individual…seeing the effect it's had, I'm definitely very thankful."
"People have always told me I've shown leadership qualities, and that they saw me being a leader in the future in some form," Sample said. "Transitioning from high school to A&M, I wasn't planning on holding as many leadership positions as I do now and having as big an impact on the university and specifically the athletics department as I do now.
"That being said, I think it shows how much I've grown over the years as an athlete, a person and a leader. I think I've come a long way, and that's also helped me become a better individual."
TAKING ADVANTAGE OF THE OPPORTUNITY
Ross Bjork remembers Sample being one of the very first student-athletes he met when first arriving in Aggieland in 2019.
"To see how far she's grown in her leadership and in her profile, I just give her a ton of credit in terms of taking advantage of being an Aggie, taking advantage of being a captain and taking advantage of being a leader," said Bjork, A&M's director of athletics. "It shows she's taking advantage of the full opportunity."
Sample was a founding member and the driving force behind "The B.L.U.E.print" (Black Leaders who Undertake Excellence), a student-athlete led organization to provide leadership opportunities and a sense of community while empowering Black individuals to use their voice.
Inspiration for The B.L.U.E.print began in January 2020 after Sample attended a Black student-athlete summit. There, she gathered ideas to begin a club at A&M for Black female student-athletes. It was after the death of George Floyd when Sample changed direction and decided to target the club toward both Black male and female student-athletes.
The organization has continued to flourish in its second year.
"I'm very proud of The B.L.U.E.print," said Sample, who serves as the organization's president. "To build it from the ground up and to see how much impact we've had on athletes, staff, different organizations, different schools, even different companies…I'm very proud. Staying focused on our goals and the impact that we wanted to have – to achieve those goals speaks for itself. I hope it continues to grow."
VERY THANKFUL
Sample is a perfect example of the impact a scholarship can have on a young student-athlete.
"Think about what we do in college athletics," Bjork said. "You see the evolution of somebody who walks in here and maybe they're a little shy. Maybe they're a little timid. Then, they blossom. They evolve. We give them those opportunities, and they take advantage of them. It's a pretty neat story to see Karlina come this far."
Sample is on track to walk the stage at Reed Arena in the spring and receive her degree in telecommunications media studies. But as her time in Aggieland winds down, she's not coasting to the finish line.
"I think I've maximized my time here, but I do think there's more to be done," Sample said. "The kind of person I am, I never want to settle. I always want to look at opportunities to grow and step outside of my box…that's just my goal for however much longer I'm here."
Those opportunities would not have been possible without her athletic scholarship – a scholarship that allowed her to attend A&M. To wear maroon and white. To develop those Aggie core values.
And to lead.
"From the first day stepping on campus and not knowing the impact Texas A&M would have on me, to now being able to see how much it's really changed me as a person, a woman, an athlete, an individual…seeing the effect it's had, I'm definitely very thankful," Sample said. "A scholarship is about more than just athletics. It helps people in different areas that you don't know will appear until they do. I really appreciate the opportunity."