One of a Kind
Kyle Field sets the standard for college football game day experience
---
By Charean Williams '86
If you ask Aggies, Kyle Field is the best stadium, the loudest stadium, the most intimidating stadium and the friendliest stadium all in one. Texas A&M wants to keep it that way.
Texas A&M Athletics and the 12th Man Foundation formed a Game Day Experience Task Force (GDETF) two years ago. The task force was charged with keeping Aggieland game day as the most intimidating environment in college football while honoring A&M's traditions and fostering the best fan experience.
"When we redeveloped Kyle Field, one of our five stated goals was to provide a superior fan experience," Sam Torn, the chair of the GDETF, said. "As a result of what's going on culturally, which is declining attendance in sports, we were trying to get in front of the issue of knowing that in today's world, the fan is not going to show up to show up. Fans have a lot of options, so we want to make sure the experience we're providing and creating is something that will make them want to be at the game in person."
The task force originally had 21 members and 13 subgroups, but more than 150 people across all areas of the university shared ideas, including students and student-athletes.
GDETF members visited 10 other stadiums in the country, including Clemson, LSU, Florida, Alabama and Penn State, before suggesting changes to the Kyle Field game day experience.
Expanded alcohol sales this season received the biggest headlines, but the task force recommended and implemented many other changes to the game day experience the past two years. Improved Wi-Fi, healthier food options, more kid-friendly areas, amplifying the Fightin' Texas Aggie Band, increased interactivity between Yell Leaders and students, adding a music operator and creating a more spontaneous in-game atmosphere were among the changes implemented.
"The main thing we want to do, and the balance we strike at Texas A&M, is we believe we have a unique game day environment. We believe it's tradition-based, and we don't ever want to denigrate the uniqueness and the traditions of Texas A&M."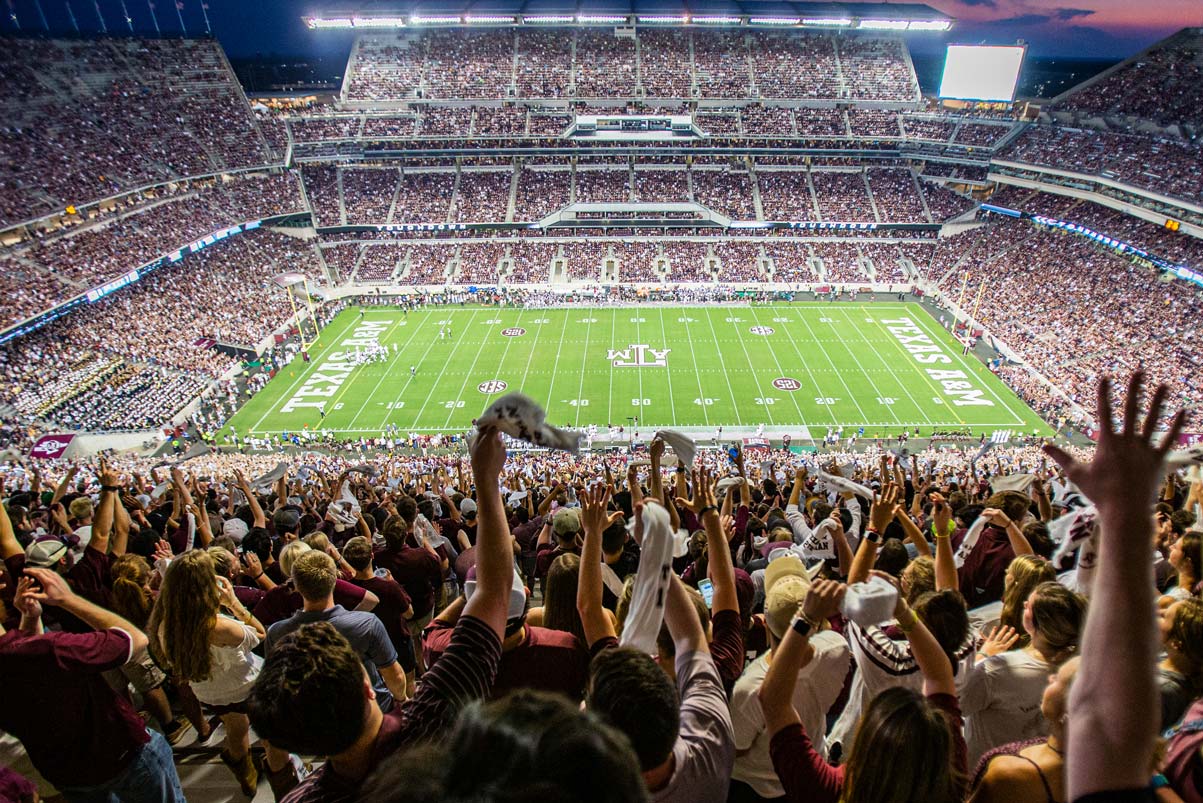 "I have been to many top stadiums in my career in college football, but the atmosphere here at Kyle Field with the 12th Man is second to none!"
The task force has worked to create "something for everyone," but the student section, the largest in the country at more than 34,000, remains the heart of Kyle Field.
"Are we pleased? Yes," Torn, a former Yell Leader, said. "Do we know you can't please everyone? Yes. The main thing we want to do, and the balance we strike at Texas A&M, is we believe we have a unique game day environment. We believe it's tradition-based, and we don't ever want to denigrate the uniqueness and the traditions of Texas A&M. What we do want to do is be current and understand who our constituency is, why they're coming and what they want. We did a ton of surveys to find out, and we always want to be adjusting to that within the framework of the uniqueness of Texas A&M."
A&M reduced the number of commercials, game day sponsorships and on-field presentations to provide Yell Leaders and the Aggie Band more freedom to do what they do. The task force sought a more unscripted approach to the in-game experience.
"The Yell Leaders and the Aggie Band are what make A&M's game day different than anybody else's," Andy Richardson, Assistant Athletics Director of 12th Man Productions, said. The ability for them to know they aren't waiting to be told what to do by a sponsored element every time the clock stops has been a great enhancement. It allows a little more organic freedom for Aggie game experience moments that happen through those two spirit groups that make A&M what it is."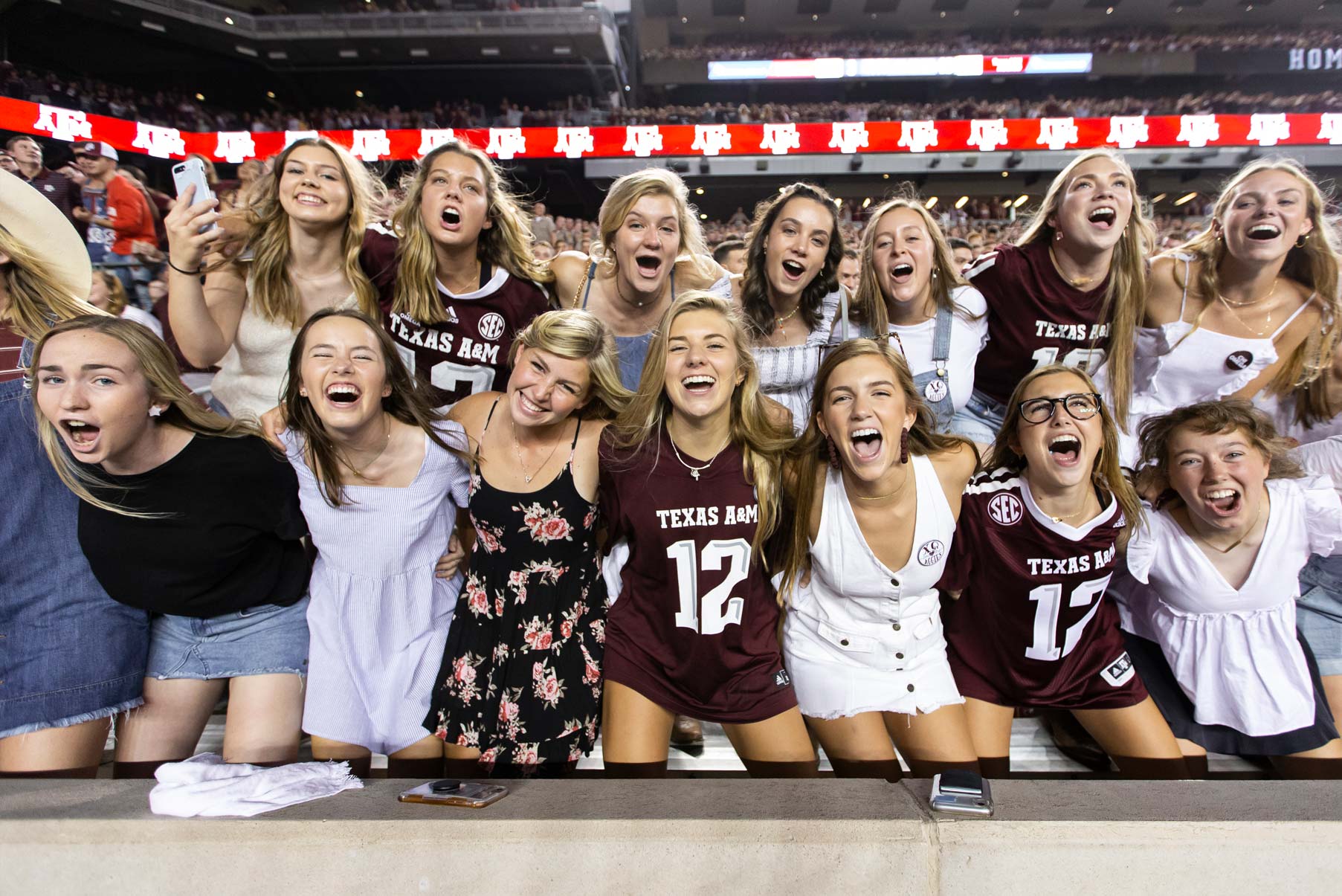 Richardson said five years ago Kyle Field had 170 replays sponsored per game. They now have four sponsors for replays –one for every quarter –with other sponsors moving to the ribbon boards.
"There are not even 170 plays in most games," Richardson said, "so it could be a 2-yard run or a quarterback sack on A&M. Those moments in most game situations you would not replay, we were having to replay multiple times. From a fan experience standpoint, you want the replays to be meaningful.The cart was in front of the horse, so one of the early things to walk back was to start eliminating things like that."
Richardson says there are three things that 12th Man Productions strives to do every game.
"Our job is to engage fan experience, to help us recruit and to be a revenue stream," he said. "At the end of the day, we still have to pay the bills, but we're trying to do it in a smarter way while working with our media rights holder. That's one of the biggest things. There is much less stoppage for a big check moment or this or that. I think it's helped create a better game day experience."
Ross Bjork visited Kyle Field as a guest several times before becoming Texas A&M's Director of Athletics this summer. He appreciated the atmosphere before he arrived. He understands it better now.
"It's one of a kind," Bjork said. "I think in terms of the yells, the Spirit of Aggieland and the War Hymn and everybody 'sawing 'em off' in unison, I can't think of another place that does it quite the way we do it. As an Aggie, this is what you do. Are there places that are louder? Maybe, depending on the play, depending on the moment. But the leaders at the time built the stadium the right way to have this home-field advantage. I think we can capture the atmosphere because of the way the stadium was built.
"Having those organic, long-standing traditions I think sets us apart from all the places that I've been either as part of the home team or coming in as a visiting program. I believe we set the standard."
Like Bjork, Jimbo Fisher can attest to the one-of-a-kind experience at Kyle Field. Pick any well-known football venue across the nation and, odds are, Fisher has coached there.
"I have been to many top stadiums in my career in college football," the Aggie head coach said, "but the atmosphere here at Kyle Field with the 12th Man is second to none!"