Power of a Scholarship
The Path to Prosperity
---
Former All-American pitcher Barret Loux made the most of his opportunity at A&M to build a successful future
By Olin Buchanan
"Overcoming adversity" is repeated so often in athletics that it's almost a cliché. Perhaps every athlete who's ever competed has been encouraged and instructed to seek a triumphant, alternate route to success when faced with imposing obstacles.
Overcoming adversity was no cliché for Barret Loux.
Loux faced more than a few imposing obstacles as his road to success detoured through Texas A&M, where he was an All-American pitcher from 2008-10.
Loux set out to pursue success in Major League Baseball, but a series of arm injuries curtailed his career.
Yet, he overcame that adversity to find a path to success. That path just led to a different destination.
Rather than working to minimize his ERA, Loux works to maximize clients' ROI as a Houston-based financial advisor for Northwestern Mutual.
"I feel like, in college, I learned things you need to learn in the real world," the 32-year-old Loux said. "The biggest thing was how to manage your time. There is so much going on; you have to be efficient to get everything done. It's an important skill set."
No one ever doubted Loux's skills on the mound. As a senior at Houston's Stratford High School, he was selected in the 2007 MLB Draft by the Detroit Tigers.
However, Loux had already experienced arm problems. In an indication of what his future might hold, he began crunching numbers to make the best decision.
"I already had tendinitis issues in my elbow which we later realized were from bone spurs," Loux recalled. "In college, you pitch every seven days. In the pros, you pitch every five days. I didn't think I could recover and pitch every five days at that point.
"I always had to work harder than most to attempt to stay healthy. It made me put in a lot more work between starts."
He turned down the Tigers and instead accepted a scholarship offer from Texas A&M. That decision would prove to – quite literally – pay big dividends.
As a true freshman in 2008, Loux was 8-2 and led A&M with 81 strikeouts. Then arm troubles returned, and he had elbow surgery following a subpar sophomore year.
Loux came back strong in 2010, posting an 11-2 record with a 2.83 earned run average to lead the Big 12 Conference with 136 strikeouts and garner All-American recognition.
"It was so cool," Loux said of his time at A&M. "Just how amazing the fans were. The energy. I didn't grow up an A&M fan. I was the first in the family to go to A&M, so I wasn't ingratiated in A&M traditions."
Loux was a first-round selection of the Arizona Diamondbacks in the 2010 MLB draft, but unfortunately, the injury issues resurfaced. He failed a physical because of a torn labrum and elbow damage and wasn't signed.
Loux was eventually declared a free agent and signed with the Texas Rangers. He pitched in the Ranger and Chicago Cub organizations until more arm injuries forced him to retire from baseball.
"Obviously, it was frustrating," Loux said. "You wonder why things didn't work out the way you wanted, but struggles in life contribute to a future of overcoming adversity."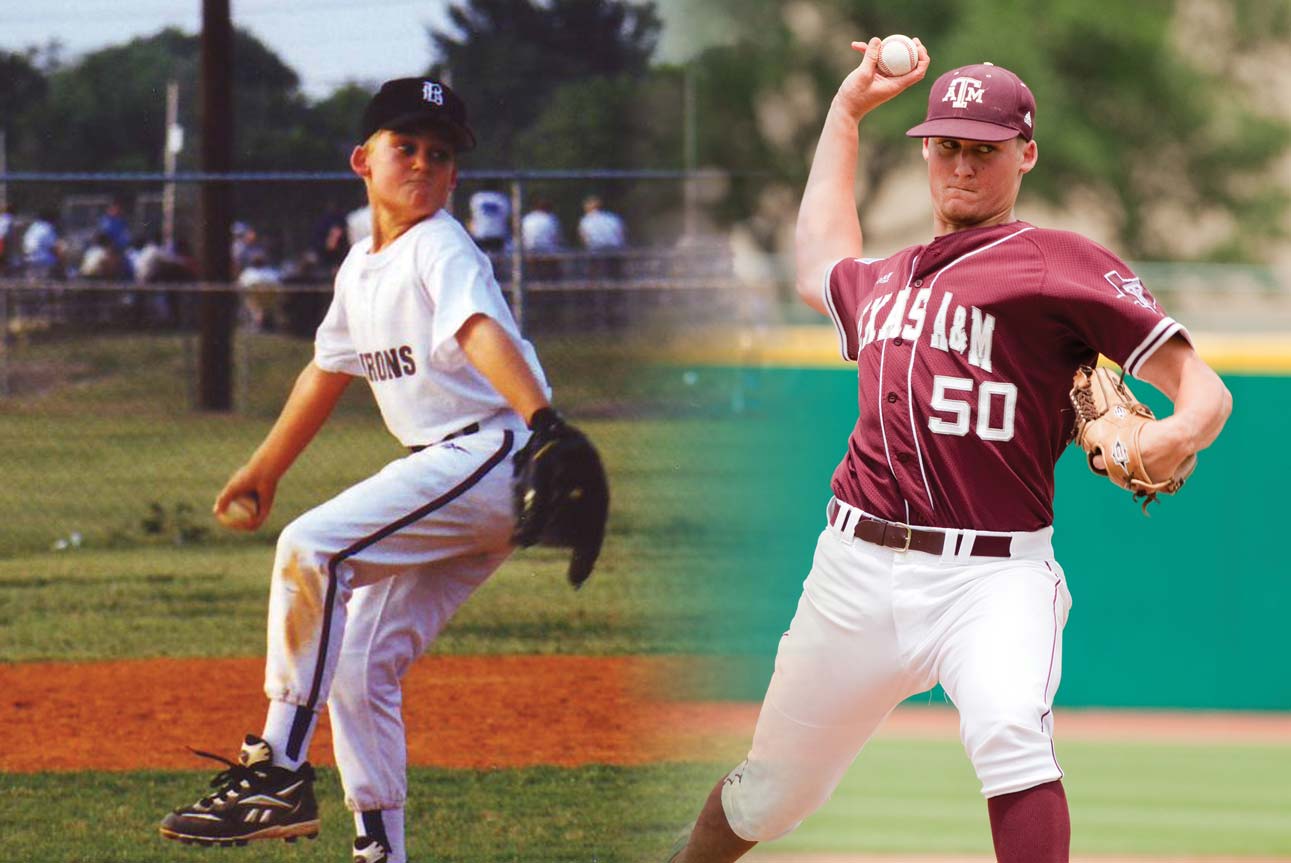 Loux set the foundation for his alternate route to success by earning a degree in Finance. He put what he learned to good use when he received a six-figure signing bonus with the Rangers.
"I invested (the signing bonus) through Vanguard and got an early start into the investment world," Loux said. "A lot of guys sign for good money early on. Then, five or six years later, it's all gone. Being in a profession where I could help people was intriguing to me."
Loux might not have attained success in financial planning had he not chosen to accept the A&M scholarship offer. Not only did he get a world-class education, but he also learned valuable lessons on the field, which have helped in his business career.
He learned very little comes easily. He also learned from his coach Rob Childress to welcome the grind and monotony of practice and training.
"It goes back to baseball," Loux said. "A good way to look at tough challenges is to embrace 'the suck.' A hard workout is not fun while you're doing it, but by overcoming something hard, you feel better physically, and you're mentally better than you were because you were able to overcome that adversity.
"Childress was all about the mental game. The idea that it pays to be a winner still rings through my head. You do what it takes to win."
Loux is undoubtedly winning.
He's happy. His business is thriving. He and his wife, Marileigh (Marbach), who also attended Texas A&M, welcomed their daughter Elianne in May 2021.
His Texas A&M scholarship has helped him build toward a wonderful future.
Despite the adversity that led him to redirect his path to success, he also fondly looks back at his past.
"I remember the big games. The big hits. The walk-offs," he said. "You remember the teams. The guys you were around. The Sunday mornings with everybody in the training room. The guys you went through the grind with.
"I look back with pride in terms of what I accomplished. And what I overcame."