Major Gifts Update
Staff members eager to support the 12th Man Foundation's mission in new roles
---
By Adam Quisenberry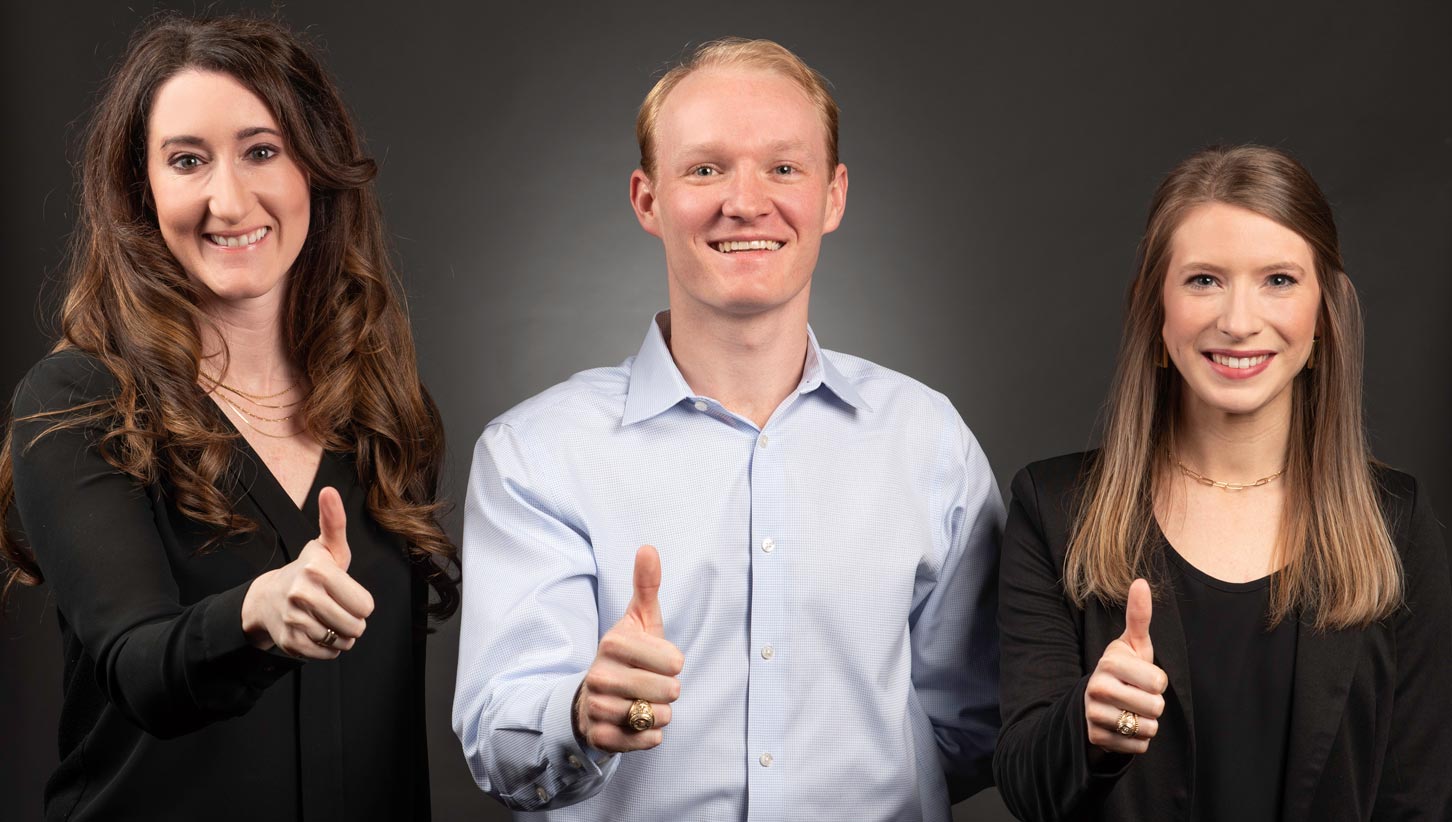 Lauren Hickey-Garcia, Brendan Quinn and Kelsey Young have embraced their new roles in the Major Gifts department.
The Major Gifts staff plays many essential roles at the 12th Man Foundation, foremost among them is stewarding some of Texas A&M's most loyal supporters who make transformative investments which are vital to the sustained success of Aggie Athletics.
Rising to the ever-growing demands associated with supporting one of the nation's premier athletics departments, the Major Gifts team entered 2022 by welcoming a pair of newcomers while also seeing a current staffer embrace the opportunity of a new role. Each has an important part to play toward the 12th Man Foundation's mission and the ambitious goals that lay ahead for the Major Gifts team.
As the daughter of parents who both built careers in collegiate sports and a women's basketball student-athlete herself at San Antonio's Trinity University, Lauren Hickey-Garcia has seen athletics from many different angles. Now building on the relationships made during her first three years at the 12th Man Foundation, Hickey-Garcia has advanced into the role of a full-time fundraiser as director of development for Major Gifts.
Drawing upon her insights into the many aspects of the lives of student-athletes and feeding off the passion that donors have for Aggie Athletics, Hickey-Garcia is energized by her new opportunity.
"Having been a student-athlete and grown up in the world of college athletics, to now be on the side of things that is the driving force that makes all those experiences possible - it's really incredible," Hickey-Garcia said. "Support from donors really is what makes the success of our student-athletes a reality."
Stepping into the role vacated by Hickey-Garcia is Kelsey Young '17. A native of Beaumont, Young brings both collegiate athletics and development experience to the manager of donor relations position and will be a great asset as she oversees the department's stewardship programs.
After earning her bachelor's degree at Lamar University where she was a member of the Cardinal track and field team, Young ventured to Aggieland to achieve a master's degree in sport management. Her professional career includes development experience from both the Cardinal Club and Lamar University Foundation.
"Kelsey is a great addition to our Major Gifts team, and our donors are really going to enjoy getting to know and work with her," said Brady Bullard '95, senior vice president of major giving programs. "She brings a unique perspective of being both a student-athlete and working with the donors who help make the student-athlete experience possible."
Another new face on the Major Gifts staff is no stranger to the 12th Man Foundation and has been providing outstanding service to donors and ticket buyers since starting as a student worker in May of 2012. Brendan Quinn '15 has shifted over to the Major Gifts team after being an integral part of ticket operations, including a significant role in overseeing the ticketing efforts for the men's basketball program.
In his new position as manager of campaign and development services, Quinn directly supports the overall fundraising efforts of the department while playing a significant role in the development and execution of upcoming capital campaigns.
"Brendan has shown a passion for servicing our donors at a high-level," Bullard said. "He brings a wealth of experience and energy that will be a great asset to our organizational and fundraising efforts. We're excited to welcome him to Major Gifts.
Along with Hickey-Garcia and Young, Quinn is excited about supporting the 12th Man Foundation's mission in his new role. Central to the organization's purpose of funding championship athletics will be the Major Gifts team and their efforts to service the generous donors who give back to make it all possible.