Mark Weaver '94
How a scholarship led to a remarkable head coaching career
---
By Charean Williams '86
Mark Weaver's parents have albums full of photos to remind them of the fond memories of their youngest son's tennis career. In one, Weaver is barely old enough to walk and talk but is holding a sawed-off tennis racket in his tiny hand.
"He was so cute, and he was really good, even at that age," Weaver's mother, Darlene, said.
Weaver has spent his entire life in tennis. He earned a scholarship to Texas A&M, where he made All-Southwest Conference.
After four seasons on the pro circuit, Weaver became a tennis coach and recently completed his eighth season as the Aggie women's head coach.
Weaver, who earned a bachelor's degree in psychology from A&M in 1995, has no idea what he would be doing today if not coaching tennis.
"It's funny how your life's decisions, whether they're good or bad, pave your future," Weaver said. "Tennis has just opened up so many doors for me."
Jerry Weaver, Mark's father, picked up the sport in his late 20s at the encouragement of his wife, who was a recreational player. Mark received his first lesson from his father at 5 years old, and Jerry continued as his coach until Mark left for Aggieland.
Mark worked overtime practicing with his brother, J.J., in the driveway.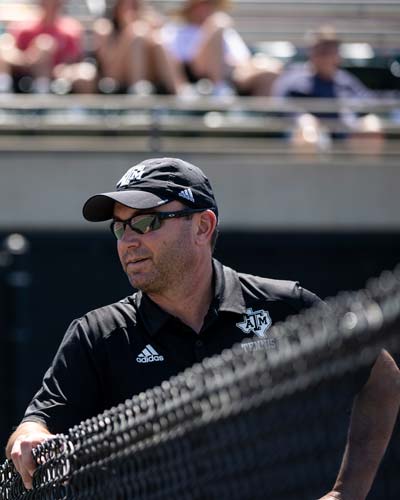 "Without that opportunity, I wouldn't be the head coach at Texas A&M now and the first Weaver ever to graduate from a university."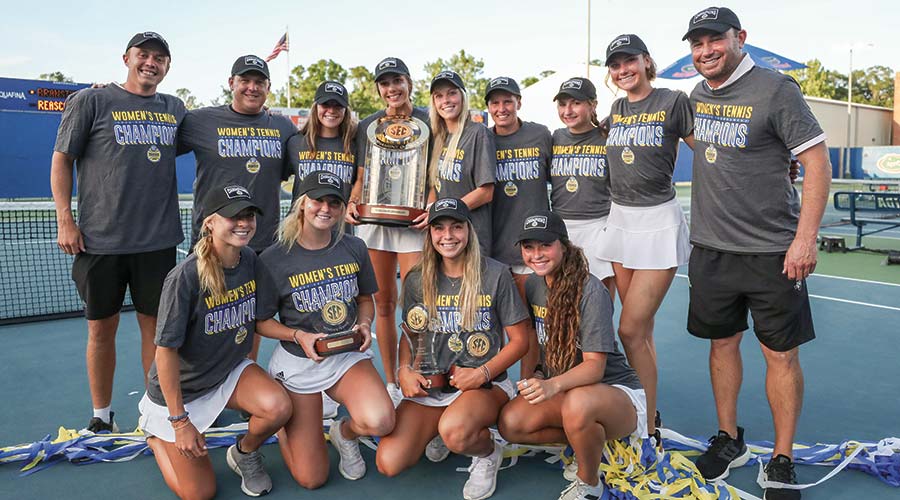 "We worked hard," Jerry said. "Mark was talented, and he was smart, and he was so eager to learn. He was easy to coach because he outworked me. He loved the game that much. He wanted more than I gave him probably, but he just loved to win."
In the Weavers' attic at their home in Waco, all of Mark's medals and trophies are stored in boxes.
Mark was a standout junior tennis player in Shreveport, Louisiana, where he learned to play on the gray courts with chain-link nets at Broadmoor Middle School. He graduated from Caddo Parish Magnet High School.
The Weavers learned to string tennis rackets and made a second business out of it to pay for travel expenses.
"When he was really young, and I realized how talented he was, I talked to him about maybe getting a scholarship one day, because I couldn't afford these colleges," Jerry said. "I guess it just kind of soaked in."
I'M MARK WEAVER
Mark arrived in College Station by chance. Or maybe it was destiny.
A high school girlfriend invited Mark to travel with her family for college visits to A&M and the University of Texas. He knew little about either school, but then-A&M men's coach David Kent immediately won him over.
"We just showed up at the (A&M) men's tennis practice, and we were sitting upstairs watching," Mark Weaver said. "I had never met coach Kent. I don't think we'd ever even spoken. He might have sent me a questionnaire. He started talking to us during the practice. He said, 'Hey, how are y'all doing? Where are y'all from?' I told him, and he said, 'There's this really good tennis player from Shreveport.' I said, 'Oh, yeah, who's that?' And he said, 'Mark Weaver.' I said, 'I'm Mark Weaver,' and he came running into the stands. That's how it all started."
Weaver returned with his dad for an official visit and knew A&M was the right place for him. Kent offered Weaver a 90-percent scholarship that eventually became a full scholarship. In the fall of 1990, Kent became the first coach Weaver did not also call "dad."
"Without that opportunity, I wouldn't be the head coach at Texas A&M now and the first Weaver ever to graduate from a university," Weaver said. "It's amazing what the power of a scholarship opened up for me."
SUCCESS ON THE COURT
In four seasons competing for A&M, Weaver went 107-52 in singles and 76-29 in doubles. He won the Southwest Conference (SWC) No. 1 singles title and was named SWC co-player of the year in his junior season, while earning a spot in the Junior Davis Cup in 1993. Weaver claimed the No. 1 doubles crown in the conference during his senior season as the Aggies won the team title for the first time.
"He had a great all-around game," said Bobby Kleinecke, A&M's women's tennis coach from 1986-2011. "He was as good in doubles as he was in singles. He was competitive and had a will to win."
Weaver played four seasons on the Futures and Challengers circuits, winning 10 doubles titles. He took time off after the death of his brother and, when he returned, Weaver found his heart was not into it. Briarcrest Country Club in Bryan offered him a position in 1999, and he took the job as a senior staff manager and director of tennis.
Kleinecke enlisted Weaver as a volunteer assistant in 2000, and he continued in that unpaid role until 2007. When Majorie Terburgh left the A&M coaching staff to start a family, Weaver was hired as a full-time assistant coach.
"I don't know how I found out he was interested in coaching, but I decided to talk to him about it," Kleinecke said. "Having him as a volunteer coach was an easy decision. I was just lucky he was there and took him for whatever time he could spare. He was there for matches, but he could never come to practices. Then, when Majorie left, that was an easy decision for me with him right there, just with his history with A&M and the program."
THE ULTIMATE GOAL
The Aggies hired Howard Joffe to succeed Kleinecke for the 2011-12 academic year. The new Aggie head coach kept Weaver on staff and made him associate head coach a year after A&M reached the national championship match for the first time in program history.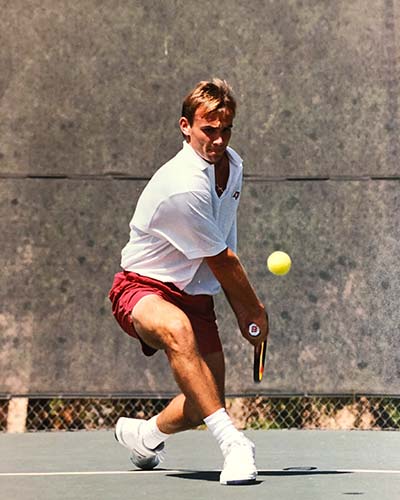 When Joffe left for the University of Texas in the summer of 2015, it was clear that Weaver had the support of the returning players to take the reins. Soon after, the Aggies named Weaver the sixth head coach in program history.
"That was the ultimate goal, and I knew I didn't want to coach anywhere else but A&M," Weaver said. "I think about just the many relationships that I've formed over all the years. Half my life I've been coaching here, and then you add on the four years I was playing here. I've spent more than half of my life here. It's amazing."
In eight seasons, Weaver has a 173-60 record as a head coach, including an incredible 63-5 over the past two years. The Aggies won back-to-back SEC regular season championships in 2022 and 2023 with Weaver earning back-to-back conference coach of the year honors. A&M finished a perfect 13-0 in conference play both seasons, and won the program's first SEC Tournament Championship in 2022. With its second consecutive trip to the NCAA Tournament Elite Eight in 2023, A&M has cemented its status as one of the nation's premier programs.
Weaver and his assistants, led by former A&M men's tennis player Jordan Szabo, have had three of their past five recruiting classes rated in the top three nationally. In his three most recent signing classes, Weaver has signed seven blue-chip recruits, according to TennisRecruiting.net.
The future indeed is bright.
"We do want more," Weaver said. "We want to take it to the next level. I would just love to bring a national championship home to Texas A&M. It would mean so much to me to be able to do that for a school that has done so much for me."