Impactful Major Gift Donors
Mark Welsh III & Mark Welsh IV '01
---
By Samantha Atchley '17
The moment Mark A. Welsh Jr. '46 stepped foot on campus in 1942, a long line of Aggies were destined to fall into place.
A man whose pride ran deep in Aggie tradition and selfless service, Welsh enlisted alongside many of his classmates and served in World War II before returning to Texas A&M to complete his degree and begin his honorable career as a military officer. Since that time, dozens of his family members have followed in his footsteps.
Much like A&M, the Welsh family is rich in history and tradition. Comprised of several Aggie graduates, veterans and athletes, generations of Welshes have found their passion within service, athletics and A&M. Eager to give back and honor their family legacy, Mark Welsh III and Mark Welsh IV '01 found their fit with the 1922 Fund –a program that allows the father-son duo to support student-athletes who share the same values that their family fiercely admires.
GENERAL MARK A. WELSH III
Mark III fell in love with A&M at the young age of six years old. Learning from "the proudest Aggie he ever met," Mark III remembers his frequent visits to Aggieland with his father to attend everything on campus from baseball games to Bonfire.
"My love for College Station started very young," he said. "I've been a huge fan forever."
Mark III was an even bigger fan of his late father. Wanting to follow in his same path, Mark III decided to attend the Air Force Academy where he played both golf and baseball before beginning his 40-year career in the military.
Holding multiple exemplary roles, Mark III gained incredible experiences including being a fighter pilot, serving as Commander of NATO's Air Command and eventually becoming the 20th Chief of Staff in the United States Air Force –all of which he said "was a thrill and a privilege."
Upon retirement from his extensive military career, Mark III had no intention of working full time again. However, when a particularly fitting opportunity revealed itself, Mark III couldn't pass up the chance to return to the place he held so dear. In August of 2016, Mark III became the Dean of the Bush School of Government and Public Service.
"The opportunity to come to A&M and a school that bears the name of somebody I respected tremendously, President George H.W. Bush, and the opportunity to work with men and women who want to go into public service was just too much to step past," he said.
Inspired by the opportunity, Mark III reflected on his own connection to the university and to the 41st president.
"President Bush wrote me a letter once back in the 90s after I'd given a speech that was printed in the Wall Street Journal where he read it," Mark III said as he recalled being blown away at receiving one of Bush's famous letters. "I framed it and kept it in my office forever."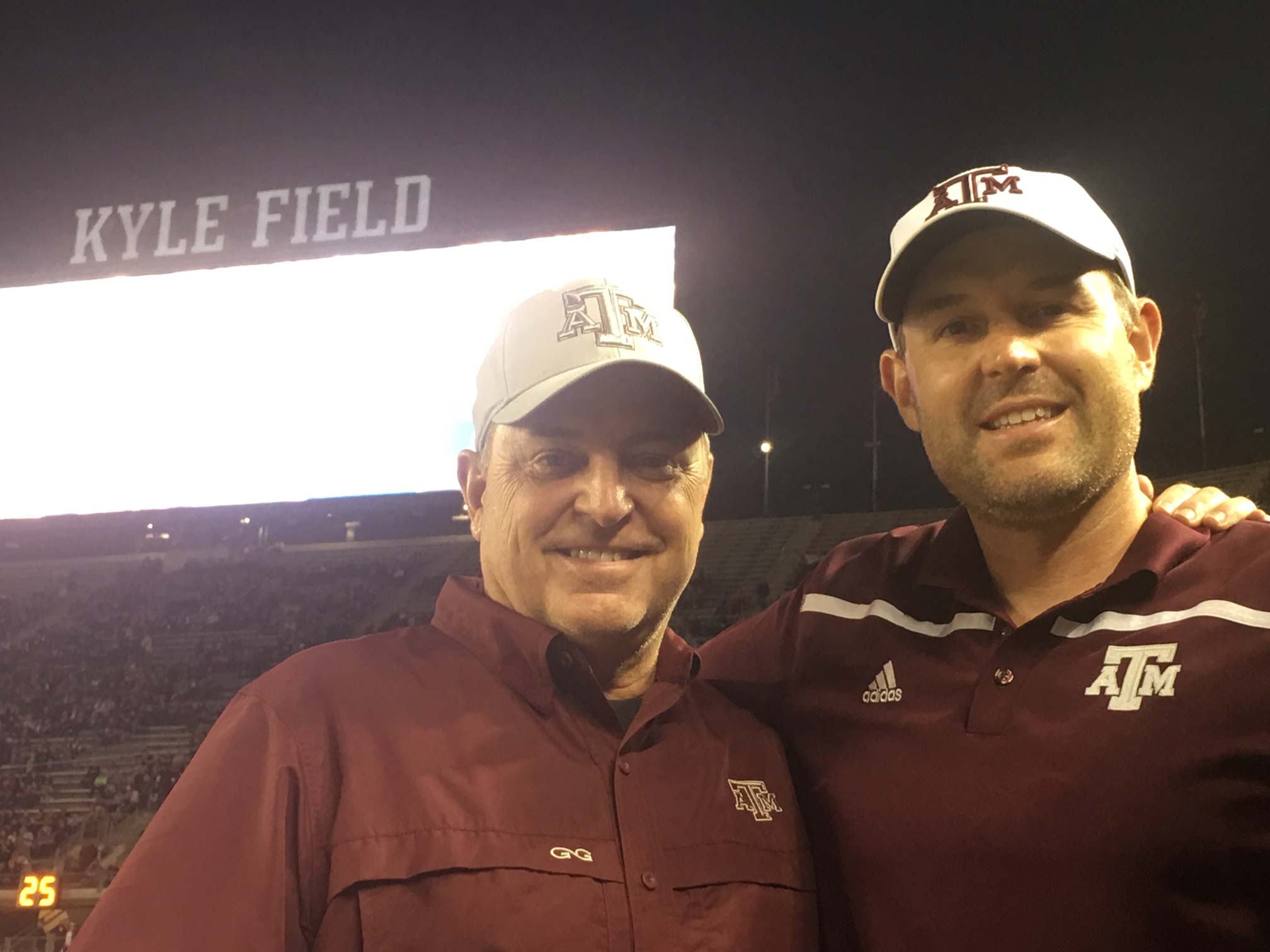 "People always look at golf as an individual sport, but Monica never did –it was always about the team. So, I believe the ability to get to know a student-athlete who has made that same commitment and has those same hopes and dreams as she did is just really exciting for us."
INVEST IN THE FUTURE OF STUDENT-ATHLETES
Through their generous 1922 Fund gift, the Welsh family is making a lasting impact on Aggie student-athletes while honoring former A&M women's golf great Monica Welsh. Join the Welshes as 1922 Fund donors and help support scholarships for student-athletes. Contact Lauren Hickey at 979-260-7595 or by email
Mark III's return to Aggieland has been inspiring to say the least and the connection he feels to A&M brings more to him than just pride.
"I feel closer to my dad here than I have since he died," Mark III said. "I can feel him here. It makes coming to work really fun."
MARK WELSH IV
Following family tradition, Mark IV made the decision to attend A&M while finishing his high school career in Georgia near the military base where his family was stationed.
"I just knew that a lot of my relatives had attended A&M and liked it," he said, "and with my parents moving to a different spot in the world every 24 months as part of their military lifestyle, I wanted to go to college somewhere near our extended family in Texas."
Still unsure if a military career was in his future, Mark IV was drawn to A&M for its unique offerings.
"I wanted to experience the military discipline and training afforded by a cadet lifestyle," he said, "so I was attracted to the Corps of Cadets as something that A&M offered but many other schools didn't."
After the first fall semester as an Aggie, he was hooked. Sitting in the Corps block during football games and marching in to Kyle Field was an experience he called "second-to-none."
"There are very few organizations in the world that compare to the Corps," Mark IV said. "It is one of the best leadership laboratories on the planet, in my opinion, and there are less than a handful of places in the entire U.S. that offer anything similar."
Mark IV majored in Finance while at A&M through the Mays Business School. He also met his wife, Ashley '01, and the two have now started an Aggie family of their own including three sons, Jacob, Noah and Wyatt.
Since graduation, Mark IV has worked within the private equity and venture capital industry while staying connected to A&M through organizations such as the Mays Fellows Program and the Corps Board of Visitors.
Mark IV and Ashley have been giving back to A&M since 2013 when they first endowed the Col. Mark A. Welsh Jr. '46 Memorial Corps Scholarship in honor of his late grandfather. Since then, the couple has made a tremendous impact on several students' academic opportunities and continue to pave a promising path for Aggies to come.
FINDING THE 1922 FUND
Given their background, Mark IV and his father, Mark III, recently began looking for an opportunity to come together and find a charitable program at A&M that gave them the ability to honor the things they both value –service, education, athletics and family. Through the 1922 Fund, the Welshes were able to find a unique partnership that checked all their boxes.
"The impetus for our family to donate to Texas A&M Athletics was to honor my late aunt, Monica Welsh," Mark IV said. "Monica was an amazing person for a lot of reasons, including that she could really play the game of golf. She was a two-time all-state selection in high school and a four-year letter winner for A&M from 1978-82."
Monica was one of the many proud Aggies within the Welsh family that made her mark on A&M. As a senior, she led the Aggies to the Southwest Conference Championship, earned all-conference honors and was named A&M's Most Valuable Player in both 1981 and 1982.
"Monica was a remarkable young woman," her brother, Mark III, said. "She loved the competition, and she loved the hard work that went into getting better at it. She was really a special human being first and then she was a pretty darn good golfer on top of that."
Tragically, Monica was killed in a car accident in 1992 near the Hills of Lakeway golf course in Austin where she worked as an assistant pro and held the women's course record for a period of time. Inspired by her attitude, work ethic and love for golf, the Welshes decided to endow a scholarship for Aggie women's golf through the 1922 Fund in her honor. Family and friends have generously donated to the 12th Man Foundation to honor Monica in the past, and this gift will significantly expand that scholarship.
"People always look at golf as an individual sport, but Monica never did –it was always about the team," Mark III recalled. "So, I believe the ability to get to know a student-athlete who has made that same commitment and has those same hopes and dreams as she did is just really exciting for us."
Seeing how Monica benefited from Aggie Athletics, the Welshes became passionate about supporting student-athletes. As Mark IV said, "Monica took a lot pride in being a part of A&M Athletics, and we want to help people out who are like her." According to Mark III, the family is excited to share the enthusiasm and make a difference.
"My wife, Betty, and I both really want to try and make even a small difference for a student-athlete who's trying to get through school while playing sports," he said. "The idea that I can introduce my sister Monica, who can't introduce herself anymore, to someone in the next generation of student-athletes who may benefit a little bit from her memory just really fires me up."
With their generous support to the 1922 Fund, the Welshes have made a direct investment in A&M Athletics and received an incredibly unique partnership in return.
"One of the great things about something like this is when we identify with a particular student-athlete, they don't just get Mark and I –they get all of us," Mark III said of his family. "The whole gang is coming on board to support them, and I think they might even enjoy that because it's a pretty cool gang!"