Max Wright '22
Aggie Football tight end's unbreakable spirit and character fuel perseverance to success
---
By Will Johnson '01
One final ride.
Those three words encapsulated the message Max Wright posted to his social media account on Jan. 9, 2023, to announce that he planned to return to Texas A&M for the 2023 football season.
A leader on and off the field, Wright's journey at A&M is a remarkable lesson in perseverance.
He arrived in Aggieland from Katy, Texas, in 2018 as a defensive lineman, but mainly contributed on special teams during his freshman season. A few games into the 2019 campaign, Wright suffered an injury that abruptly ended his season. Healthy again in time for the shortened 2020 season, he switched to the offensive side of the ball and earned playing time at tight end in three games.
That November, Wright hauled in his first career touchdown pass during a 48-3 win over South Carolina. In that moment, the respect his teammates have for him was clear. They had genuine joy for Wright and wanted to continually celebrate the milestone with him. They knew what he had overcome to reach the end zone for the first time in an Aggie uniform.
As a junior in 2021, Wright played in every game and was given the Unselfish Leadership Award at the team's banquet. Adversity struck Wright early in the 2022 season, and he was forced to miss time with an injury yet again. James Coley knew Wright would handle it the right way.
"Here's a guy who hurts his knee and the world could end," said Coley, A&M's co-offensive coordinator and tight ends coach. "He's in the training room, and the first thing he says is, 'I'll be back.'"
That response did not surprise Coley one bit.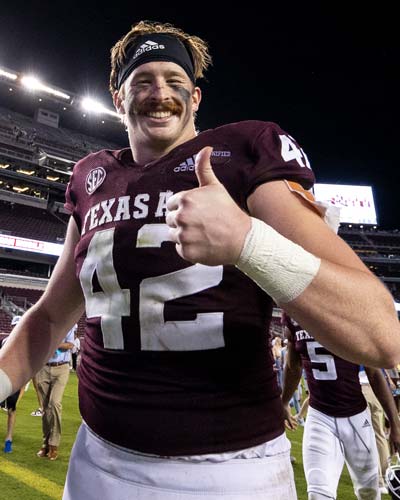 "If there's a spectrum where there's an Aggie to the extreme, that's Max. He'll do whatever it takes for this school, for the name and for the reputation."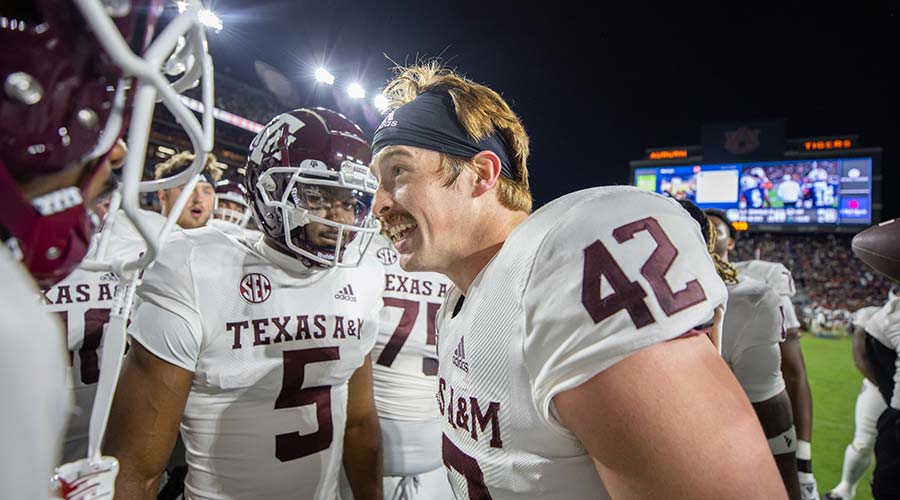 "You're talking about a young man who has integrity," said Coley. "He's genuine, and he's always trying to do things the right way."
Wright fought his way back on to the field and served as a team captain for the 2022 season. He was selected by his teammates as the Aggie Heart Award recipient at the team's banquet in December - the highest honor for a senior football player.
"Max brings a great attitude every day and has played the game with a lot of passion and toughness," head coach Jimbo Fisher said. "He has given everything he has to this program and our football team. I am proud of the young man he has become and his growth on and off the field."
In the classroom, Wright has made the most of his scholarship to earn a world-class education from A&M. He graduated in August of 2022 with a bachelor's degree in University Studies with a concentration in architecture.
Now Wright is pursuing a Master of Land and Property Development. He discovered an interest in real estate during an internship with a construction company in the summer of 2022.
With his final year of eligibility as a student-athlete in 2023, Wright has the opportunity to build upon his Aggie Football legacy with his play on the field and his leadership in the locker room.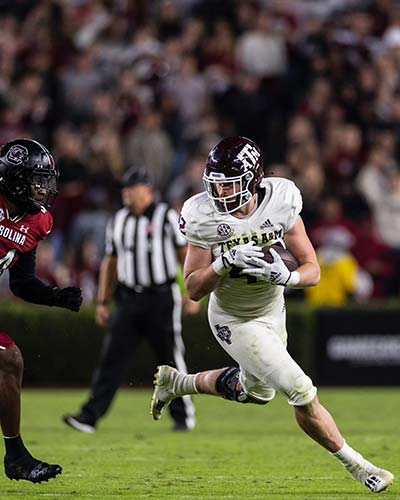 "There's definitely a torch to be passed," said Wright. "It's important to know we want this culture to be one of hard work, dedication and putting in the time."
Wright cites himself and fellow veterans Fadil Diggs, Demani Richardson and Layden Robinson as those who can teach their younger teammates.
"It's important for us to be able to show them through example," he said. "Not just talking the talk but walking the walk."
For Wright, his love and passion for A&M goes far beyond the football field. He has overcome injury and a position change to pursue his dreams and feels it is his responsibility to ensure the culture he has helped build in the football program remains long after his time on campus.
"He's an Aggie," said Coley. "If there's a spectrum where there's an Aggie to the extreme, that's Max. He'll do whatever it takes for this school, for the name and for the reputation."
And now he has one final ride.