Mickey Washington '90
Aggie football letterman achieves early life goals by making the most of opportunities in athletics and academics
---
By Olin Buchanan
Long before his voice changed, Mickey Washington was planning life changes.
He set life goals when he was only nine years old.
"As a little kid I made a list of four things I wanted to do," said Washington, who starred at cornerback for the Texas A&M football team from 1986-89. "I wanted to own my own business, become an attorney and an accountant and I wanted to play pro football."
Now a 54-year-old father of two, Washington said his football scholarship to Texas A&M enabled him to reach three of those four life goals.
"My courses in accounting became a problem at A&M," Washington joked. "I wish I had known earlier that I didn't like accounting as much as I thought."
Hey, three out of four ain't bad.
The pro football goal? Washington played eight seasons in the National Football League.
Becoming a lawyer? Upon completing his pro football career, Washington earned a Juris Doctor degree from the Thurgood Marshall School of Law.
Owning his own business? In June 2003, he founded Washington & Associates, a thriving law firm in Houston, Texas. He is licensed in Texas and Mississippi.
Washington's intelligence, athleticism, drive and family support suggest he would have succeeded regardless of where he chose to attend college.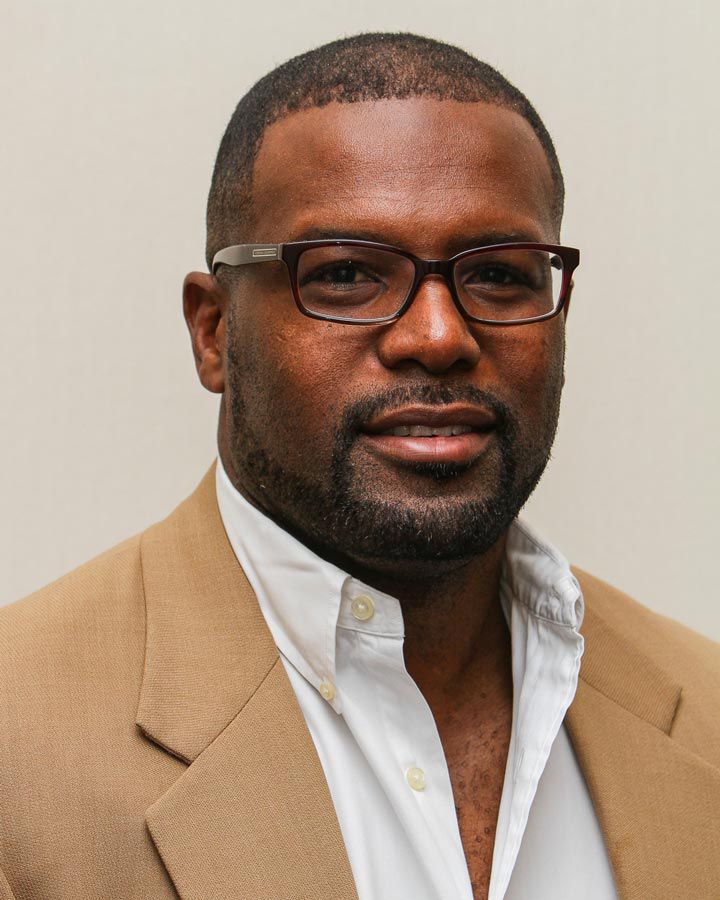 "The culture that Aggies take care of Aggies and Aggies are family for life was important for me."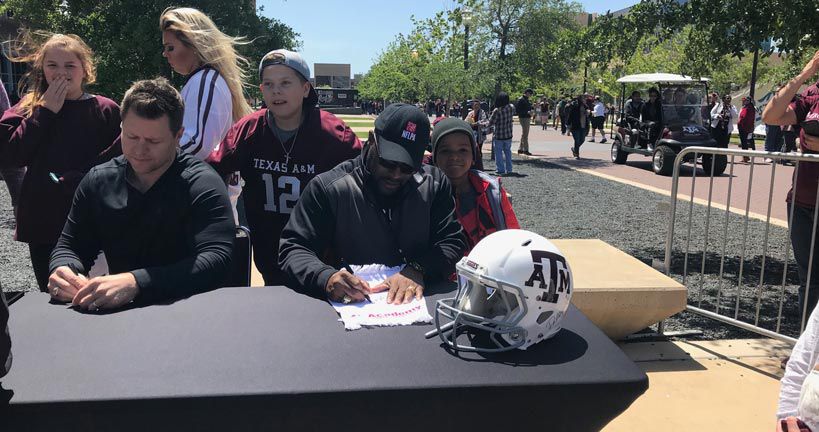 Yet, three decades after leaving A&M with a degree in sociology and a minor in health, Washington is adamant that his Texas A&M experience was a launching pad to his success.
"I guess you'd call it my springboard to getting where I wanted to go," he said. "The culture that Aggies take care of Aggies and Aggies are family for life was important for me."
In his own family, Washington states he was blessed to have two great men as "fathers."
His athleticism and ability to take care of himself came from his father, Edwin Washington, Jr.
Don Scott, Washington's stepfather, married Mildred Washington when Mickey was six years old.
Retired after working 40 years in Beaumont refineries, the soft-spoken, 80-year-old Scott confirms A&M's family-like environment was of utmost importance.
"An Aggie is an Aggie for life," Scott said. "He had in mind that wherever he goes and whatever he decides to do he could always fall back on another Aggie. He believed an Aggie would always be in his background to give support if he needed it."
Washington found that support almost immediately after accepting a scholarship offer from then-A&M head coach Jackie Sherrill.
"A&M was good for me being that I was kind of quiet and a shy guy," recalled Washington, noting that two of his cousins, Tai Scott '90 and Danny Scott '93, were on campus serving in the Corps of Cadets while he was a student. "Each year the teams we had were all family. We were all in Cain Hall. Some of the principles Jackie and R.C. (Slocum) impressed upon us were important to me - unity, team building and how to accomplish those things.
"I always worked hard in school, but at A&M I took it to another level because I had such great team leaders as examples."
Washington, who had been a star at West Brook High School in Beaumont, also took his game to another level.
He was an All-Southwest Conference player for two seasons and earned honorable mention All-America recognition in 1988. He also helped contain Heisman Trophy recipient Tim Brown in a 35-10 Cotton Bowl victory over Notre Dame.
Recalling memories from that Cotton Bowl victory with old teammates and fans is always special. It is even more special when his nine-year-old son, Brayden, and 17-year-old daughter, Eliana, accompany him to College Station.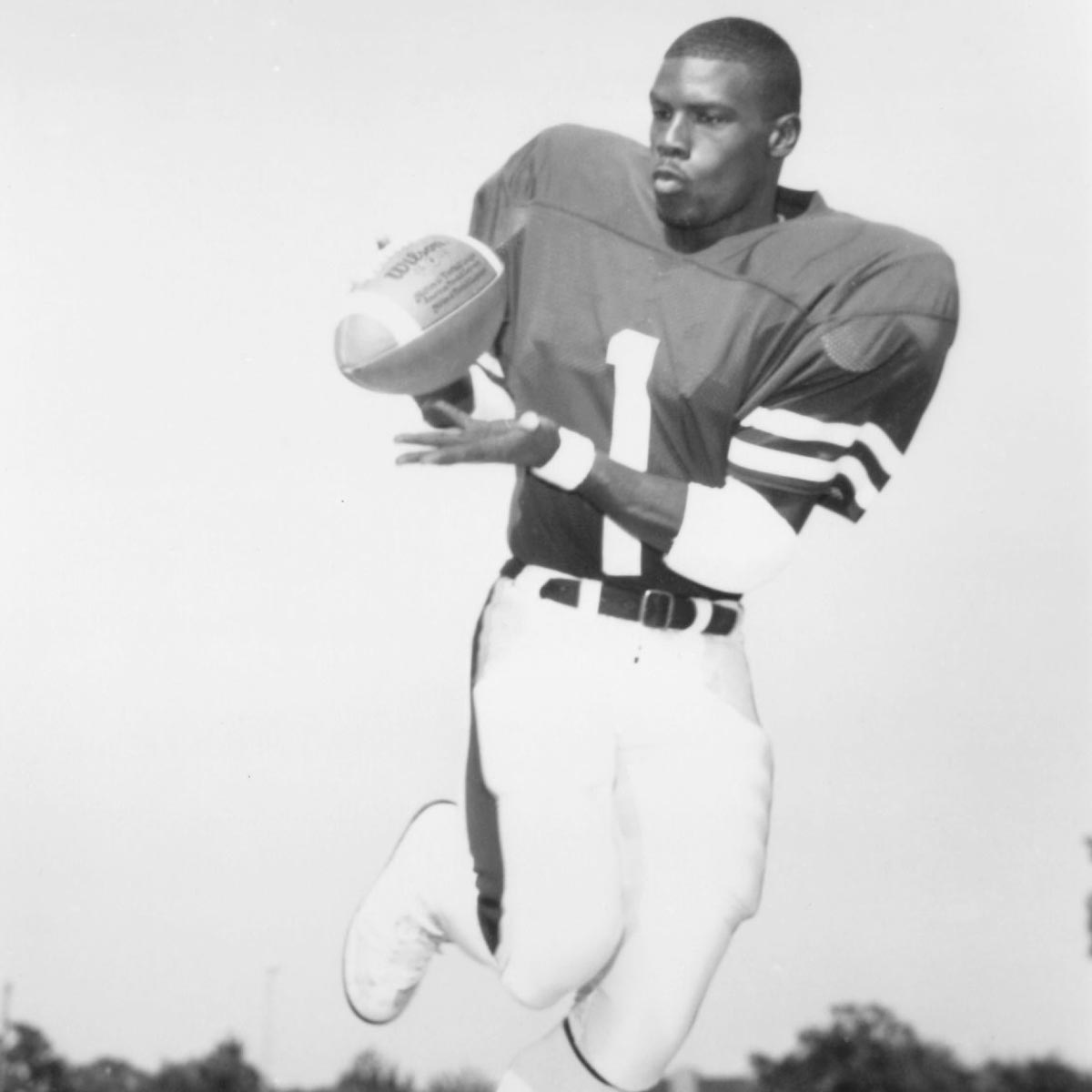 "During the football season we had an autograph session and my son was able to be there," Washington said. "He loved it. He got a kick out of it. My daughter just visited A&M, so I was able to show them many of the things that I loved about A&M.
"My son talked to a lot of different Aggies telling him positive things that they remembered when I played. It was an honor and a privilege. I'm humbled and blessed that my kids know about my college days at A&M."
The season after that 1987 Cotton Bowl victory, Washington sustained a shoulder injury which compromised his performance.
Despite the injury, he was still drafted the following spring by the then-Phoenix Cardinals. He was released and signed with the New England Patriots where he played two years before moving on to the Washington Redskins. He eventually joined the Buffalo Bills organization and was a starting cornerback in Super Bowl XXVIII. Washington went on to play for the Jacksonville Jaguars and New Orleans Saints later in his career.
"After eight seasons, I was the strongest and fastest I've ever been, but I was in free agency and didn't have a contract," Washington said. "I had taken the LSAT a couple of years earlier in anticipation of a later retirement, so I decided to go to law school. I didn't want to sit out a year and figure out what would happen in life."
What happened was Washington embarked on achieving two more of his life goals.
Now, Washington handles personal injury litigation, labor and employment litigation as well as representing clients in business law matters.
He has served on the Executive Board of the National Football League Players Association (NFLPA) since 2011. He was selected as chairman for the NFLPA in 2016 where he termed out a couple of years later.
Washington currently serves as President of the Texas A&M Lettermen's Association, and is also on a Harvard University advisory board for the study of football injuries.
He has represented more than 80 plaintiffs in class action lawsuits, more than 350 plaintiffs in mass tort litigation and more than 130 plaintiffs in civil rights, racial profiling and false imprisonment cases.
Washington's law firm operates with a belief that commitment, excellence and integrity drive success. Those values mirror what was ingrained in him at A&M. Indeed, Washington often shares things he learned from Sherrill with his employees.
"Overall, I'm preaching the same deal," Washington said. "Let's represent ourselves the way we should. Keep pushing in a positive direction and you'll get there. That was echoed a lot through my time at A&M."
Washington's time at A&M obviously prepared him for success. His scholarship put him on the path to attain his life goals.
"I'm most proud I accomplished the feat of actually reaching the goals I set at a young age," he said. "It's not so much the success in terms of money and material things. It's being a blessing to others and utilizing the gifts that God has given me."