Lifetime Achievement
Miles Marks '79
---
Longtime President & CEO honored with NAADD Lifetime Achievement Award
By Brian Davis '01
Miles Marks was sitting in his office at Avalon Investment & Advisory in February when he received a phone call from Bobby Purcell representing the National Association of Athletic Development Directors (NAADD).
The call from his friend and former fundraising colleague was to inform Marks that he had been selected as the 2020 recipient of the NAADD Lifetime Achievement Award.
"I was really surprised and honored that our national organization for college fundraising remembered me and the great success the 12th Man Foundation enjoyed during the years I was there," said Marks, who led the 12th Man Foundation from 1998-2012 and helped transform it into one of the nation's premier fundraising organizations.
Marks grew up in Beaumont in an Aggie family – his father was Class of 1939 – often visiting College Station for Texas A&M sporting events. However, when his family relocated to Houston while he was in high school, Marks found himself surrounded by burnt orange. In fact, as he was approaching graduation, Marks was planning to attend the University of Texas along with many of his classmates until he missed the opportunity to take some advance placement tests in Austin.
At the recommendation of a high school guidance counselor, who happened to be an Aggie, Marks and five of his UT-bound classmates took the standardized tests on the Texas A&M campus instead.
"We spent two and a half days in College Station," Marks recalled. "Five out of the six of us ended up going to A&M after that. My dad was very relieved."
At A&M, Marks earned a BBA in Accounting in 1979 and an MBA in Management in 1982. Shortly after completing his undergrad degree, Marks joined The Aggie Club – which became the 12th Man Foundation in 1988 – and began serving as one of the youngest members on the organization's advisory board.
Over the next 15 years, Marks continued to be an active supporter of the 12th Man Foundation and its advisory board while ascending his professional career in the Houston banking industry.
When the 12th Man Foundation's Executive Director position opened in 1997, he had to convince himself and his wife, Molly, that he should apply for the job. Marks had just received a promotion at Texas Commerce Bank and he and Molly had established roots in the Memorial area of Houston in their recently renovated "forever home" with their daughters, Elizabeth and Margaret.
"Leading the 12th Man Foundation was a really fulfilling part of my life in a job where I got to work to benefit my university. To be honored today for my service, seven years after I left, is the icing on the cake."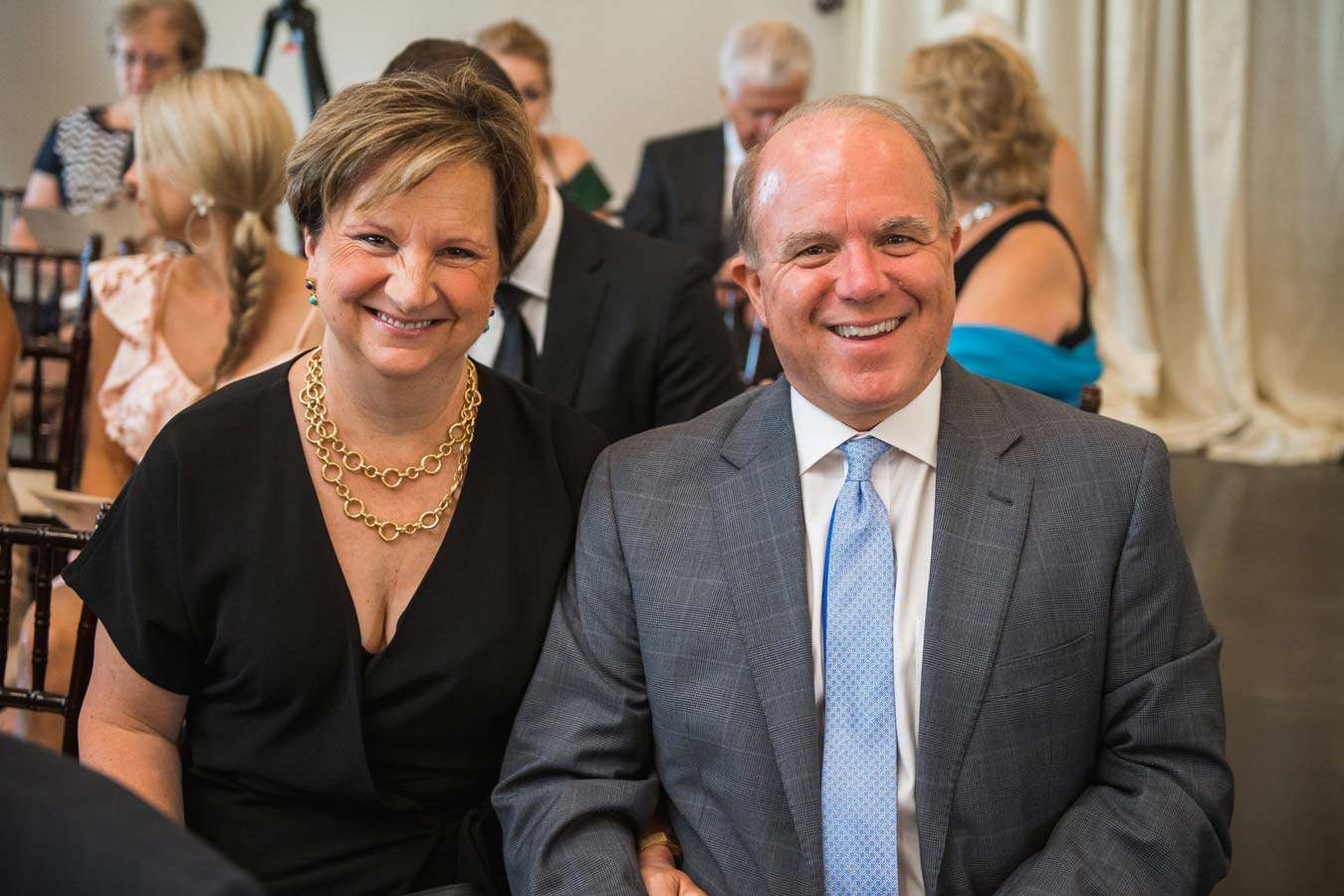 "One of the greatest moments had to be when Mike Slive told me that our work on building great facilities had totally shocked their contingent on their campus visit."
"I spent a weekend brainstorming to develop one, five and 10-year plans for the organization, which ended up as a 35-page document that I still have today," he said. "They knew exactly what they were getting based on my plan and I was really fired up when I was the final choice. Needless to say, family and friends were shocked when I announced I had accepted the job and we moved two weeks later."
As Executive Director and eventually President & CEO, Marks helped usher the 12th Man Foundation into a new era of not only collegiate athletics fundraising, but also business operations.
One of the early advancements in his tenure was improving donor communication through email, an emerging tool at that time. In 1998, the first weekly update from the desk of Miles Marks was sent to all donors who had email addresses on file with the 12th Man Foundation – all 27 of them. That list grew exponentially over time and email remains the most effective way the organization communicates with its donors.
"Fifteen years later, my farewell email went to more than 15,000," he said.
Marks also oversaw the 12th Man Foundation's emergence into internet commerce, launching www.12thmanfoundation.com initially to handle the high demand for tickets to the 1999 Sugar Bowl.
"It was the first bowl game online ticketing ever done in the Big 12," he added.
Prior to Marks arrival, the organization processed tickets and renewals manually. Tickets were printed and delivered in rolling bread trays, hand-filled and mailed in what Marks called "a three-day 24-hour non-stop marathon."
"We had to get that process automated and we did," he said. "I hired Tracy Treps from OU and she led the charge to get that done. Carole Dollins followed Tracy here and they both still run the best ticketing operation in the country."
The department's role expanded in 2008 from selling priority donor tickets to handling all tickets for athletics and Reed Arena events, a unique arrangement in college athletics that has provided extraordinary benefits for A&M.
In addition to the evolution of how the organization conducted business, the advancements in fundraising under Marks' leadership have been transformational for Aggie Athletics.
He led the charge to begin using distributions from the 12th Man Foundation's growing endowment to support athletics programs, implemented the priority point system to encourage and reward donations and launched the Major Gifts department, an endeavor that has been vital to the organization's ability to fund some of the finest facilities in the nation.
"We were still under $5 million a year back in 1997," Marks recalled. "Compared to 2012, after adding major giving, club seating and suites and taking over all ticketing, I would say we brought in more than $60 million that year."
The 12th Man Foundation's influence and reputation as a leader in athletics fundraising under Marks' direction was also instrumental in A&M's monumental move to the Southeastern Conference.
"One of the greatest moments had to be when Mike Slive told me that our work on building great facilities had totally shocked their contingent on their campus visit," Marks recalled. "He said the 12th Man Foundation's work on excellent facilities had helped position A&M to be their number one candidate for adding to the SEC."
When Baylor infamously threatened legal action to stop A&M from leaving the Big 12 Conference, it was the 12th Man Foundation and its Board of Trustees who offered to indemnify the SEC for up to $5 million in potential legal expenses.
"That action, and the protection it provided the SEC, led to the vote proceeding to admit A&M into the conference," Marks said.
As he reflects on everything that was accomplished during his time at the 12th Man Foundation, Marks cherishes the people he felt fortunate enough to work with and is excited about where the organization and the athletics department is headed in the future.
"When he was a young fundraiser at Missouri back in the late 90s," said Marks, "I always told Ross Bjork how great A&M was and I'm so happy he's our AD."
Today, when Marks steps foot on campus and sees arguably the nation's best facilities, he feels a sense of pride knowing the impact that the organization and its donors have made on Aggie Athletics.
"Leading the 12th Man Foundation was a really fulfilling part of my life in a job where I got to work to benefit my university," Marks said. "To be honored today for my service, seven years after I left, is the icing on the cake."