2019 E. King Gill Award Recipients
Trisha & L.C. "Chaz" Neely '62
---
Trisha and Chaz exemplify the spirit of the 12th Man.
By Brian Davis '01
A young Chaz Neely was helping his father around the yard one day when the motor in the family's lawnmower stopped running.
"I was really impressed by that mower, but it always gave us grief," Chaz recalled.
Determined to finish the yardwork, Chaz's father walked next door and asked to borrow a neighbor's mower.
"His name was Slick," said Chaz. "He was a baseball player who worked for the railroad."
Chaz was too small to operate Slick's manual push mower, so he took care of other tasks around the yard while his father handled the mowing.
When the yardwork was finished, Chaz noticed his father working on Slick's mower. First, he sharpened the blades. Next he oiled the bearings on the ends of the blades. Then he cleaned the mower, carefully washing each wheel.
"I was thinking, that's not even our lawnmower," Chaz recalled. "I asked him why he was doing all of that.
"He told me that we were going to fix it nice because you always want to leave something better than you found it."
LEAVING THINGS BETTER
Chaz didn't realize it at the time, but that lesson left an indelible impact on his life.
From his successful business career to his generous philanthropy, Chaz has aimed to always leave things better than he found them.
Living that principle side by side with Trisha, his wife of 58 years, Chaz has impacted countless people and organizations.
That long list of benefactors includes Texas A&M Athletics. The Neelys' support of the program through the 12th Man Foundation has been extraordinary to say the least making them worthy recipients of the 2019 E. King Gill Award.
"Trisha and Chaz have been so generous toward Texas A&M," said R.C. Slocum, a longtime friend of the Neelys. "They exemplify the spirit of the 12th Man."
The Neelys were recognized for the prestigious honor during halftime of the Texas A&M-South Carolina football game on Nov. 16, 2019.
"Unlike E. King Gill, who was standing ready to be called," said Slocum, "they have been called upon many times and have always answered the call."
The E. King Gill Award honors supporters who have generously helped the 12th Man Foundation realize its mission of funding scholarships, programs and facilities in support of championship athletics. The recipient is selected based on financial commitment, exemplary service and leadership as a volunteer advocate, ethics and a high level of distinction as a role model.
"Trisha & Chaz are extremely deserving recipients of the E. King Gill Award," said Travis Dabney, 12th Man Foundation President & CEO. "They have stepped up on behalf of Texas A&M Athletics time and time again."
HUMBLE BEGINNINGS
Trisha and L.C. "Chaz" Neely were born and raised in San Antonio, Texas. In fact, the couple has called the Alamo City home most of their life.
"I grew up on the poor side of town and Trisha grew up on the better side of the poor side of town," Chaz said. "We didn't have much money, but we weren't destitute. We didn't really know we were poor until we got older and saw what other people did and had."
The oldest of four children, Chaz has always been a hard worker.
"My dad was a hard worker and I thought that was the way it had to be," he said.
After graduating from elementary school, Chaz got a summer job working as a car hop at a root beer stand.
"I was only 12, but I told them I was 13 and about to be 14," Chaz recalled with a smile. "I worked from 5 to midnight and then rode my bicycle home."
Trisha and Chaz met during their sophomore year at Brackenridge High School.
"It was algebra class," added Trisha.
During high school, Chaz spent his days at school and his evenings working at his father's gas station. He would go to the station after school, work until 9 p.m., go home, have supper and go to bed.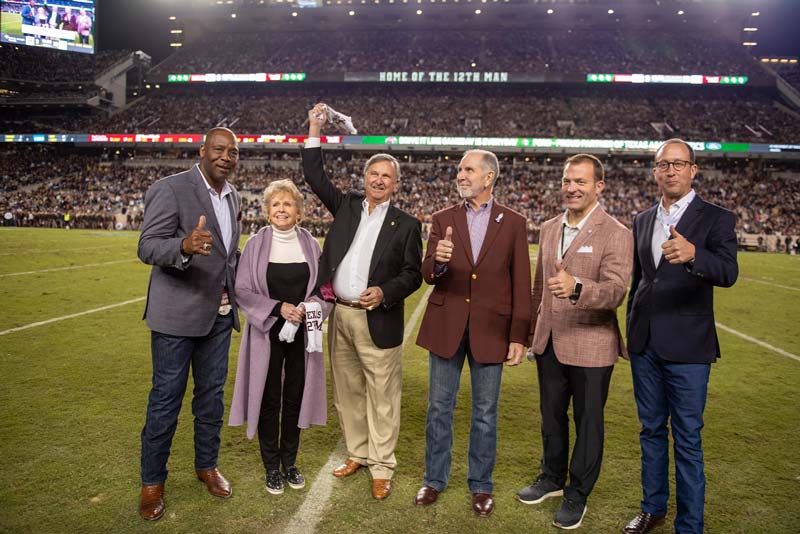 "This is a wonderful recognition and we really appreciate it. It's an honor to receive this award and to follow the distinguished group of individuals who have received it before us."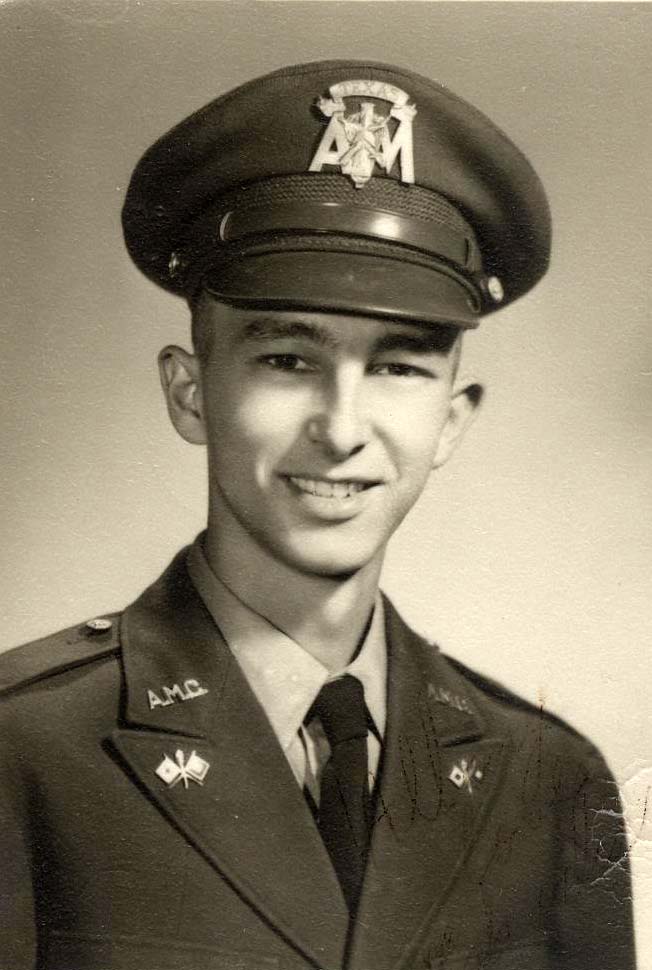 " If I hadn't gone back to A&M, I would probably be a night manager at a 7-11. That's as far as I would have gone."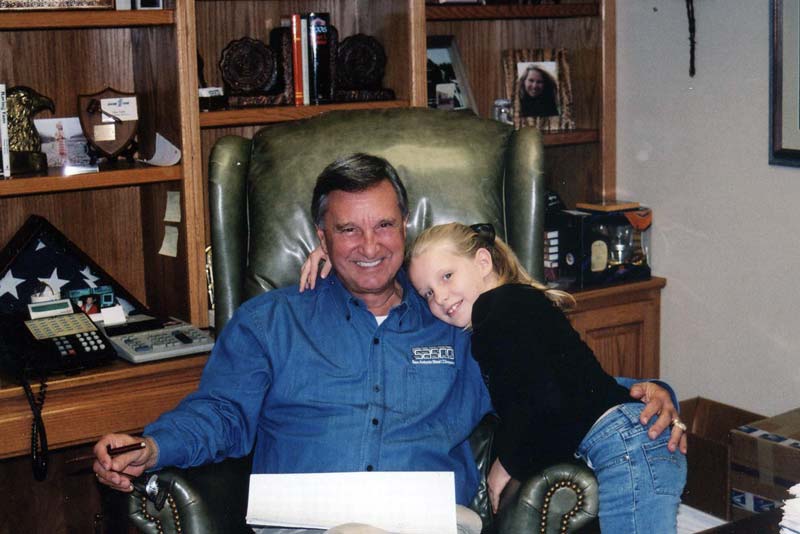 "Trisha and Chaz exemplify the spirit of the 12th Man. Unlike E. King Gill, who was standing ready to be called, they have been called upon many times and have always answered the call."
"When someone pulled up to the gas station back then, we put gas in their car, cleaned the windshield and swept their car out," said Chaz, "and we also checked their tires, the water in the battery, the radiator and the oil. You pulled up, bought $1 worth of gas and we did all that work. It was completely different."
Going to college was extremely rare for anyone from the south side of San Antonio in the 1950s, however, Chaz knew a boy down the street who was planning to attend Texas A&M – then known as Texas A.M.C. – to study agriculture.
"Back then, people didn't talk a lot about going to college where we lived," Trisha said.
When Chaz's high school guidance counselor asked what he was planning to do after graduation, he said his parents wanted him to attend Texas A&M.
"She looked over my records," Chaz recalled, "and said, 'They're not going to let you in A&M. And if they do let you in the back door, you're not going to stay.' I went home and told my parents that we wouldn't have to pay for college. I thought that was a plus, but they got upset. They wanted me to be the first to go to college."
Ultimately, Chaz was admitted to A&M and headed to Aggieland in the fall of 1958 while Trisha stayed in San Antonio and went to work for the U.S. Air Force Security Service.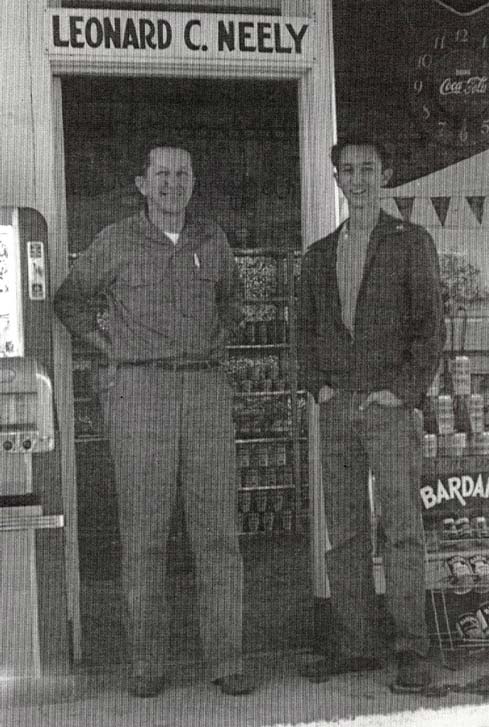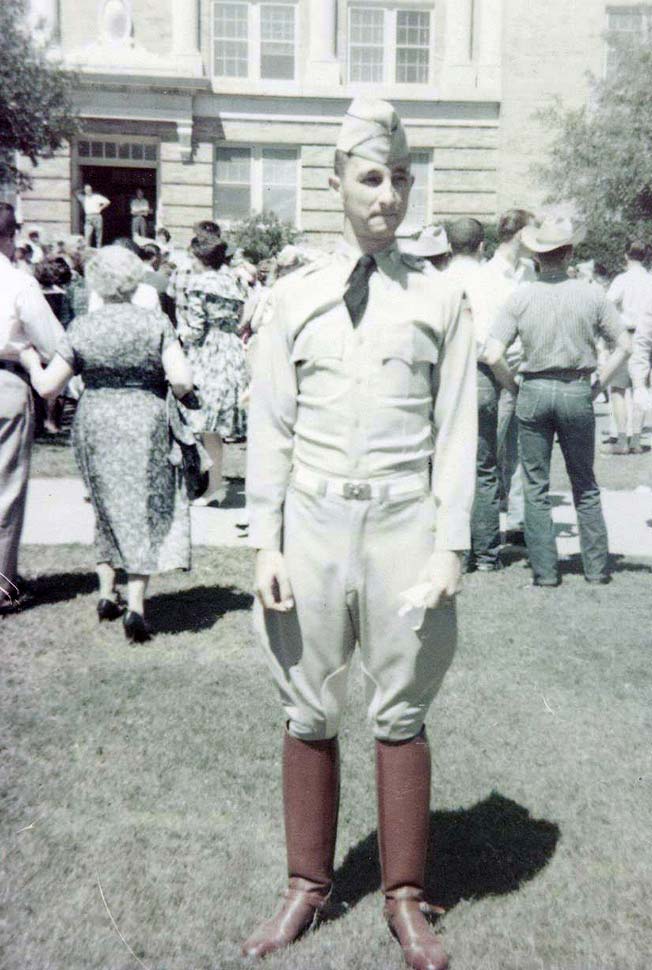 WELCOME TO AGGIELAND
At A&M, Chaz was a proud member of the Corps of Cadets who majored in General Studies and Accounting before discovering his niche in Marketing. The experience in Aggieland made a profound impact on his life, but Chaz's journey toward a degree was not without a few bumps in the road.
"I flunked out after the first semester of my sophomore year," he said.
After going home to San Antonio and working at his father's gas station through the summer, Chaz returned to A&M hoping to get back on track. He made it two semesters before ending up out of school and back home again following the spring of 1961.
"At that point they said I should probably think about doing something else," he recalled.
Chaz stayed in San Antonio through the fall but returned to A&M once more in the spring of 1962 with some extra motivation. He and Trisha were married that January and this time they were headed to Aggieland together.
"I finally was able to bring my GPA up because I would go home and study," Chaz said.
Trisha was able to transfer and work for the USDA in College Station, while Chaz focused on school and ultimately earned his BBA in Marketing in 1963.
"We loved that period of time and made some good friends, people we are still friends with today," he said.
THE LITTLE COMPANY
Following graduation, the Neelys relocated to the Rio Grande Valley where Chaz had accepted a marketing position with Sinclair Refining Company. Six years later, they moved back to San Antonio along with their son Trey and baby daughter Alison.
After a brief stint in the truck leasing division of Hertz Corporation, Chaz joined Knowlton's Creamery in 1970. The Neelys continued to grow their family over the next decade with the birth of their son Bradford while Chaz gained valuable business experience and searched for the right opportunity to fulfill his professional dream.
"I always wanted to have my own business," he said, "but you had to have money to have a business. Otherwise, you're working for somebody."
Opportunity knocked in 1979 and Chaz purchased a small wholesale distribution business called San Antonio Steel Company (SASCO) that specialized in selling nails and wire.
"I found a little company," Chaz said, "but in order to buy it we had to sell our house. We had to sell our house twice for the company. The first time to buy the business and the second time a few years later into the 80s when the tax laws changed and, all of a sudden, I couldn't sell my product for enough to make money and I was going to lose the business. I didn't want to go bankrupt, but I was insolvent."
The Neelys sold their second house for a profit and Chaz was able to save the business from going under.
"Times were hard for a while," Trisha said. "They were very hard."
Chaz learned the tricks of the trade through the challenging times and with his work ethic, determination and negotiating skills, the business persevered. By the early 90s, SASCO was growing and beginning to turn a nice profit.
"When I started making money, instead of spending it I decided to use it to fund my business," Chaz said. "I acted just like I was poor and broke and was able to save enough to finally pay all my debt off by about 1994. That was a long time – 15 years after I bought the company before I could do that. Of course, then we really started making money."
Named the Ernst & Young, LLP Entrepreneur of the Year for the Central and South Texas Region in 1997 and an inaugural member of the Aggie 100 in 2005, Chaz transformed the "little company" into the largest wholesale distributor of agricultural, cattle and game fencing in the country.
By the time he made the decision to sell the company and retire in 2016, SASCO was strong, healthy and well-positioned for continued growth.
"If I hadn't gone back to A&M, I would probably be a night manager at a 7-11," Chaz said. "That's as far as I would have gone.
"I realized shortly after I graduated that A&M changed me. It made me aware of different people and how to get along with people. It really changed me because I hadn't been around anybody who had great aspirations. In high school, my dream was to one day have a neat car. I never imagined going the places I've been or meeting the people I've had the privilege to meet."
ANSWERING THE CALL
Through the ups and downs of their journey, the Neelys have faithfully given back to their church, to their community and to Texas A&M, focused on leaving things better than they found them.
"In a way we have an obligation to give," Chaz said, "but we don't give because we're obligated. We give because we want things to be better. We are blessed to be able to do that."
Their initial support of A&M included contributing to the Corps of Cadets and Mays Business School – two areas that immensely impacted Chaz during his time in Aggieland. He admits that they were not able to give huge sums of money in the old days, but they always gave. And when the business took off, the couple was proud to be able to expand their philanthropy.
"Trisha and Chaz have supported multiple entities on this campus," Dabney said. "It is very clear that they care about Texas A&M University from athletics to Mays Business School to the Corps of Cadets to The Association of Former Students to the Texas A&M Foundation – they all deeply matter."
Dr. Eddie Joe Davis is a former campus leader who can attest to the positive effects of the Neelys' generosity toward Aggieland.
"Again and again they impact students," the former Texas A&M Foundation President said. "They have given at least two chairs and dozens of scholarships. I always found when we had a project going on that was challenged or in the ditch, one of the people I would go see was Chaz."
With their love of A&M, the Neelys are proud to step up when called upon.
"When the call would come out for something, if we could, we'd be there," Chaz said.
THE IMPORTANCE OF ATHLETICS
The Neelys have been fans of Aggie sports since Chaz's time at A&M, however, their involvement with the program did not begin to fully blossom until a chance encounter in the late 2000s with Stu Starner.
"We met Stu and (his wife) Barbara at a restaurant in San Antonio," Chaz recalled. "He didn't know who I was – nobody knew who I was. We didn't even have season tickets at that time."
Their level of engagement has changed in a significant way over the last decade. The Neelys became season ticket holders in football, baseball and men's basketball, and Starner, the 12th Man Foundation's Senior Vice President of Major Gifts at the time of that meeting, helped recruit Chaz to serve on the 12th Man Foundation's Board of Trustees during one of the most important times in the organization's history.
From 2011-14, Chaz served on a board that was integral in the redevelopment of Blue Bell Park, the redevelopment of Kyle Field and the university's move to the Southeastern Conference.
"Those were fun years," Chaz recalled. "Busy – we did a lot of work and it took a lot of time – but it was fun. We were all focused on doing what was best for A&M student-athletes. Being on the board and spending time around those like-minded people with a shared passion helped me realize the importance of giving to athletics. I realized the value of sports to the university."
"That was the biggest turning point in our involvement with athletics," added Trisha.
Since 2010, Trisha and Chaz have become Diamond Champions Council members through their generous support of numerous capital projects including the Bright Complex, Blue Bell Park, Davis Player Development Center and the R.C. Slocum Nutrition Center. Additionally, the Neelys played a crucial role in the redevelopment of Kyle Field by contributing to the historic project as one of the 12 Founders suite holders in the iconic stadium.
"We love Texas A&M and are thankful to be able to do what we can do," said Chaz, whose three children and a granddaughter have followed in his footsteps to attend A&M. "It's why we have season tickets and why we enjoy our suite at Kyle Field. We love being around others who love A&M, and we bring a lot of one-time guests to the suite to expose them to A&M and hope it's a benefit for the university."
WELL-DESERVED RECOGNITION
During halftime of the Auburn game at Kyle Field last fall, family and friends gathered in the Founders Club to help surprise Trisha and Chaz with the E. King Gill Award announcement. It was a moment the Neelys say they will never forget.
"We didn't know that was anywhere on the radar, but we are greatly honored and humbled," Trisha said. "You see those people there and it's emotional."
"This is a wonderful recognition and we really appreciate it," added Chaz. "It's an honor to receive this award and to follow the distinguished group of individuals who have received it before us."
The award holds a special place in Chaz's heart along with other honors he's received including the Mays Business School Outstanding Alumni Award in 2005 and being named a Texas A&M Distinguished Alumnus in 2006. Trisha and Chaz were also proud to receive the Texas A&M Foundation's prestigious Sterling C. Evans Medal in 2018 in recognition of their philanthropic support of the university.
"The Neelys are deserving of the E. King Gill Award for a number of reasons," said Jerry Strawser, Texas A&M University Executive Vice President of Finance and Operations and Chief Financial Officer. "They're deserving of it for their significant financial contributions to Texas A&M University and Texas A&M Athletics. They're deserving of this award because of their support of our student-athletes, both in their financial support and in their support in cheering them on as they play on the fields and the courts. They're deserving of this award because of their absolute can-do attitude, their love for our university and their support for our university."
For Chaz, the recognition provides further proof that someone like him who comes from a humble background can achieve great things with hard work and determination.
"His dad was a very hard worker and Chaz learned that from him," Trisha said. "I can't tell you how many times I've heard him say that there's no telling where he'd be if he had not gone to A&M. He attributes it all to his experience at A&M.
"In addition to the gift that A&M gave him by educating him, it's a gift he received from God to be able to run his business and take care of his family. It really is."
Trisha and Chaz say they feel blessed to be able to give back to Texas A&M and that's the bottom line.
"We are grateful to be able to do it."
And Texas A&M is forever grateful for Trisha and Chaz Neely.