Gameday in a Pandemic
---
Student-athletes, staff and supporters come together during unique circumstances for an unforgettable football season
---
By Will Johnson '01
Football is a way of life at Texas A&M. In the dead of winter, Aggies envision the next fall. In the spring, their optimism grows as the calendar advances. Through long, hot summers, the 12th Man's patience grows thin as anticipation escalates. When the college football season finally arrives in the fall, it's appreciated, celebrated and treasured.
In 2020, that appreciation may have peaked. Aggies almost went without a football season for the first time in the program's nearly 120-year history.
When the Big 10 Conference announced in August they were going to "postpone" their season until the spring, many thought it was the first step toward cancellation of the college football campaign as a whole.
"I was very concerned that momentum was going to swallow the entirety of college football," said Travis Dabney, president and CEO of the 12th Man Foundation. "The collateral damage of no season would have lingered for years to come."
Fortunately, the SEC, and its 14 schools, held firm. Football is revered around the league, much like it is at A&M. The conference stayed patient, with a desire to forge ahead and play. That chance arrived in late July when the SEC presidents and chancellors approved a 10-game, conference-only football schedule that would kick off on Sept. 26.
"The student-athletes wanted to play. That's all we kept hearing. 'We want to play. Are we going to play? Give us that opportunity.'"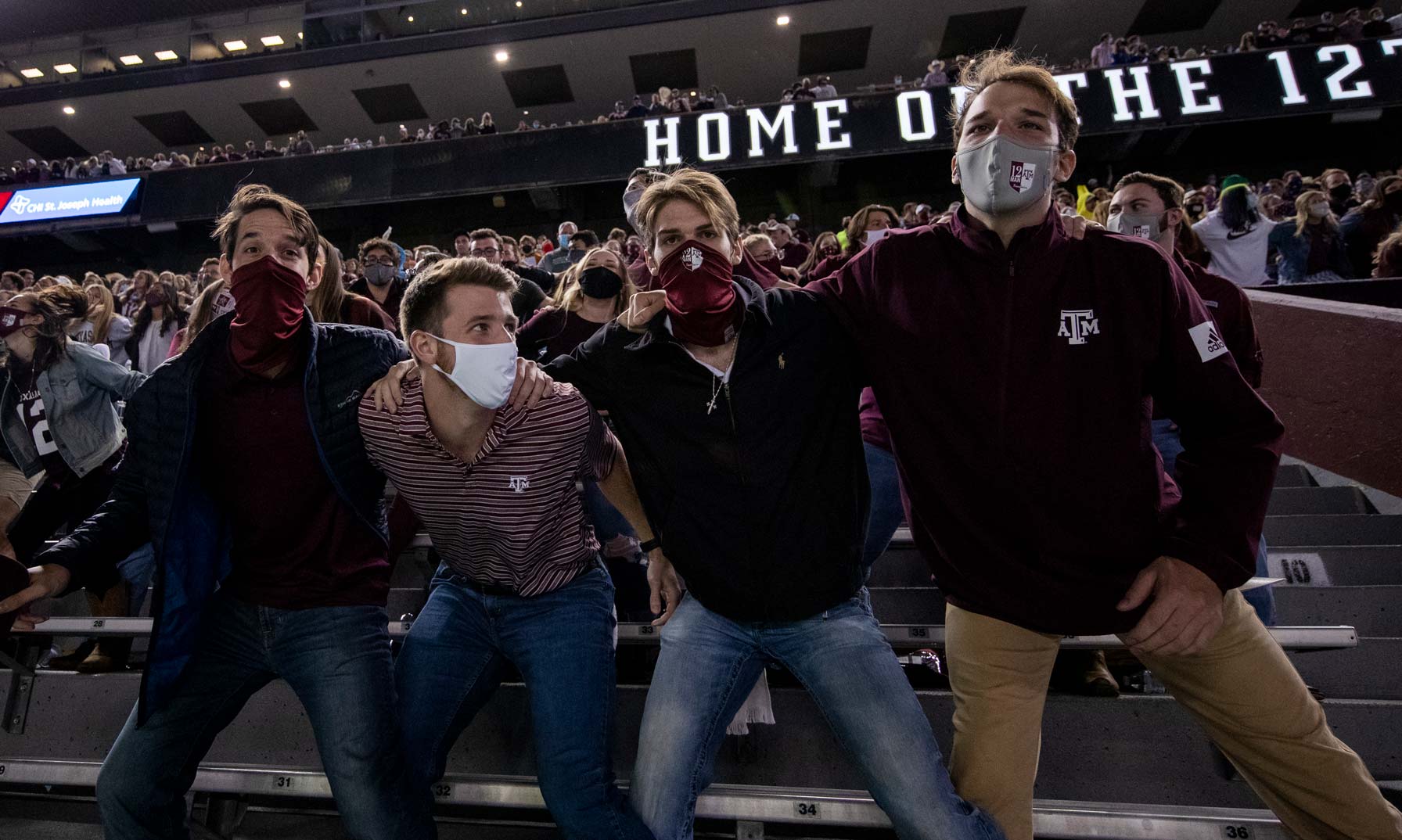 "Aggie football isn't just something we do on weekends. It brings families, friends and Aggies together. United in our desire to win and celebrate the Aggie spirit."
Many proclaimed the decision was made strictly for money. While the revenue from football is the engine that drives collegiate athletics – football season ticket holders alone fund nearly half of A&M Athletics' operating budget – the dynamics of the decision to play went far beyond dollars and cents.
"The student-athletes wanted to play," said Director of Athletics Ross Bjork. "That's all we kept hearing. 'We want to play. Are we going to play? Give us that opportunity.'"
That's been the goal all along. To provide the opportunity. The kind of opportunity that gives student-athletes a chance to succeed, and not just in athletics.
"12th Man Foundation donors make it possible for A&M student athletes to compete at the highest level," said Dabney, "and more importantly, they provide the opportunity for success after the uniform has been hung up for the last time."
"You can't provide the opportunity without the resources," Bjork added.
In going forward, A&M pulled off gameday in a pandemic. That achievement was anything but simple.
The Aggies' conference-schedule was announced by the SEC on Aug. 17 and featured five games at Kyle Field including the Arkansas game, which was moved from AT&T Stadium in Arlington to Aggieland.
Then, on Aug. 19, A&M unveiled a reduced capacity, distanced seating plan designed to host fans at Kyle Field as safely as possible. Season ticket and student sports pass holders were then given the option to opt in or out of 2020 season tickets.
Every season ticket holder who opted in was able to select a limited number of seats at reduced ticket and donation prices. However, the distanced seating plan meant reseating the entire 102,733-seat stadium at reduced capacity in an extremely short time frame.
"We had been planning for a number of scenarios in advance of the season," said Carole Dollins, senior vice president of ticketing. "When the capacity decision was made, our entire staff hit the ground running and worked extremely hard to ensure our season ticket and sports pass holders were able to secure seats and receive their tickets and parking prior to the season opener. It was an unprecedented season, and I'm extremely proud of the way our staff and fans came together to make it possible."
The sights weren't the same. Only a quarter of the usual 100,000-plus Aggies were able to attend each game.
That sounds weren't the same. Those in attendance were magnificent, but there's nothing like a full, towel-waving Kyle Field affecting the outcome of a game.
There was less of scent in the air as well. Tailgating and smoky aromas from the grill weren't possible in its traditional form on campus.
It was different, and it was challenging.
Steve Miller says "being flexible" was key to the daily adaptations that were required for athletics department staff to be ready for gameday.
"SEC guidelines were in a state of flux sometimes daily leading to the first game," said Miller, A&M's assistant athletics director for events and external services.
Several protocols were put in place to keep fans as safe as possible. Aside from face masks, a noticeable addition to Kyle Field was plexiglass at several locations, including concession stands.
Touchless was much of the theme. A&M wanted to create an environment that required minimal contact.
"The addition of digital ticketing for a large percentage of guests helped distribution on a tight timeline," said Miller, "while also achieving more contactless points at the stadium."
With the cancellation of the Ole Miss game due to COVID-19, Kyle Field hosted only four games in 2020, with an average of 24,880 fans attending each contest. Although significantly less than normal, the 12th Man still stood ready and made an impact. When Florida came in ranked fourth nationally in October, Kyle Field rocked in similar fashion to years past. The Gators felt it.
"That crowd was a major factor in the game," said Dan Mullen following A&M's 41-38 win. "There must have been 50,000 people behind our bench going crazy."
While the Gators' head coach overshot the attendance figures, he was accurate in pinpointing the noise level it created. He then lobbied his own school to allow more fans into Ben Hill Griffin Stadium in Gainesville.
"We (need) 90,000 in The Swamp to give us that home field advantage that Texas A&M had today," Mullen said.
A home field advantage indeed. The Aggies finished undefeated at Kyle Field for the first time since the 1999 season.
There's hope that many of the pandemic protocols won't be necessary for the 2021 season. Kyle Field at its finest is full of Aggies yelling at the top of their lungs and locking arms to saw horns.
After all, whether it's old friends from college, extended families or the best student section in the country, Texas A&M football at Kyle Field unites Aggies from all walks of life who share the same pride and passion for their university.
"Aggie football isn't just something we do on weekends," Dabney said. "It brings families, friends and Aggies together. United in our desire to win and celebrate the Aggie spirit. Countless Aggies feel just as I do. We're proud of our university, what it represents and the opportunities that it ultimately provides."