Paula & John Hollowell '79
---
Staunch supporters are helping create opportunities for current and future Aggie student-athletes
---
By Brian Davis '01
An extraordinary 38-year career with Shell took John Hollowell all over the world. But no matter how far he traveled, his heart remained in Aggieland.
From a small town near Lexington, Ky., Hollowell grew up a big Kentucky basketball fan until his family relocated to Houston when he was a freshman in high school. That's when Hollowell began watching A&M football games on TV and developed an affinity for the Aggies.
Four years later, Hollowell enrolled at A&M to pursue a degree in chemical engineering. It was a match made in heaven.
"Without A&M, I wouldn't be sitting in the position I'm in today. For any student, A&M prepares you for that chance in life. If I can help others be an Aggie and share in what that means, then it's all worth it."
"Being from a small town in Kentucky going to a big city like Houston and then finding a place like A&M was the right kind of atmosphere for me," Hollowell said. "It was just a natural fit and the best decision I ever made, without a doubt."
REMARKABLE JOURNEY
After earning his bachelor's degree from A&M in 1979, Hollowell accepted an offer to work for Shell in New Orleans, La. It was a great opportunity for a young Aggie engineer, and it turned out to be the beginning of a career that spanned nearly four decades.
When he retired in March 2018, Hollowell had climbed up the ranks to serve as executive vice president for all of Shell's deep-water operations in the Gulf of Mexico and then finally as president and CEO of Shell Midstream Partners GP, LLC.
"As I reflect on my time at Shell, there were three things A&M taught me that carried me all the way through my career," said Hollowell, noting that earning his degree was the hardest thing he has ever done. "It taught me how to work hard, how to connect with people and how to solve problems. I look back and A&M prepared me for all of that – it's just ingrained in me."
MAKING A DIFFERENCE
Today, Hollowell and his wife, Paula, call Houston home. They are proud parents to their Aggie daughter, Whitney (Class of 2015 and '18), who is engaged to marry another Aggie, Austen Adamcik '12, next spring.
With his unwavering commitment as a maroon-blooded A&M sports fan, Hollowell proudly gives back financially to the university he credits for his success in life. And he rarely misses an opportunity to support the Aggies in person.
John and Paula, who at the time was in a wheelchair because of a broken foot, once drove from Bakersfield, Calif., to Las Vegas to catch a red-eye flight to Texas on Thanksgiving Day to watch the Aggies beat the Longhorns for a chance to go to the Cotton Bowl. John still recalls raising glasses of champagne in Lot C with his parents and others to send off the Longhorn team buses back to Austin in defeat.
"Without A&M, I wouldn't be sitting in the position I'm in today," he said. "For any student, A&M prepares you for that chance in life. If I can help others be an Aggie and share in what that means, then it's all worth it."
Active Champions Council members and passionate A&M football and basketball fans, John and Paula have continued to elevate their giving to the 12th Man Foundation in support of scholarships and facility projects.
"I think A&M is at an inflection point in athletics where we can be a competitive force in a premier league," John said. "I'm impressed with what the athletics department has done in terms of a commitment to excellence, coaching and facilities, and the products they put on the field show that. If you want to be associated with excellence, then invest in Aggie Athletics because it is clearly on track to be just that."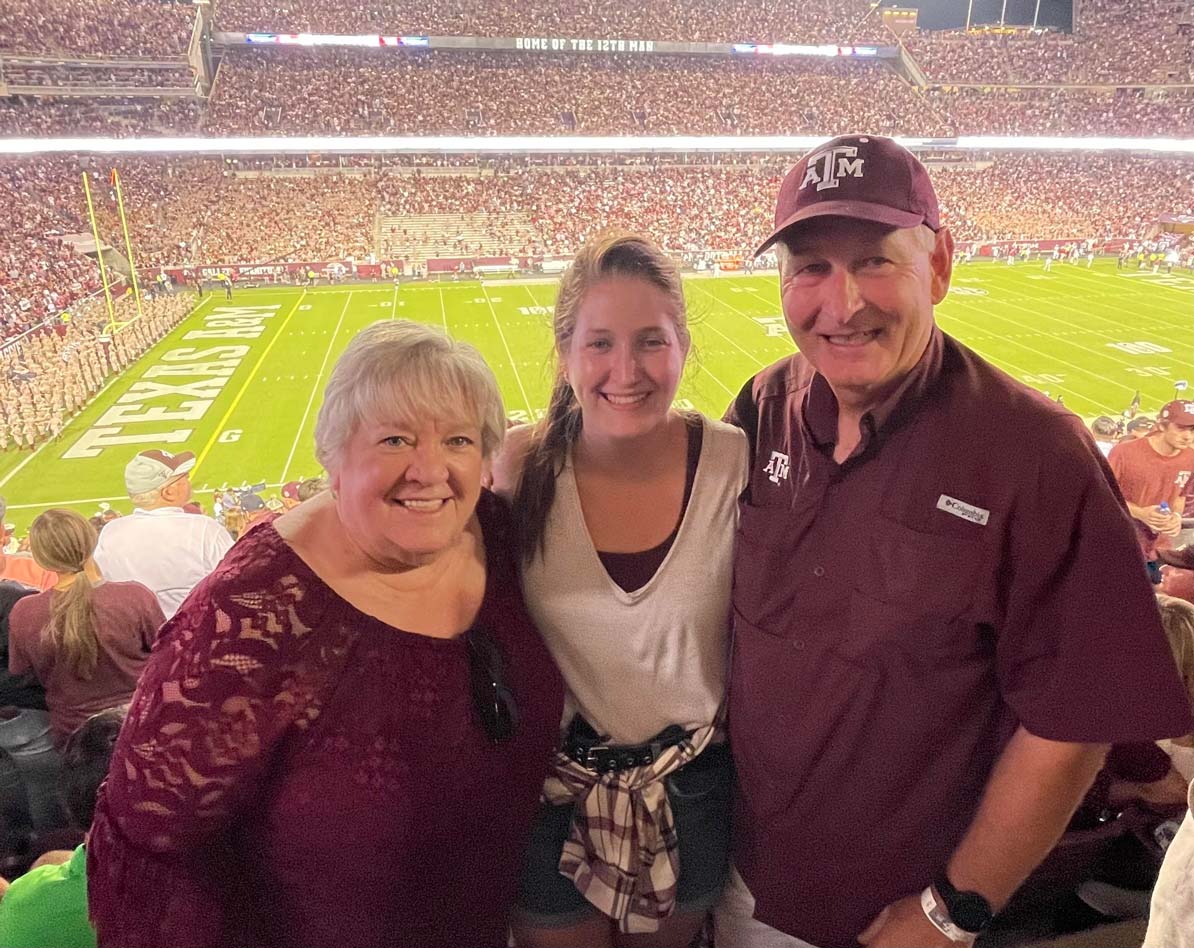 ABOVE AND BEYOND
Loyal football season ticket holders for 41 years, the Hollowells stepped up in a significant way in 2020 when Texas A&M Athletics and the 12th Man Foundation were facing substantial financial challenges due to the COVID-19 pandemic's impact on college athletics.
Given the option to take a full refund of their 2020 season ticket investment, John and Paula generously donated it back to the 12th Man Foundation helping sustain the athletics department at a crucial time in A&M's history.
"If our contribution helped Aggie Athletics have some semblance of normalcy during a difficult time, then it was all worth it to us," said John, noting that the priority point bonus offered by the 12th Man Foundation incentivized them and others to give back at a higher level. "Need was met with opportunity, and the need was great last year. I think it was a real win-win for us and the 12th Man Foundation."