Abbey '15 & Michael '15 Pickel
A calling to help others leads generous Aggie couple to make their impact on Texas A&M student-athletes
---
By Samantha Atchley '17
Coming to Texas A&M as first-generation Aggies, Abbey and Michael Pickel never imagined the kind of impact one university could make on their futures. Now as recent graduates, the couple could not imagine their lives without it.
Grateful for the opportunities A&M provided for them, the Pickels are paying it forward to current and future Aggies through their generous commitment to the 12th Man Foundation.
Crediting Aggieland for their connection, Abbey and Michael first met during their sophomore year serving as counselors at Impact - a camp for incoming students to connect with peers, local churches and ministries that provide a source of lasting community and fellowship in the Bryan-College Station area. However, it was not until graduation that the power of the Aggie community brought the two together.
"In my last semester of college, I realized I didn't want to go to nursing school and decided I wanted to get into sales," Michael said. "Literally the only reason I got a job was because of the Aggie network, and that's also the only reason Abbey and I reconnected. If I didn't have that first job where I was traveling, we wouldn't have crossed paths again."
Shortly thereafter in July of 2017, Abbey and Michael were married and returned to the Austin area where Michael applied his newfound passion and sales experience into a position at Texas Traditions Roofing. Today, the couple are proud parents of two daughters, Lillian (2) and Kennedy Jo (7 months), and have established successful careers - Michael as the president of Texas Traditions Roofing and Abbey as a pre-K teacher at Georgetown ISD.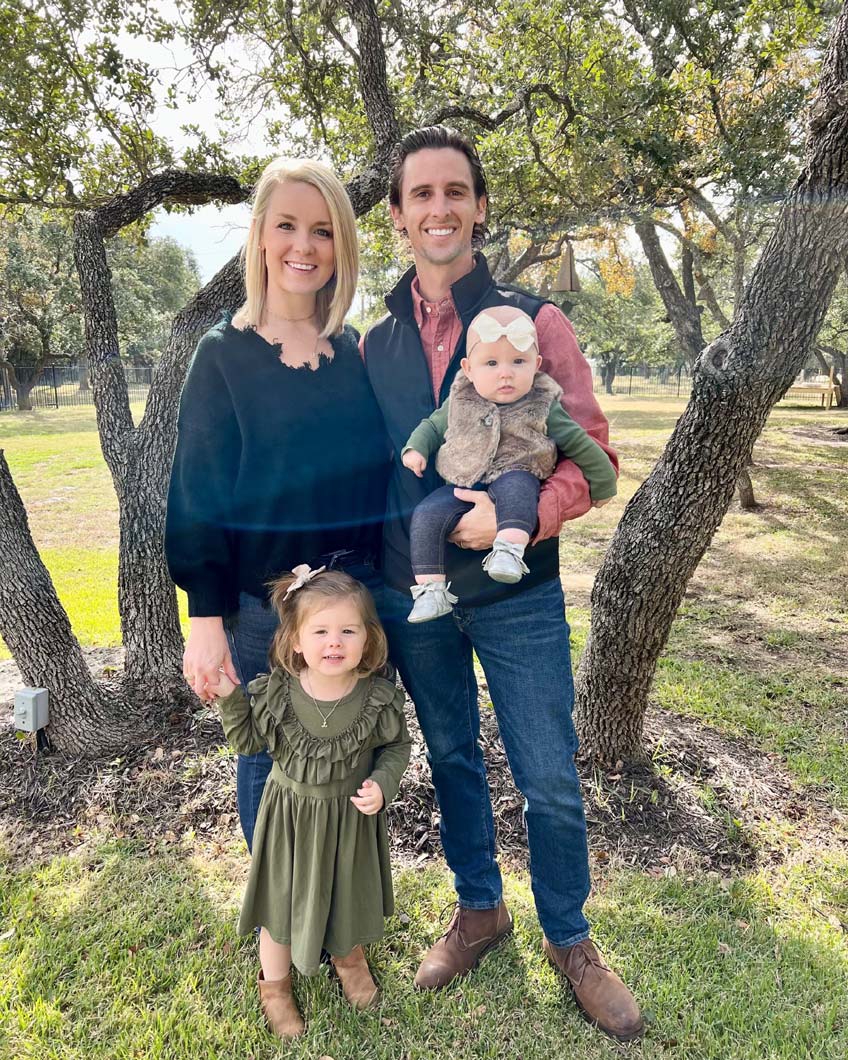 "The best time to start making an impact on Aggie Athletics was yesterday, and the second-best time is today."
"My entire career to this point and my trajectory post-college was completely shaped by A&M," says Michael, "because it would be completely different had I not been hired by an Aggie."
As MVP donors, the Pickels recognize the difference they can potentially make as recent Aggie graduates. Given their passion for Texas A&M, Aggie Athletics and their calling to help others, Abbey and Michael have begun to generously contribute to the 12th Man Foundation.
"We were super blessed that we did not have to pay for our college or have student loans taken out for our education," says Abbey, "so I get comforted in knowing that we're helping Aggies alleviate the finances that we didn't have to face."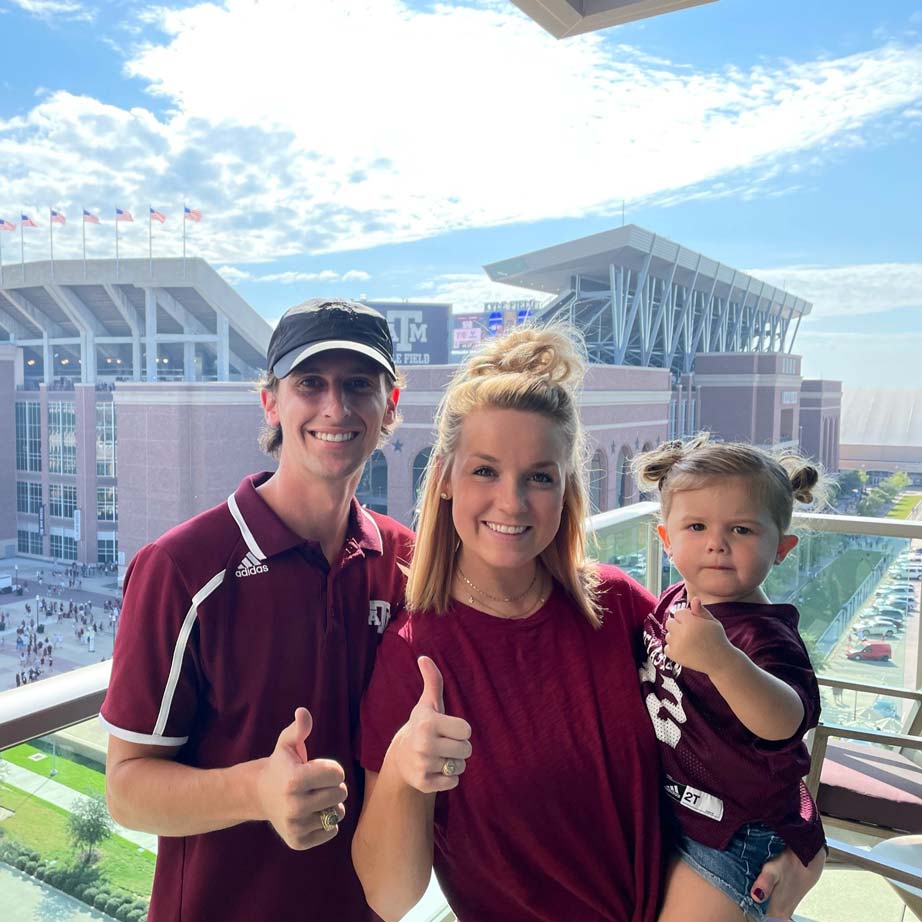 In addition to making an impact on the Aggie student-athlete experience, the Pickels are also passionate about supporting the upward trajectory of Texas A&M. They believe Aggie Athletics plays a significant role in that development.
"Abbey and I wouldn't be in the position we're in today without A&M," Michael said. "We know what the Aggie network can do, and we know what Texas A&M Athletics can do. Being able to contribute to that - and hopefully being able to do it for a long time - is just really rewarding."
Thus far, the Pickels have found great reward in their experience as 12th Man Foundation donors. Attending events and interacting with fellow donors, Michael says everyone's intentions are consistent. They donate because Aggies take care of Aggies - a message Abbey and Michael can confidently stand behind.
"Aggie Athletics is a huge first impression on future generations of Aggies," Michael said. "Being fortunate enough to give back is incredible to be a part of and to think about the long-term impact we can make on somebody's life."
While they certainly enjoy the tangible benefits of their 12th Man Foundation membership, the Pickels are most passionate about the magnitude of what their contributions can make possible. When visualizing the opportunities their continuous giving can make, the decision to start now was a no-brainer.
"The best time to start making an impact on Aggie Athletics was yesterday," says Michael, "and the second-best time is today.
"If you're waiting to make an impact until tomorrow, five years from now, when you're 30, when you're 40 - you've missed the whole opportunity of the last however many years to do exactly what Aggies are called to do, which is selfless service. And that's a big part of what the 12th Man Foundation really is."