Texas A&M Athletics
Kellen Mond '21
---
Quiet but confident, the Aggie QB is focused and ready to lead
Charean Williams '86
The aluminum mini blinds in the family room of Kellen Mond's San Antonio home are dented, bent and broken. They do not fit the orderliness of the rest of the house, and yet, they fit the residents of the home perfectly.
Mond damaged the blinds when he began grooming to become Texas A&M's quarterback at the age of 2.
"We said we would not get rid of those blinds until he either graduated or made it to the NFL," Kevin Mond, Kellen's father, said with a laugh. "So we've got a year or two left."
Kellen Mond's accuracy has improved since then, after dozens upon hundreds upon thousands upon tens of thousands throws in his short lifetime.
"I had him throwing on his knees at age 2," Kevin Mond said. "I'm 6 foot 5, and I knew if he had any size to him, he was going to be big enough to play quarterback.
"Every day, we threw the football. Every day, we played in the backyard – running, throwing the football. Every single day. I don't think there was ever a day we missed throwing."
Outside that window, behind those beat-up mini blinds, the sky is the limit for Kellen Mond, who plans to find a place among the stars.
"I have dreams and aspirations, but one thing I know," Mond said, "is it's a process."
Every time he enters the Bright Football Complex, Mond is reminded of Johnny Manziel. A&M's current starting quarterback sees the 2012 Heisman Trophy on display in the facility's grand Tommie E. Lohman '59 Center.
Mond would love to add a third Heisman display in the building to go along with Manziel's and John David Crow's, but that's not the goal. He instead seeks to bring home the school's first national championship trophy in the sport since 1939.
"I want to leave a large legacy and leave the program better than where I found it," said Mond, who has become friends with Manziel. "That's the same thing Johnny did when he was here. He made it a superstar program. He did something, not only for himself, but for A&M. So I just want to keep elevating to that. If we continue to work and have the right mindset this whole offseason, we can reach our goals. There's no reason we can't."
Mond always has had a championship sense of timing. He was born in San Antonio on June 22, 1999, the day after Game 3 of the NBA Finals, a day before Game 4 and three days before the Spurs clinched their first of five NBA championships.
From sixth grade until he finished high school at the IMG Academy in Bradenton, Florida, Mond lost only two games as a starter. He is 14-7 at A&M, with several comeback wins, most memorably the LSU game to end the 2018 regular season.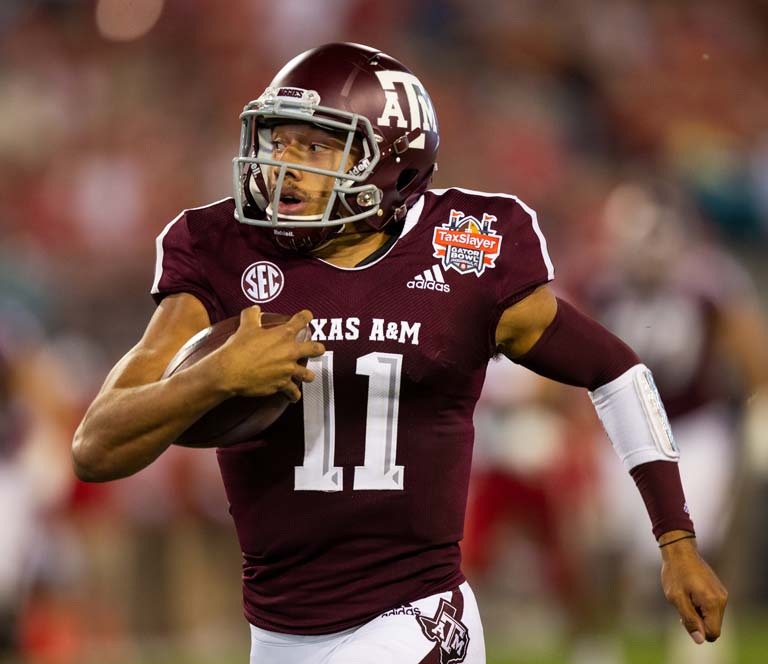 "I want to leave a large legacy and leave the program better than where I found it... If we continue to work and have the right mindset this whole offseason, we can reach our goals. There's no reason we can't."
A STUDENT-ATHLETE'S EDUCATION IS PRICELESS
Kellen Mond is striving for excellence on the football field and in the classroom. By giving to the 12th Man Foundation's 1922 Fund, you are supporting Aggie student-athletes athletically and academically. Contact Lauren Hickey at 979-260-7595 or by email
"He's always cool, but he's also always, 'We're about to go win this game,'" Erik McCoy, the Aggies' starting center the past three seasons, said. "You can always see it in his eyes."
Mond entered A&M in January 2017 as a quiet, 204-pound freshman. He has added muscle, developed broad shoulders and become a leader over the past two years.
After playing last season at around 210 pounds, the junior sport management major now weighs 216-217 and hopes to be 219-220 when the 2019 season starts.
"I've come a long way," Mond said. "It's not just a knowledge of the game from my freshman to my sophomore year, but just being able to lead and impact other people, and that's what leading is – getting people to join you, not just follow you. Then, physically, I've put on a lot of weight."
Mond also has had to bear the weight of being Jimbo Fisher's starting quarterback. Fisher admits he's hard on quarterbacks, and that's putting it nicely. But Mond's training at home prepared him for everything he has faced.
"He gets it the worst out of anybody at practice," McCoy said. "In practice, it's rough on him. By the time he gets to the games, he's cool; he's calm. He knows what he's doing."
Mond is as quiet as he seems, but Trayveon Williams' departure necessitates he become the team's vocal leader. Mond is ready for the job.
"I've already been doing it, just making sure everybody has the right mindset and understands what type of team we can be," he said. "It's going to be really big for not only me but Jhamon Ausbon and some guys on defense to step up and make sure we put that in people's heads."
Mond and his family leave nothing to chance. They have considered his future beyond this season. His dreams include an NFL career, following in the cleat marks of Manziel and other former A&M quarterbacks like Ryan Tannehill and Stephen McGee by being drafted into the league.
His parents are accountants. His father a chess player. They have spent time studying the recent history of the NFL Draft and can recite the numbers of quarterbacks drafted and when.
"We'll see what happens," Kevin Mond said. "But there's nothing wrong with going back (to school for his senior year). If Kellen is not done with his degree, I can almost assure you, he'll be going back. There's no chance of him coming out early unless he's graduated, and just because he's graduated doesn't mean he's coming out early."
But the future can wait. After completing 51.5 percent of his passes for 1,375 yards with eight touchdowns and six interceptions in 10 games as a freshman, including eight starts, Mond completed 57.3 percent of his passes for 3,107 yards, 24 touchdowns and nine interceptions in starting all 13 games last season. McCoy expects "another big jump" from the A&M quarterback this season.
Mond is driving the Aggie bandwagon, a role he has prepared for his whole life.
"I want to really impact guys, letting them know they can go a lot further than their mind tells them they can," Mond said. "I want to win a national championship this year."