Honoring Ed Richards '85 Passionate Aggie and dedicated supporter made a lasting impact during an extraordinary life

---
By Brian Davis '01
To family, friends, patients and colleagues, Dr. William E. "Ed" Richards '85 will be remembered for his extraordinary compassion, devotion, wit and humility.
Now, with an endowment in his name, Richards' legacy of changing lives can forever be connected to Texas A&M Athletics to fund a learning specialist position in the Texas A&M Center for Student-Athlete Services.
A die-hard Aggie, Richards was a pioneer in robotic surgery for gynecologic oncology with a relentless drive to be the best in everything he set out to do.
In Aggieland, Richards developed a reputation for another drive. A long, long drive that demonstrated his unquestionable commitment to Texas A&M Athletics.
While working and living in Lubbock in the early 2000s, Richards often made the 860-mile round trip drive to Reed Arena and back to watch mid-week Aggie men's basketball games.
"He would get off of work, jump in the car and drive to College Station to watch the Aggies play basketball, then he would jump back in the car, drive back to Lubbock and get home in time to go to work the next morning," said Scott Semlinger '75, who developed a close friendship with Richards following a chance meeting in the parking garage after one of those A&M basketball games. "I remember thinking to myself, this is a crazy Aggie sports fan."
Known to his friends and family as "Eddie," Richards was a passionate supporter of Texas A&M Athletics for his entire life. While he was in medical school at Texas Tech, friend and fellow Aggie physician Andy Hansen '71 encouraged Richards to get involved with the 12th Man Foundation.
Along with Susan, his loving wife of 35-years, Richards made his first gift in support of student-athlete education in the early 1990s to honor his father who suddenly passed away while training for the Houston Marathon.
"They didn't come from affluent backgrounds, so he and his dad looked at sports as a way to educate people who otherwise would not have an opportunity to receive an education," Susan said. "That's why it was important when he donated in his dad's name that it went to a study room. The education piece mattered to him a lot."
Like his father, Richards passed away suddenly on Feb. 6, 2021. He was 57.
His funeral was filled with story after story of a kind, caring and dedicated physician who went above and beyond to help people and then became friends for life.
However, not every story of Richards saving a life is from one of his patients. When Semlinger was diagnosed with esophageal cancer, Richards was the first person he called for advice. The next day, Semlinger had appointments at MD Anderson with an esophageal cancer team fit for the President.
"Ed came to my rescue," Semlinger said.
Born in Pasadena, Texas, on May 24, 1963, Richards grew up loving A&M and was destined to be an Aggie. Choosing to attend A&M was easy, although a remarkable singing voice did earn Richards a scholarship offer from The Juilliard School.
"The quote was, 'I'm not going anywhere they don't have a football team,'" said Susan. "He always knew there was something special about A&M."
The couple met through mutual friends at a party in Houston before an A&M-Rice football game.
"We were Bonfire buddies," said Susan, who is Class of 1986. "I lived in Leggett Hall and he lived in Crocket."
After graduating from A&M with a psychology degree in 1985, Richards attended medical school at Texas Tech University Health Sciences Center in Lubbock. On the first day of med school, he met another fellow Aggie turned lifelong friend named Justin Gayle '87.
"I saw his Aggie Ring, shook his hand and we were inseparable from that point forward," recalled Gayle, an Ob/Gyn who has practiced in College Station since 1999. "We had an instant bond over our shared passion for Aggie sports. We planned our study habits around Aggie football."
Following med school, Richards and Gayle both spent four years in residency training at Scott & White Healthcare in Temple, Texas. They even bought A&M football season tickets together.
"We were fanatics," Gayle said. "We were all together as a family for every major A&M sporting event."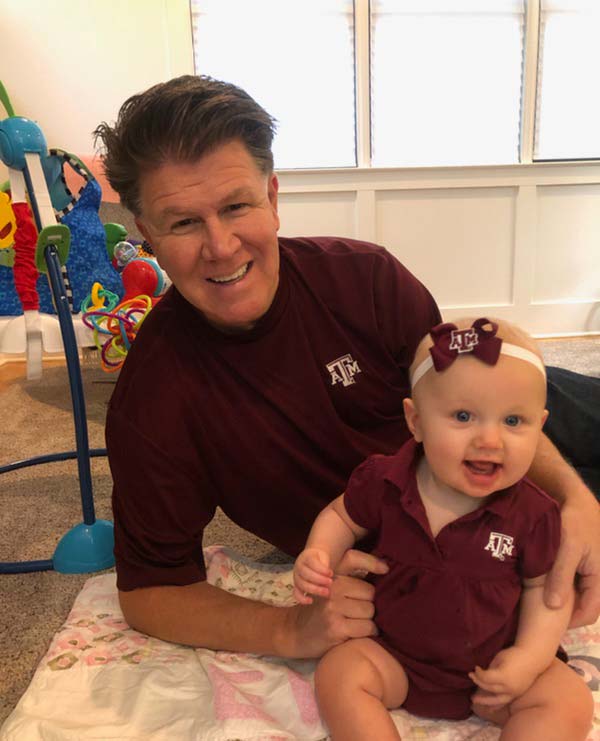 "I loved Ed like a brother. I'll remember most our lengthy discussions about the things that mattered most to us – faith, family and our love for Texas A&M."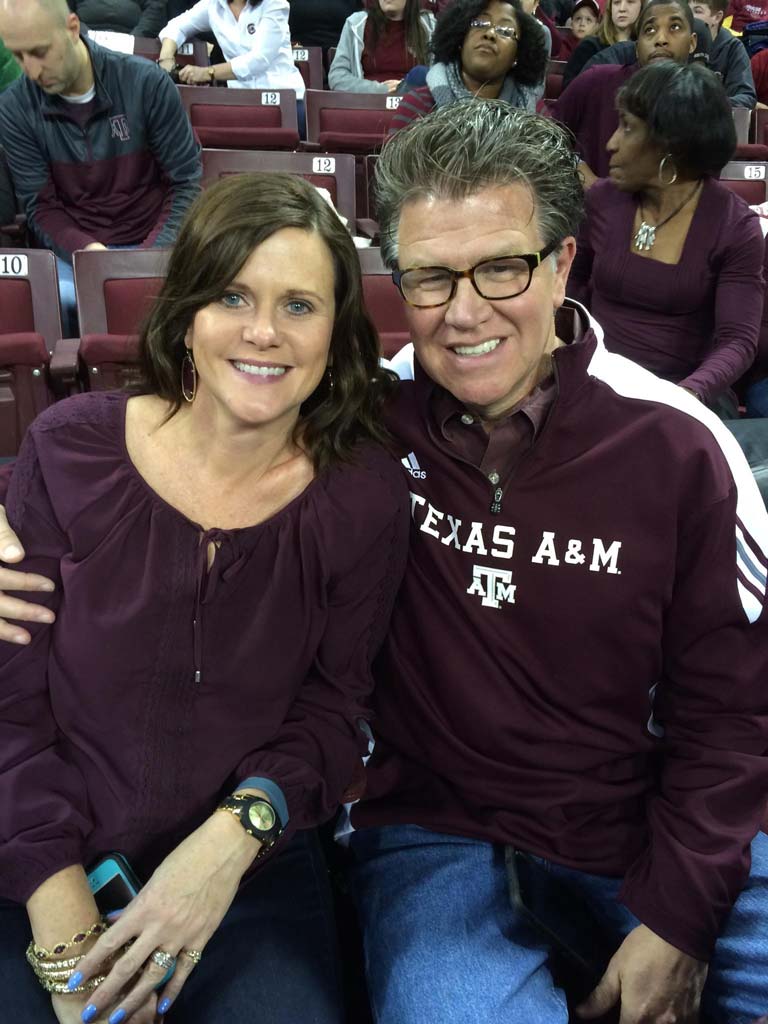 Please contact Lauren Fisher '17 at 979-260-7952 if you would like to help fund a learning specialist position in the Texas A&M Center for Student-Athlete Services with a contribution in honor of Dr. William E. "Ed" Richards '85.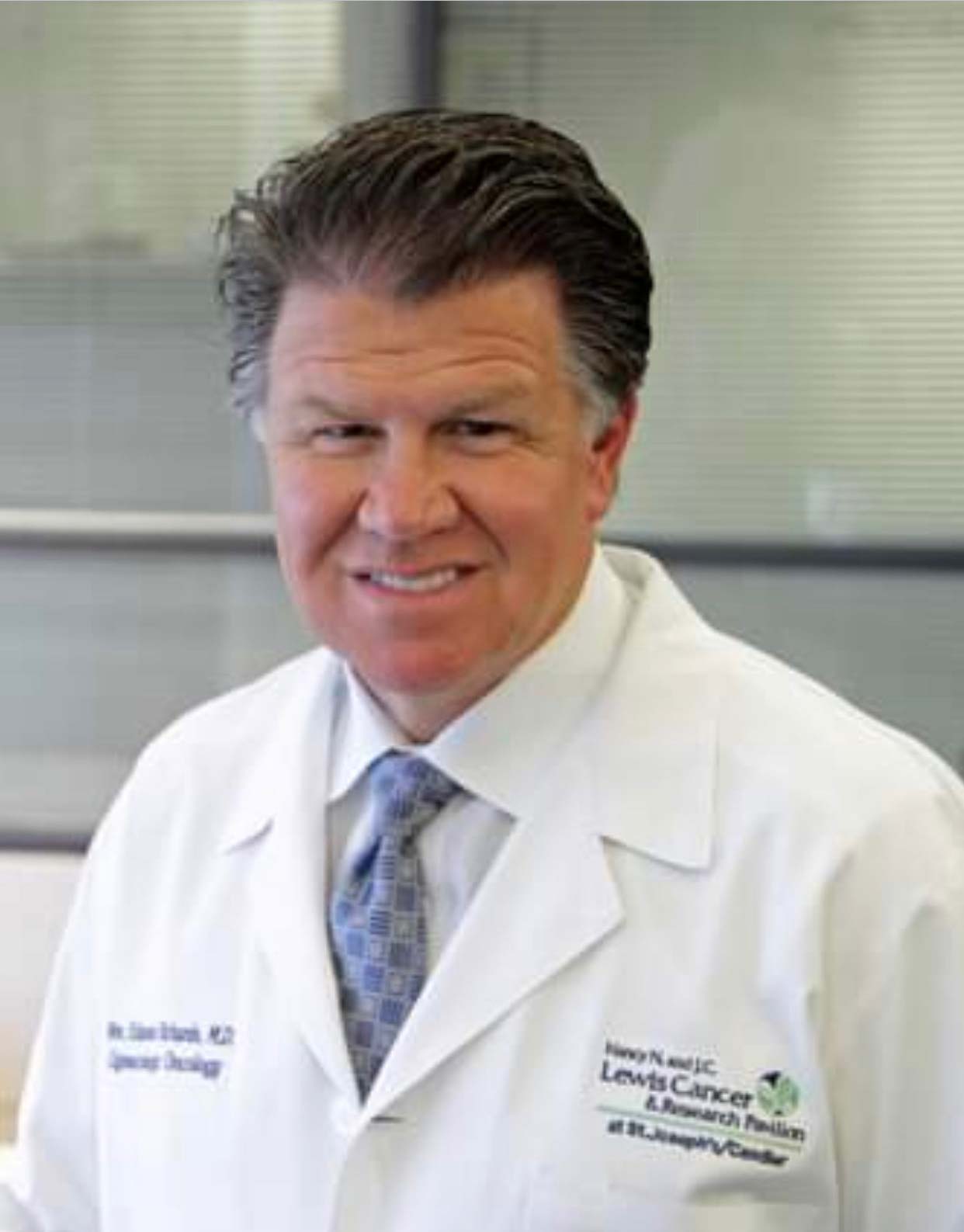 After completing his fellowship training at the University of Kentucky, Richards moved back to Lubbock to begin a career in gynecologic oncology that would eventually take him and his family to Cincinnati, Ohio, and ultimately to their home in Savannah, Ga. Known for singing while operating and wearing cowboy boots with his scrubs, Richards impacted countless lives throughout his career in medicine.
Together, he and Susan raised three daughters – Sarah, Emily and Madeline – and became proud grandparents to Ellie, Brady, Blaire and Liam.
"His girls were his life," Gayle said. "He was as passionate of a father as he was a physician. And he was extremely dedicated to his patients."
No matter where he lived, Richards continued his unconditional support of Aggie Athletics as a dedicated fan and donor.
He traveled across the country and beyond with the men's basketball team. Friend and fellow supporter Sam Torn '70 shared many of those trips with Richards and made memories that will last a lifetime.
"We were sitting right behind the Aggie bench in Waco for the game which featured 'The Baptism,'" recalled Torn. "When the game concluded, we were bombarded with plastic bottles and other trash. As we were marshaling the families out of the arena, a Baylor fan accosted him. Ed, who was a very faith-based person, looked at the fan and said, 'Don't you know, God loves me, and he loves you, too. Gig 'em!'"
On a team flight to Nebraska, Richards also befriended the legendary voice of the Aggies, Dave South. Their introduction was over a book about the power of prayer, and a deep friendship grew through their shared interests.
"We rarely ever talked about sports," admitted South. "We talked about family and friends, politics and life in general. It was rare that a week went by without us talking about something."
Fittingly, the radio booth at Olsen Field at Blue Bell Park bears the Richards family name. The redevelopment of the storied stadium is one of the multiple facility projects the couple proudly supported.
"I was honored when they sponsored the radio booth," said South, noting that Richards would often come to SEC road football games and help with spotting or keeping stats. "I thought that was pretty nice. Ed would tell me that he loved to sit out on his back porch in Savannah and listen to the baseball broadcast."
In an extraordinary life, Richards made a lasting impact on virtually everyone he met.
"He was a great Aggie and a great person," said Hansen.
"I'll remember most our lengthy discussions about the things that mattered most to us – faith, family and our love for Texas A&M," added Torn.
"He was a great friend who I miss each and every day," added Semlinger.
Gayle and his wife, Marilyn, proudly made the initial gift toward creating an endowment for Richards through the 12th Man Foundation.
"We want it to continue to grow," Gayle said. "He was like a brother to me, and I still feel his presence. He loved this place. I know he'd be proud to have something with his name on it that he can share and give to other people."