Robyn '89 & Alan Roberts '78
Inspirational supporters recognized for incredible generosity
---
By Brian Davis '01
Texas A&M trailed Baylor by 10 points as the teams took the field for the game's final quarter. The 11th-ranked Aggies' perfect home record and their hopes of winning another Southwest Conference Championship were on the line.
In a back-and-forth Battle of the Brazos that began with the 20th-ranked Bears jumping out to a 17-0 lead, the pressure was on A&M to mount a comeback in front of more than 74,000 fans at Kyle Field.
The Aggies cut Baylor's lead to six points, and with under four minutes remaining, Kevin Murray tossed a touchdown pass to Tony Thompson to tie the game. The ensuing extra point secured a 31-30 victory for A&M. It was an instant classic.
The improbable win ignited A&M's run to the 1986 SWC title, however, that was not the only significant moment for Aggie Athletics on that October day at Kyle Field.
Over on the west side of the stadium in section 107, a recent A&M graduate named Alan Roberts met Robyn Meyer for the first time.
"We were on a double date, but not with each other," said Robyn, an Aggie sophomore at the time.
The chance encounter changed each of their lives, sparking an Aggie romance that ultimately led to marriage on July 29, 1989. In the 33 years since, the Roberts have raised two Aggie daughters, built an extremely successful business and developed an unwavering bond with A&M Athletics.
Their love for A&M combined with an inspirational passion for philanthropy made the couple deserving recipients of the 2021 E. King Gill Award.
"The 12th Man Foundation's mission of funding championship athletics would not be possible without the extraordinary support of Robyn and Alan Roberts," said 12th Man Foundation President and CEO Travis Dabney. "They share the vision for Texas A&M to be the premier athletics department in the country and have stepped up every time they have been called upon. They are incredibly deserving recipients of this prestigious award."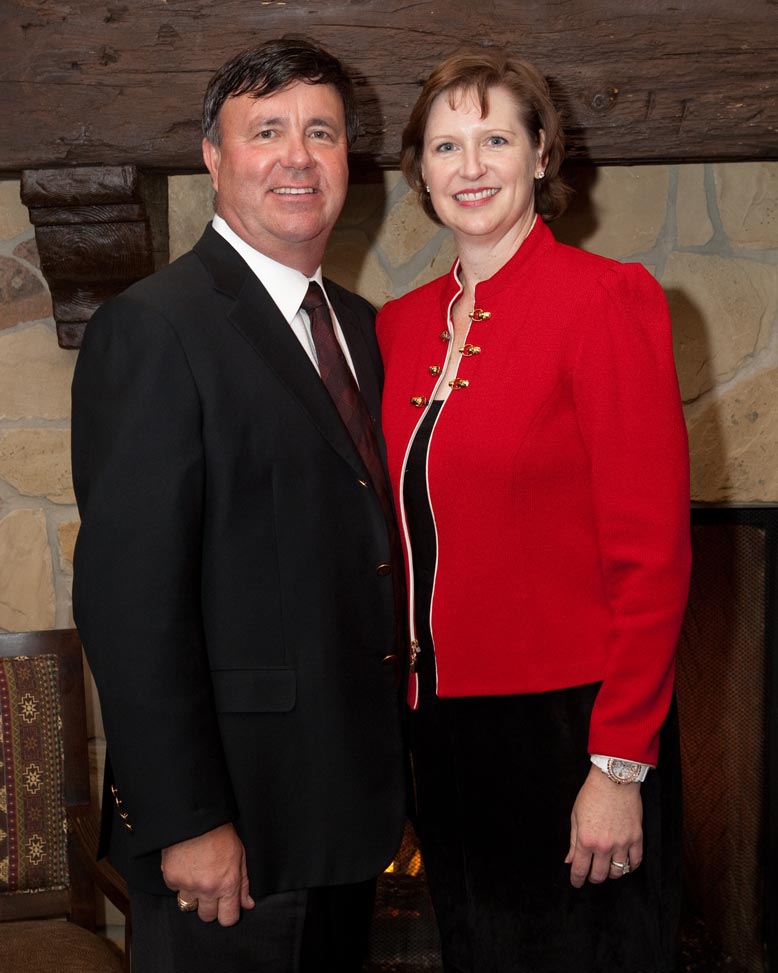 "We've always been happy to stand on the sideline, give back when we can and continue doing what it takes to help Aggie Athletics succeed."
"The 12th Man Foundation and Texas A&M Athletics are deeply grateful for the Roberts family's extraordinary support."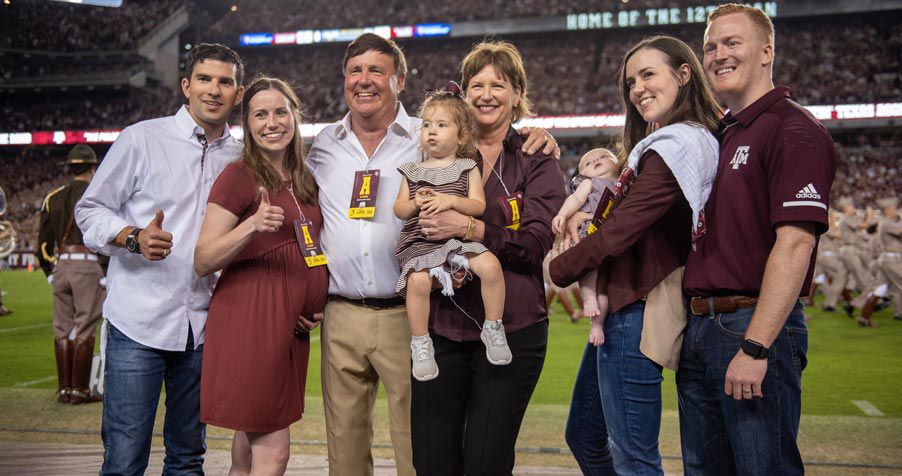 Entrepreneurial Spirit
Alan was born and raised near the Texas Gulf Coast in the small town of Refugio. The youngest of three boys, he learned the value of hard work from his father who was a welder. In fact, Alan began working as a welder's helper when he was only 15 years old.
"We were always taught that we had to work," he said. "I didn't know any different."
Alan's relentless work ethic paired well with an entrepreneurial spirit that he developed at a young age. He grew up loving to play Monopoly and started several businesses including picking and selling watermelons and running firework stands.
"I can't even tell you why I did it, but that taught me a lot about business," he said. "I learned that in order to be successful, I needed to outwork everybody else."
Always A&M
There was never a question of where Alan was going to college. He wanted to follow in the footsteps of his brother David, a 1967 A&M graduate.
"I looked up to him all my life and actually never considered going anywhere else," Alan said. "I always thought I was going to A&M."
After graduating high school in 1974, Alan enrolled at A&M with the goal of becoming a physician. However, he decided to change majors during his junior year and ultimately graduated with a bachelor's degree in accounting in 1979.
"Biology ate my lunch," Alan said with a laugh. "That's why I decided to change to accounting. I figured I had all this experience running businesses, so it made sense to get a business-related degree."
Dream Turned Reality
After graduation, Alan moved to Victoria and began working for a CPA firm. It was a good job but not what Alan envisioned doing with his life. He quit two years later deciding the timing was right to follow his heart.
"I don't know why, but I had this dream that I was going to start this construction company," he said, noting that his father was furious at first when he quit. "When I told my dad I was going to start the construction company, he said, 'With what? You have nothing.' I was living in an apartment with three other guys at the time, but I knew I had to go ahead and start the company before I had a wife and a family. Sadly, my dad passed away about two years later and wasn't able to see the business grow."
In 1981, Alan founded Pumpco with a $2,500 investment and set out to find work in Giddings during the Austin Chalk oil boom.
"It was just me and my pickup," he said.
Every day for the next four months, Alan left Victoria at 5 a.m. and drove 90 miles to Giddings.
"I would stop and buy a couple dozen donuts and cold-call customers and they would give me a little bit of work," he said. "Whether it was building a fence, painting something or making repairs - I would do every job I could find. It was a steady grind, and I worked at it for years and years."
Section 107
Alan eventually decided to move to Giddings and lived in a trailer with several friends while continuing to build his business.
Meanwhile, he stayed connected to A&M through his football season tickets. He had purchased four seats in section 107 on the first deck of Kyle Field's west side shortly after graduation.
That's where he met Robyn on that auspicious day in October of 1986.
A 1985 graduate of Giddings High School, Robyn grew up in Giddings and decided to attend A&M after visiting the University of Texas for a basketball camp. Needless to say, she did not feel at home in Austin.
At A&M, Robyn studied accounting and earned her bachelor's degree in just three and a half years.
"I was definitely on a budget," she said. "I'm the only one in my family and even my extended family who has graduated from college. Now everybody is an Aggie because you know we're all Aggies."
The Diversification of Pumpco
For her senior English paper at A&M, Robyn wrote about the diversification of Pumpco.
"The professor called me into his office," recalled Robyn, initially wondering if she had done something wrong. "He said it was one of the best papers, but he wanted to know the whole story."
At that same time, Alan was trying to figure out how he was going to take his business to the next level. Robyn's paper became a roadmap for Pumpco to evolve into a pipeline construction company.
As the company's services grew, Alan was finally able to secure enough capital to start buying equipment.
"He would always tell me, 'Hey Robyn, come ride with me,' and my response would be, 'What are we buying now?'" Robyn recalled. "He would say, 'If I just had one more truck, I could have another crew.'"
The Roberts poured themselves into the business and transformed Pumpco from an oilfield service company into what it is today - a billion-dollar corporation that specializes in pipeline construction services throughout the U.S.
"It took years and years, but we were finally able to get it done," Alan said.
By 2019 - nearly 40 years after it was founded - Pumpco had grown to 3,000 employees with a $320 million payroll and over $400 million in assets.
To secure the financial resources to reach that level, the Roberts sold the company in 2008 to MasTec, Inc. However, the couple still ran the business in their hometown of Giddings with Alan serving as its president until retiring in June 2022, in addition to owning several other companies.
"I work for him, but he lives with me," Robyn joked.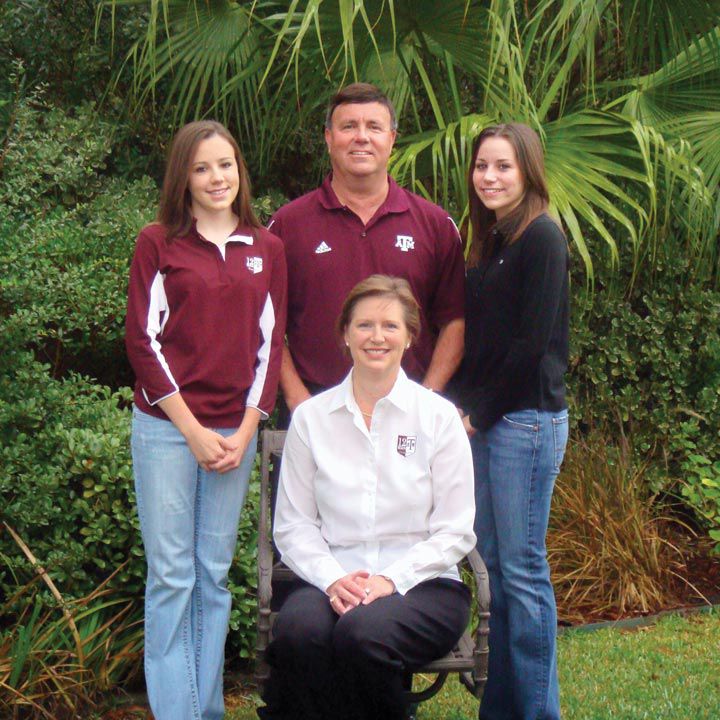 Family Affair
Whether in their business or personal lives, Robyn and Alan have always centered everything around family and teamwork. Despite its exponential growth, they continued to operate Pumpco as a family-oriented business. The couple are also the proud parents of two Aggie daughters, Jennifer and Allyson, and grandparents of three grandchildren.
The Roberts shared their love of A&M with Jennifer and Allyson from the beginning. In fact, Alan bought an RV in the mid-1990s for the family to spend gameday weekends together in Aggieland.
"I told her I had this plan," he said of Robyn who initially thought they were too young to buy an RV. "We'll take the kids and a babysitter with us to the tailgate, and then we can go into the stadium and use walkie talkies to stay in touch with them."
The plan worked, and their daughters have been attending games for as long as they can remember.
"The babysitter still works for us today," Robyn added. "She's like another daughter to us."
The Roberts have continued their tailgating tradition for more than 25 years. Like their business, the event has grown significantly but remains focused on family.
"Growing up, experiencing gameday with our parents was something really special for us as a family," said Jennifer, who has two young children of her own. "Now, having that opportunity with our growing families has been fun."
"It's just really special," added Alan. "It's a way to bond with other Aggies and get to visit with new and old friends alike. They don't have to have an invitation. They just know they're invited. That's why today we have almost 100 people at every tailgate. The whole thing is a great experience for everybody involved."
Called to Give
Beyond attending Aggie football, baseball and men's and women's basketball games as longtime season ticket holders, the Roberts have shared a giving spirit that has forever impacted A&M.
"When we started giving, it was very family-oriented," Robyn said. "We gave what we could when we could because we wanted to go to the games and sit in good seats. We still have the four seats in what I call section 107 that Alan bought after he graduated. I can't give them up."
Their investment in Aggie Athletics includes significant gifts to the construction of the Bright Football Complex, the Cox-McFerrin Center for Aggie Basketball and Blue Bell Park. The couple also contributed one of the lead gifts to the redevelopment of Kyle Field.
"We feel rewarded for giving back," Alan said. "We worked our way through college when we came here, and we know the student-athletes are working hard in sports and in class while being under a lot of pressure. And we've seen how the facilities attract the best student-athletes and how they have helped so many of them be successful in life. It's a win-win."
"It's fun to see them start a career and have families," added Robyn. "It's fun to follow that."
The Roberts have also given back their time as leaders and advocates for the 12th Man Foundation with Alan serving on the Board of Trustees from 2010-16, including a tenure as chair in 2015.
"Alan served the 12th Man Foundation as chair of the Board of Trustees during a very tumultuous time for the organization," Dabney said. "We were deep in the process of the Kyle Field redevelopment, and Alan's leadership and steadiness were always welcomed by the staff."
The couple have also made generous commitments to The Association of Former Students and Mays Business School. In 2008, Robyn and Alan received Mays' Outstanding Alumni Award.
"It's super important for my mom and dad and our whole family to give back," said Jennifer, who along with Allyson was active in the 12th Man Foundation as a student and now as a donor. "A&M helped us all get to where we are today."
Beyond A&M, Robyn and Alan feel blessed to be able to help their local community of Giddings.
With their time, talent and resources, the Roberts have generously supported their church, their local schools and hospital, their neighbors - the list goes on and on, and their impact is felt far and wide.
"We've been blessed in so many ways," Alan said. "It's just something we have always done."
"It's in his heart," Robyn added. "I mean, that's why I married him. If we can help or do something, we do it."
Special Bond
Through their support of Aggie Athletics, Robyn and Alan also established a deep connection with the A&M women's basketball program and were an integral part of its 2011 National Championship.
Within the Aggie program, the Roberts discovered excellent role models for their daughters and developed lasting relationships with many of the coaches and student-athletes.
"My favorite moment is when we were at the hotel in Dallas during the NCAA Tournament to send the team off to play Baylor for a trip to the Final Four," said Robyn, who coached her daughters' basketball teams for six years. "When the team came down the escalator, Danielle Adams spotted Alan and I in the back and parted the crowd to get to us. She said, 'I need a hug from my favorite fan.'"
The couple was there every step of the way for the program's magical run to its first national title.
"It just makes your heart feel good when you see those kids succeed," Robyn said.
The Roberts have gone above and beyond in their support of Aggie women's basketball. The team's practice gym bears their name, and the couple shared their airplane with the coaching staff to help them travel more efficiently when recruiting. That generosity impacted other Aggie teams as well, with the Aggie football program greatly benefiting from easy access to air travel courtesy of the Roberts.
Well-Deserved Honor
The Roberts family tailgate was in full swing on Sept. 4, 2021, as the Aggies were preparing to kick off their season at Kyle Field against Kent State.
Always welcoming, Robyn and Alan were happy to oblige when Jacob Green said he was bringing some friends by before the game. What they did not expect was for that group to include some of their closest friends and 12th Man Foundation staff delivering the surprise announcement that they were the recipients of the 2021 E. King Gill Award.
"I couldn't believe it," Alan said. "We were so just so honored and so surprised. I never even imagined it."
"Seeing them get rewarded for all their hard work and passion for Aggie Athletics is awesome," Allyson added. "The joy on their faces is what it is all about."
Green was proud to celebrate the moment with his longtime friends.
"Robyn and Alan have made a tremendous impact on the 12th Man Foundation over the years," said Green, vice president of principal gifts. "They are incredibly humble people, but their generous support of Texas A&M Athletics has helped make much of our success possible."
For the Roberts, the recognition was unexpected but is something they will forever cherish.
"As students, we stood as the 12th Man," Robyn and Alan said. "To be rewarded today with this honor is just beyond words.
"We've always been happy to stand on the sideline, give back when we can and continue doing what it takes to help Aggie Athletics succeed."