2016 E. KING GILL AWARD
Sam and Susan Torn
---
by True Brown
The date was February 1, 1969, and Texas A&M student Sam Torn found himself in a rather unfamiliar—and perhaps somewhat uncomfortable—setting. Torn had made the trek 100 miles west of College Station to Gregory Gymnasium on the campus of the University of Texas to see the Aggies play the Longhorns in men's basketball. Games in Austin rarely ended well for Aggie fans in those days, as the basketball team had managed just five wins there since World War II.
But basketball wasn't the only thing on Torn's mind that Saturday. His attention quickly turned from the court to the bleachers when he was introduced to his blind date for the afternoon: a stunning Longhorn coed named Susan Boggs. Sam was instantly smitten. Susan returned the favor. The two hit if off immediately.
The A&M basketball team, meanwhile, made it a perfect day with a 65-57 victory over the Longhorns on their way to a Southwest Conference championship.
While the Aggies' big win on the hardwood made most of the headlines, the meeting of Sam and Susan, and their eventual marriage, may have ultimately been bigger news for A&M.
Recently, the couple has been at the forefront of the planning, implementation and execution of the largest athletics facility boom in Texas A&M history. In October, prior to the football game against Tennessee, the Torns were awarded the E. King Gill Award, the most prestigious recognition given by the 12th Man Foundation. The award is given annually to a person (or couple) based on financial commitment to the Foundation's mission, commitment as a volunteer advocate for the athletic program through service and leadership, as well as a high level of distinction as a role model to career, service and athletics.
Truly, Sam and Susan Torn are sterling examples of all three criteria.
"To be honored like this, to be singled out in an area of Texas A&M that we love so much, is humbling," said Sam. "It's the most significant recognition that we could get. One of the greatest joys of our life has been getting to work with and becoming a part of the family of the staff and donors of the 12th Man Foundation." At times in the past decade, it appeared Torn was indeed a fulltime staffer as he maintained a presence in Aggieland nearly every day. After being selected to the Foundation's Board of Trustees in 2009, Torn quickly immersed himself in multiple initiatives. He was active on construction projects such as the Davis Player Development Center and the Bright Football Complex.
Torn's two landmark projects, however, involved massive redevelopments at two of A&M's most iconic venues: Kyle Field and Olsen Field (now Blue Bell Park).
The three-year-long Blue Bell Park project, for which Torn served as a construction liaison, included the addition of a magnificent club area, suites, expanded concourses, locker rooms, coaches offices, team lounge, workout facilities and a picturesque façade. The $24 million project, which finished in time for opening day in 2012, quickly became one of the crown jewels of college baseball.
The Torns' involvement wasn't without some nervous—and slightly humorous—moments. Demolition and construction had to be completed within one offseason, which meant work was ongoing literally until the gates opened for the first game. When a massive rainstorm enveloped College Station overnight shortly before game one, Sam was jolted awake from a deep slumber.
"It was a vicious rain storm, and all of a sudden at 2 a.m., I bolted awake and said 'Susan, the elevators are on the bottom floor, and I'm afraid it's going to flood. We have to go out there and move those elevators," recalled Sam, who was a baseball squadsman and head yell leader as an undergraduate. "So she got up with me, and we drove to Blue Bell Park. Everything was locked and we couldn't get in, so she hoisted me up and over a fence. Imagine, in the middle of the night, this grandmother hoisting me up in the middle of a storm. After I was over the fence I ran into the stadium, got in the elevators, and rode them up to the top floor. We went back home and slept a little bit and were ready to go." The stadium opened the following day with dry elevators and rave reviews.
Blue Bell Park's sparkling renovation proved to be a wonderful appetizer to A&M's next major athletic facility overhaul: Kyle Field.
With the school's move to the Southeastern Conference for the 2012-13 school year, A&M saw a massive surge in ticket requests. Then-university president Bowen Loftin convened a committee to study what the school should do with its aging football stadium. Torn was selected to co-chair the committee, along with Bob McClaren.
The quick-working group saw estimates for a massive renovation settling well north of $400 million, and a bold timeline for fundraising and construction began to emerge. Thanks to a driven committee, a devoted fan base and an incredible amount of hard work, nearly $225 million in private commitments were received in just six months. That influx of donor dollars set the stage for the largest stadium redevelopment in American sports.
Much has been said about the project not being possible without the trinity of A&M's move to the SEC, Johnny Manziel's Heisman hysteria and $100-per-barrel oil prices. The truth, however, is that another element was crucial in the success of the project: ambitious leadership that refused to settle for anything less than the best. The Torns certainly helped provide that.
New Kyle Field was unveiled on Sept. 12, 2015, as the Aggies cruised to a 56-23 victory over Ball State.
"After the game was over and most people had left, we stood there from our vantage point and looked out across the stadium and beyond," Sam said. "As I was looking over everything, I thought to myself 'only Texas Aggies could do what has been done here. No one else, only Aggies.'
"It's important to remember that all these facilities that have been built through the generosity of 12th Man Foundation donors have been built collectively. It's not the result of any one person's efforts or vision, but we did all this together, and that ability to do things together has always been the strength of Texas A&M."
The word 'together' rings especially true for Sam and Susan. In fact, it is rare to hear a friend or acquaintance mention one name without the other, and the two work in perfect concert together.
It is through their teamwork that they have fulfilled another important mission in their life. Thirty-three years ago, the Torns purchased a struggling summer camp in Arkansas called Camp Ozark. Under their guidance, the Christian-focused youth camp has grown from 18 cabins and 300 campers per summer to 92 cabins and 6,500 campers. The entire Torn family, including their 10 grandchildren, relocates to Arkansas for three months each summer to help shepherd the current crop of campers who arrive for either one- or two-week sessions.
"God blessed Sam and Susan with each other," said longtime friend and former yell leader Neal Adams, who played a role in Sam becoming involved with the 12th Man Foundation Board of Trustees in 2009. "You can't do all the things Sam has done without having great support and someone who has encouraged and supported him to take on those leadership roles. Sam would be the first to tell you he has been blessed having Susan in his life."
Despite completing her undergraduate at Texas, Susan is one of the few who can match Sam's passion for all things A&M. The couple's three children, Scott, Chris and Angela, along with their spouses, all graduated from Texas A&M, which left Susan as the lone family member without an Aggie ring. That changed in 2013, when Susan, a registered nurse, earned a master's degree in health education.
"I wanted to earn (being called an Aggie), and not just be given that title," Susan said. "There is a lot that goes into earning an Aggie ring. It's especially tough to earn an A&M degree now, and I feel just as official now as the rest of my family. I was always an Aggie from day one after I met Sam, but I wanted to make it official." The Torns' devotion is genuine. In fact, one tenet that Sam said guided him during his many years of work on Blue Bell Park and Kyle Field was a desire to value donor dollars by immersing himself completely in the planning and execution of both redevelopments.
"Sam and Susan were perfect partners at the perfect time for Texas A&M athletics and the 12th Man Foundation," said Skip Wagner, 12th Man Foundation president and CEO. "It is obvious that every project they have touched has been guided by a sincere source of pride. Stadium redevelopments don't happen without the support of thousands of donors, and our donors have been well-served in these projects, thanks in large part to the passion and leadership of Sam and Susan."
The E. King Gill Award is a permanent reminder of that.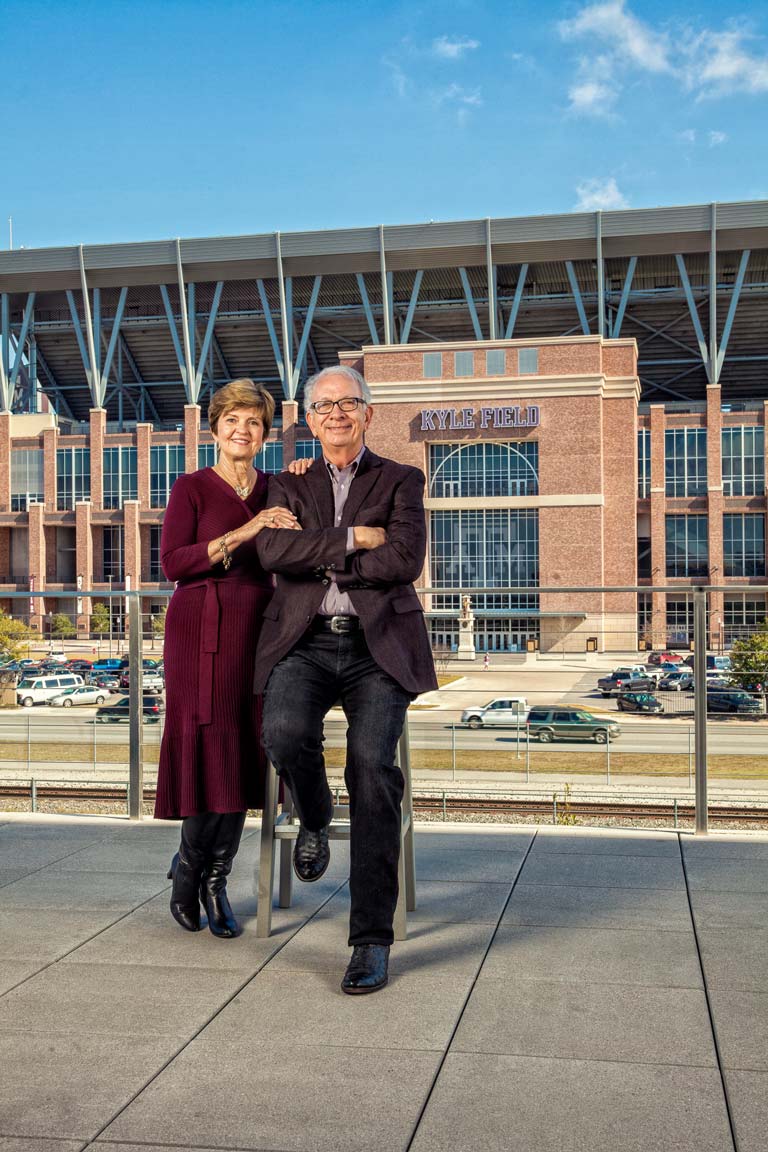 "To be honored like this, to be singled out in an area of Texas A&M that we love so much, is humbling."