Embodying the 12th Man
Season ticket holders are the heart and soul of Aggie Athletics and vital to the program's success
---
By Charean Williams '86
Jim Peterson drank the maroon Kool-Aid at an early age. He was 6 when he witnessed his first Aggie game.
Peterson traveled with his father to Austin to watch Texas A&M beat Texas 34-21 in 1956. That day, he became an Aggie fan for life.
"I do remember it," Peterson, Class of 1972, said. "It was a real sunny, pretty day, and we had John David Crow. Mostly, I remember how happy my dad was because we won in Austin, so that was big for me. I knew it was a big deal."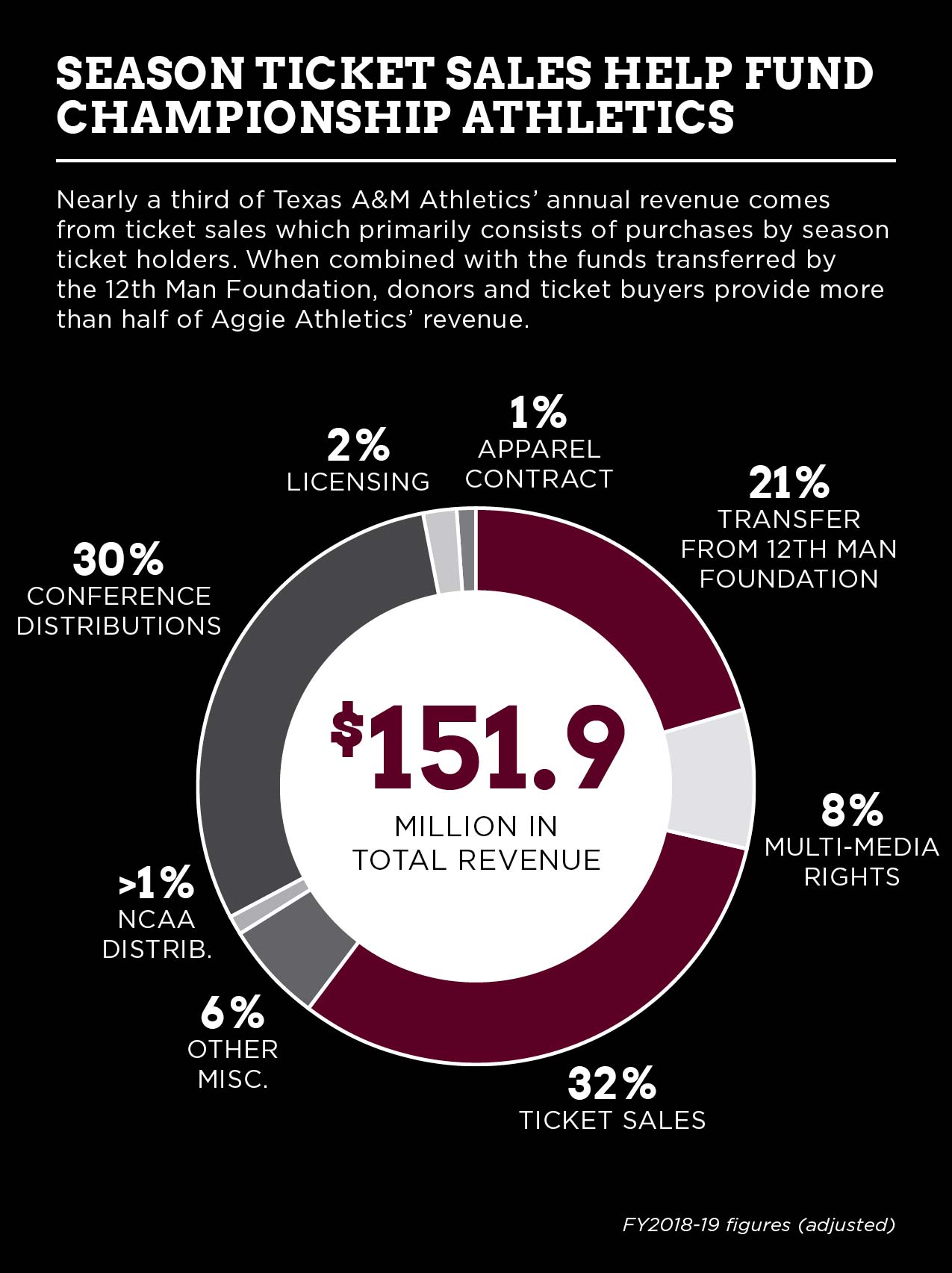 Peterson, like many Aggies, is a diehard fan who plans every fall around Aggie football. Texas A&M, in fact, has more than 50,000 Jim Petersons.
Nearly half of Kyle Field was filled with season-ticket holders during the 2019 season – 50,182 in all. They are the heartbeat of the school's athletics department, supporting A&M through both their gifts and their presence.
"Aggie football season ticket holders are the lifeblood of what makes Kyle Field the best stadium and atmosphere in college football. Their support, through the 12th Man Foundation, allows our program to provide the best experience for our players and gives our coaches a platform to recruit at the highest level."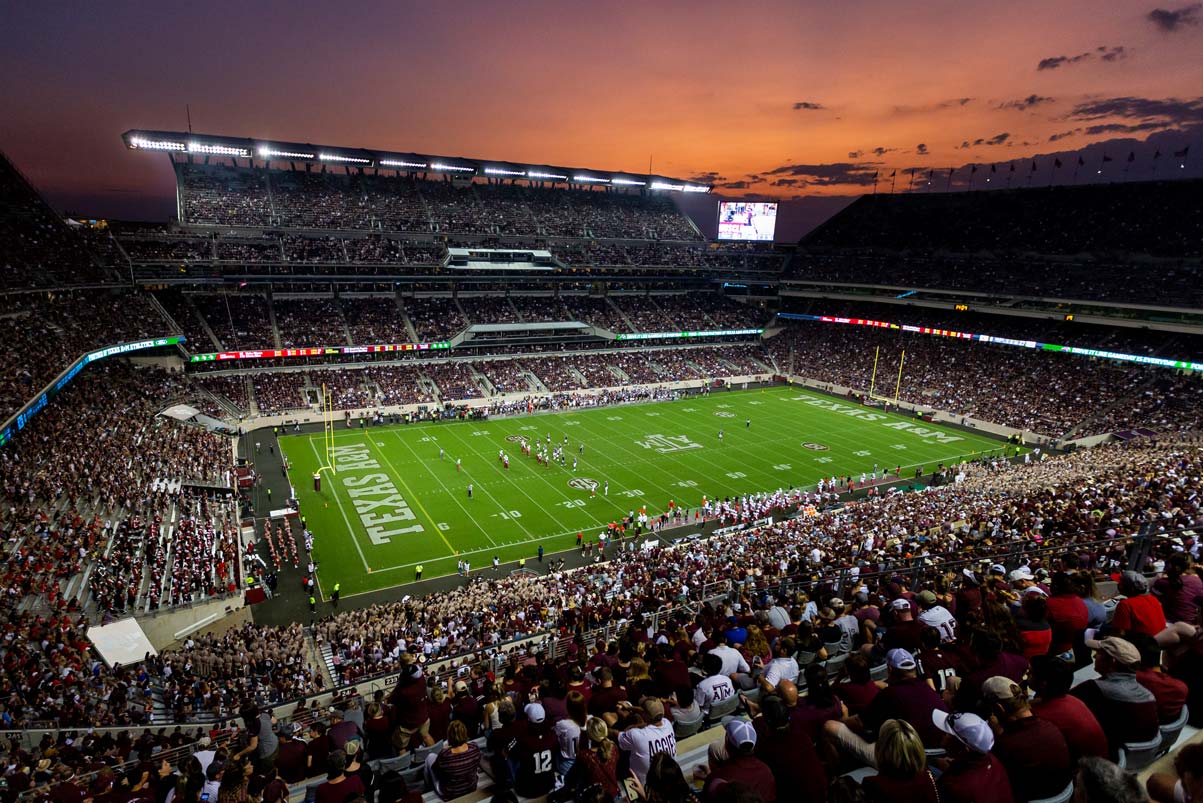 "Season ticket revenue makes up about 78 percent of our football ticket sales to the general public, not including students," Jeff Toole, Senior Associate Athletics Director and Chief Financial Officer, said. "Not only is it ticket revenue, but there's also the seat donation that goes along with that, which is a huge amount of money for Texas A&M Athletics. If you look at the percentage of our total revenue, then the other 22 percent of our revenue takes an awful lot of work to go out and try to sell and bring that in. So the cost benefit analysis on it is huge."
If you build it, they will come, and Aggies have since the renovation of Kyle Field. A&M drew 711,258 at home in 2019, an average of 101,608 per game. That again will rank the Aggies near the top of the country in total attendance.
In College Station, it's about more than the football.
A&M's goal is to provide a "superior game-day experience," which prompted the athletics department and the 12th Man Foundation to form a Game Day Experience Task Force (GDETF) two years ago. Kyle Field now has "something for everyone" and is the place to be on game day.
"Because of Texas A&M's culture and because of the location of the stadium right in the middle of campus, the experience in person versus the experience watching on TV is so vastly different that it can't even come close to being replicated with the comfort and technological advances that have been made," Sam Torn, the chair of the GDETF, said. "There is a smorgasbord of options for every price range, and coming to the game has never been easier in terms of ingress and egress, to and from your seat and in terms of the amenities that are provided, and you still get to experience the uniqueness of the 12th Man, of Texas A&M and game day in College Station. At other places, the difference between watching a game on TV versus in person may not be as pronounced. I think at Texas A&M with everything we have going, including the ever-improving product on the field, it's not even the same experience. It's more homogenized and unemotional experience if you're sitting there watching on TV."
Aggies come for the football but also for the chance to socialize with family and friends – all 100,000-plus of them – several weekends every fall. The game-day experience brings them back year after year after year no matter how the Aggies do on the field.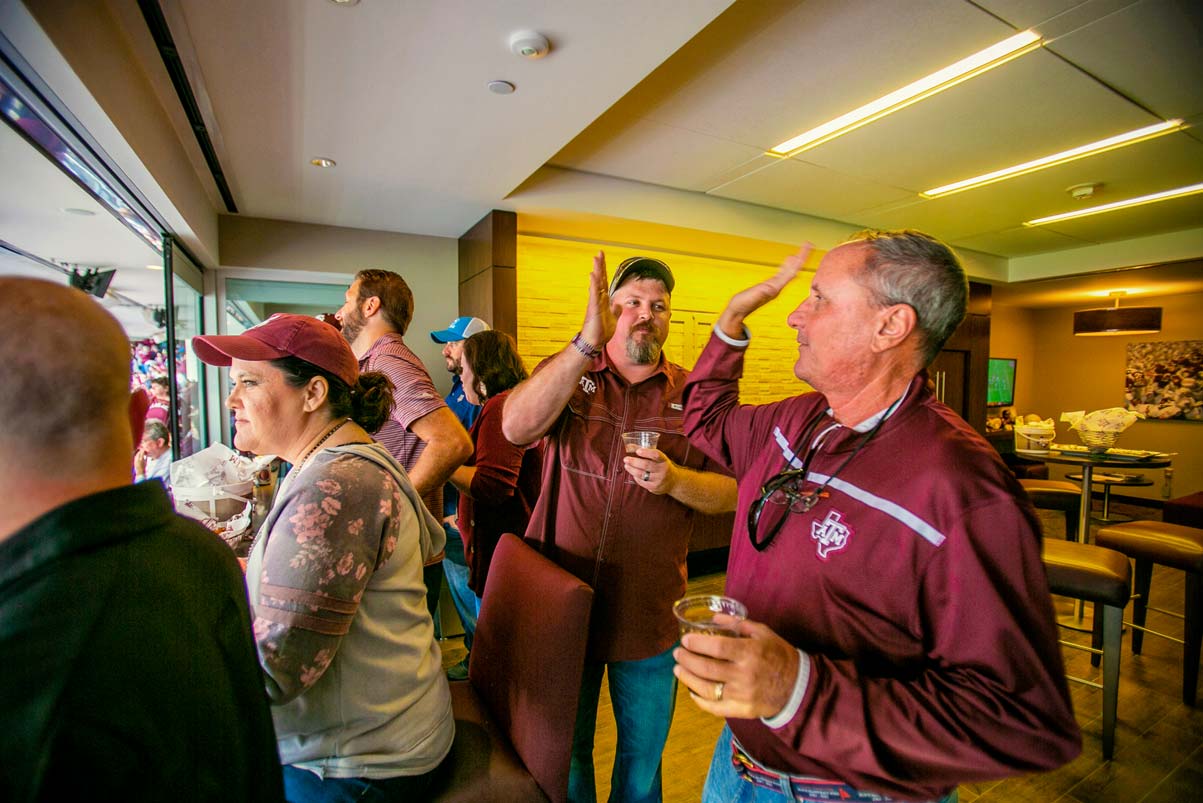 A Loge Box ticket holder, Peterson has purchased football season tickets at Kyle Field since 1975 and estimates he has missed fewer than 30 games since.
"I think the number of games I've seen live, home and away, is around 500," said Peterson, who lives in Fort Worth.
Wayne Adamik, Class of 1958, was going to so many sporting events in College Station that he finally moved to Bryan from Plano seven years ago. He now has season tickets to several sports, including football as an All-American Club ticket holder.
He had a streak of 35 years of missing only one road game and one home game before medical issues snapped that.
"We're pretty good fans," Adamik said in an understatement.
Adamik has given his heart to Aggie Athletics.
In 1998, he underwent heart surgery. Adamik was scheduled to have more stents inserted later in the week when he asked his doctor if he could delay surgery until the following Monday so he could attend the Aggies' game in Austin.
"I thought the doctor was a little crazy," Adamik said. "I didn't think he'd let me do it."
A&M lost to the Longhorns 26-24, but beat Kansas State in the Big 12 Championship the following week. The wins are far more memorable than the losses, of course.
Every fan in Kyle Field on game day is a win for the Aggies. A&M counts every season ticket holder as a blessing.
"Aggie football season ticket holders are the lifeblood of what makes Kyle Field the best stadium and atmosphere in college football," Athletics Director Ross Bjork said. "Their support, through the 12th Man Foundation, allows our program to provide the best experience for our players and gives our coaches a platform to recruit at the highest level. Season ticket holders are typically there through thick and thin, and their support gives us the foundation to provide a world-class experience around Aggie football."