Distinguished Letterman
Alex Sezer '16
---
By Olin Buchanan
To some, earning a scholarship is a life-long goal. It can provide an opportunity to compete at the highest level of collegiate athletics.
Alex Sezer's football scholarship was that. And much, much more. His scholarship was a key that opened doors to vast possibilities.
Sezer used his opportunity at Texas A&M to earn a degree, build relationships and launch a successful career in real estate.
Just four years after completing his Aggie football career, the 25-year-old Sezer manages over $75 million in property as the president of Twin City Properties in Bryan. He's also the founder of his own company, Sezer Enterprises, and has authored books.
The affable Sezer credits the meteoric rise of his business career to the education and connections his Texas A&M Athletics scholarship made possible.
"The people I met and the things I learned – obviously, tied to my scholarship at Texas A&M – changed my life," Sezer said. "The position I'm in is all through Texas A&M and the people involved with the university."
Yet, those who know Sezer best maintain he was destined for success regardless of where he chose to continue his education.
"He's one percent, of one percent, of one percent," said Twin City CEO Doug Pederson, a former A&M basketball player who became Sezer's mentor almost by accident. "I think you could put him anywhere and he would excel. He's brilliant, and he's driven to be excellent."
Sezer was a star running back and cornerback at Little Cypress-Mauriceville, a small high school near Beaumont. His parents valued academic achievements over athletic accomplishments. Don't get an "A," don't play.
Sezer never missed a game. He was Salutatorian. He was offered the opportunity for an Ivy League education.
But when former A&M football coach Kevin Sumlin offered a scholarship, the allure of continuing his football career was too tempting to pass up.
"I was not an A&M fan growing up on the border of Louisiana," Sezer admits. "Most of what I knew was LSU. I took my visit to A&M and fell in love. I haven't looked back since that day."
"The people I met and the things I learned – obviously, tied to my scholarship at Texas A&M – changed my life. The position I'm in is all through Texas A&M and the people involved with the university."
"The opportunity to come to Texas A&M has meant the world to me. I can testify that it's not something that's just for four years. Aggies take care of Aggies. My life is a testament to that."
There were tough days ahead, though. His playing career didn't immediately unfold as he'd hoped. Frustrated, Sezer telephoned his mother, Maranda, to let off steam. She handed the phone to her husband, Alex, Sr. He calmly interjected.
"Alex. You're exactly where you want to be."
As usual, father knew best. Sezer lettered from 2013-16. He was a team captain. He was winner of the Aggie Heart Award as a senior.
His father's wisdom became even clearer soon after Alex had the opportunity to go fishing on Pederson's private lake in College Station.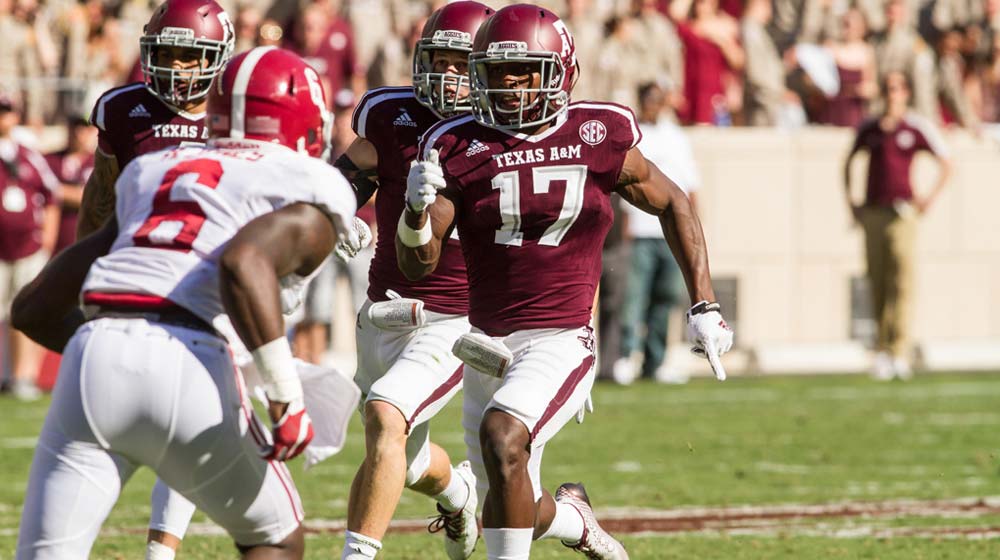 As the day of fishing neared an end, Sezer thanked Pederson for the hospitality. He complimented Pederson's house. He asked questions. Lots and lots of questions.
In 2016, Sezer graduated magna cum laude from A&M, earning a B.S. in industrial engineering. He worked a year for Opportune, a Houston-based oil and gas exploration company. He was involved in $4 billion of private equity purchases.
He had a bright future with Opportune. Yet, Sezer went a different direction.
He returned to College Station, accepted an offer from Pederson and settled down with his wife, Dayja, an eighth-grade science teacher who also attended A&M.
"My role has changed a lot," Sezer said. "I'm more strategic and visionary. That's a change for me because I was used to the immediate impact whether on the field or in business. I'll lease a property and I might not see the results of what I'm doing for two, five or 10 years. There are different ways I can grow this business."
He's also trying to help other Aggies grow. Sezer speaks to incoming freshmen each year. Sometimes, he'll put on an A&M polo and jeans and address the entire team. His message is simple and direct.
"You have to take advantage of the opportunity while it lasts," Sezer said. "You'll be judged by what you did with the opportunity when you had it. Develop relationships with donors. Form bonds with them. Utilize those relationships."
Sezer certainly did. He learned. He developed relationships with donors. He formed bonds and utilized those relationships.
He recognized that power of a scholarship and put it to work.
"The opportunity to come to Texas A&M has meant the world to me," Sezer said. "I can testify that it's not something that's just for four years. Aggies take care of Aggies. My life is a testament to that."