2018 E. KING GILL AWARD
Sharon '81 & Jim Wilson '81
---
By Brian Davis '01
November 24, 2018, proved to be quite an extraordinary day for Texas A&M Athletics.
Every season ticket holder, student and fan in Kyle Field will forever remember the epic seven-overtime thriller against 7th-ranked LSU that night, which featured miraculous receptions, improbable fourth down and two-point conversions, a timely knee down on the ground and even a premature Gatorade shower.
The instant classic marked a defining moment for the A&M football program under first-year head coach Jimbo Fisher and was an important step in the Aggies' quest to win a national championship.
For one exceptionally special Aggie couple, A&M's historic win over the rival Tigers was the ultimate cherry on top of a night they will never forget.
During halftime, hours before the highest scoring game in FBS history came to an end, the 12th Man Foundation proudly honored Sharon '81 and Jim Wilson '81 as recipients of the prestigious 2018 E. King Gill Award.
"It is a really special honor to receive the E. King Gill Award," the Wilsons said. "We are grateful to have had the opportunity to do our part to help Texas A&M Athletics be successful."
The most significant recognition given by the 12th Man Foundation, the award is presented annually to a person or couple who has been an influential investor and ambassador for Aggie Athletics.
"The pursuit of championship athletics at Texas A&M is not possible without exceptional Aggies like Sharon and Jim," said Travis Dabney, 12th Man Foundation President and CEO. "They truly embody the spirit of the E. King Gill Award by consistently going beyond the call in their support of Texas A&M and our student-athletes."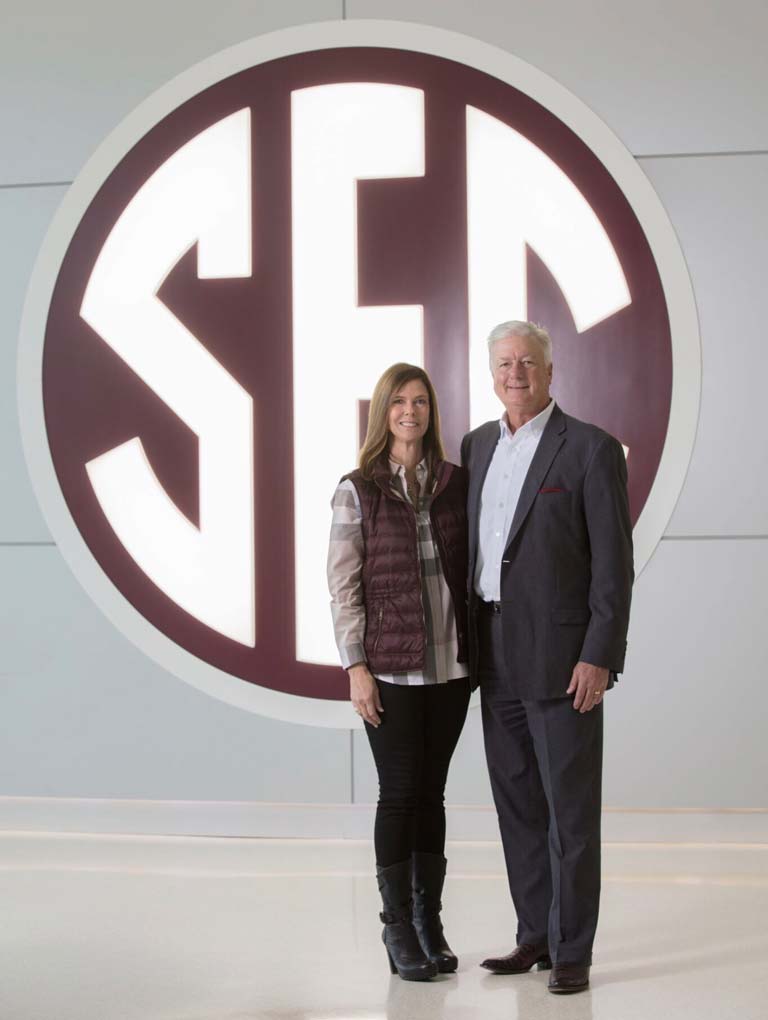 "It is a really special honor to receive the E. King Gill Award. We are grateful to have had the opportunity to do our part to help Texas A&M Athletics be successful. "
MAROON BLOODED
The son of a chemical engineer, Jim was born in Beaumont, Texas, where his dad, James Sr., class of '56, worked in refineries. Following a brief move to Ohio when Jim was 12, the family relocated back to Texas and landed in Seabrook, south of Houston. Jim attended Clear Lake High School in Houston before enrolling at A&M in 1977.
"My dad wasn't a huge sports fan, so I didn't come to any games until I was in high school and by that time, I already knew I was going to A&M," Jim recalled recently from the family's ranch in Bryan, Texas. "I never considered going anywhere else. I knew he went to A&M, so in my mind, that's where I was going."
Sharon, however, started coming to Aggie football games when she was very young. Her father, Ira "Ford" Flurry '58, was a farmer in Dayton, Texas, where Sharon was born and raised. "I never thought of going anywhere else because we did spend a lot of time coming here," she recalled.
Sharon enrolled at A&M in 1978 and met Jim, a fellow accounting major, during her first year on campus.
"She was dating my roommate during my sophomore year," Jim recalled. "Then she started chasing me around, dumped him and the rest is history. Or at least, that's how I remember it." Upon earning bachelor's degrees in accounting in 1981, Sharon and Jim began working for major accounting firms in the Houston area and ultimately settled in Sugar Land where they have lived ever since. Sharon started her career with Ernst and Whinney, while Jim spent 6 years with Arthur Young & Co. before moving into the private equity business. He joined Rock Hill Capital in 2009 where he currently serves as a Managing Director.
FAMILY TRADITION
The Wilsons decided to buy their first season tickets for Aggie football in 1983 after sitting with Sharon's father for a couple of years following graduation. "They were way up on top of the third deck on the West side," Jim recalled.
Sharon and Jim have been season ticket holders and dedicated supporters ever since, and even tailgated for games long before it became a popular tradition on the A&M campus.
Aggie Athletics quickly became a family affair for the Wilsons, as their son, Patrick '10, and daughter, Kathleen '12, began attending A&M sporting events. Patrick's first game at Kyle Field in the early 90s was memorable to say the least.
"He was 3 or 4 and it was a non-conference game and pretty hot outside," Jim recalled. "I was feeding him hot dogs, popcorn, cotton candy and M&M's all night to keep him occupied. As we were walking back to the car after the game with Patrick sitting on my shoulders, he said, 'Daddy, I'm not coming to a game again. There are too many people around here.' That was short-lived, but that was his original statement."
The Wilsons were driving home to Sugar Land late that Saturday evening on FM 359 in their Ford Aerostar van when Patrick suddenly woke up from sleeping in the back seat.
"He started throwing up all the junk that I had fed him," Jim said.
"Everywhere," Sharon added.
"All I had to wipe him down with was a brown grocery bag leftover from the tailgate," Jim recalled with a laugh.
The Wilsons eventually did take Patrick to another game a year or two later, and like his parents, he fell in love with supporting A&M Athletics.
"The next one I really remember is the '97 Texas game, because it was played in a torrential downpour – and we beat them," Jim said. "Sharon and Kathleen were down in the concourse for most of the game, but Patrick wouldn't let me leave the seats. We were just drenched. It's unbelievable how hard it rained that whole first half, but Patrick wouldn't let me leave, which is the way he still is today."
GETTING INVOLVED
The Wilsons steadily increased their involvement with Aggie Athletics through the years, not only as season ticket holders in football, baseball and men's basketball, but also by permanently endowing a scholarship through the 12th Man Foundation in 1994 and contributing to several capital campaigns for facility projects.
"I have always loved sports and I'm thankful my mom and dad took us to games because I enjoy going to all the sporting events," Sharon said. "We've really enjoyed doing that with our family and I'm all for giving financially to help support it."
In the mid-2000s, Jim was nominated to serve on the 12th Man Foundation's Board of Trustees and began his term in 2005.
"That's when it really started becoming clearer to me what the 12th Man Foundation was all about," he said. "It was at a time when A&M was getting more in line with knowing what they needed to do with facilities to keep up with other programs."
Not long after Jim joined the board, the Foundation hired Stu Starner to lead the newly created Major Gifts group representing a significant shift in the fundraising philosophy of the organization which has provided immense benefits to A&M Athletics ever since.
Jim's time on the board included some major structural changes to the Foundation and its membership including the development and implementation of the Aggie Access Priority Point Program.
"We had a number of great leaders on the Foundation board and Jack Little and Willie Langston spearheaded the Priority Point Program," Jim said. "Putting priority points in place ultimately created what we hoped it would, which was an incentive to give more money. It absolutely achieved that goal and you could really see that culminating when they redeveloped Kyle Field."
The Foundation also took over ticketing operations during Jim's tenure on the board at the request of then-Athletics Director Bill Byrne.
"There was a lot of discussion over whether we should do that or not," Jim recalled. "Ultimately, it was a really smart thing and now tickets are synonymous with the 12th Man Foundation like they've always been doing it."
Jim cherished his time on the board and met a lot of great Aggies who he and Sharon consider really good friends today.
A UNIQUE POSITION
In the summer of 2007, Jim received a call from then-Governor Rick Perry appointing him to the Texas A&M Board of Regents. Around the same time, he was up for consideration to serve as Chair of the 12th Man Foundation Board of Trustees.
"I remember concerns about potential conflict and questions about whether I would have time to do both," Jim said. "From my point of view, it was a great opportunity to help the regents have a better understanding of athletics. Ultimately, it was really good timing because athletics department budgets were starting to grow substantially. Having the regents understand more about what all that entailed was important."
Jim served as Chair-Elect of the Board of Trustees in 2008, Chair in 2009 and Immediate Past Chair in 2010, while concurrently serving as a regent from 2007-13 including a two-year term as Vice Chairman of the Board from 2009-11.
It was a unique situation, marking the first time someone has served on both boards simultaneously.
"Jim understood the finances of the Athletics Department and how it worked and was really instrumental in turning things around and making sure the funding was right," said Jim Schwertner, a fellow regent who served from 2009-15. "All of the regents respected Sharon and Jim for their dedication and loyalty to A&M."
RIGHT PLACE, RIGHT TIME
Having someone with a close connection to Aggie Athletics serving on the Board of Regents proved to be invaluable in the spring of 2010.
That's when the first hints of the proposed Pac-16 conference began to surface involving six Big 12 schools including Texas A&M. Following some conversations with officials at the University of Texas who had been working with then-Pac 10 Commissioner Larry Scott on the concept, A&M's leadership began exploring what conference realignment would mean for Texas A&M University.
"Bill Byrne made a presentation to the regents showing what the Pac-16 would be all about," Jim Wilson recalled. "There were a lot of things about it that made sense, and a lot of people felt like we needed to do something knowing the Big 12 might not make it."
Jim noted that Morris Foster, Chairman of the Board of Regents at the time, helped get the ball rolling towards A&M's future conference affiliation with his response to Byrne and then-university president R. Bowen Loftin.
"After the presentation, Morris Foster said, 'One option is not an option, so go find out what our other options are.' That's really how it started," Jim said.
Loftin was tasked with exploring A&M's options and he and Jim developed a good relationship as they worked closely together. The SEC was an obvious option to consider, as A&M had flirted with joining the league in the mid-90s.
Before going far down that road, however, the Pac-16 idea fell apart and the Big 12, minus Colorado and Nebraska, stayed together with several assurances from the conference regarding revenue distribution and television networks.
"While I wasn't necessarily in favor of it at the time," Jim said, "the consensus of the board was to stay put so that's what we did. I didn't think it would last very long, because I didn't believe a lot of the promises the Big 12 made."
Obviously, things changed in the spring of 2011, and this time, Texas A&M was prepared to make its move.
"When it came back around that time, we knew what we wanted to do," he said.
THE 100-YEAR DECISION
Texas A&M's leadership was aligned when the university revisited conference realignment again and began the process to join the SEC in 2011, however making the move was still not without its obstacles.
Jim worked with Loftin, Schwertner and then-Board of Regents Chairman Dr. Richard Box to help navigate those challenges, one of which included the threat of a lawsuit from another Big 12 school.
"I was at Snow's BBQ one Saturday morning when Loftin called and told me the SEC wanted us to clear up the potential lawsuit – that being the threatened 'tortious interference' nonsense," Jim recalled. "Even though we didn't consider it a legitimate legal threat, the SEC wanted some assurances that we could handle the lawsuit if they went through with it. Regents Box and Schwertner began discussions with (12th Man Foundation Board of Trustees Chair) Neal Adams and ultimately the 12th Man Board of Trustees agreed to provide indemnity for what legal costs there might have been if a lawsuit came about."
Having the 12th Man Foundation involved and the regents understanding the organization's role helped make that possible.
"We told the SEC we had the expenses covered," Jim said. "After clearing that hurdle, the deal was essentially done."
Ultimately, the threats were withdrawn. Dr. Loftin received the call from then-SEC Commissioner Mike Slive: "It's done. Texas A&M is in, unconditionally." A&M received its official invitation to join the nation's best conference in a bold move that has since become everything the leadership hoped and more.
"I like to think it was beneficial to the university to have people on the board who had an appreciation for athletics and what all this conference realignment meant," Jim said. "It allowed me to get some of the regents involved with university leaders and Athletics Department leaders so that we were all on the same page when those events started happening."
Through it all, Jim is proud to have played a role in the transition and takes comfort in the fact that A&M will likely never have to worry about conference realignment again.
"He was at the right place at the right time and we looked up to him because of his wisdom and dedication," Schwertner said. "I can tell you, because of his intellect and knowledge of how the Athletics Department worked and how important it was for us to get additional revenue, he was pivotal in us understanding how important the SEC was. And that really helped us in rebuilding Kyle Field."
DESERVING AGGIES
Hours before kickoff of the A&M-Kentucky football game last October, the Wilsons were right where you would expect them to be – at their tailgate on O.R. Simpson Drill Field, preparing to support the Aggies against the 13th-ranked and undefeated Wildcats.
Sharon and Jim knew something was off when Patrick stopped by wearing a sports coat, especially on such a warm gameday afternoon. However, they had no idea what he was about to unveil to them on the laptop he was carrying with him.
As Patrick played a video revealing to his parents that they were the recipients of the 2018 E. King Gill Award, friends and family gathered behind Sharon and Jim, ready to surprise and congratulate the couple on the well-deserved honor.
The Wilsons loyalty and commitment to Texas A&M could not be more evident from Jim's service on the Board of Trustees and Board of Regents to the family's passionate support of Aggie Athletics as longtime season ticket holders and financially invested donors to the 12th Man Foundation.
"They have made a tremendous impact on this university and Athletics Department," said JT Higgins, A&M's head men's golf coach. "Jim, with Sharon right beside him, has been instrumental in moving Texas A&M to the forefront of collegiate athletics and helping us become one of the elite athletic programs in the nation.
"They have truly left their mark on this university that we all love so much, and I cannot think of more deserving recipients of the E. King Gill Award."
Thanks to the continued generosity of many proud and dedicated 12th Man Foundation donors like the Wilsons, A&M has the resources in place to compete for championships. That level of commitment leads to attracting the best student-athletes and hiring elite coaches.
"We've been pretty good lately about doing things that people say we can't do," Jim said, "like leaving the Big 12 and hiring Jimbo Fisher."
Jim knows first-hand from his experience on the boards that A&M must continue investing in facilities and resources in order to stay ahead of the competition. And A&M knows that, when called upon to help, the Wilsons will always answer.
"Sharon and Jim were pivotal in changing the course of the direction for A&M," Schwertner said. "They are just very honest, loyal and hard-working people and I think history will show they are some of the greatest Aggies we've had at A&M."