Power of a Scholarship
Like Father, Like Son
---
By Charean Williams '86
Fred Spiller was supposed to be what his son, Isaiah, has become: A standout Texas A&M football player with a promising NFL outlook. Fred still remembers the day in 2001 when a back specialist told him his football career was finished.
"It was one morning I remember vividly," said Fred, who played tight end. "I got out of the bed and I had sciatic pain down my leg."
He could hardly walk.
"I told the trainer, this is something more than a bulging disc. They sent me in for an MRI, and when the results came back, the doctor said, 'Listen, football is just a small part of your future and your life. If you continue to play, with the position that you play, it's highly likely you could be paralyzed or have more severe injuries.' As he was talking, I was crying, because I had put in so much work. It was like my whole world came crumbling down. Then, came Isaiah."
Isaiah's arrival in Aggieland in 2019 wasn't the first time the running back called College Station home. As an infant, Isaiah lived in an apartment on Dartmouth Street with his parents as his dad finished his degree at A&M and his mom, Iesha, went to Blinn College before finishing at the University of Phoenix.
Fred poured everything he had into Isaiah, hoping to give his son what he didn't have. He wanted for Isaiah what an injury prevented him from having. Two college seasons and nearly 2,400 yards later, Isaiah is living out his – and his father's – dream.
One NFL scout says Isaiah "looks the part of an NFL running back with good quickness for a guy that size."
"He's kind of living through me right now," Isaiah said of his father. "Even when I was little, he always lifted me because he saw the potential in me. He's really in my head all the time, making sure my head's on straight, because he knows where I can go. Hopefully, I can get there one day."
That could have been Fred.
As a senior at Aldine Nimitz, Fred had A&M as his third choice behind Miami and Michigan. But Fred, who calls himself an "inner-city kid," ultimately decided A&M was the right fit because it would allow his single-parent mother to travel to games.
Fred redshirted as a true freshman in 1999 and played 10 games and earned a varsity letter as a redshirt freshman in 2000, though he didn't record a statistic. His football career ended there.
"We were very disappointed, because he was a big, athletic guy," then-head coach R.C. Slocum said. "He had the same character as his son. He was a great guy to have on the team. I have no doubt he could have been an NFL tight end."
Fred underwent surgery to repair a herniated disc, a result of the cumulative impact of football on his back. He had little time for self-pity.
"I had to refocus my attention on bigger goals than just going to the NFL," Fred said. "I had to focus on now getting my degree. With Isaiah coming, I had to stop thinking just about myself and how it was about him, and really creating a future for him and my wife."
Fred received his degree in agricultural development in 2004. He now is an ordained minister and a behavior specialist in the counseling department at Klein Collins, where Isaiah went to high school.
"I had to refocus my attention on bigger goals than just going to the NFL. I had to focus on now getting my degree. With Isaiah coming, I had to stop thinking just about myself and how it was about him, and really creating a future for him and my wife."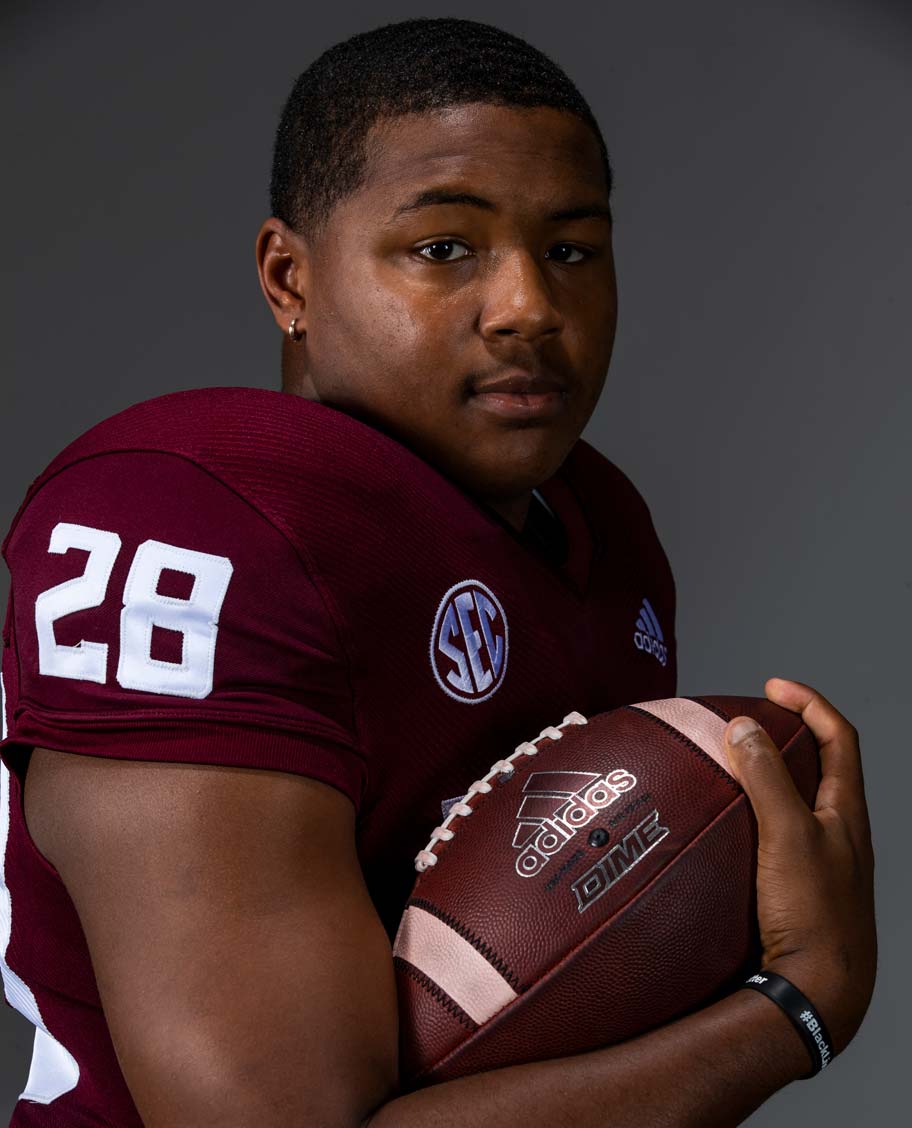 "Thank you to all the supporters who help me further my education and football career. I'm grateful and really don't know where I would be without this opportunity."
Church and school are important to Fred and Iesha, who formerly worked in the athletics department at Klein Forest High School and now is in human resources at a recruiting firm. They have made it clear Isaiah will get his sport management degree even if that means completing it after he leaves for the NFL.
"If he has an opportunity to come out next year, we were going to talk to the staff in the offseason to see what he can do to speed up getting his degree or getting as close as possible to it when he leaves," Fred said. "That's very important. I've always taught Isaiah football is a vehicle to get you where you want to go, but it's just a short portion of life. Education is forever."
When he's done playing football, Isaiah plans to run an athletic performance training center. But a decade into his football career, Isaiah, in some ways, is just getting started.
Isaiah was born to run. His first carry as an 8-year-old in youth football went for an 80-yard touchdown. By then, Isaiah already was working with Rischad Whitfield, known as "The Footwork King," in Houston. Whitfield has trained NFL players, including Richard Sherman, Le'Veon Bell, DeAndre Hopkins, Melvin Gordon, Xavien Howard and Odell Beckham.
Isaiah, though, is Whitfield's star pupil, having already developed a jump cut to embarrass defensive backs.
"He has a lot of Le'Veon Bell in him," Whitfield said. "That's the best comparison. He mimics his game a lot. He's a very patient runner, but he's also good as a receiver. Great instincts. He knows exactly where to go without even seeing it.
"I'm proud of him. Being an elite running back in the NFL is not about the speed. It's about if they give you the ball, can you make something happen, can you create? Isaiah has shown that ability to avoid tackles. He's strong. He runs with a violent temper, and he's a great kid mentally. I know I'm biased, but he's shown he's the best running back in college football this year, and he's earned that."
Adrian Peterson is Isaiah's favorite running back, and one of the reasons Isaiah initially committed to Oklahoma after gaining 3,587 yards from scrimmage and 53 total touchdowns at Klein Collins. But A&M, because of his father's connection, was Isaiah's favorite team.
When Jimbo Fisher replaced Kevin Sumlin, Isaiah changed his commitment to the Aggies.
In two short years, Isaiah has won accolades and compliments far and wide. Nothing means more than the approval of his father.
"He's always been there from the beginning," Isaiah said. "He never pressured me into playing football. He introduced me to it, and I was intrigued. But he believed in me, even when I didn't believe in myself.
"So, when he says I'm playing good and I'm doing good, that means a lot to me. It motivates me to go even harder and want it even more."