Standing for America
How the Texas A&M community showed its true colors in honoring the nation
---
By Homer Jacobs '87
Updated by Haley Stangle and Brian Davis '01
This article by the late Homer Jacobs originally appeared in 12th Man Magazine on Sept. 15, 2011, for the 10th anniversary of the Red, White and Blue Out game. It has been updated for the 20th anniversary of the historic event.
At 12:29 a.m. on Sept. 12, 2001, a visitor to TexAgs.com tossed the match that would ignite the wildfire.
I am repeating what ag2003 stated in another post:
"I think it would be a great act of US pride if we wore red, white and blue for the OSU game."
Great idea.
In my own opinion, to take it one step further and to really make a nice statement would be to coordinate:
3rd deck: Red
2nd deck: White
1st deck: Blue
Gig'em and God Bless.
Agsrwe '01
In the 10 days that would follow this early-morning post on a burgeoning Aggie website, the patriotism of a nation, the pride of a university and the power of the Internet would become historically intertwined.
It was a confluence that perhaps could only be found in College Station, and they were certainly some of Texas A&M's finest hours.
Twenty years ago, a massive and complex grassroots effort to blanket Kyle Field like an American flag came to fruition in what will forever be known as the Red, White and Blue (RWB) Out game.
While the nation mourned the terrorist attacks of Sept. 11, 2001, there were countless tributes to the country and the victims and heroes of 9/11. And they were all poignant in their own way.
But no act of togetherness and camaraderie on such a grand and public scale could match what unfolded at Kyle Field on Sept. 22 for a college football game between Texas A&M and Oklahoma State.
The stadium was filled with red, white and blue T-shirts – some 70,000 – with the words "Standing For America" emblazoned on the front. Kyle Field's three-deck layout allowed for a spectacular display of America's patriotic colors.
Approximately $180,000 was raised for the New York Fire and Police relief funds, and memories for thousands of Aggies were indelibly stamped with the sight of their usually marooned-out stadium having switched colors, if only for a few hours on a Saturday afternoon in the fall.
But the RWB Out game will be remembered for more than just its final patriotic display. It was a 10-day exercise in business logistics, community involvement and the Aggie spirit cranking into overdrive.
And those intimately involved in the organization of the event wonder to themselves like most fans who clamored for a $5 T-shirt:
How in the world did they pull this off?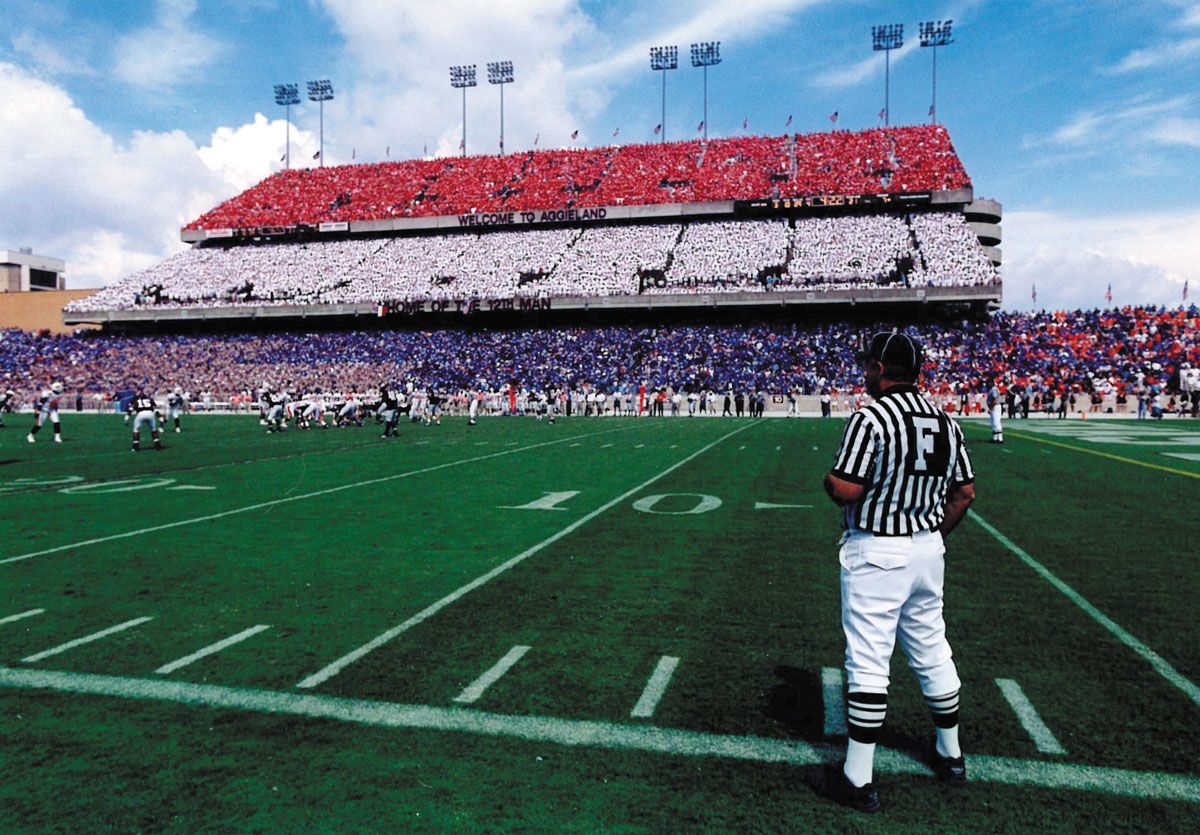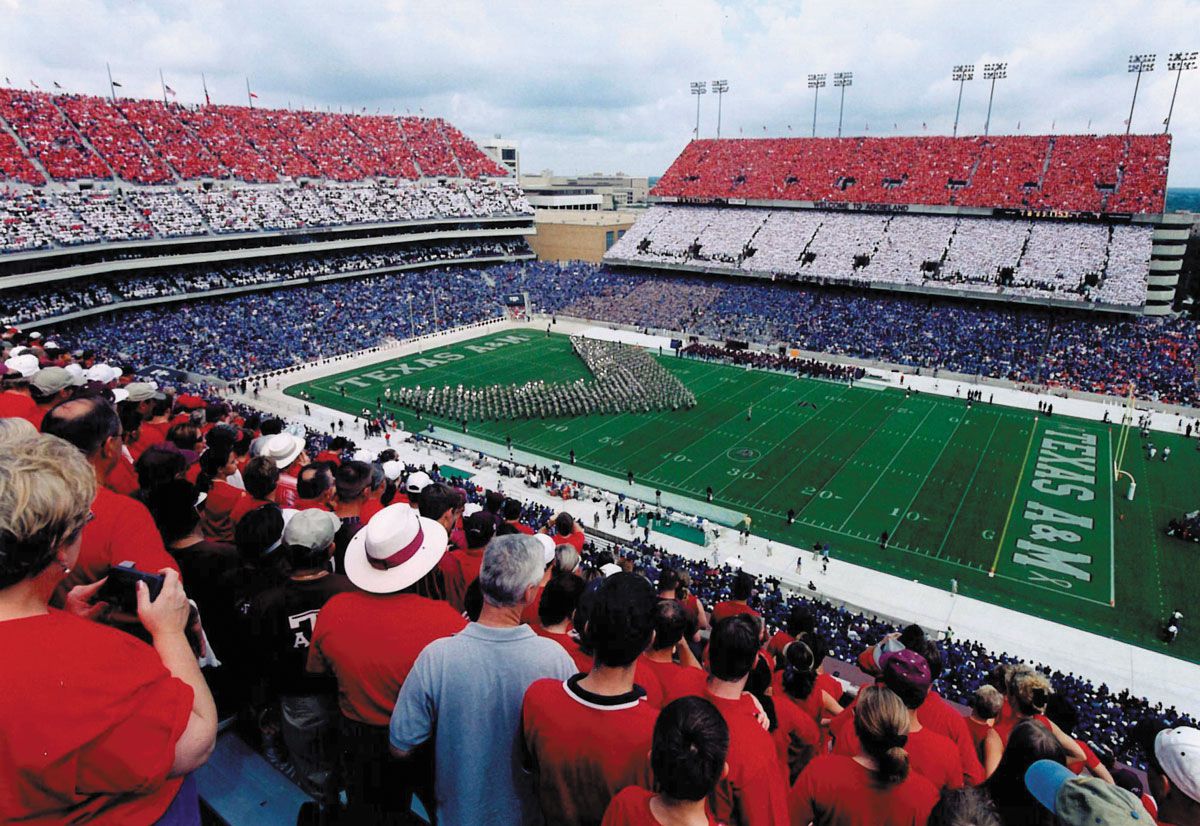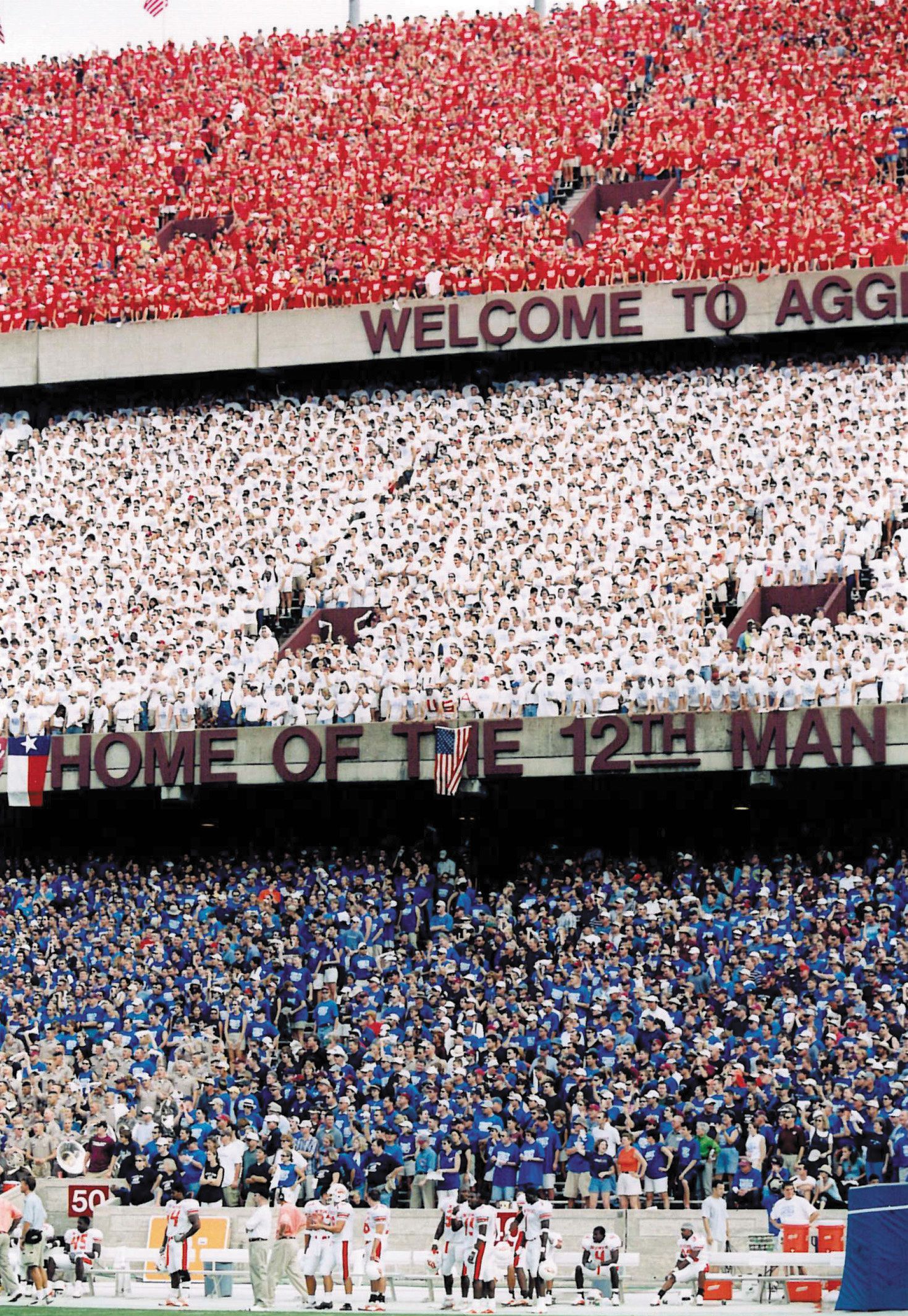 THE FAB FIVE
Eric Bethea was experiencing the same emotions of so many of his fellow students at A&M when he decided to post on TexAgs about following the lead of Maroon Out, a T-shirt tradition that began for students in 1998 for the blockbuster game with Nebraska at Kyle Field.
Aggies were familiar with wholesale T-shirt statements, so he thought why not wear red, white and blue T-shirts to Kyle Field for the OSU game instead of the standard maroon garb.
"At midnight or so, I just threw the idea out there," Bethea said. "I didn't really think much of it, but the next day, somehow I had 30 or 40 emails in my inbox. That thread had gone to about five pages. People were saying, 'That's an awesome idea, let's do it.'"
Kourtney Rogers (now Kourtney Gruner) was a self-admitted recruiting junkie and a TexAgs regular, while three friends – Cole Robertson, Josh Rosinski and Nick Luton – were fascinated by the RWB Out idea and began contacting Bethea with their pledge for support.
After an exchange of emails, the five A&M students decided to meet for lunch the next day to discuss their plan. Little did they know that they would be joined at the hip in helping coordinate an expression of patriotism that would forever be archived in the history of Texas A&M University.
"I think we all had our individual visions of what could happen," Luton said. "I think the underwriting theme was we just wanted to do something to help out. Since none of us could do anything on the East Coast, we just wanted to try and figure out what we could do locally. If we could accomplish anything at all, it would be a success. But I don't think any of us had any idea of what was going to unfold."
After gauging the possibility of selling mass quantities of T-shirts on campus with A&M officials and student groups, the five lead organizers for the RWB Out approached C.C. Creations owner Ken Lawson about having his College Station-based company print the shirts. Lawson recalls the first order topping out at 3,000.
At the onset of this student-run T-shirt barrage, sales were slow. It was game week in Aggieland, and seniors were pulling tickets on the Zone Plaza. Yet, there was more of a sense of curiosity about the T-shirts than zealous purchasing.
But by that Monday night, with word of mouth in full force on the Internet and mainstream media outlets spreading the story, RWB Out transformed from a creative little venture into a full-blown mega-event.
"On Tuesday, we've got to sell 10,000 shirts or go talk to Ken Lawson and talk about how we lost money on this deal," Rosinski recalled. "But then we were out of shirts in the morning that day. It was a jump in demand. It got progressively more hectic as the week went on."
Did it ever. C.C. Creations' employees were working around the clock with two, 12-hour shifts. Yet, the company was struggling to keep up with the unfathomable demand.
Now hundreds, if not thousands, of students and community volunteers were involved in the RWB Out operation. And the most important commodities – red, white and blue T-shirts – were nowhere to be found in the Bryan-College Station area.
Calls soon went out to printers across the state (even a T-shirt company in Shreveport joined in the fun) to ask for deliveries of the blank shirts to Aggieland, where the printing was now being done at multiple print shops. Students suddenly were manning the assembly lines in relief of exhausted full-time workers.
"It was absolute insanity," Luton added. "We were just so fortunate that there was such an emotional attachment to the event that people were just coming from class to buy a shirt and asking if they could help."
The most chaotic days of the RWB Out adventure came on the day before the OSU game and on the actual gameday. As of that Friday, nearly 40,000 shirts had been sold, and most people were understanding the drill: Wear a red shirt if you sit on the third deck, white if you're on the second deck and blue if your seats are in the first deck. It was more complicated for the former student crowd in the north end zone: Upper bench seats were to be in the red zone, while upper armchairs, suites and club level seats were to be in the white area; lower armchair seat holders were to fill in with blue.
Luton pulled his truck, loaded with T-shirts for sale, up close to Rudder Fountain at 4:30 a.m. on gameday. To his surprise, there were already lines of people snaking through the grounds in anticipation of buying their appropriate shirt. In fact, all over campus there were tables set up for the last big push. In a shocking six hours leading up to kickoff, another 30,000 red, white and blue T-shirts would be sold to A&M fans, as well as those from Stillwater, Okla.
The grassroots effort put in motion by an early-morning post on the Internet had turned Aggieland into a sea of red, white and blue.
The spirit that can ne'er be told was about to show the nation its true colors like never before.
A SIGHT TO BEHOLD
The five main organizers of RWB Out knew they had sold close to 70,000 shirts, and their cell phones were lighting up with responses from fans who were in their seats at Kyle Field as the first quarter unfolded.
Josh Rosinski was in charge of the money, so he drove bags and backpacks filled with cash to his College Station apartment to count the take. He caught a glimpse of Kyle Field as he passed the stadium on Wellborn Road, and he knew that the Aggies had, indeed, pulled it off.
Cole Robertson, Kourtney Gruner, Nick Luton and Eric Bethea all walked into Kyle Field together, emerging out of the tunnel in the south end zone. What they saw was almost imaginable.
Kyle Field was awash in a perfectly coordinated design of red, white and blue.
"I think all of us were in complete shock," Bethea said. "We expected the student section to look good, but we had no idea that it had become as viral as it did and that the former students' side would be just as perfect as the students' side."
Added Robertson: "When we started this, the argument was whether we could sell 5,000 or 7,000 shirts. At the end of the day, when you had 80,000 people with shirts that had been printed or the colored shirts they brought from home…it was just amazing. We were speechless and didn't know what to say or what to expect. When we walked in the stadium and saw it, it was pretty incredible."
The Aggie football team knew it was about to perform on a stage that only a school like A&M could construct. Head coach R.C. Slocum even had his staff shed their standard coaching attire and wear the "Standing For America" shirts on the sideline.
"I'll never forget the sight and am reminded of it when I see the picture," Slocum said. "But when we jogged out on the field and saw red, white and blue, it was an incredible feeling to see the immediate patriotism and to know that we had been attacked. Everybody dug deep and forgot their individual differences."
Quarterback Mark Farris said he was always amazed how the feel of the stadium and how an atmosphere could change from the time the players ended warm-ups until they reappeared 20 minutes later to run onto the field.
But on this day, Farris and the team were blindsided by what they saw.
"I don't think there is any other place that could have pulled that off," Farris said. "I remember when I first heard about it, I didn't know if they would be able to pull it off. But then when I saw it, it was just pretty amazing and one of those things you'll never forget."
The Aggies went on to beat Oklahoma State, 21-7, but anyone who was at Kyle Field or watched the game on television won't remember much about the game action. It's the Aggie Band spelling out "USA" during their halftime show and a stadium glistening in red, white and blue that remain forever etched in our minds.
After the RWB Out game, superfan and 12th Man Foundation donor David Evans helped organize a trip to New York City so the student organizers of the event could personally hand over the $180,000 in donations to the NYC police and fire departments' relief funds, which were directed to the families of the fallen emergency responders.
Several entities chipped in for the trip, as Continental Airlines provided five round-trip tickets at no cost, while a Hilton hotel comped all the rooms during the Big Apple excursion. An anonymous A&M former student even contributed $200 for each of the Aggie students to use as spending money.
The policemen and firefighters were floored with the RWB Out event and eagerly accepted the university's invitation to attend a game at Kyle Field the following season.
TWENTY YEARS LATER
This past winter, the student body leadership at Texas A&M University reached out to A&M's athletics department with the intent to recreate the RWB Out game in remembrance of the 20th anniversary of the 9/11 attacks. This moment, which kicks off the 2021 Aggie football season on Sept. 4, is a true testament of the power and spirit of the 12th Man standing both for gameday and for our country.
As for the five A&M students at the heart of RWB Out, they are excited about the recreation by current students and remain connected by friendship and certainly their roles in organizing the 10 days of cotton chaos.
All five are married with young children, and they have all enjoyed success in their fields.
Kourtney Gruner is currently an Assistant Program Director in the Master of Industrial Distribution Program at A&M and is also pursuing her doctorate in higher education administration at the university.
"A flood of emotions come back as I recall the Red, White and Blue Out game and what it meant at the time," said Gruner, who lives in the Brazos Valley with her husband, Gus '01, and two sons, Cooper Olsen (10) and Brady Connell (5). "I'm grateful for the opportunity to be one of the voices for the event – although the event was and is still about the Aggie community and family displaying support to those affected by the 9/11 attacks. RWB Out particularly still stands for me as the perfect display of the core values of Texas A&M – excellence, integrity, leadership, loyalty, respect and selfless service."
An oil and gas business professional, Josh Rosinski adds that the experience has given him more conviction in life to pursue something that he knows in his gut is the right thing to do.
"There were some initial hurdles to getting RWB Out started and different decision points along the way that could have gone either way based on how we were thinking at the time," said Rosinski, who lives in Dallas with his wife, Laura '04, and three daughters, Elle, Livy and Nora. "We pushed through and just went all in on something we all believed in and that is something I have really tried to remember as life goes on."
Nick Luton, a partner in a Houston residential real estate firm called Luton Underwood Development Partners, says he is filled with countless memories from RWB Out that will last a lifetime.
"I enjoy sharing stories with others who were there in 2001 that never fail to create emotions as if it was much more recent than 20 years ago," said Luton, who lives in Spring Branch with his wife, Alex '05, and three sons, Lane (10), Sam (7) and Cade (3). "I love seeing the images from that day show up in social media posts throughout the year and reading the comments about the pride that Aggies felt participating in a simple way that collectively created such a memorable statement of patriotism."
Eric Bethea – the author of the post that started it all 20 years ago – now oversees Executive Compensation at Hess Corporation.
"The RWB Out helped me recognize how important it is to trust and rely on others," said Bethea, who lives in Houston with his wife, Alana '03, and three kids, Mac (12), Ellie (10) and Emma (8). "We had thousands of volunteers from students to former students to administrators to community members, and all were critical to making the original RWB Out a success. I try to take that to my professional life and manage in a way that demonstrates trust and allows others to make contributions. It's amazing what can be accomplished with teamwork, collaboration and a shared goal."
Cole Robertson, a partner in a private equity fund called BP Partners, says the activities, experiences and emotions of those 10 days are still as fresh in his mind as if they happened yesterday.
"Even today, I am still amazed at the power of the Aggie spirit," said Robertson, who lives in Dallas with his wife, Robyn '03, and three kids, Lee (10), James (7) and Claire (4). "It has often been said that the RWB Out could not have occurred at any university, and I truly believe that. I think it's a sense of selfless service that Aggies have that propels us to accomplish great feats.
"Josh, Nick, Eric, Kourtney and I get a lot of the recognition. I remember the other hundred-plus student volunteers from all across campus who helped selling shirts, running the shirt press, driving U-Haul's of blank T-shirts, coordinating volunteers and the countless other activities that took place that week. They didn't do it for recognition. They did it because they wanted to be a part of something bigger than themselves and to try and help Aggieland and the nation heal. Those people and what they represent is why I love Texas A&M so much."